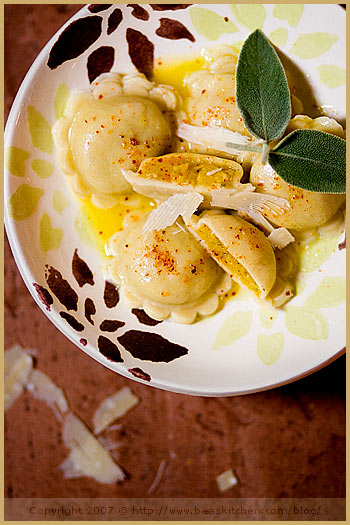 Butternut Squash and Sage Ravioli
I never get tired of eating squashes. I love their funky shapes, varied colors, the sweetness of the vegetable and the numerous dishes that can be prepared with them, ranging from savory to sweet food. I can still remember a Paul Gayler's cake that P. prepared a long time ago — he made it even twice — made with butternut squash. One of my favorite squashes. I like its deep orange color and the delicate taste it diffuses. Despite my obvious comments on how much I loved P.'s cake, how much he impressed me with it and how much especially I would love to see him repeat the experience, I have not yet managed to convince him to head back into the kitchen to bake it for me. "Mais non, tu les fais mieux que moi", (You do it better than I do) he answers when I try to insist a tiny bit more. Is this an answer, I ask? I mean, he is really missing the point. "Ah non, ne dis pas cela, ce n'est pas la même chose. J'aime juste quand c'est toi qui le fait. Ça a un autre goût", I replied in a louder voice (Don't tell me this, I just like when you do it, it tastes nicer). Hear this because it is true. Food always tastes much better when someone is preparing it for you. There is magic inside. Not ready to give in, I had to use another strategy and make a deal with my little stubborn hubbie. He makes the cake for me again and I prepare ravioli. I wonder how comes that I started first. I am still waiting for the cake.
When I spoke to you last week about my recent Italian phase, I was really seriously meaning it. I have been fascinated and obsessed with working pasta dough for a few weeks now, and after making lasagna a few times, I moved swiftly to preparing fresh ravioli. It was about time to get out the round ravioli maker bought months before to prepare sunny flowers full of deliciousness. Because they really are. I fumbled in the freezer where I had a bag of frozen roasted butternut squash purée (Thank God for thinking ahead!) and set myself to work.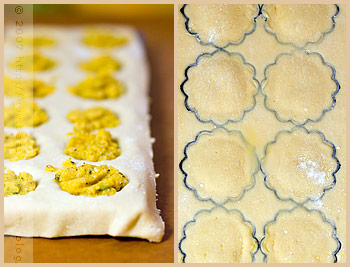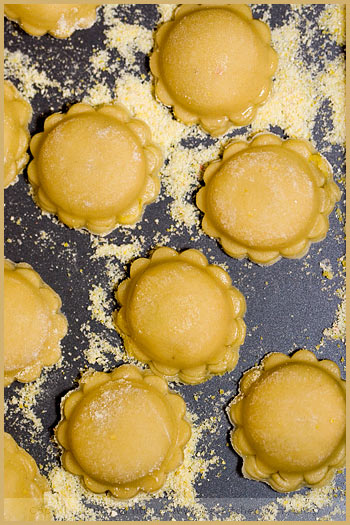 Ravioli fillings are fun to play with. They offer a panel of endless possibilities. This one is simple and relies on the addition of hazelnut flour added to the vegetable. It adds a nutty taste to the sweetness of the squash. Then, the orange sauce that accompanies the dish complements it beautifully, and is easy to make. There is one thing however. How comes it takes two minutes to eat them when I obviously needed more than that to prepare them. Have you noticed how often this is the case with food?
We sat at the table to eat dinner and then it happened again. Like any time I prepare dishes like this one, whenever I cook anything remotely saying Italian and pasta, comfy yet also dressed-up, P. and I were greedy. I had initially planned to keep some ravioli for our respective lunches the following day, but my plan failed. We could not stop. One more, and one more again, until it became obvious that lunch for the next day was slowly becoming more of a wish than a reality. In the end, there was only barely enough for a one-person lunch. Only one! I cannot believe that P. is even the one who got it! I think I could call this love!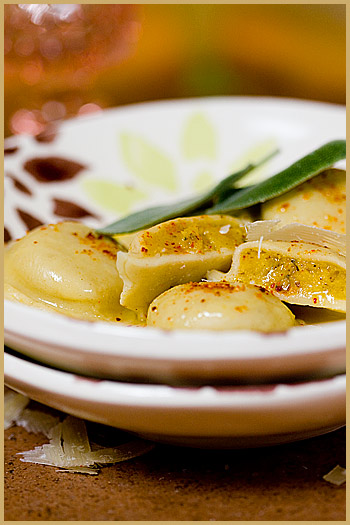 Butternut Squash and Sage Ravioli
(For 4 people)
You need:
For the Ravioli Dough: see my post here
For the Filling:
9 oz cooked butternut squash purée
1 oz grated parmesan
3 Tbsp ground hazelnut
Salt and pepper
1 shallot, chopped
1 Tbsp sage leaves, chopped
For the Orange Sauce:
Juice of 2 large organic oranges
2 oz butter
6 sage leaves
1 inch ginger root
Salt and pepper

Steps:
Start by preparing your pasta dough ahead of time following the instructions here.
In the meantime, prepare the sauce. Bring the orange juice to a boil, with the ginger sliced. Stop the heat and let infuse covered for 15 mns before adding the pieces of butter.
Discard the ginger, season with salt and pepper and keep warm. When ready to serve, add the sage leaves finely cut.
To prepare the filling, mix together all ingredients in a food processor.
Use a pasta machine if you have one to make thin pasta sheets (or roll by hand). Make sure to cover the dough with a towel while working as it dries quickly.
Cut your first ravioli sheet and place a small amount of filling on each.
Use some egg wash (1 egg beaten with a little bit water) to brush the edges of each ravioli and place the second sheet of ravioli on top. Seal by pressing on the edges so that they stick.
Cut with a ravioli cutter.
Cook them in salted boiling water for 3 mns or so, until the dough is Al Dente.
Serve the ravioli with the orange sauce and shaved parmesan.
Le coin français
Ravioli à la courge musquée et sauge
(Pour 4 personnes)
Ingrédients :
Pour la pâte à ravioli : voir les instructions ici
Pour la farce :
250 g de purée de courge musquée cuite
30 g de parmesan, finement râpé
3 Tbsp de poudre fine de noisettes
Sel et poivre
1 échalote, hachée
1 càs de feuilles de sauge
Pour la sauce à l'orange :
Jus de 2 grosses oranges bio
60 g de beurre
6 feuilles de sauge
2,5 cm de racine de gingembre
Sel et poivre

Étapes :
Commencez par préparer la pâte à ravioli à l'avance en suivant les instructions ici.
Pendant ce temps, préparez la sauce. Versez le jus d'orange dans une casserole et amenez à ébullition avec le gingembre coupé en rondelles. Arrêtez le feu et laissez infuser à couvert pendant 15 mns, puis ajoutez le beurre en morceaux.
Retirez le gingembre, assaisonnez de sel et de poivre et gardez cette sauce au chaud. Au dernier moment, ajoutez la sauge ciselée.
Pour préparer la farce, mettez tous les ingrédients de la farce dans le bol d'un robot mixeur et mixez.
Utilisez votre machine à pâte si vous en avez une pour étaler de fines feuilles de pâte, ou étalez à la main. Placez un linge sur les feuilles de pâte déjà étalées pour éviter qu'elles ne dessèchent.
Pour préparer vos ravioli, placez une petite cuillerée de farce sur chaque emplacement pour former vos ravioli.
Humidifiez les bords avec un oeuf battu avec un peau d'eau et placez une autre feuille de pâte par-dessus. Pressez les bords de chaque ravioli ensemble pour vous assurer qu'ils sont bien soudés et fermés.
Coupez avec une roulette à ravioli.
Faites-les cuire dans de l'eau bouillante salée pendant environ 3mns, Al Dente.
Servez les ravioli avec la sauce à l'orange et des copeaux fins de parmesan.
orange sauce, pasta, Food Styling, Photography, ravioli, sage, butternut squash, dinner