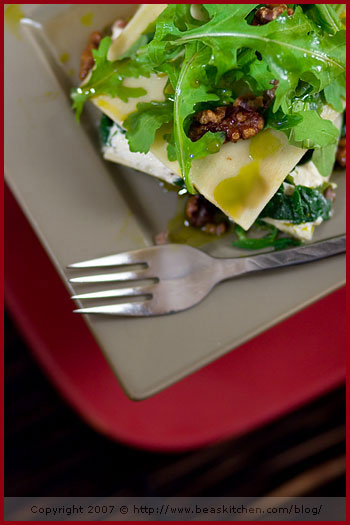 Lasagna, Ricotta and Spinach Filling, Walnuts and Arugula
"You are a spoiled brat!" P. told me as he walked into the kitchen.

"Moi ? Et pourquoi ça ?", I responded as I swiftly turned to look at him, piquée au vif ! (annoyed by his comment)

"Look at all the kitchen gadgets that you have!" he added, with his eyes glued to the shiny attachment of my Kitchen Aid that was keeping me busy that morning.
I really do not like when he calls me a brat. I hate this word. Je déteste ce mot. But the truth is that indeed, I can see that I am spoiled. I mean, I do have to face the facts and recognize that I have a lot of trucs, machins, bidules, gadgets, in short, I have good kitchen equipment that makes my life easier when it comes to answering my spontaneous, unpredictable food whims and fantasies. One word: spoiled. If I want to make, let's say fresh pasta, I do not have to think for too long, trying to assess whether I am too tired, or how much time I will need to complete the whole process, or even question whether I am ready to be rolling pasta dough, turning myself into a mad-looking woman, all covered in flour, with puffy cheeks, getting redder by the second as I push down on my rolling pin, back and forth, back and forth. It is a good thing that I am fit. All right, I might be exaggerating a bit as it really is not that bad. But the matter of the fact is that instead of working hard in the kitchen at making pasta, I can relax and take a bath instead. Why? I have a pasta machine, which is very convenient these days since, just dunno why, I am really into making fresh pasta: ravioli, tortellini, lasagna, you name it. It is my new thing. I thought of calling "it" the Italian phase.
Over the course of three days I have already made ravioli once, and lasagna twice. And I feel that it is only a start as I am not yet done with the enjoyment of working fresh pasta dough.
So where shall I start? With the lasagna. Unlike what you might expect, I made lasagna without any tomatoes, meat and hardly any cheese. Besides, my lasagna are hardly baked. So what is in there and how are they made, you might wonder? Let me answer. I guarantee that my lasagna still offer layers of deliciousness. And they are quick to assemble.
Les huiles et l'huile de pistache — Oils and Pistachio Oil
I always experiment with a large panel of different oils. In fact, I counted the oil bottles found in my cupboard, I come up with the number "twenty +". I should not try to analyze what this actually means, am I obsessive, do I suffer from a collecting stuff problem or do I simply love oil. Easy. I really love oils, of all sorts: olive, almond, avocado, sunflower, hazelnut, walnut, argan, to only name a few. I always find a way to try a new oil, like pistachio oil.
I discovered pistachio oil on a trip to France last year and fell in love with it right away. Its deep green color was the first thing that attracted me but that was even before I sampled it. Impossible to resist its nutty rich fragrance. While I successfully managed to sneak a pistachio oil bottle in back from my trip, I so far did not use it often, mostly because I forgot. Thinking about the lasagna I wanted to prepare though, I suddenly remembered it and decided to use this special oil for this recipe. Pistachio oil not being commonly found — although it can online or in delicacies stores — it is perfectly all right to use hazelnut or walnut oil instead, which I typically do for this recipe do. Any nutty oil will work, so choose the one you love.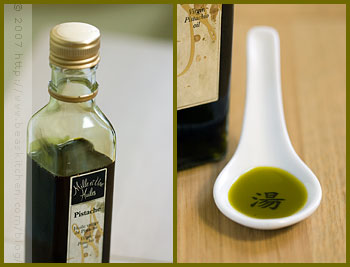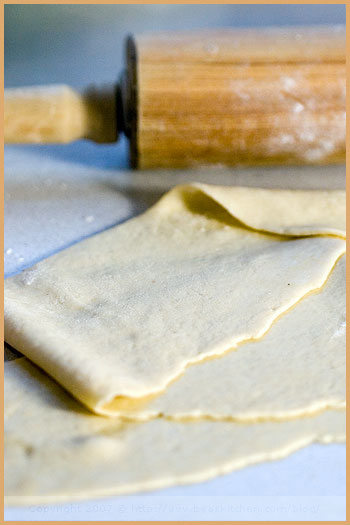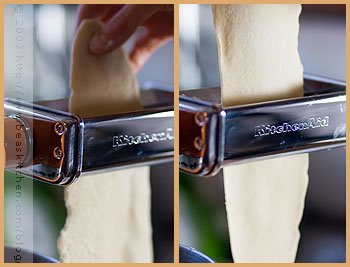 These lasagna are simple to make. Once the fresh sheets of pasta are cooked, ricotta and spinach are layered between them. They are topped with fresh arugula, oven roasted nuts and served with a nutty vinaigrette. What I actually enjoy the most about these lasagna is that along with being quick to make, they present a contrast of texture between cooked and raw food. And because they are hardly baked, they keep a fresher taste, which is one of the reasons why I simply adore this dish.
So now tell me, really, who is actually spoiled? Me or Him?
Les deux (both).
I would tend to think so.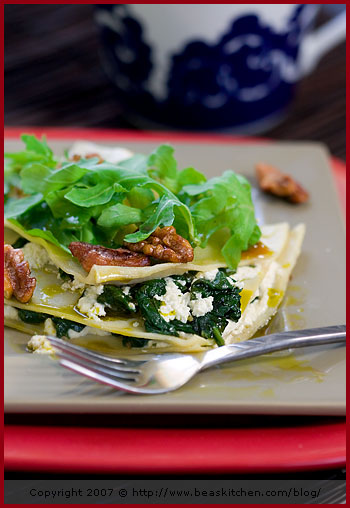 Lasagna with Ricotta, Spinach, Walnuts and Arugula
(For 4 people)
You need:
For the Lasagna Dough:
7 oz all-purpose flour
2 eggs
1 tsp salt
2 Tbsp water or so
For the Filling:
14.5 oz ricotta cheese
14.5 oz fresh spinach
1 Tbsp tarragon chopped
6 Tbsp chopped shallot (about 1 large shallot)
2 Tbsp sherry vinegar
Pistachio oil (or hazelnut or walnut)
Walnut (or hazelnuts), dry roasted
Arugula leaves
Salt and pepper
Steps:
Start by preparing your pasta dough ahead of time. If using a food processor, place the flour and salt in the bowl. Pulse and add the beaten eggs, then mix well. Add 1 Tbsp water at a time, until the dough forms a ball. Remove and work with the palm of your hand until it is elastic (a few mns). Wrap in plastic and let rest for 30 mns to 1 hour minimum.
Blanch the spinach in salted boiling water for 3 mns. Rinse under cold water and squeeze out the excess water. Keep.
Mix together the ricotta, sherry vinegar, 1 tsp pistachio oil, tarragon, shallots and season with salt and pepper. Keep.
To prepare the lasagna, use a pasta machine if you have one to make thin lasagna sheets (or roll by hand). Make sure to cover the dough with a towel while working as it dries quickly. Cook the precut rectangular sheets of pasta in boiling salted water for 3 to 4 mns or so. Melt some butter with some water and once cooked, place the lasagna sheets in this sauce to wait, to prevent them from sticking.
To assemble the lasagna, place individual pasta sheets in a dish and spread some ricotta. Add spinach. Repeat once and finish with a sheet of lasagna. Cook in a preheated oven at 400 F for about 10 mns.
Serve with fresh arugula and roasted nuts and some nutty vinaigrette (made of 1 Tbsp sherry vinegar and 2 Tbsp of nutty oil).
Le coin français
Lasagnes avec ricotta, épinards, noix et roquette
(Pour 4 personnes)
Ingrédients :
Pour les feuilles de lasagne :
200 g de farine
2 oeufs
1 càc sel
2 càs d'eau environ
Pour la farce :
400 g de ricotta
400 g d'épinards frais
1 càs d'estragon, haché (ou basilic)
6 càs d'échalote hachée (à peu près une grosse échalote)
2 càs de vinaigre de xérès
Huile de pistache (ou noix, ou noisette)
Noix (ou noisettes), grillées à sec
Roquette
Sel et poivre
Étapes :
Commencez par préparer la pâte à l'avance. Si vous utilisez un robot, mettez la farine et le sel dans le bol. Pulvérisez et ajoutez les oeufs battus à la fourchette. Mélangez bien et ajoutez 1 càs d'eau, puis une autre si nécessaire, jusqu'à ce que la pâte forme une boule. Travaillez-la ensuite avec la paume de votre main jusqu'à ce qu'elle soit élastique. Enveloppez-la dans du film alimentaire et laissez reposer pendant 30 mns à 1 heure minimum.
Blanchissez les épinards dans de l'eau bouillante salée pendant 3 mns. Rinsez-les sous l'eau froide et pressez-les entre vos doigts pour enlever l'excès de liquide. Mettez de côté.
Mélangez la ricotta, le vinaigre, 1 càc d'huile de pistache, l'estragon, l'échalote et assaisonnez de sel et de poivre. Mettez de côté.
Pour préparer vos lasagnes, passez la pâte dans la machine ou étalez-la finement à la main. Coupez des rectangles et faites-les cuire dans de l'eau bouillante salée pendant environ 3 mns (suivez les instructions si vous en achetez des sèches ou des fraiches). Faites fondre du beurre dans un peu d'eau et une fois vos lasagnes cuites, mettez-les en attente dans cette sauce pour éviter qu'elles ne collent.
Pour assembler vos lasagnes, prenez un plat et déposez une feuille de lasagne individuelle au fond. Répétez autant de fois que vous avez de portions. Continuez avec une couche de ricotta, puis des épinards frais. Recommencez avec une feuille de lasagne puis de la ricotta et des épinards. Terminez avec une feuille de lasagne. Passez au four préchauffé à 200 C pendant 10 mns.
Sortez les lasagnes du four et transférez-les sur assiette. Placez de la roquette lavée dessus, les noix et un peu de vinaigrette (1 càs de vinaigre de xérès mélangée avec 2 càs d'huile de pistache ou de noix).