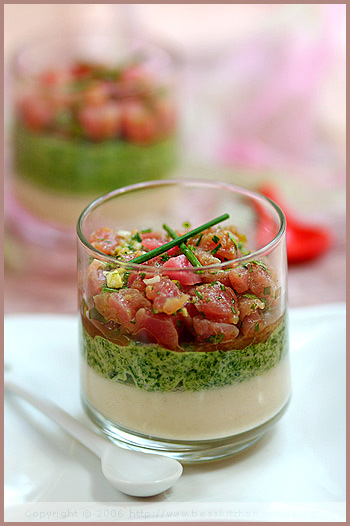 I cannot believe that we are only done with the first half of the holidays and I am already thinking about "what comes next?" Because this is really what happens at this time of year, isn't it? We move from one celebration into another one, from a more traditional family gathering at Christmas into a reunion at New Year's Eve. I have experienced a bit of both actually, going as far as deliberately wanting to spend Christmas alone once. This happened about nine years ago on Magnetic Island as I backpacked to the Great Barrier Reef in Australia. How did it feel? Fun, odd, different, exotic — swimming in warm waters and hiking to see koalas were definitely highlights — but it also provided me with a fantastic time to reflect on life events that we sometimes take for granted. I will never forget that year. That particular Christmas. You know the feeling. You sometimes realize what you have only when you do not have it.
In my family, there has always been a lot of planning around Christmas and New Year menus. It does not come as a surprise to me that I therefore unconsciously repeat what I have learned. I swore that it would never happen, pas moi ! (not me) but it did. I am just like the apple not falling far from the tree. Although at first unhappy to acknowledge it, as I naturally turned older and wiser, my feeling evolved: I could not be more thankful that it actually happened this way! My mum used to spend a lot of time testing recipes before the real day arrived, when her guests would finally be sitting around at her table, le soir du réveillon du Nouvel An (New Year's Eve). Come closer! I want to tell you something: I do the same!
And so did I for this appetizer.
You have already seen a few sweet verrines on my blog. To prove that they are fantastic as savory food, I thought about this one, well suited for the raw fish and vegetable lovers that both P. and I are.
I suggest serving this dish as a mise-en-bouche (smaller portions) or an appetizer. In this dish, layers of vegetable mousses, celery root and spinach, are served in glasses — hence we call them verrines — and are topped with a ginger-flavored red tuna tartar. Really simple. It really is! And yes, I can also add: delicious. P. always adds how much he loves these food rehearsals. I wonder why…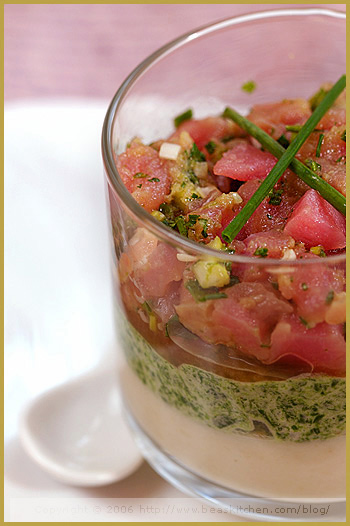 Duo of Vegetable Mousses and its Tuna Tartar
(For 4 to 6 people)
For the tuna ginger tartare
10.5 oz fresh red tuna
Zest of 1 lime
1″ fresh ginger root, grated very finely
1.5 Tbsp lime juice
1 tsp liquid honey
1 Tbsp soy sauce
1 Tbsp fish sauce
1 Tbsp dark sesame oil
1 Tbsp coriander, freshly chopped
1 Tbsp chives, chopped
1 scallion, chopped
For the vegetable mousses
7 oz fresh spinach
1 large bunch of fresh coriander
14 oz celery root, washed and peeled
2/3 cup heavy cream
4 gelatin sheets
4 Tbsp milk
Salt and pepper

Steps:
To prepare the vegetable mousses, start by peeling the celery root and dice it. Wash the spinach and the coriander. Cook the vegetables separately, celery root alone, and spinach with coriander (about 20 mns for the celery root and 2 mns for the spinach and coriander). Strain them and rinse under cold water. Squeeze the excess water out of the spinach.
Purée the vegetables separately, celery root on one hand, spinach and coriander on the other hand (I used a food processor). Keep these two purées.
Soak the gelatin for a few mns in cold water.
Squeeze the excess water.
Heat the milk and add the gelatin sheets so that they dissolve.
Whip the cold cream into whipped cream.
Mix the celery root purée in one bowl with half of the gelatin and whipped cream. Fold carefully to keep the preparation light. Season with salt and pepper and divide it between the serving glasses. Place in the fridge so that it sets.
Prepare the spinach/coriander purée with the rest of the gelatin and whipped cream and divide between the glasses on top of the celery mousse. Place in the fridge until it sets.
To prepare the tartar, mix the grated ginger, lime zest, lime juice, honey, soy sauce, fish sauce, sesame oil and chopped herbs.
Dice the tuna and mix it with the sauce. Place in the fridge for 10 to 15 mns.
Top the mousses with the tuna and decorate with more chopped chives. Serve.
Note: I suggest preparing the tuna tartar as close to eating as possible so that it does not "overcook".
Le coin français
Duo de mousses de légumes et son tartare de thon
(Pour 4 à 6 personnes)
Pour le tartare de thon au gingembre
300 g de thon rouge frais
Zeste d'un citron vert
2,5 cm de racine de gingembre frais, râpé très finement
1,5 càs de citron vert
1 càc de miel liquide
1 càs de sauce soja
1 càs de nuoc-mâm
1 càs d'huile de sésame
1 càs de coriandre fraîche hachée
1 càs de ciboulette hachée
1 oignon tige, haché
Pour les mousses de légumes
200 g d'épinards frais
1 botte de coriandre
1 boule de céleri-rave (400 g lavé, épluché)
15 cl de crème liquide
4 feuilles de gélatine
4 càs de lait
Sel et poivre

Étapes :
Pour préparer les mousses, commencez par éplucher le céleri rave et coupez-le en gros dés. Lavez les épinards et la coriandre. Faites cuire les légumes séparément dans de l'eau bouillante salée (environ 20 mns pour le céleri rave et 2 mns pour les épinards et la coriandre). Égouttez-les et rinsez-les à l'eau froide. Pressez les épinards pour enlever l'excès de liquide.
Mixez les légumes séparément, le céleri seul, et les épinards avec la coriandre. Réservez les deux purées.
Mettez la gélatine à ramollir dans de l'eau froide.
Essorez-la bien.
Chauffez le lait et ajoutez la gélatine pour la dissoudre.
Fouettez la crème froide en chantilly.
Mélangez délicatement la purée de céleri dans un saladier avec la moitié de la gélatine et la moitié de la chantilly. Salez et poivrez et répartissez dans des verres. Mettez au frigo pour que la mousse prenne.
Préparez la purée d'épinards/coriandre de la même façon et répartissez-la dans les verres. Remettez au frigo.
En attendant, pour préparer le tartare, mélangez dans un bol le gingembre râpé, le zeste de citron vert, le jus de citron, la sauce soja, le miel, le nuoc-mâm et l'huile, ainsi que les herbes hachées.
Coupez le thon en petits dés et ajoutez-le à la sauce. Mélangez bien. Mettez au frigo pendant 10 à 15 mns.
Répartissez dans les verres et décorez avec de la ciboulette. Servez.

Remarque : je suggère de préparer le tartare de thon au dernier moment pour qu'il ne "cuise" pas de trop (à cause du jus de citron vert).