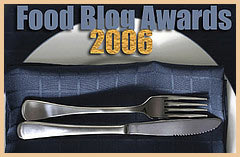 This is this time of year.
Food Blog Awards, Nomination Stage
The nomination stage for the Food Blog Awards is happening at WellFed. What we can do is simple: Nominate our favorite food blog(s) for one of the several categories below — leave the food blog names and URLs in the comment section under each category. We have until Dec 15th midnight EST to do so. After that time, the Top 5 of each category will be chosen, and we can vote again after Dec 23d to select one for each category. This is exciting. There are so many good food blogs that it does make the job difficult, don't you agree?
I already know what my favorite categories are too!
The categories are listed below:

Best Food Blog – City

Best Food Blog – Rural
Best Food Blog – Writing

Best Food Blog – Humor

Best Food Blog – Photography
Best Food Blog – Restaurant Reviews

Best Food Blog – Family/Kids
Best New Food Blog

Best Non-Blogging Food Site
Best Food Blog – Original Recipes (More than 75%)

Best Food Blog – Recipes
Best Food Blog – Group

Best Blog Covering the Food Industry

Best Food Blog – Post
Best Food Blog – Theme

Best Food Blog Covering Drinks (Alcohol/Non-Alcohol)