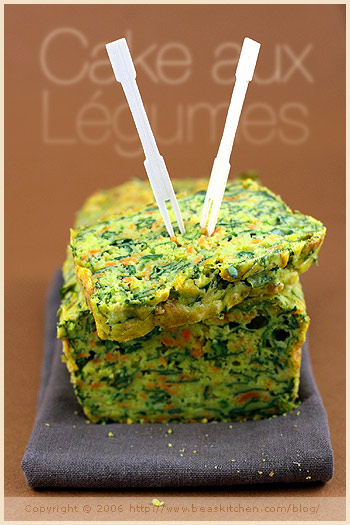 I wondered why I could just not get out of bed last Monday morning. I must have sensed what was in the air. The lack of noise outside made me believe that everything had been wrapped into du papier bulle (bubble wrap), into un silence d'or (golden silence). After managing to reluctantly get out of the cozy warm nest P. and I made during the night — between us, it must have been 95 F in there — since all the house blinds were still down, I rushed to the bathroom and climbed onto a chair to access the only window through which day beams of light came through. I had to have a peak at what was going on outside. The house roofs were all covered with a white sheet. It had snowed. Winter was finally here. Not that I actually minded the warmer days we had had until now, but a little voice inside me kept saying "C'est pas normal, on est quand même en décembre !" (It is not normal. It is December after all!)
At noon, it was all gone and I was already missing this white coat. I had already imagined snowshoeing, skiing, playing outside in the cold. Yes I love that stuff a lot! During that short time however, I had developed a strong desire to bake something. I could not bake a sweet cake since we already had one to finish. There was no one I could think of for whom I could bake something either. I walked into the kitchen and stood there for a few minutes. "Qu'est-ce que je vais bien pouvoir faire ?", I wondered. What could I do that would not require any additional trip to the grocery store — I had been seized by the lazy-to-go-to-the-store feeling and I would just not get there, even if I had to. And then I remembered. I had Fresh spinach in the fridge that I absolutely had to cook, unless I wanted them to end up old and grey before I knew it.

Vegetable Cake — Cake aux légumes
Cakes do not have to be sweet, we can agree on that. In fact, it is a good thing to remember to make savory versions to bring to parties or bien sûr, for your own parties and dinners, as amuse-bouches and savory apéritif nibbles. With Christmas approaching, I felt it was a good excuse to make this Vegetable Cake that I would try at my mother-in-law's, when traveling to Chicago to spend Christmas with P.'s happy Irish family clan. I was sure they would not know that kind.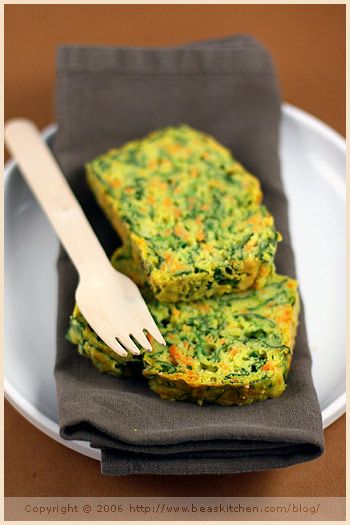 Slices of Cake
Many vegetable associations are possible in this type of cake. I have done many different variants and will introduce you to a few in the coming weeks. Such a savory cake is nice served in slices, as an accompaniment to a hearty soup for example, or cut in small squares for finger food. This is why I like them so much. They are versatile, moist but nourishing and flavorful. They are good for you, so maybe you want to give them a try!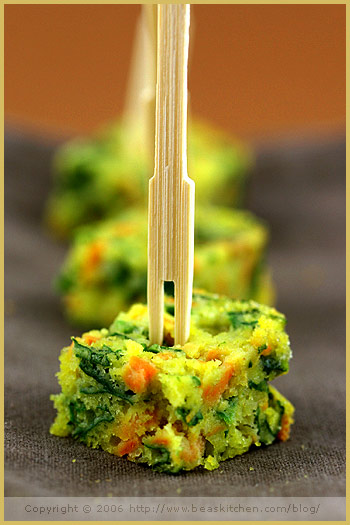 Amuse-bouches, finger food
Sweet Potato and Spinach Cake
You need:
3 eggs (2 oz each)
6 +1/3 oz all-purpose flour
7 oz sweet potato
3.5 oz fresh spinach, cleaned
3 oz hard cheese, like a nice-aged emmenthal
1/2 cup (minus 1 Tbsp) milk
1/2 cup (minus 1 Tbsp) olive oil
Pinch of salt
1 tsp coriander powder
2 tsp baking powder
Steps:
Peel the sweet potato and grate it coarsely.
Chop the spinach leaves coarsely.
Grate the cheese thinly.
In a bowl, mix together the eggs and flour.
Add the oil first and mix, then add the milk.
Add the vegetables and cheese and mix.
Then add a pinch of salt, coriander powder and baking powder.
Pour the batter in a rectangular greased cake pan — my mold measures 8″ x 3″ — and cook in the oven at 350 F for 50 mns.
Let the cake cool down before unmolding.
Le coin français
Cake aux épinards et patate douce
Ingrédients :
3 oeufs (60 g chacun)
180 g de farine
200 g patate douce
100 g épinards frais, nettoyés
80 g de fromage à pâte dure, tel un emmenthal
10 cl de lait demi-écrémé
10 cl d'huile d'olive
1 pincée de sel
1 càc de coriandre en poudre
2 càc de levure chimique
Étapes :
Pelez la patate douce et rapez-la grossièrement.
Hachez les feuilles d'épinards grossièrement.
Rapez le fromage finement.
Dans un bol, mélangez les oeufs et la farine au fouet.
Ajoutez l'huile et mélangez, puis ajoutez le lait. Mélangez bien.
Ajoutez les légumes et le fromage et mélangez.
Ajoutez 1 pincée de sel, la coriandre en poudre et la levure chimique.
Versez cette préparation dans un moule à gâteau rectangulaire beurré — mon moule mesure 21 x 7,5 cm — et faites cuire au four préchauffé à 180 C pendant environ 50 mns.
Laissez refroidir avant de démouler.