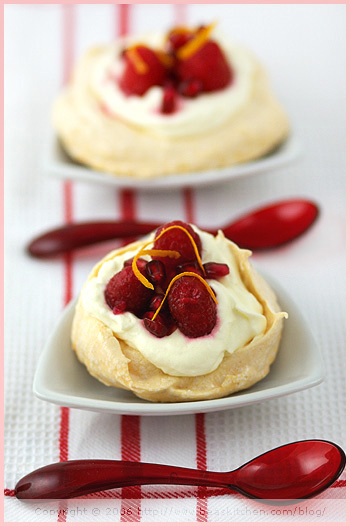 What would you say if I told you that my grand-mother used to make the best meringues? Probably that yours did as well, because we all have a sense that someone in our family or amongst our acquaintances makes "the best of something you have ever had". For example, P. has an Irish uncle, a friendly bloke who lives in a cute village by the sea close to Dublin, who loves to go fishing — and always catches something according to him — and likes to talk about food at length, especially to tell me the same French story every time I see him, on how expensive lobster was when he traveled to La Rochelle in France many years ago. He also adds that he makes the best jam. Yes, just like this. It always brings a smile to my face but I love his stories and his jams as a matter of fact. So when I say that my grand-mother used to make the best meringues, it might really sound cliché and banal. But the truth is that in my eyes, she really did. She died when I was too young, and I only wished I could still taste her meringues, her saucisson sec and her fries cut in a playful twirly shape cooked in végétaline (a vegetal cooking oil). They tasted like nothing else.
With this in mind, there was never the need for me to make meringues since whenever we visited my grand-mother Marie, we used to bring an endless supply of them home. I have rarely made meringues, but thought I would change this as a good friend of ours came for dinner a few days ago. On top of having a pretty large sweet tooth, I knew that she loved them.
I decided to make pavlovas, to make our dessert look more festive. Dessert does not always need to be complicated to be fulfilling.
I have rarely eaten pavlovas. My first time was actually only a few years ago, when P. and I went for dinner to a couple of our friends'. I was truly delighted to encounter this dessert for the first time. They served theirs with plain whipped cream topped with blackberries. In view of my current pomegranate phase, I thought of making mine slightly different, going into a white and red theme. There is no particularly reason to explain it besides that it gave me a great opportunity to try meringues, which I had not cooked in quite a while.
Meringues could not be simpler. They really only require two ingredients: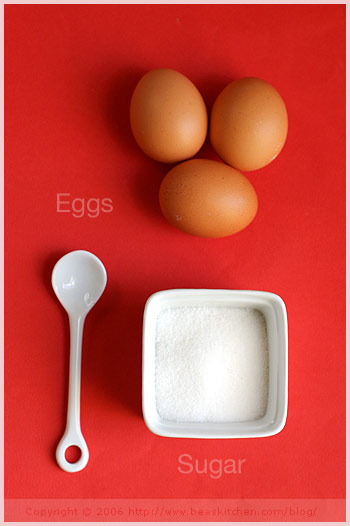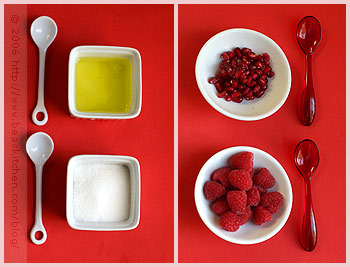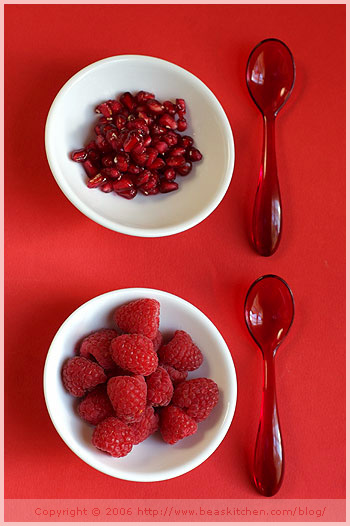 The trick about meringues is to determine when they are done. My grand-mother used to make hers hard and crispy. I like mine softer inside and crispier outside — just like pavlova meringues typically are. Depending on what your prefer, you will have to adjust the cooking time, prolonging it if you want them crispier, or shortening it otherwise. The cooking time I give here made for crispy meringues. I also wanted to flavor the whipped cream with orange, because I have always loved the association of raspberries with this flavor. Adding a touch of cardamom made it spicier. In many ways, you can simply customize them according to your preferred taste.
We topped ours with extra cream and fruit, adding more each time we were running out. My friend F. was so impressed with the dessert that she ate two — it is easy though as I am sure she could make a meal with desserts only — taking home the additional meringues I had made. She added that she was going to have them for breakfast the following day. "Dis-moi, tu es bien brave !" (You are brave), I told her when she was about to leave. I am not sure whether I could personally do this, but again, I am not much of a sweet tooth in the morning. F. went home on a sugar high, content as one can be. As to me, deep inside, I knew one thing: I would have made my grand-mother happy too.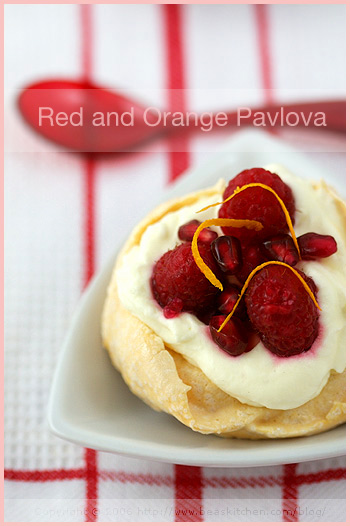 Red and Orange Pavlovas
(For 6 small pavlovas)
You need:
The Meringue
3 medium-sized egg whites
3.5 oz fine sugar
1 dash of salt
The Fruit
5 to 7 oz fresh raspberries and pomegrenate seeds
Juice of 1 lime
2 Tbsp fine sugar
1 orange zest
The Orange Whipped Cream
2/3 cup cold heavy cream
2 tsp fine sugar
1/2 tsp pure orange extract
Dash of cardamom powder
Steps:
Preheat your oven at 210 F.
Place the egg whites with a pinch of salt in a bowl. Start to beat them, and after 1 mn, add 2 tbsp of sugar before progressively adding the rest. The egg whites should be firm and form nice shiny peaks.
Take a baking sheet and cover it with parchment paper. Divide the egg whites between 6 little nests and place them in the oven for 1 hour 45 mns to 2 hours. Then turn off the oven and leave the meringue for 1 hour (this makes for crispier meringues, if you like them less cooked, shorten the cooking and resting times, check regularly by touching the meringues). Remove them and let them cool on a cooling rack.
When you are about to serve, mix together the fruit with the lime juice and sugar.
Whip the cold heavy cream firm with the orange essence, cardamom powder and sugar.
To serve, take one meringue and make a little indent in the middle before adding whipped cream and topping with fruit, and candied orange zests (orange zests cooked in a syrup made of sugar and water).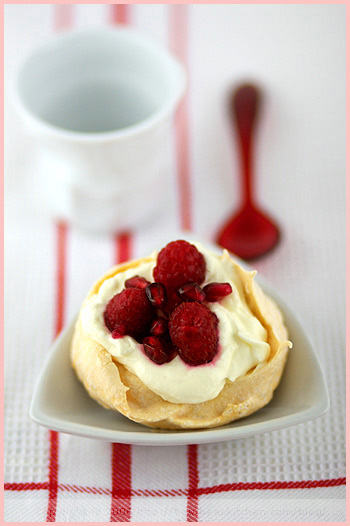 Le coin français
Pavlovas en rouge et orange
(Pour 6 petits pavlovas)
Ingrédients :
La meringue
3 blancs d'oeuf de taille moyenne
100 g de sucre fin
1 pincée de sel
Les fruits
150 à 200 g de framboises et de graines de grenade fraîches
Jus d'1 citron vert
2 càs de sucre fin
La chantilly à l'orange
160 ml de crème liquide froide
2 càc de sucre fin
1/2 càc d'extrait d'orange pur
Pincée de cardamome en poudre

Étapes :
Préchauffez votre four à 100 C.
Mettez les blancs d'oeuf dans un bol avec une pincée de sel. Montez-les en neige ferme, en ajoutant d'abord 2 càs de sucre après 1 mn, et en ajoutant le reste progressivement. La neige doit être bien ferme et brillante.
Prenez une plaque de cuisson et recouvrez-la de papier sulfurisé. Divisez les blancs montés en neige en 6 petits nids, et mettez au four pendant 1 heure 45 mns à 2 heures. Arrêtez alors le four et laissez vos meringues dans le four éteint pendant 1 heure (ces données sont pour des meringues plutôt bien cuites, si vous les préfèrez plus molles, réduisez le temps de cuisson et celui de repos, en vérifiant régulièrement en cours de cuisson également). Sortez-les du four et laisssez-les refroidir sur une grille.
Lorsque vous êtes prêt à servir votre dessert, mélangez les fruits avec le jus de citron vert et le sucre.
Montez la crème liquide froide en chantilly avec l'extrait d'orange et la cardamome en poudre.
Pour servir, prenez une meringue et faites un petit creux pour mettre de la chantilly et les fruits au-dessus. Décorez avec des zestes d'orange confits dans du sucre.