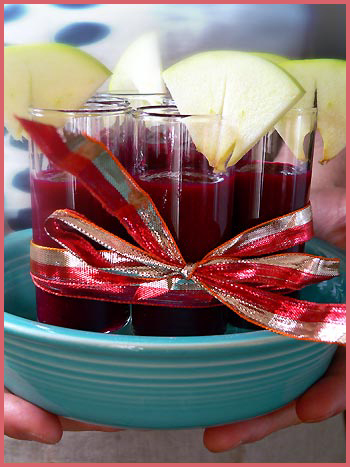 Iced Beet and Green Apple Mise en Bouche
It looks the same, it has the same colour but it is different. I can reassure you as I add that I did not buy a full box of beets on sale. I just like them. And I believe that when one is in the mood of studying an ingredient closely, one has to play with it and test more texture and taste combinations. A mise en bouche was just what I wanted to try.
Mais? Hein? Quoi? (But, what?) You do not know what it is?
Mise en bouche de betterave et pomme verte – Beet and Green Apple Mise en Bouche
Une mise en bouche? Qu'est-ce que c'est? What is that? You probably know Amuse-bouche. Close enough, in French, we thought of inventing mise en bouche.
I hope you will not mind a little language exposé, so that at least you understand how it works and why it is called this way.
Bouche (n. f.) in French is the mouth.
Amuse (v.) is a conjugated form of the verb amuser, to please.
Mise (v.) is a conjugated form of the verb mettre, to put.
En (prep.) is a preposition meaning in.
Then it is just a question of putting the pieces of the puzzle next to each other. You will compose the following terms:
1. mise en bouche which means put in the mouth,
2. amuse bouche which means please the mouth.
A mise en bouche is the best way to start a meal, like a tease before more food is to come, so that you the eater gets ready and in the mood for more food to come. In other words, the mise en bouche should better be excellent as it is what will determine the state of mind in which you will find yourself as you are ready to enjoy a meal. In short, it is your first encounter with a meal. Les mises en bouche are usually full of concentrated flavours although they should not overpower your palate. I love them because they are tiny like any finger food is. Tout ce qui est petit est mignon (Small is cute) is commonly accepted, no?
(Note: And in case you want to know, in the restaurant world, a typically known term is a mise en place, which is the set of operations predecing the service. It goes from the setting up of the tables to the required ingredients and utensils in the kitchen, for the meals.)
Last night, we were invited to some friends' for a BBQ. One of the first of the season, as we almost transitioned from winter into hot summer. Where did Spring go, the one I love so much? Missed! Parti, ou à dormir au placard! (gone or sleeping in the closet!) It was hot, ….already too hot. I think I am going to be dreading this heat. Amongst the fews things I made, I set my mind to preparing a cold mise en bouche, something to make you forget the heat and freshen you up. And what would be, to you, the nicest compliment someone could make about a dish you prepare? After the first taste of the mise en bouche, my friend Yvonne said: "Usually I do not like beets but this is very good. I do not feel the earthiness of the beets at all!" Aha! Bingo! You do not even need to like beets to enjoy this mise en bouche! See!
Very simple to make, refreshing and oui oui, la cerise sur le gâteau (the cherry on top of the cake), it is full of vitamins and super good for you.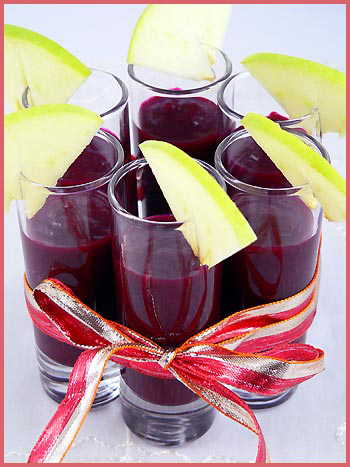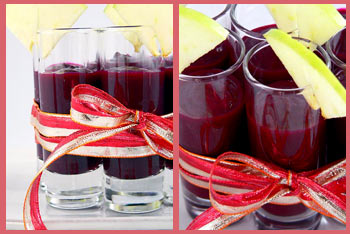 Iced Beet and Green Apple Mise en Bouche
(For 6 to 8 people)
You need:
14 oz cooked beets
1/2 cucumber
2 Tbsp water
1 cup freshly squeezed green apple juice (2 apples Granny Smith , about 1Lb)
1 shallot
4 mint leaves
1 Green apple Granny Smith (for decoration)
Juice of 1/2 lemon
Steps:
Wash and cook the beets.
Peel and cut them in big pieces.
Squeeze the juice of the apples and add the lemon juice.
Remove the seeds from the peeled cucumber. Cut in big pieces.
Place all the ingredients in a blender and mix well (minus the apple for decoration).
Verify the seasoning.
Slice the apple and squeeze with lemon juice.
Decorate the glasses with the apple slices. Eat very cold.
Le coin français
Mise en bouche de betterave et pomme verte glacée
(Pour 6 à 8 personnes)
Ingrédients :
400 g betteraves cuites
1/2 concombre
2 càs d'eau
250 ml de jus de pomme verte frais (2 pommes Granny Smith , soit environ 450 g)
1 échalotte
4 feuilles de menthe
1 Pomme verte Granny Smith (pour la decoration)
Jus d'1/2 citron frais
Étapes :
Lavez et faites cuire les betteraves.
Pelez-les et coupez-les en gros cubes.
Pressez le jus des pommes vertes et ajoutez le jus de citron.
Épépinnez le concombre pelé. Coupez-le en gros dés.
Mettez tous les ingédients dans un mixeur et mixez (sauf la pomme pour décoration).
Rectifiez l'assaisonnement si nécessaire.
Coupez de belles tranches de pommes que vous citronnez.
Décorez-en les verres. Dégustez très frais.
C'est frais et plein de vitamines!