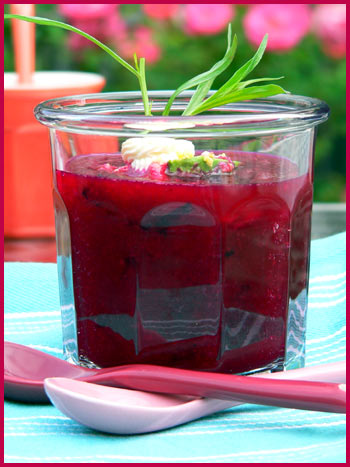 The Return of Cold Soups
When it is hot, we want to eat colder foods. This is quite normal, yet fascinating all the same as it is possible to witness how the flux between outside temperatures and our bodies works. Even if I laugh when asked the question by my parents "Et quel temps il fait à Boston ?" (What's the weather like in Boston?)- to which I inquire about their weather-, at least it indicates to me what my parents are quite likely to be eating at that time. While travelling to Turkey in summer many years ago, I however had a hard time eating warm foods, although this was what people ate. But not being used to the climate there, and being young and ignorant, I was not dealing with the heat the way one should. Summer is definitely a season when I am enthusiastic at the thought of cooking cold foods. There are so many things to make, with such a wide array of fresh vegetables to buy, or fruit to pick directly from the trees. I love replenishing in a wide variety of salads, vegetable medleys and cooking ideas just cannot stop invading my head. If only I had more time to accomplish them all. Quite typical of me, summer food will have to be hued with bright colours because natural elements such as the Sun (when we have some and we do) and Heat make me want it to be that way. I feel very thrilled that cold soups are going to start visiting my tables.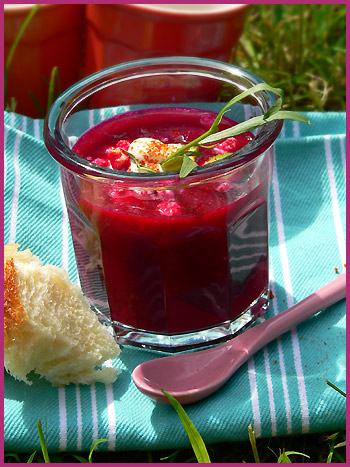 Borscht
I think I can still remember the first time I ate borscht, on a hot summer day. Hence my first taste of borscht was of a cold version rather than a hot one. What truly got me into madly wanting to try the soup was its deep red colour as it was displayed in front of me. "Wouah"I thought! Ça, c'est du rouge! This looks so red! The experience of this dégustation stayed with me for a long time, so much so that I had then promised to myself that I would one day duplicate the experience at home. I did a few attempts, adding and removing ingredients each time, before I settled with the recipe I will present here. The origins of borscht are numerous. I am reading about versions from Russia, Ukraine, Belarusia, Poland, Lithuania, and Romania to name a few, in other words, Eastern Europe generally speaking. Ukraine would even call the dish their national soup, claiming it originated there.
The variations on Borscht abund although the essential ingredients to make it don't. Borscht will have to be red because the main vegetable used is red beet! So of course, unless you like beets, there is little chance you will appreciate this delicious dish. Who knows though! You could change your mind. I wanted my borscht to have texture. I wanted it to become one meal on its own if I wanted to. So I decided to add thickness and texture to the red smooth broth. Chopped pieces of cucumber, avocado, tomatoes, and even hard-boiled eggs were added, with the must-have drop of sour cream or crème fraîche. Whether my borscht stayed authentic could be argued by the purists. Mais c'est pas du tout du borscht ça! (This is no borscht at all!) Not a life threatening issue to me if you will excuse me, so I shall keep it this way. But I would love to get other variants to try though, so if any recipes to share, I would love to hear from them! As to mine? Call it Béa's Interpreted Borscht. What made it for me was discovering a contrast between pieces of freshly chopped vegetables inside a smooth cold beet broth. The sour cream softened it while the herbs gave it fragrance. Then you can leave variations open to your own imagination. More sherry vinegar or lemon juice and it has a stronger tangy flavour, which I personally love. Eat it without reserve, it is good for you!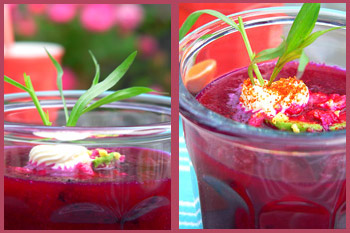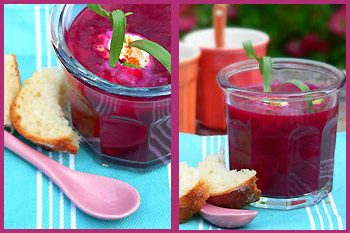 Borscht
(for 3 to 4 small servings)
You need:
3 red beetroots (about 1 lb)
Water (4 to 5 cups, or more)
2 scallions (or 1 shallot)
2 Roma tomatoes
1/2 English cucumber + 1/4 extra
2 eggs
1/2 Avocado
Salt and pepper
1 Tbsp Sherry Vinegar
1 Tbsp Tarragon
1 Tbsp Dill
Sour cream or crème fraîche
Juice of 1/2 lemon
Dash of paprika (optional)

Steps:
Brush and wash the beets well.
Place them in a small pot and cover with the water (Adjust water quantity accordingly).
Add a dash of sea salt and the lemon juice.
Bring to a boil and cook on medium heat until the beets are cooked all the way through (this could take about 45 mns to 1 hour, depending on the size of the beets). Take them out so that they can cool down, but keep the cooking juice.
Peel the beets and chop them coarsely. Place them in a blender and mix well (keep one 1/2 beet that you will add later with the rest of the vegetables).
Add some of the cooking juice (adjust the consistency. It should not be nor too liquidy nor too thick. I usually do not use all of the cooking juice.)
Peel 1/2 cucumber and remove the seeds.
Chop and add it to the beet preparation.
Mix well in the blender.
Add the shallot (or scallions) and the washed tarragon and dill, then mix again.
Add the Sherry vinegar and mix well.
Season with salt and pepper.
Place the preparation in a container to go to the fridge so that the flavours can blend well together (min 2 hours).
Wash the tomatoes and boil them for 1 mn.
Rinse them in cold water, then peel them and remove the seeds.
Chop them in little cubes.
Chop the extra 1/4 cucumber.
Slice the avocado.
Chop the 1/2 extra cooked beet.
Hard boil the eggs and when done, chop them coarsely.
When ready to serve, take the soup out of the fridge and divide it between bowls.
Top with the chopped vegetables, the eggs and a small tsp of sour cream with sprinkled paprika.
Add extra dill and tarragon! And mainly enjoy!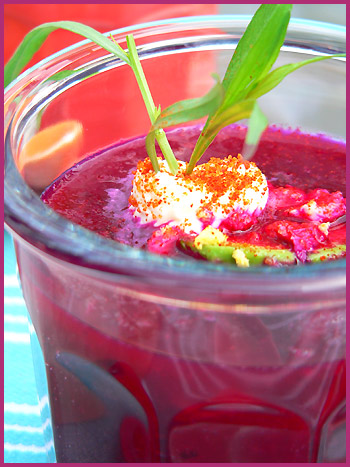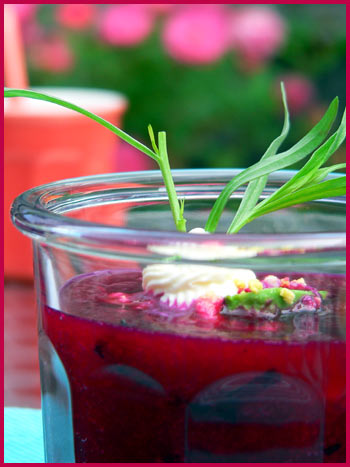 Le coin français
Borscht
(pour 3 à 4 petite portions)
Ingrédients :
3 petites betteraves rouges (environ 450 g)
Eau (environ 1 l)
2 petits oignons (ou 1 échalotte)
2 tomates Roma
1/2 concombre (+ 1/4 extra)
2 oeufs
1/2 avocat
Sel et poivre
1 càs de vinaigre de xérès
1 càs d'estragon frais
Aneth
Crème fraîche
Jus d'1/2 citron
Pointe de paprika (facultatif)

Étapes :
Brossez et lavez bien les betteraves.
Mettez-les dans une casserole et recouvrez avec l'eau (ajustez la quantité d'eau si nécessaire).
Ajoutez du sel de mer et le jus de citron.
Amenez à ébullition et cuisez les betteraves sur feu moyen jusqu'à ce qu'elles soient tendres à coeur (vérifiez avec un pique). Cela prend environ 45 mns à 1 heure en fonction de la taille des betteraves. Sortez-les de la casserole pour les laisser refroidir mais gardez le jus de cuisson.
Pelez-les et placez-les dans un mixeur (mettez de côté la moitié d'une betterave cuite que vous ajouterez plus tard).
Ajoutez du jus de cuisson (faites-le petit à petit pour choisir la consistence de la soupe que vous préférez). Je n'ajoute en général pas tout le jus. Mixez bien.
Pelez le concombre et enlevez les pépins.
Coupez-le en gros morceaux et ajoutez-les à la préparation de betterave. Mixez à nouveau.
Ajoutez l'échalotte (ou les petits oignons), l'estragon et l'aneth. Mixez encore pour obtenir une crème bien onctueuse (pas trop liquide ni trop solide). Rectifiez la consistence avec plus de jus de cuisson si nécessaire.
Ajoutez le vinaigre de xérès. Assaisonnez avec du sel et du poivre, et mélangez bien.
Placez au frigidaire pour que toutes les saveurs se mélangent bien, pendant au moins 2 heures.
Lavez les tomates et ébouillantez-les pendant 1 mn. Pelez-les. Épépinnez-les et coupez-les en petits dés.
Coupez le 1/4 de concombre en petits dés.
Coupez l'avocat en petits dés.
Coupez la 1/2 betterave cuite en petits dés.
Faites cuire les oeufs pour en faire des oeufs durs. Une fois fait, hachez-les grossièrement et réservez.
Au moment de servir, sortez la soupe de betterave du frigidaire et répartissez-la dans des bols.
Ajoutez tous les petits dés de légumes avec les oeufs hachés. Ajoutez 1 càc de crème fraîche et un soupçon de paprika si vous le souhaitez.
Ajoutez de l'estragon et de l'aneth.