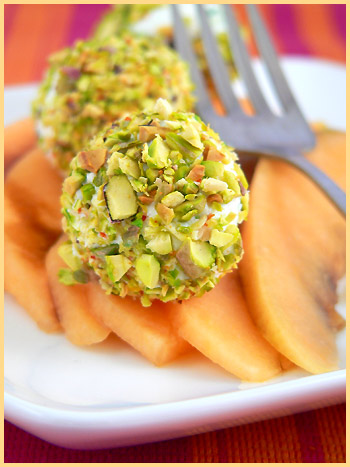 C'est quoi ces boulettes ? (What are these little balls?)
I think I am known to be stubborn, especially when it comes to something I really want. To think that only a week ago, my dad even told me "tu obtiens toujours ce que tu veux!" (You always get what you want). I will not unveil the context of his comment to me, just because you might start siding with my papa! A dad stays a dad, always! No rocket science here! No matter how old I am, I will always be my dad's little girl (and I mean petite fille!) and he will always have to comment on what I do, especially if I do it differently than he would have! Mais je t'ai dit pas comme cela, têtue! (No, I told you not like this, stubborn you!)
So when I came across the latest copy of Régal, a new cooking magazine I discovered in France last week, I put my stubborness to play. Why was that? Because I literally did not like the outcome of a recipe which picture I had however loved! Beurk! (Yuck!) I still loved the concept of the recipe, and decided to apply once more the recipe-deconstructing method. Change this, add that, remove this, mix, mix, mix, you have a newly born recipe.
Du chèvre, du melon et autres choses – Goat Cheese, Melon and Other Things
In the magazine's original recipe, fresh goat cheese had been flavoured sweetly. Oui, vraiment! Really! I disliked this a lot! Du fromage de chèvre sucré ? Non, pas pour moi! (Sweet goat cheese? No, not for me!) I do not know about you, but when it comes to cheese, I am staying very traditional, and much prefer the use of peppers, chives, herbs, scallions, or any savoury flavors added to the cheese, and certainly not sugar! The sauce accompanying the melon was a very sweet caramel that again, I did not like. So what did I like you might question? The picture and its little goat cheese balls, the pistachios, and the melon. My stubborn self however really wanted to make this recipe a winner, and so scratching my head and drawing lists of all sorts of possibilities, I came up with a very different version. Sweet was still meeting Savoury like West Meets East, but in a much gentler way! In my head popped the thought of making a reduced caramelized balsamic vinegar sauce for the melon, with savoury goat cheese rolled in a mixture of chopped pistachios and Espelette pepper. The recipe was going to stay simple but much more on the savoury side, with added spiciness around the cheese.
I am still debating whether I prefer the recipe with or without the balsamic vinegar caramel. If you are new to making it, this could be a great opportunity to try, like I did. This sauce can accompany a variety of dishes, from sweet to savoury, it is just a question of tastebuds and experimenting with it. Which made me feel that in the end, there was nothing wrong with being persistent! So, when my dad says I am stubborn, I respond I am persistent.
A light appetizer for the hot summer days!
Melon With Fresh Goat Cheese and Pistachios
(For 4 people)


You need:
For the balsamic vinegar caramel
10 cl red balsamic vinegar
2 Tbsp fine sugar
For the goat cheese bowls
7 oz goat cheese, type Petit Billy (for 12 small balls)
25 unsalted pistachios
1 tsp piment d'Espelette (is a type of spicy dried pepper, powder form)
3 scallions
8 twigs of chives
White pepper
Fleur de sel
1 Melon (Cantaloupe)
Steps :
For the balsamic vinegar caramel
Mix together the vinegar, the sugar and brin to a boil.
Reduce the heat and let reduce until the consistency is like a thicker syrup (can take up to 10 mns and more).
Keep aside (be careful though that while cooling down, it gets quickly firmer, so plan accordingly with the rest of the preparation).
For the goat cheese bowls and the melon
Chop the chives and scallions thinly.
Mix them with the cheese, using a fork.
Season with pepper.
Shape small balls using the palm of your hand.
Chop the pistachios coarsely.
Mix them with the piment d'espelette.
Roll the balls of cheese in this preparation and keep in the fridge.
Cut the melon in thin slices that you divide between the 4 plates.
Decorate with the goat cheese balls and the caramelized balsamic vinegar (Do not put too much as the flavor is strong).
(Optional) Sprinkle with fleur de sel.
Le coin français
Melon et boulettes de chèvre frais aux pistaches
(Pour 4 personnes)
Ingrédients :
Pour le caramel de vinaigre de balsamique
10 cl de vinaigre de balsamique
2 càs de sucre fin
Pour les boulettes de chèvre
200 g de petit Billy (donnent 12 boulettes)
25 pistaches non salées
1 càc de piment d'Espelette
3 petits oignons
8 brins de ciboulette
Poivre blanc
Fleur de sel
1 melon
Étapes :
Pour le caramel de vinaigre de balsamique
Mélangez le vinaigre et le sucre, et amenez à ébullition.
Puis faites réduire jusqu'à ce que le vinaigre ait une consistance sirupeuse.
Réservez (Attention, si le sirop refroidit trop vite, il épaissit vite)
Pour les boulettes de chèvre
Hachez la ciboulette et les oignons très finement.
Mélangez-les au chèvre à l'aide d'une fourchette.
Poivrez.
Formez des boulettes avec la paume de votre main.
Hachez les pistaches grossièrement.
Mélangez-les avec le piment d'espelette.
Roulez les boulettes de chèvre dans cette préparation, et réservez-les au frais.
Faites de belles tranches de melon et placez-les sur des assiettes de service.
Décorez avec les boulettes de chèvre et accompagnez d'un filet de sirop de vinaigre de balsamique caramélisé.
(Facultatif) Saupoudrez de fleur de sel.