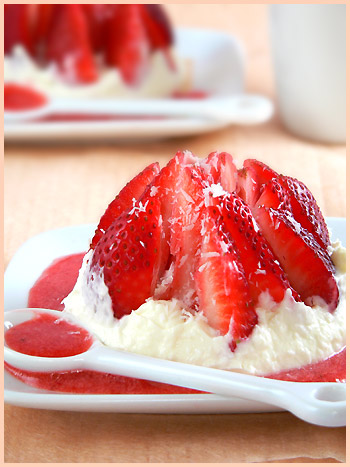 L'histoire des fraises – Partie 2 / The Story of the Strawberries – Part 2
I think that noticing differences can be very intriguing. Take two people that are close to me. P. my hubbie loves coconut. My brother Benoit hates coconut (noix de coco (n.f.) in French) And I really mean love on one hand, hatred on the other end. Why is that, I wonder? Personally, I used to dislike coconut and I grew to like it. Now this is talking about influences that one can have on someone else, just like one becomes similar to the people one lives with. I reassure you. P. and I do not have a dog that is a spitting image of us two. But we could! I wonder what the dog would look like!
You will have understood that when it comes to strawberries, my imagination is very active. To the question, what to do when you have a fridge full of ripe strawberries that will not last so long? , I had to find a quick answer for last night's dinner. I have not been back for 5 full days and I j u s t could not help but already buy 3 cartons of strawberries. Is this what we call an obsession? My strawberries were not going to last and I wanted to make something a little more original than the usual bowl of freshly washed strawberries sprinkled with sugar and lemon that P. and I commonly have. After a fast inspection of my fridge, I set my mind to improvising a very simple and refreshing dessert. And to do so, I did something I enjoy doing a lot:
The Art of Deconstructing A Recipe
Or How to Invent a Recipe
The method is pretty easy and probably familiar to a lot of you
Step 1: Come across a recipe that catches your eye or talks to you
Step 2: Check the list of ingredients
Step 3: Note what you like
Step 4: Select what you keep
Step 5: Select what you omit
Step 6: Select what you add or substitute
Step 7: Test to see whether it works
Step 8: Start again until you are happy.
My inspiration for this dessert initially came from a recipe from chef Michel Bras presented in a copy of a recent Elle à Table. Only that I decided to change most of the cream ingredients because I wanted a lighter, faster-to-make dessert, and I was going to use my secret-summer-dessert-ingredient of all. Today is your lucky day! Guess what! I am telling you what the secret ingredient is.
Mascarpone cheese
Do you know of a nicer, softer, more satisfying texture than the one you can find in this white subtle cheese? I only have a few words to add, and you have to believe me. Mascarpone cheese can definitely become your secret ingredient too. It is just the perfect ingredient to use to make delicious desserts, in no time, such as in this recipe. I use it over and over (you might remember my strawberry tartlets here and there). In a few words, this dessert is made of a coconut-flavoured mascarpone cream topped with freshly cut strawberries and surrounded with strawberry coulis. With this, I do not know why my brother would still hate coconut!
Vive la mascarpone et les italiens!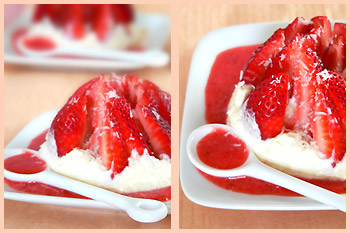 Strawberry Love Dessert and its Coconut Cream
(For 4 people)
You need:
For the Cream
7 oz mascarpone cheese
2 Tbsp plain yogurt (creamy texture, like Velouté)
4 Tbsp grated coconut + more for decoration
2 Tbsp Confectioner's sugar
About 12 to 16 large strawberries
For the Strawberry Coulis
7 oz Strawberries
Dash of lemon juice (about 1 Tbsp)
2 oz fine sugar
Steps:
For the Cream
Mix together the mascarpone cheese with the yogurt, sugar and coconut.
Take a ring mold (mine are 3″ x 2.5″) and place it in the center of a dessert plate (You will share the cream between the 4 servings.
Wash your strawberries and slice them lengthwise.
Place them upstraight in the molds, on top of the cream.
Gently remove the molds.
Place the desserts in the fridge for 45 mns, so that the creams get firmer (but you can eat it right away too!)

For the Strawberry Coulis
In a food processor, mix together the sugar, with the strawberries and add the squeezed lemon juice.
Reserve in the fridge.
Final Touch
To serve, sprinkle the strawberries with some extra grated coconut and pour some coulis around the cream. It is fresh and delicious. This dessert takes literally 15 mns to make! This counts!
Le coin français
Un amour de fraises et sa crème à la noix de coco

(Pour 4 personnes)
Ingrédients :
Pour la crème
200 g de mascarpone cheese
2 càs de yaourt nature (type Velouté)
4 càs de noix de coco râpée + pour la décoration
2 càs de sucre glace
Environ 12 à 16 grosses fraises
Pour le coulis de fraises
200 g de fraises
Du jus de citron (environ 1 càs)
60 g de sucre fin
Étapes :
Pour la crème
Mélangez bien ensemble la mascarpone avec le yaourt, le sucre et la noix de coco râpée.
Prenez un cercle (les miens mesurent 7,5 cm x 6,25 cm) et placez-le au centre d'une assiette à dessert (Vous allez diviser la crème entre les 4 assiettes).
Lavez les fraises et coupez-les en grosses tranches dans le sens de la longueur.
Disposez-les verticalement sur la crème, dans le cercle.
Enlevez le cercle en faisant bien attention.
Placez les desserts au frigidaire pendant 45 mns, de manière à ce que la crème devienne plus ferme (ou mangez de suite!)

Pour le coulis de fraises
Dans un robot ménager, mixez ensemble les fraises lavées, le sucre et le jus de citron.
Réservez au frais.
Touche finale
Pour servir, saupoudrez les fraises de noix de coco râpée et versez le coulis autour des crèmes.
C'est frais et délicieux ! Et cela se prépare en moins de 15 mns ! Cela, ça compte !