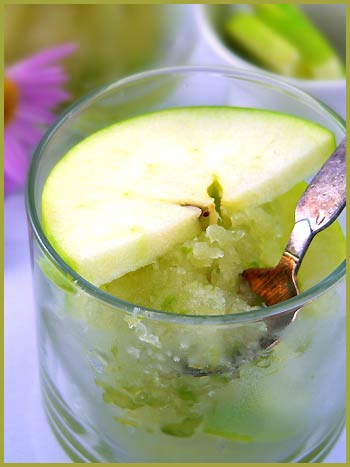 Quelle chaleur! (What heat!)
What do you do when it is scorching hot outside?
I do not think that I have been as challenged to take pictures as I have been today. What do you do when you want to take shots of sorbet and it is 90 F + outside? I acknowledge that as crazy as it sounds and despite the known fact that summers in New England are generally hot and humid (I can see that eyebrows will soon rise), we still do not own AC. Pas de clim! (short for climatisation). I fought against it for years. "Mais je te dis que j'aime pas ça!"(I tell you I do not like this) has been my answer to P.'s complaints for years. I know it is crazy but I did not grow up with them and while working in offices, I used to hate to have to wear sweaters in the middle of summer because being inside was like working in a fridge. Times have changed. I have changed. I can say that after 8 years of this fight, against this je ne sais quoi, I decided to give in and AC there will be in our house. At last. And to transition into this new house environment change….
Sorbet anyone?
or how to make the easiest sorbet possible.
As with any kind of sorbet, the key is to make sure that your fruit preparation is extremely cold. If not, you can wait and wait and wait, it will not become the expected sorbet.To make this green apple sorbet, I froze slices of green apples overnight, to be used the following day. The light acidy shade of green attracted me, cooling me down even before having AC. Then of course I ate it and I felt cooler right away. Maybe no AC needed? Of course not, I am converted now and suffice to say that both the sorbet and the AC are very welcomed these days in New England. Did I say I liked summer before?
Green Apple Sorbet
You need:
About 1 large Lb of green apples (about 3 large Granny Smith apples)
Juice of 1 lemon
Syrup made of 11 oz fine sugar with 1 + 1/4 cups water
Steps:
The day before
Wash and slice the apples thinly (without peeling them).
Remove the cores and seeds.
Squeeze the lemon juice over.
Place them in a container that you will place in the freezer overnight.
On the Day
Prepare a syrup: mix together the sugar and water.
Bring to a boil.
Pour over the apples and mix well.
Purée extremely thinly in a food processor.
Return the preparation to the fridge until very cold.
Use an icecream machine to turn into sorbet.
Serve in glasses between freshly slices of apples (on which you squeezed some extra lemon juice to prevent oxydation). Eat before it melts!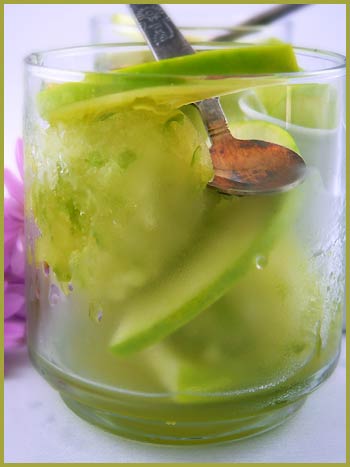 Le coin français
Sorbet à la pomme verte

Ingrédients :
500 g de pommes vertes (3 Granny Smith environ)
Jus d'1 citron
Sirop fait à partir de 300 g de sucre fin et 30 cl d'eau
Étapes :
Le jour avant
Lavez et tranchez les pommes finement. Veillez à enlever tous les pépins et les parties dures des pommes. Ne les pelez pas.
Arrosez du jus de citron.
Mettez au congélateur toute la nuit.
Le jour même
Préparez un sirop en mélangeant le sucre et l'eau.
Portez à ébullition.
Versez-le sur les pommes congelées.
Réduisez en purée fine en utilisant un mixeur.
Remettez la préparation au frigo pour qu'elle soit bien froide.
Faites prendre en sorbetière.
Servez dans des verres en alternant des couches de pommes vertes citronnées et des boules de sorbet. Mangez sans attendre car cela fond vite quand il fait si chaud!