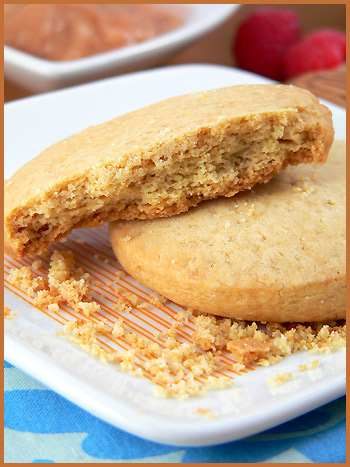 No fuss! Nothing can replace homemade cookies from now on. Called sablés in French due to the crumbly texture, just like sand (sable in French, hence sablé has the same root as sable; when I tell you French is easy!)
The problem once you start making your own cookies is that it becomes impossible to switch back to store-bought ones. You become your own slave! Why did I ever start?
These are very simple. For me, they will become the little cookies to take on for summer hikes. I cannot wait!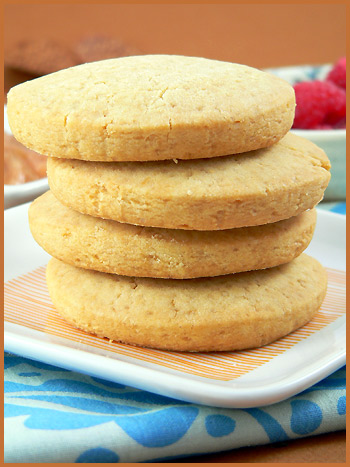 Shortbread Cookies and Rhubarb compote
For about 12 cookies

You need:
1 + 1/3 cups flour
2 egg yolks
8 g baking powder
2 oz cane sugar
Salt
6 Tbsp butter
11 oz rhubarb (4 sticks perhaps) for the compote

Steps:
Mix together with the tip of your fingers the flour and butter, then add the baking powder and salt.
Take a mixer and mix together the sugar and egg yolks until lighter in colour and it doubles.
Add to the previous batter.
Make a ball and place it in a plastic film, in the fridge for 2 hours.
Roll your dough to a thickness of 1/2 inch.
Make cookies with a cookie cutter (depending on the size I made 12.
Place in a preheated oven at 350 for 20 mns.
Let cool on a grid.
Serve with a rhubarb compote (made from cooking rhubarb with cane sugar, simple!) and plain yogurt.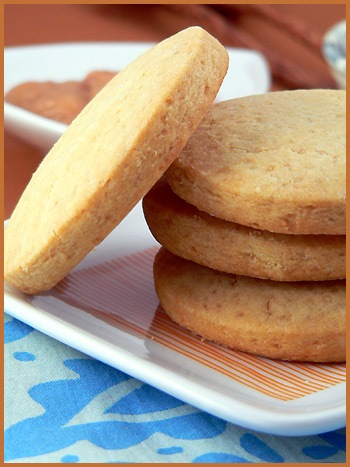 Le coin français
Sablés et compote de rhubarbe
Pour environ 12 sablés

Ingrédients:
160 g farine
2 jaunes d'oeuf
8 g levure
60 g sucre roux
Sel
80 g beurre
300 g rhubarbe (4 tiges de rhubarbe)

Étapes:
Faites un sablé en mélangeant du bout des doigts la farine et le beurre, la levure et le sel.
Blanchissez les jaunes d'oeuf avec le sucre.
Ajoutez à la préparation précédente.
Faites une boule et placez-la dans un film alimentaire pour 2 heures, au frigo.
Étalez la pâte sur une épaisseur de 1,5 cm.
Découpez des sablés à l'emporte pièce (12).
Mettez au four pendant 20 mns, four 180 C.
Laissez refroidir sur une grille.
Servez avec de la compote de rhubarbe (simplement de la rhubarbe cuite avec du sucre de cane) et du yaourt nature.