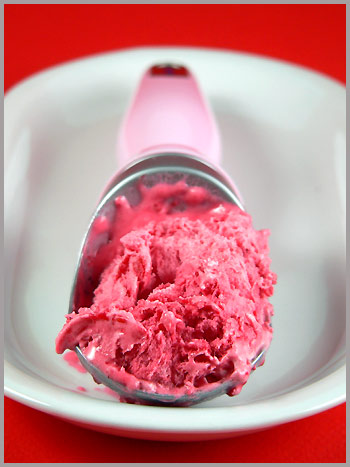 I would not be surprised if you would call me names, such as you, strawberry victim but my excuse is that I gave you warnings that such would be the case, especially as we officially enter the month of May, which for me means strawberries wearing their nicest attire. And so my love for strawberries continues here, for ever, for the worst and for the best. Pour le meilleur et pour le pire!
And why not try a trick once more.
This looks like ice cream,
This is as cold as ice cream,
But!
Do not get tricked,
As this is fake,
As this looks like ice cream.
But!
Ice cream it is not!

The simplest treats can be the best.
Browsing through Zest, a favorite cookbook given to me years ago by my dear friend Sandra, I found this very cute recipe that I would like to share with you today, as a way to start May on a good foot (you must have noticed that I had issues with my feet lately). In case you needed a break, like me, from the sometimes too rich texture of ice cream, you might enjoy this sweet treat. One thing needs to be said about this dessert: It is hard to beat the easiness to make it. The bonus is that it can be eaten without moderation. After spending hours making more elaborate dishes and meals, like a horse running a race, I needed a break, une petite pause pour faire le plein (a break to replenish), hence I am enjoying going back to the simplest things. Pourquoi pas ? (Why not?) They are the best anyway, as long as you use the nicest ingredients.
Happy Strawberries, Happy Raspberries, les fruits rouges nos amis.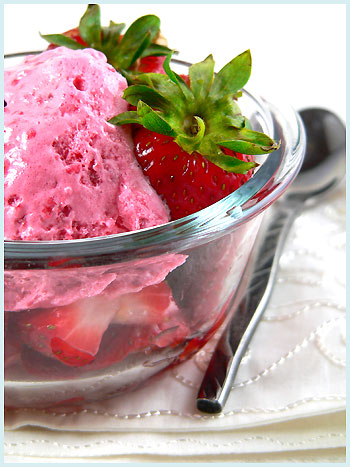 Strawberries and Fake Raspberry Ice Cream
You need:
For the cream
6 oz raspberries
1/2 cup sugar
1 egg white
For the fruit
1 lb strawberries
Confectioner sugar
Steps:
Using a mixer, mix together the raspberries, the egg white and sugar until the volume triples in volume (about 10 mns). You will get a very airy texture.
Place in a container and in the freezer for a few hours or overnight.
When ready to eat your dessert, wash the strawberries and slice them.
Sprinkle with confectioner sugar and mix well.
Let rest for 5 mns, then serve in bowls with a spoonful of the frozen raspberry fake ice cream.
Did you really think it was ice cream?
Le coin français
Fraises et fausse crème glacée aux framboises
Ingrédients :
Pour la crème
160 g framboises
100 g sucre
1 blanc d'oeuf
Pour les fruits
500 g fraises
Sucre glace
Étapes :
En utilisant un mixeur, mélangez les framboises, le blanc d'oeuf et le sucre, jusqu'à ce que le mélange triple de volume (à peu près 10 mns). La texture doit être très légère.
Placez dans un récipient qui peut aller au congélateur et congelez pendant plusieurs heures ou toute la nuit.
Lorsque vous êtes prêt(e) à manger votre dessert, lavez les fraises et coupez-les en tranches.
Saupoudrez-les de sucre glace et mélangez bien.
Laissez reposer pendant 5 mns, puis servez dans des bols froids avec une cuiller de crème glacée de framboises.
Vous avez vraiment cru que c'était de la glace?