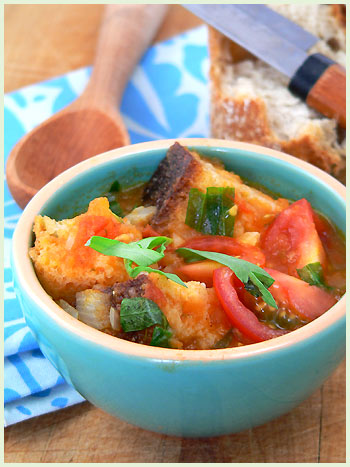 If you had to choose one food that you would miss the most if it were to be removed from your diet, what would it be? Do you sometimes ask yourself this question? In my case, I often wonder. After looking at my daily food habits, a pattern became obvious. If there is no bread for breakfast, I get grumpy. I am not even interested in viennoiseries such as croissants , pain aux raisins or any of those. I can even do without cereals since I did not grow up with them, but certainly not without bread. If there is no bread, it simply means that I am starting my day on the wrong foot (je démarre la journée du mauvais pied). Simply because I love breakfast as a meal and to eat bread in the morning. I don't know for sure whether I can blame this habit on my being French and I really should not care. But looking at it more closely, it surely is a cultural habit that I have travelled with. In France, you never go to a French table and have a typical French meal without bread. A long time ago, my dad had a little experience which became one of my favorite food stories about him. My dad is so typical! As he was eating in a Chinese restaurant on most likely one of his first times, he waited a short time after the meal was started but before not too long he called the waitress. Not even thinking that what he was going to ask could be something very unusual in a Chinese restaurant, he asked : "Dites-moi, vous n'auriez pas du pain ?" (Listen, would you have some bread?) Since then, this restaurant is known for allowing people to walk in with their baguette under the arm.
Baguette of course is the most common type of bread French people eat, without butter as it is not served on tables. There are tons of varities of bread and I certainly do not need to explain them as I know well that most of you are familiar with them, especially if you have already travelled to France or countries where bread occupies an important role in the staple diet.
It was fun to hear that the new theme for IMBB#25 hosted by Obsession With Food was going to feature bread. As a matter of fact, not any bread but stale bread that would be used in a dish. I did not need to think too long to choose what to make. My brain compiled the list that follows: rustic, country, chunky, soup, hearty and light, herbs, and croûtons . All of those are familiar foods that I grew up with and I love them all.
My dish is a Tarragon Tomato Soup and Its Olive Oil Croûtons.
I used a rye/country-style bread that we just never finished as I bought some more before the end of the first loaf. If this were to be a bad habit, at least it gave me a great reason to make dishes I wouldn't cook otherwise. And in the end, everyone is happy.
PS: I spent the whole day of Friday in a real photography studio (versus my house!) working in binome with a photographer; I was styling the food. How much fun that was! I loved it and am so thankful to have had this opportunity. Of the two dishes I made, I had chosen to cook this particular soup. I willl be writing about it soon and you will be able to see the difference between pictures taken by a real photographer's and mine. It will be fun to talk about the life of a studio during a food photo shooting, and what steps need to happen! In the meantime….
Vive la soupe et les croûtons! (Let's celebrate soups and its croûtons!)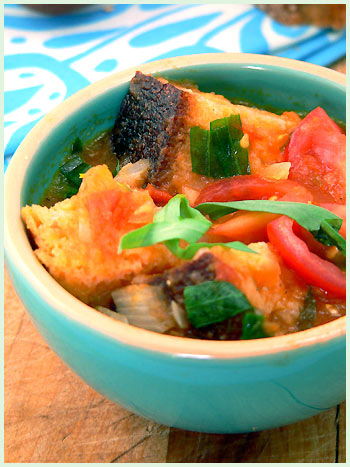 Tarragon Tomato Soup and Its Olive Oil Croûtons
(for 6 people)
You need:
4 garlic cloves
2 large onions
4 cups chicken broth
Olive oil
A pinch of brown sugar (I used evaporated cane sugar)
A pinch of chilli (dried)
1 bunch of fresh tarragon
53 oz tomatoes
9 oz cherry tomatoes
Stale bread (I used a pain de seigle/campagne – rye/country)
Fleur de sel
Salt and pepper

Steps:
Chop the onion and garlic thinly.
Chop the tomatoes in quarters.
Cut the tarragon loosely.
Heat the chicken stock.
Heat 2 Tbsp olive oil in a pot and when warm, add the onion and garlic.
Cook for 5mns on low heat until soft.
Then add the tomatoes and cook for 5 mns on medium heat.
Add the chicken stock, the tarragon, the pinch of sugar, the chilli and cover. Cook for 30 mns on low heat.
Mix your soup keeping it chunky.
Season with salt and pepper.
Marinate the bread croûtons in 4 Tbsp nice rich olive oil.
Chop the cherry tomatoes.
Take small bowls and add a ladleful of soup.
Add the croûtons and the chopped cherry tomatoes.
Add extra chopped tarragon.
Sprinkle with fleur de sel.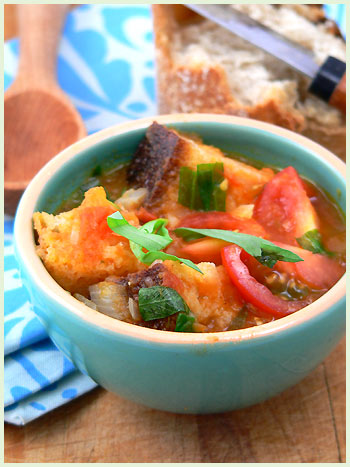 Le coin francais
Soupe de tomate à l'estragon et croûtons à l'huile d'olive
Le coin français
(Pour 6 personnes)
Ingrédients :
4 gousses d'ail
2 gros oignons
1 l. de bouillon de volaille
Huile d'olive
Pincée de sucre roux
Pincée de piment rouge seche
1 beau bouquet d'estragon frais
1,5 kg de tomates
250 g de tomates cerises
4 tranches de pain rassis (pain de seigle/campagne)
Sel et poivre
Fleur de sel

Étapes :
Epluchez et émincez l'ail et les oignons.
Lavez et coupez les tomates en quartiers.
Lavez et effeuillez l'estragon.
Faites chauffer le bouillon de volaille.
Chauffez 2 càs d'huile d'olive et ajoutez l'ail et les oignons. Faites les revenir pendant 5 mns environ.
Ajoutez les tomates et mélangez bien. Faites cuire pendant 5 mns.
Ajoutez le bouillon, l'estragon effeuillé, la pincée de sucre et de piment et couvrez. Faites cuire sur feux doux pendant 30 mns.
Mixez votre soupe.
Salez et poivrez.
Faites mariner vos croûtons dans 4 càs d'huile d'olive.
Découpez les tomates cerises en petits quartiers.
Prenez de petits bols et versez-y une bonne louche de soupe.
Ajoutez les croûtons et les tomates cerises.
Servez avec des feuilles d'estragon.
Saupoudrez de fleur de sel.