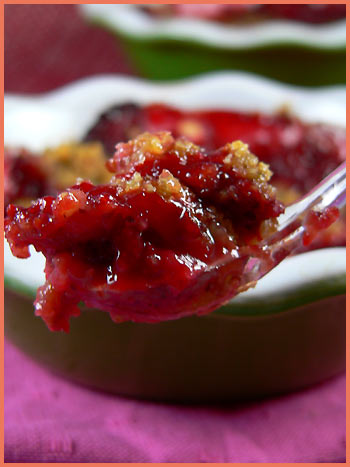 Would you like a spoonful of my dessert?
Desserts in England? Are you sure? Mais que oui, et des meilleurs. (Of course and some of the best) The challenge was launched by both Sam and JamFaced when they decided to organize What is for Pud?, in other words make an English dessert and show it off on St George's Day.
How to achieve this? So many possibilities, yet I feel stuck to one single idea. I could say that because P. is Irish, hence his mum and grand-mother have a British heritage, I might be in good hands. But no, I am told the entry has to be fully English. No Irish, Scottish or Welsh. And I own no English cuisine cookbooks! All I have is memories and experience of English desserts from my times and visits to England. And it all started when I was 12 on my first trip alone to England, when I ate my first crumble.
When I was 12, I went to England for the first time. And what a discovery that was. I remember walking in Heathrow airport with my name tag around my neck, following the air hostess as she would accompany any young travellers travelling alone. I was so scared but was not showing it! Heathrow was such a huge place. I was on my way to stay with my brother's pen friend (since my brother did not want to go, I did). My first time on a plane. My first time travelling outside France alone. My first time homesick, and I still remember my pen friend Liz asking me "Betty, tou as la mal dou pais?" (tu as le mal du pays, are you homesick?, and yes people called my Betty then). And my first time speaking a language which sounded as if the people speaking it were swallowing every two syllabes down their throat. All I could hear was a mumble with an emphasis placed on every two syllabes. I had learned English at school but that language I was hearing was something totally new to me.
I got the full first English experience: I discovered London with its bridge and tower, driving on the left, people really queueing and getting in lines to do anything, and I saw punks for the first time. In shop windows, I could see mugs everywhere with Charles and Di drawn on them, I drank my first cup of tea (terrible for me with milk and honey as I both hated those then), I discovered Branston pickles and sweet salad dressings, I ate my first jacket potatoes with prawns and Island Sauce in pubs (and boy, I loved those) and I discovered crumbles!
Of the many trips taken to England, between the first time at 12 when I stayed with the Reeces in Reading, to my early 20s when I spent summers in Bournemouth, Porthcawl, and Workington working as a language class assistant, to today when I go to London for leisure to visit all my expat or Rosbif friends, crumbles remain a highlight of my trips. I still remember every single crumble eaten at my various host families. Mrs Reece's was great and simple: apple but Paul's mum's was to die for: rhubarb and strawberries with homemade custard (Birds , non merci, no thank you very much!) or cream. We had crumble every night as I special requested them!
And so in 1981, when I returned from my first trip to England, I came home as a very happy young girl that had just discovered a new eating world: I was also determined to share it and decided that I would make crumbles for my parents and my brother. Since then, crumbles have stayed a favorite dessert of mine.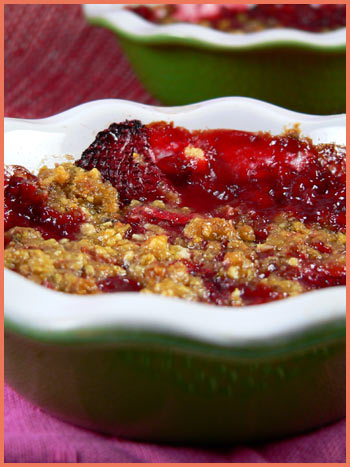 Before
Crumble
Is the name of a simple topping spread instead of pastry on fruit pies with no bottom crust. A crumble can be compared to a sweet pastry with no water. Usually the ingredients are sugar, butter, flour and some spices if used, but today, there are many variations. However the process stays the same: the butter is cut in the dry ingredients and mixed gently, hence the crumbly texture once cooked, giving the name to the dish. In Germany, Streusel comes close to the texture of a crumble, hence the idea that crumbles inspired the creation of Streusel (less flour however comparatively).
I know I am not making a very original dessert here. I am sure e.v.e.r.y.o.n.e knows crumbles, or has made one. But I simply have a very strong emotional attachment to crumbles as they bring back tons of fantastic memories of my many times spent in England. If you need an easy every day dessert, this has to be one.
For my crumbles, I usually use fruits rouges such as strawberries, cherries, any red berries, or rhubarb or plums.
While growing up, we had tons of red berries bushes, plums trees and rhubarb in the garden, so I had a lot of practice making crumbles for family dinners. Then I like to add nuts to the more traditional flour + sugar + butter association. A nutty crumble with tons of colours and zest!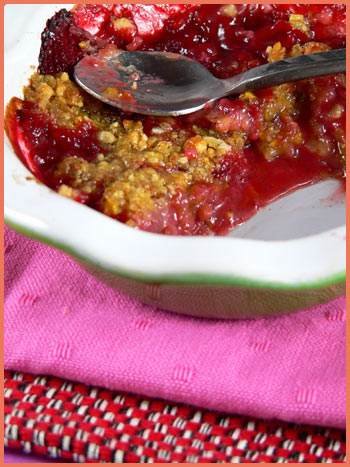 After
Strawberry Crumble
(for 4 mini crumbles, or a large one)
You need:
14 oz fresh strawberries (or 4 medium sized plums)
1 oz (1/4 cup) whole almonds
1 oz (1/4 cup) unsalted pistachios
3 oz minus 1tsp cold butter + butter for molds
2 oz (1/4 cup) raw coarse Cane sugar + more to sprinkle on fruit
2 oz (1/4 cup) flour
Steps:
Preheat your oven at 400 F (200 C).
Wash the strawberries and slice them.
Place them in greased molds and sprinkle sugar on top.
Chop coarsely the pistachios and almonds.
Mix together with the flour, sugar and butter. Do not work the crumble too much.
Place on top of the fruit and place in the oven. After 10 mns, reduce the heat to 375 F and continue to cook for 20 min.
Serve lukewarm, plain (I prefer it this way) or with cream, or crème anglaise since we are in Angloland! When we have crumble, it does not last long at all!