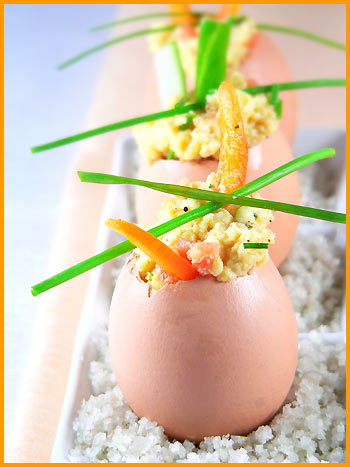 Are you thinking the same thing as me and experiencing a scene of déjà vu? You have seen those shells a few posts ago and you might be thinking "encore!" (again!) but wait. Instead of a dark sweet filling, I am giving you a savoury one. For the other crowd. After all, there are people that just do not want anything to do with sweets. I mentioned this already, but my dad is one of those. He would exchange any dessert against a steak-frites-salade (steak/French fries/green salad).
I am one of those people like Molly who will always have eggs in my fridge! Never short of them, or if I am , it is a major issue! Eggs are so central to so many things I cook, whether it is sweet or savoury food. I might have been a bit of a Brit in a previous life since I love to eat eggs in the morning, hence my love for English breakfasts, when they are old school. Whether they are in an omelet, poached, scrambled, soft boiled or hard boiled, I can eat them at any time. In France, an old tradition was to be able to find hard boiled eggs on counters in cafés or at bistrots and troquets. When I am hungry and need a snack, hard boiled eggs are the way to go.
And so, since the Weekend Cookbook Challenge is all about Easter Brunch and today is Easter, I had prepared a recipe from my Eggs book, Essentials Egg by Jane Donovan. I just added the presentation twist as I thought it would look much cuter to serve the eggs like this.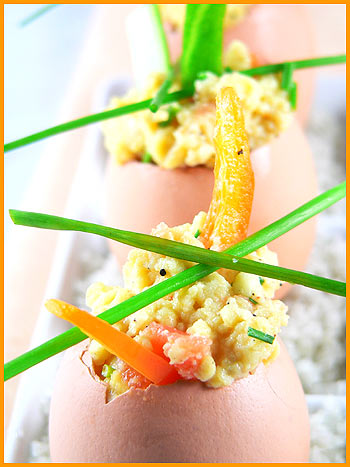 Scrambled Eggs with Smoked Salmon
(for 6 eggs, or 6 people, or maybe 2 eggs per person, you choose!)
You need:
6 eggs
2 smoked salmon slices
1 tbsp chopped chives
2 tbsp crème fraîche
Salt and pepper
2 tbsp butter
Cucumber sticks and Orange Pepper sticks (optional, just for the fun)

Steps:
Start by removing the top of your eggs using an egg topper if you have one.
Empty the inside of the eggs in a bowl.
Chop the salmon slices in small pieces.
Melt the butter in a small saucepan.
Beat the eggs, and add salt and pepper.
Pour the eggs beaten in the saucepan and cook for a few minutes, while stirring constantly.
The preparation should thicken.
Remove when you reached the texture you like and add the crème fraîche, mixing well.
Add the salmon and chives and mix.
Take a small spoon and carefully place the egg preparation in the shells.
Serve with decorating cucumber sticks and pieces of toast.
A twist in your typical scrambled eggs! Happy Easter everyone!
Right, I think we are done with egg recipes, egg shells for a while. I keep seeing egg shells everywhere…