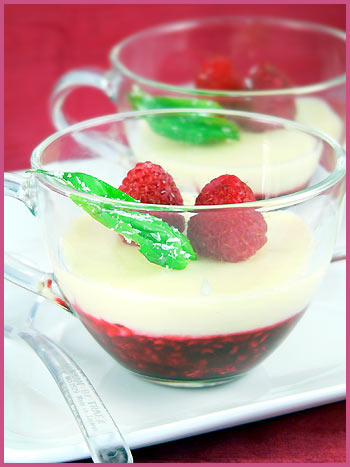 White Chocolate Gelée and raspberries with basil
The week preceding Easter is mostly coming to an end and yet, I still have so many chocolate ideas to share with you. I promise to post the second Molten chocolate recipe soon (for anyone impatiently waiting, hint hint MM 😉 !) Don't we say that the best comes to those who know to wait? (in French we say that, smart eh?) tout arrive à qui sait attendre!
Sunday, I am a host. That sounds ceremonial but in reality what it simply means is that I will have more than 2, 4, 6, 8 mouths to feed. You all remember that Sunday is Easter day and we are having a very informal lunch between friends. I love to be a host and prepare buffets, decorate tables, make little litlle nibbles everywhere, hidden in the house for us to eat. It is quite exciting. I actually have so many ideas for dishes I want to prepare that I know I should have 50 mouths to feed. But I have to stay grounded, en gardant les pieds (grands) sur terre (literally, with my feet (big) on the floor). I am alone in the kitchen and no matter how much energy I have or how organized I am, I already know that I have to remove a few things from my wish list. So I am running a chocolate test for dessert. Another of my rehearsals.
So my test dessert is going to use white chocolate.
Usually not my cup of tea but if you remember this recipe here, I have to admit that it is really growing more and more on me. And this dessert is the perfect example.
My current Favorite Cookbook
I really appreciate when I start using a cookbook, and then keep going back to it for more, new recipes to try, all original and delightful because they bring surprises, not to mention that they turn successful each time.
Tentations by Philippe Conticini is my current favorite cookbook. Every single recipe I have tried has worked just as I wanted, and this chocolate recipe is no exception. You would think that the recipes are just classics and they are, but always with a little twist that make them different.
For the recipe I chose, I had to change the proportions because unless 1 serving was for super mini miniature people, I really think they were off. And we like our desserts, don't we? Totally simple, using basic ingredients and gelatin.
Gelatin
Did you know that in France, we used gelatin sheets, weighing about 2 g each and that before I arrived in the United States, I was fully foreign to the concept of gelatin powder. When I initially started using gelatin powder, I felt like a child using a new electrical appliance, who yet did not know how to plug it to make it work. It looks like a very tiny adjustement we will admit, but it really created a problem for me. I now of course master the gelatin powder technique quite well – yes yes, there is technique involved here -, but regularly ask my friends or family members to send me my gelatin sheets. Old mother Nature comes back. I prefer it. No question. What is the difference? To use a gelatin sheet (hard thin transparent sheet), you need to soak it first in cold water for a few mns. It becomes soft and you can then remove excess water and add it to warm liquids so that it melts. I just have to reckon that I love to play with it and see it disappear. Pouf! In no time, it is melted.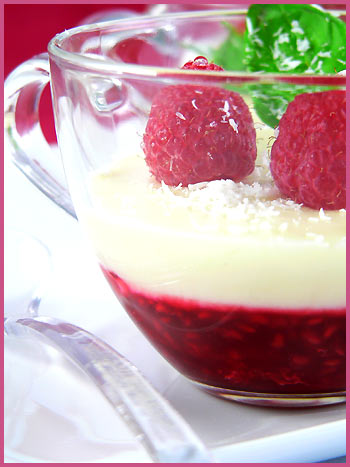 White Chocolate Gelée and raspberries with basil
(for 4 people)
You need:
For the chocolate layer
120 g white chocolate (4 1/4 oz)
20 cl water (lukewarm) (a little less than 1 cup) ; (1 cup = 22.5 cl)
2 gelatin sheets (4 g)
For the gelée
120 g raspberries (4 oz raspberries)
50 g sugar (3 tbsp)
2 tsp lime juice (2 tsp)
For the decoration
A few basil leaves
10 g shredded coconut
30 g sugar (1.75 tbsp)
Steps:
Melt the white chocolate in a pot.
Prepare the gelatin following the instructions on the package.
Bring the temperature of the water to lukewarm and then while mixing, add it, with the gelatin to the melted chocolate.
Mix well and let rest until it thickens.
For the raspberries, simply mix them with the sugar and lime juice.
To prepare your dessert, start by a layer of raspberry gelée.
Slowly pour the chocolate. Go slow so that it does not fall into the raspberry gelée.
Place in the fridge until it thickens.
To decorate, mix the coconut and the sugar.
Wet your basil leaves and dip them in the coconut/sugar mixture.
Decorate with the basil leaves and the raspberries.
Tested and approved! Really nice!

Adapted from Tentations, as I find the proportions a little off, too little of everything