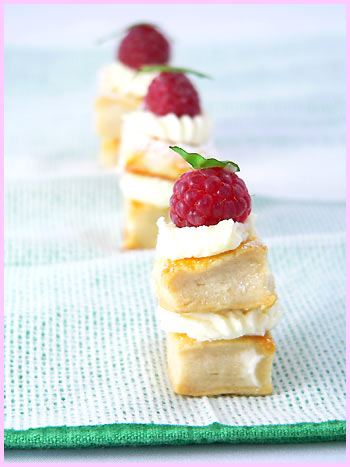 Why making things small when they could be big?
Here is another of those times when I am having fun with finger food! The paradox is the following. I think that one of the reasons why I like to make everything small is because I have always known myself as "big". Not in the sense of kilograms or pounds-I am a lucky one-, although you could think this in view of my food production (and I promise I am not feeding a family of 20), but in the sense of length. The reason why I do not keep the kilograms or pound is because the food goes in the length.
I am not sure whether I should share with you what my dad used to say about my feet as an example. The fact is that when you get older and more mature, you do not care about what used to upset you as a teenager. So this is what my dad used to tell me. Context : I am a true downhill ski lover, and my lovely dad (I know you love me Dad, but you still teased me with this for so long) used to say that I did not need skis to ski since I had my feet, or he nicknamed me "Berthe aux grands pieds" (see note *). But then I replied: Attends, je mesure quand même 1 m 75! (Wait a second, I am 5'9"). So I think it is all right after all.
Making things small today might be a good way to fulfill the frustration I experienced as a younger girl. Always too tall for my age! Who knows why! But do we care? I don't think so. And you probably don't either.
So let's just focus on my Raspberry Feuilletés!

Raspberry Feuilleté Amuse-Bouches
You need:
Puff pastry
Mascarpone cheese
Orange essence
Confectioner sugar
Sugar (thin grains, I like the evaporated cane sugar)
1 egg yolk
Water
Raspberries
Fresh basil

Measurements are given below in the steps.
Steps:
Mix together 1/2 cup mascarpone cheese with 1 tsp orange essence and 1 tbsp confectioner sugar.
Preheat your oven at 400 F (200 C)
Roll your dough and cut 1 1/2 inch (4 cm) squares.
Prepare your egg wash.
Beat the egg yolk with a drop of water. On each square, brush some of the egg wash.
Sprinkle some sugar.
Make tiny holes on dough with a fork to prevent the dough from rising and place in the oven for 15 mns or so (check regularly, the time might vary).
Take out and let cool down.
Place the mascarpone preparation in a decoration bag.
On one piece of pastry, place some cream, place another square of pastry.
Sprinkle with confectioner sugar.
Add more cream and a raspberry.
Add a twig of basil.
Repeat for as many amuse-bouches as you need.
The real bonus is that like with any finger food, you only need one movement within less than 1 second to get the food down your throat. And enjoy!
*Note: Berthe aux grands pieds was the nickname given to Bertrade who married the king Pépin le Bref in the 8th century. Aux grands pieds literally means with long feet.