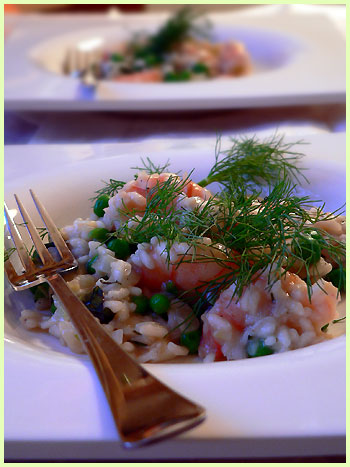 Since I involved myself in food-blogging, I developed a very peculiar trend (and I am only going to present the non-embarrassing ones here, since it is my blog, I can decide, eh?)
The first one is the new buying patterns I tend to follow. For a reason probably good study matter for sociologs (I don't want to know what they say!), instead of buying a set of 4 plates, I buy just one. Or one spoon. Or only one bowl. I personally find it funny ah-ah and immensely pleasurable and satisfactory ; P. on the other hand finds it funny weird ("Where are you going to put all of this stuff?" he frequently asks me). I think that P. should be pleased and I am not sure why he complains. First of all, isn't buying one single plate or placemat better than that bag or pair of shoes I used to tell him "was the only pair of shoes I will ever need". I view it as an improvement. Truth being said though, his complaints are minimal and totally end when I come to the dinner table my hands full of still smoking-hot dishes or when at 10.30 am, I suggest we eat the little snack I prepared as a food test. It is like you have a few goûters in one day, David!( go and check out David's chouquettes, the perfect example of a great snack). Incidentally, I seem to always have been known for my love for snacks as my very French papa keeps saying that whenever I go home to France, he always sees me eating something (as opposed to him who proudly says ( "Moi, je ne grignote jamais entre les repas!" (I never snack between meals). He is so French my dad! And I love him! But my snacks are healthy, so papa, it is all right to eat between meals when you are hungry!
Let's move to the second one: frenzy food magazine subscription.
When I read Melissa's last post, I could not stop smiling and laughing. Another thing I love tremendously about food-blogging is this: you the reader virtually are able to have a lot of fun when reading food-bloggers's great stories. They are funny, they bring a smile on your face, they drive your motivation and enthusiasm for what you do; and they make me want to read the stories outloud to P. and friends (P. attends, viens voir, écoute cela (P., wait! Come here, listen to this), and me reading outloud to him. So when I heard that Melissa suffered from a *mild* cookbook addictive buying frenzy (it is healthy Melissa!), I laughed. On my end, I certainly show similar illness signs, with cookbooks AND food magazines subscriptions. Nothing makes me happier than when I see my postman delivering a plastic-wrapped magazine (the French and Australian ones come like this) in my mailbox. I usually drop the rest of the mail on the floor (who cares about bills!) and tears the paper open, sits down and then relax to read. If I were there when my postman dropped this precious package, I would probably give him a big hug (well maybe not all things considered as he smokes smelly cigars all the time). So on top of the many cookbooks scattered around our house, occupying every possible floor corner (and I keep moving "piles" around), I add food magazines to them. And this is where the good part comes into play. As opposed to the many cookbooks which remain untouched for months, bought simply for the love of beautiful pictures (I just cannot like a lot cookbooks without pictures, I am like this), I fully use my food magazines. I wondered why for a long time and after searching my brain for the reasons why (mais pourquoi donc!), I soon understood. Unlike many cookbooks, food magazines offer seasonal recipes for the moment, that just blend easily in the mood I am in. I don't have to lie on the floor surrounded by a massive pile of cookbooks to find the appropriate seasonal recipe. Food magazines are clever things, aren't they? (and I am an easy target -did I ever say I used to know ads by heart as a kid?) Those magazines talk about seasonal vegetables here, seasonal fish there, so convenient as it is exactly what you the cook can buy in your local markets. And because I really believe in the association made between food and seasons, they are great for me (well it gets tricky when I get my New Zealand and Australian magazines since we are season opposed, but no worries there, I deal with it all the same!)
And so with this kept in mind, I cook a lot from my food magazines. P. tell me, don't you agree I was right to subscribe to Delicious? Didn't you love last night risotto?? I made it after finding the recipe in this incredible issue from Delicious.
And these days I am trying to get to Spring quickly!
I heard that if we all do this, ie cook spring foods, it will happen for sure, Spring will come. I promise, I read this somewhere. How many of you believe me? It is like a mantra, it happens! Greens, freshness, come to me!
I made a Spring risotto. Colourful, with a mild taste, and a great homemade shrimp stock, a simple and delicious dish. God I love to cook risotto!
Shrimp Spring Risotto

You need:
1 lb fresh medium-sized shrimps, with shells and heads
2 celery stalks
1 fennel bulb
1 carrot
2 garlic cloves
1 onion
2 shallots
260 g Carnaroli rice (or Vialone nano), a risotto rice
2 tbsp olive oil
40 g butter
2 tbsp grated parmesan
Basil leaves
1 cup frozen peas
4 tbsp Vermouth ( prefer Vermouth to white wine)
Steps:
To make the shrimp stock
Heat a large pot and add 2 tbsp olive oil.
When hot, cook the shells and heads of the shrimps for 5 mns.
Add 2 tbsp vermouth. Cook until all of the liquid is evaporated.
Add the chopped onion, celery stalk, carrot. When soft, add 1.4 l water. Bring to a boil, then reduce and simmer for 15 mns.
Use a sieve to strain your broth. You will need about 4 cups of broth for your risotto.
For the risotto.
Chop the fennel, the celery stalk, the shallots and the garlic thinly.
Grate the parmesan.
Cut the shrimps in halves.
Take a large pot and melt 20 g butter. Add the vegetables that you will cook for 5 mns on medium to low heat, or until soft. Stir occasionally.
Add the rice, stir and coat the grains. Cook for 1 mn then add the 2 remaining tbsp of vermouth. Cook until the liquid is evaporated.
Then add a cup of broth at a time. Cook each time until all the liquid is absorbed.
For the last cup of broth, add with it the frozen peas and the shrimps. Stir well and cook for 3 mns. Make sure you do not overcook the rice as the risotto needs to stay wet.
Remove from the heat and add the chopped basil, the last 20g of butter and the parmesan.
Serve! With a nice spinach salad.
A different idea to serve the risotto, placing it as a stack on a plate, with a different light (morning sunlight).
Recipe by Darren Simpson