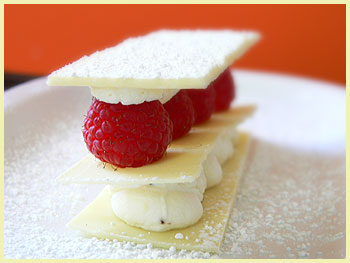 Friday it is and Andrew from Spittoon Extra announced Sugar High Friday #17. For the event, I had a desire to make something simple, clean and milky! And since I am a major chocolate fan, I had to find something to satisfy both the event and me! But more importantly me!
When it comes to chocolate, I am usually not going for white. A nice rich dark is what attracts my papilles (my dictionary says gustatory papilla, is that right you English speakers??) When I browsed through Trish Deseine's Je veux du chocolat, I just could not help but want to try everything. Ok, but back to square 1, it had to find a recipe with ingredients wearing white, those looking milky and creamy. I browsed through the pages, "yes maybe that, or what about this one, ah la prochaine fois (next time), next page" and then I suddenly stopped. Yes yes, I had found my little baby showing its beauty with pride, all attired in white chocolate with its matching creamy mousse!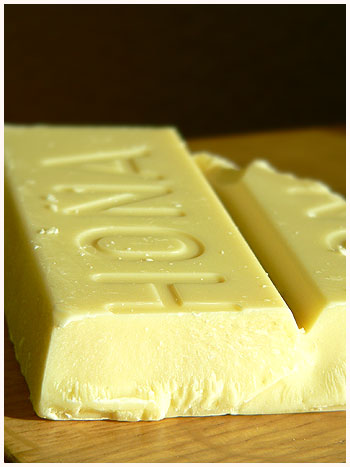 The photo and simplicity of the dessert I saw then just got me. I had a plan and my mission was started. I had to get quality white chocolate, good cream, fresh raspberries, and Le tour serait joué! A very easy dessert, yet purely satisfying.
Millefeuille au chocolat blanc, chantilly chocolatée et framboises – White Chocolate Millefeuille, Chocolate Chantilly and Raspberries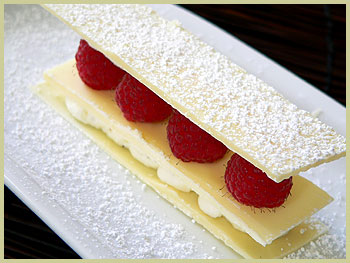 You need:
200 g + 100 g white chocolate (I used Valrhona)
10 cl heavy cream to make chantilly
400 g fresh raspberries
2 to 5 tbsp confectioner sugar
Wild Australian Wattle seeds (which is my personal addition, not in the original recipe. They are a little treasure given to me by my friend Kim! Thanks Kim, I love those seeds! They can be bought online at Zingerman's.
Note on wattle seeds:
Seeds of a variety of acaria collected by Aboriginal people West of the Great Divide, roasted and ground to amplify their natural nutty flavor. Great with chocolate and nuts.

Steps:
Melt 200 g chocolate using the bain-marie method.
Pour the chocolate on top of a silicone sheet, make it even with the help of a cookie cutter, and let cool until cold (I placed in the fridge to speed up the process a bit).
When you reach this stage, cut 12 small rectangular pieces.
Whip the cream into chantilly and add the remaining melted white chocolate.
Add the wattle seeds (optional).
Take a small plate where you place a white chocolate rectangular.
Top over with the white chocolate cream (use a decoration bag).
Place another chocolate rectangular over and press gently.
Place some cream, a few raspberries and some cream over. The cream serves as "glue" for the dessert to stay in place.
Place the last rectangular on top, pressing gently again.
Decorate with confectioner sugar.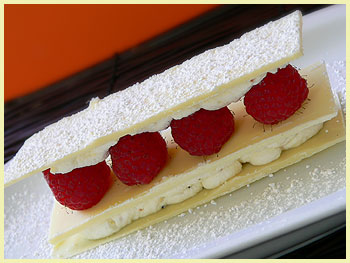 Note: I made individual portions, about 1.5 inch by 4 inches.
As much as I am not a white chocolate eater, I really enjoyed this simple dessert.

Adapted from Trish Desseine's Je veux du chocolat