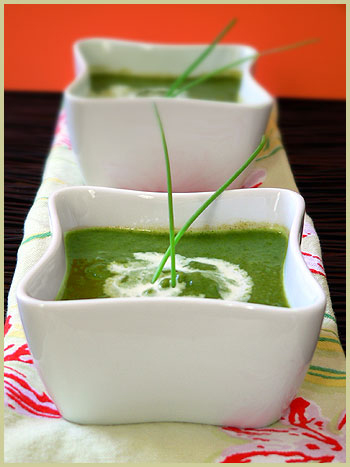 There are times when without knowing why, some foods just sound the right choice in order to make you feel better. For example, for no apparent reason I sometimes develop a craving for greens, like asparagus, basil, peas or spinach. It just has to be green! Sometimes it is just anything red or yellow. Cold or warm. Bodies are a great clock, aren't they? It is just a question of having it well-tuned!
This past weekend was spent catching up with life around here and since we were still not 100% after our jet-lag, we had decided to go with simple foods, yet full of those colours we still had in mind. New Zealand's sun and summer had been so welcomed! It was hard to give it up upon our return to get back to winter, although winter sun in Boston can be amazing too, and we have had plenty of it since we have been back. I am not complaining, but please make it summer soon. I might lose my tan until then!
On Sunday, I got inspired to make this simple Spinach Soup, after looking at a Marie-Claire cookbook I have.
Super easy and lovely to eat. I made it simple but you can fully be creative and add any spices you want. On that evening, I just could not have my brain function fully (I attribute it to the jet-lag if anyone thinks different!) Cooking needed to follow more or less the format: wash, cut, stir, cook, mix and eat! No more.
I loved it.
You need:
300 g fresh spinach
3 potatoes
Vegetable broth, enough to cover vegetables
2 tbsp butter
Pepper
Sea salt
Fleur de sel on top
Chives to decorate
Cream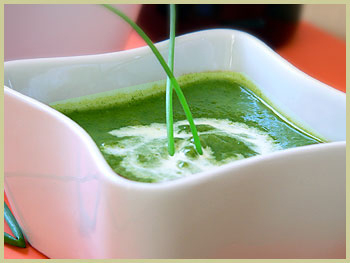 Steps:
Wash and clean the fresh spinach.
Peel the potatos and cut in big chunks.
Take a large pot and heat. Add the butter to melt, then add the chopped potatos and spinach. Cook for 5 mns or so, until the spinach gives its juice.
Add the vegetable broth (I used an organic one for lack of having my own) and pour as much as needed, enough to cover the vegetables and a little more.
Bring to a boil then reduce to simmer for 20 to 25 mns, or until the potatos are cooked. Use a hand blender to mix your soup.
Add a dash of cream, chives and fleur de sel.
I got my green fix, so I was a happy girl.