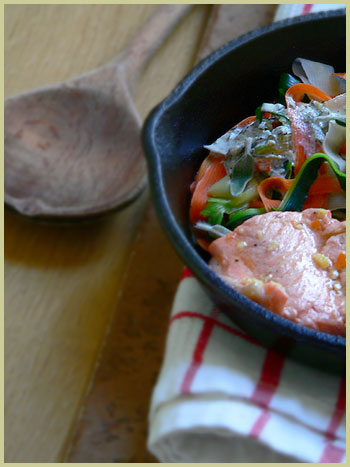 Red Trout and Vegetable Peels with Garlic Cream
"Comfort food my friend, please give me all the nutrients and the warmth I need to stay warm today. It is cold outside and I need the necessary fuel to fight Mother Nature. Merci!"
I was heard, many thanks. Ah maybe it is the cast-iron dish that does the trick, or a je ne sais quoi, God, don't I love to use French expressions when I speak English and say them with a Shakespearian accent! Maybe the only words I understand in English without any ambiguity. It is easy because if I am asked, I can respond: Eh funny, we say the same thing in French! For once I am not asked: "Where are you from?" And everyone understands me!
I think I ate too much chocolate this afternoon and my neurones are just exploding with joy. Well confession being made, my friend Pato and I could not resist and had a second pastry after the first chocolaty one today at Burdick's in Harvard square. She was relieved to hear that I was the one who suggested it in view of how quickly we devoured the first one. It is *so* nice when two friends are in synch. and share the same devourous appetite, don't you agree? Nothing worse than You, wanting a nice piece of pastry and She or He saying, "Ah no thanks, I don't want anything!" Boring! Our excuse was that we had to have something to finish our cup of tea. A cup of tea with no nibbles, " No Good!".
Let's be serious. The comfort of the food might actually come from the cream in the dish, la bonne crème?
I followed an initial idea I had had – Gosh this is hard to say, "had had", I will need to practice – with Tagliatelles aux pelures de légumes and with the help of a recipe found in the magazine Cuisine gourmande, I made the dish you are about to read about. So don't stop as of yet. But I made my own changes and additions. I edited the cream and fish recipe because I wanted more spices than the poached fish suggested. And I used red trout instead of the usual salmon because beside loving trouts in general, I wanted something different (and not because it was on sale).
When I think that a week ago, I was still in pure paradise. So I try to talk to myself (It is supposed to work): Béa listen, be happy and grateful for what you had and have now, wherever you are, there is joy to be seen. Who ever on earth invented this piece of XXX? Ah, please excuse my French!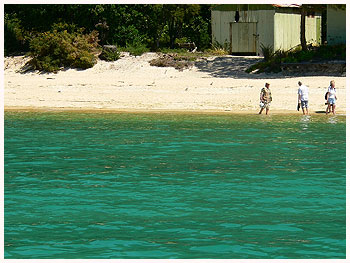 Abel Tasman National Park Feb 20th 2006
I can say I found comfort in the food; the recipe turned out to be delicious. What can make me happy beside organizing trips, buying all the unnecessary "kitchen stuff" (quoting P., but he likes it in the end, aha! and he does not say stuff by the way but uses a 4-letter word that starts with the letter "C", any idea?), skiing, swimming and hiking and…ok, I will stop, enough rambling Béa! The answer is good food.
For this recipe, you have the fish, the vegetables and the garlic cream. If you have more appetite, you can make some white jasmine rice on the side as well. (I personally always leave room for dessert!)
With no await, let's jump in the core of the recipe. No time to waste! (I tell you, I had too much chocolate!)
Red Trout and Vegetable Peels with Garlic Cream
Garlic Cream

You need:
100 ml heavy cream
100 ml milk
4 garlic cloves
Sage leaves (6 or so)
1 twig of thyme
Salt and pepper
Water
Steps:
Peel the garlic and place in a small pot with cold water.
Bring to a boil and cook for 1 min, then rinse. Start again the same process a second time.
Then add the garlic cloves to the milk and cream, and cook for 15 min with salt, pepper, sage and thyme.
Mix all ingredients (remove the thyme) and keep warm.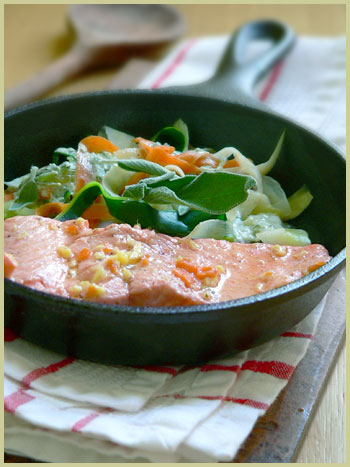 Vegetables and fish
You need:
2 zucchinis
1 celeriac
2 carrots
1 lb Red trout
1 tbsp chopped fresh ginger
1/2 seeded red chilli chopped
3 tbsp sesame oil
Juice of 1/2 small lemon
Salt and pepper
Steps:
Wash the carrots, and peel them.
Make long peels with a vegetable peeler.
Peel the celeriac, remove the soft part inside and make long strips as well.
Wash the zucchini and do the same.
Place all vegetables in the top part of a steamer and cook for only a few mns. It does not take more time since the vegetables are all very thin.
Chop together the ginger and chilli. Add a dash of lemon juice and sesame oil, salt and pepper.
Coat the fish with the marinade and set aside for 15 to 20 mns.
Steam the fish until tender (about 10 mns or less depending on the thickness of fish – check regularly as you do not want to overcook the fish).
Take a plate and place the vegetable peels and fish, then pour over some of the garlic cream.
Decorate with a sage leave and serve.