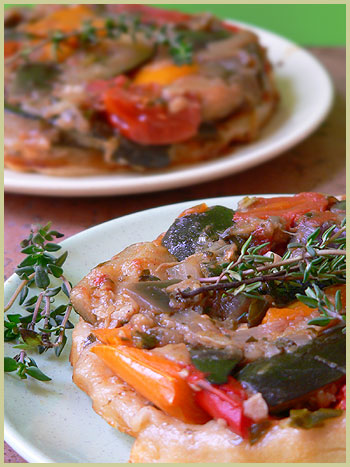 Ratatouille Tatin Tartlets
Wow, the food blogging event that follows is just too overwhelming for my little self. There are *so* many dishes I could, would want to make really to participate! Well, being French surely helps for once, so I am fully taking advantage of it and I am *not* going to complain. La bouffe bien de chez nous!
For the IMBB23 ~ Vive la France event hosted by Amy from Cucina Testa Rossa, I decided to make Tartelettes Tatin à la ratatouille 'cause I love ratatouille et the Tatin tart concept.
Here is their story:
Ratatouille is a classic in French cuisine -so is la tarte tatin– that I grew up with. Not always with happy times (but I loved the tarte tatin, pas folle!) I remember hating ratatouille as a child. My mum had no way to convince me to eat de la ratatouille whenever she had decided to cook it. "Oh les bons légumes!" (Look at the good vegetables!) Odd to think how things can change with years. Whenever I would hear that she had made ratatouille for dinner or lunch, only one word came to my mind "Beurk (Yuck!)"
From as long as I remember my grand-parents on both sides, then my mum, grew vegetables organically in huge vegetable gardens at the back of the house, or at a walking distance nearer open fields. My mum's ratatouille used home-grown zucchinis and eggplants (the region Lorraine where I am from is just not warm enough to grow peppers, or at least I do not recall her trying to grow them herself). Today, growing my own vegetables would be a dream to live, but back then, it was just another song (une autre chanson) altogether.
I am so thankful to have grown up and changed that poor habit of mine, that is dislike ratatouille so much. Merci, merci! It must be part of the treasures of growing older. You learn that you start loving all the things you hated when you were young. Have you noticed how our tastes can change so drastically? If you do not believe it can happen, just look at old pictures from when you were 15 and thought you looked so cool, and tell me what you think!
I got inspired to make Ratatouille Tatin Tartlets after seeing a similar recipe in a cookbook a long time ago. I unfortunately cannot say where from. In any case, I used my personal preferences to make today's recipe. When you love savoury dough and juicy well-cooked colourful vegetables, this dish is simply sure to please you.

Tartelettes Tatin à la ratatouille: 2 key concepts, Ratatouille and Tatin. Let's understand more about those traditional French dishes.

What is Ratatouille?
In the 18th and 19th centuries, the name was used to refer to a coarse stew. It derived from tatouiller and ratouiller, both expressive forms of the French verb touiller which means to stir up.
This dish originated in Nice and is known all around Provence and France now, with a lot of different variations. The base however stays the same: zucchinis, eggplants, tomatoes, peppers, garlic and onion cooked in olive oil. All the beautiful flavours of the South of France. It is known that the word ratatouille was in use in Nice whereas the word bourbouillade was used in Nîmes. Easy to make, the originality of the dish is that it can be eaten cold or warm, or as in my version, as a vegetable tatin tart.
What is a Tatin tart?
Everyone has heard about the famous apple tart of the Tatin sisters. What is so special about this apple tart and how did it happen?
In the 19th century in Sologne, Jean Tatin owned l'Hôtel Tatin. He had two daughters, Caroline and Stéphanie, who took on their father's business after his death. Caroline was the example to follow, dealing with the clientèle. People would remember her as an efficient honest young lady. Stéphanie was somewhat different. She was an excellent cook and was the one preparing beautiful meals in the hotel. However beside being known for her cooking skills, she was also known as a very lightheaded woman. One of her specialities was the apple tart, which one day, she simply prepared upside-down. La tarte Tatin was born. A tarte Tatin is today known as an upside-down apple tart: in the dish, apples are placed first over a sugar layer before the dough on top. When it comes out of the oven, the tart is flipped on a dish and one can discover a beautiful caramelized top.
And so with those two ideas in mind, I decided to combine the two in one, and made des tartelettes Tatin à la ratatouille.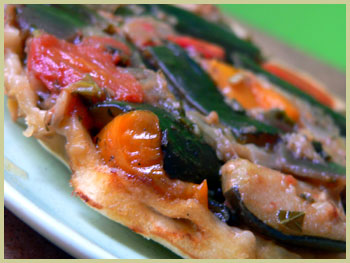 Ratatouille Tatin Tartlets
For 6 tartlets
You need:

For the dough:
200 g all purpose flour
90 g butter, soft
Dash of salt
Water

Steps:
Mix all ingredients together in a food processor, starting with flour and salt and butter, then adding the water until the dough is elastic and detaches from the bowl (Can be done by hand too but then you need to work the dough longer).
Let the dough rest for 30 mns min, covered in the fridge before using.

For the ratatouille:
3 garlic cloves
1 large yellow onion
3 medium zucchinis
3 medium Italian eggplants
Half red pepper
Half orange pepper
2 cups cherry tomatoes
Dash of white balsamic vinegar
Olive oil
Dash of coriander powder
Fresh basil (about 1 tbsp)
Fresh parsley and coriander (about 1 tbsp each)
Sprig of thyme
75 g old-aged gruyère, finely grated (or Beaufort or Comté), in any case, a very fruity cheese

Steps:
Wash the eggplants and cut them in small cubes. Place them in a sieve and sparkle with salt. Set aside for 30 mns (by doing this, the eggplants are more tender when cooked).
Wash the zucchinis and peppers and cut in small cubes.
Heat 1 tbsp olive oil in your preferred simmered-food pot (I used Le Creuset). When hot, add the chopped yellow onion and chopped garlic and cook on medium heat until the vegetables are softer.
Add the coriander powder and continue to cook until the fragrance of the coriander can be smelled. Then add the zucchinis and stir. Cook for a few mns until softer, then remove from pot.
Heat another tbsp of olive oil in the pot and cook the peppers. When softer, remove.
Do the same thing with the eggplants, then add the reserved zucchinis and peppers with the thyme and cook for about 10 mns.
Add the washed cherry tomatoes left intact. Cook for 5 mns. In total, the cooking time varies from 30 to 40 mns (remember the vegetables will still cook in the oven).
Add then the chopped coriander, basil and parsley and the balsamic vinegar and stir. Your vegetables should soft. If hard still, prolong the cooking time.
Preheat your oven at 400 F (200 C).
Grate the cheese thinly.
Grease 6 individual ceramic oven molds (you can choose to make a large tart as well).
In each mold, place the vegetables all the way to the edge (make sure you do not add the juice from the ratatouille as the vegetables will give out more juice while cooking in the oven).
Cover with grated cheese.
Roll the dough (medium thickness) and cut 6 dough circles larger than the molds.
Cover the vegetables with a dough circle and with the help of a knife blade, tuck the border of the dough inside.
Place the tartlets in the oven and cook for about 25 mns (for the tartlets) or until the dough has a nice golden colour (you need more time for a large tart).
Let cool for a few mns before running a sharp knife blade around the mold, to help unmold the tarts.
Take a serving plate and place a tartlet on each plate.
Serve with a Coteaux du Languedoc or a Coteaux d'Aix rosés for red wine, or a Costières de Nîmes for white, an arugula salad with a walnut vinaigrette and roasted hazelnuts.
Tartlets as they come out of the oven, upside-down.