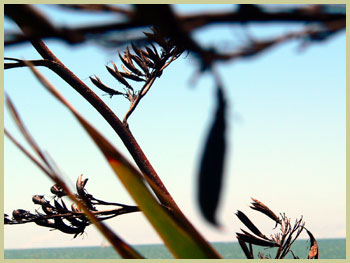 View from our cottage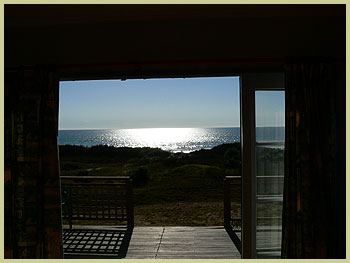 A car on Ninety Mile Beach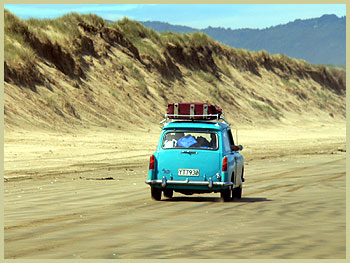 I suppose time flies by when one is having fun! I was delighted to find New Zealand as beautiful as I remembered it, even better. It tasted just like a fruit which one has not eaten for a while. I know it might sound cliché but there are few places I have seen in all of my travels where colours are so sharp and contrasted. New Zealand is just a beautiful place to be in.
So what did we do? We travelled, to Northland first where we hiked, swam, met up with friends, relaxed, and cooked. Mais bien sûr, how couldn't I? Typical of us, when we take off on adventurous roads, we always like to be able to cook our own food. I love to walk around open markets or foreign supermarkets to get a feel of what it is like to grocery shop somewhere else. What do people eat? How much does it cost? How different are the mussels? (New Zealand mussels are enormous by the way). Of course, summer is such a great time of the year for tasty vegetables, fresh seafood and juicy refreshing fruit, and New Zealand was just no exception!
I am happy to be back to find you all again and will need a few long days to catch up, rest (yes it takes over 30 hours to get down there!) and prepare myself for new food blogging stories! I can only tell you that I am looking forward to it! And to start I will share our fish stories from up North.
New Zealand Prawns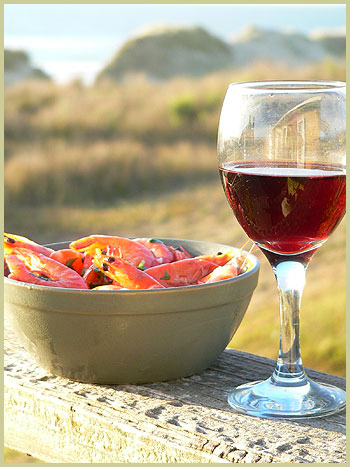 Why do people call them prawns and others shrimps? American English versus Bristish English? Are they the same?? Well, in any case, they don't look the same to me!! I much prefer prawns to the taste, but I might be fooled!
While we travelled in our rented car to Northland (which is the most Northern part of the North Island in New Zealand), we reached Ninety Mile Beach . As suggested by its name, Ninety Mile Beach is a huge beach, so long you can never seem to see the end; it runs all the way to Cape Reinga, the most Northern point of the North Island. To be able to enjoy the place and feel it, we rented a little cottage facing the ocean and its gigantic dunes (a bach as kiwis call them), purely isolated from people (only accessible by driving on a dirt road for about 10kms). A true paradise. On the afternoon of our arrival, we were later greeted by the owners, Connie and Ron (the only other people living in the surroundings). As we pulled the car in front of the main house driveway (in view of its size, we knew our cottage should be elsewhere!), we could not see any sign of people around. "Y a quelqu'un? (anyone there?)" we called a few times. After a few mns, we caught a glimpse of a silhouette walking back from between the dunes: Connie the owner was just on her way back from the beach with her kids. The sun and light were strong. It must have been a gorgeous day to be on the beach as we could feel the cooling sea breeze. It never gets too hot in New Zealand. Connie greeted us with a large smile, and after we exchanged a few words, she took us to see the cottage we were staying in. When we reached it (1 mn, not even from the beach, a pure 50 m stroll to the beach), we could not hide our excitement. The place was even better than expected! It was getting late and the tide was coming in. Connie suddendly realized she had the key to the tractor still on the beach, which Ron her husband would soon need to come back with the fish he had just caught that afternoon. Since she had to look after the kids (ah the pleasures of being a mum!), she asked if we minded to take the key to Ron. Mais non! Of course! So we walked away to meet him. We found him alone with his two dogs and the little tractor. Again, large smile! New Zealanders are really welcoming! He was busy cleaning the large snappers from which we could not detach our eyes. Wow! Big catch! After a short conversation, we were about to leave when he asked what our dinner plans were.
"-Well, euh, ben, easy, simple you know, not much tonight, a mixed salad and rice, maybe."
"-Do you want some fish?"
Nice! It turned beautiful barbecued after I marinated it with olive oil, fresh herbs, sea salt and pepper. Simple, delicious, and fresh, fresh, fresh!
On the next day, the fish experience continued. Prawns were our dinner menu. With again, another version of a simple fish marinade.
My simple fish BBQ marinade
You need:
Olive oil
Dash of cumin (optional)
Sea salt
Pepper
Limes (zest and a dash of juice)
Large bunch of fresh coriander (or basil or parsley)
Garlic cloves (I use 2 or 3 for a 1 lb prawns or fish)
Steps:
Mix together the chopped garlic, fresh coriander, a dash of cumin, sea salt and black pepper, lime zest with the olive oil.
Add a dash of lime juice and mix with the fish or prawns. (prepare just 30 mns before using as lime or lemon cook the fish)
Cook on heated grill or BBQ for a few min only.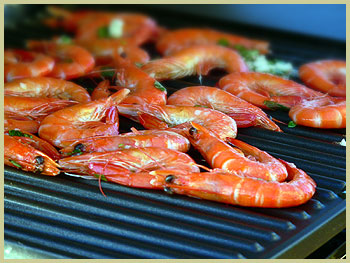 Oh and by the way, I bought tons of cookbooks (I just love Australian/New Zealand cooking magazines and such), so here we are! I had a special luggage with cookbooks! Ah!
I have so much to talk about!