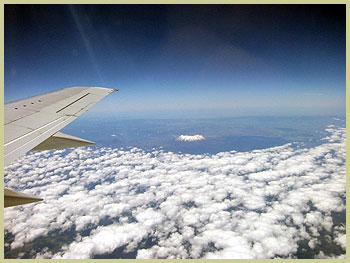 Off we go! See you in 3 weeks!
I wanted to take advantage of this blogging break to thank you all for being faithful readers of my little cooking stories! Without your comments and feedback, the journey would be way different for me! I would still cook and talk of course, nothing can stop the stream from flowing, but because of you, I feel I am not talking to myself! And thanks to this food community, I have already met many great people, only after a few months. Merci et à bientôt!
Not sure whether I will be able to blog from where I will be…
Abel Tasman National Park, New Zealand

Pour finir (To finish) ( I just cannot stop!)
A last recipe to prepare for summer which can be brought to your plates although summer is not yet here in the Northern hemisphere. But promise, I will try to bring it back with me! Only a few months to go before great vegetables, fruit et j'en passe!
I think there are certain foods that we can qualify of bringing ultimate pleasure. Ah, don't get twisted ideas here, I mean, looking at the texture and taste, certain foods are just extremely soft, and feel like ice melting under the sun once they are in your mouth.
I do have a love for avocados . If you do not believe me, here is something that is not someone's average. Almost every day I eat avocado slices on bread with tomatos and cheese, for breakfast. I guess I am not typically French in that sense (and for other things too, but I won't say!) as I am staying pretty much away from sweet foods in the morning. Adieu les croissants et vive le fromage puant avec la douceur de l'avocat! (Good Bye croissants and welcome to stinking cheese with the sweetness of avocados!) We all have our odd food things, don't we? At breakfast, I much prefer savoury, tomatos, avocados, cucumber and olives, cheese (and the smellier, the better), smoked salmon, hence my love to travel to Northern European countries. In Iceland for example, I was in Heaven at the breakfast table since we had smoked herrings, eggs, tomatos and pickles (Heaven only lasted through breakfast though as other meals can be a different story all together!)
Since I started blogging, I have obviously been reading more and more about great recipes, tips and as a matter of fact, I always try to keep notes, bookmark -whatever works in the moment (there is unfortunately not a yet organized system in place)- recipes I like. Hence I once ran across The Accidental Hedonist's Crab and Avocado recipe, which made me feel "Yum". Right away, it made me think about a recipe I myself have been making for a few years now, which is always a great hit when I have guests. The cute part is that they always ask me "How did you do the stack?" "Facile!" 🙂 The secret, of course, is in the ring mold and not in my lego experience. I don't always tell them though, to keep the mystery 😉 or to look as if I were super talented! It sometimes works!

Avocados
3 points:
There is much to say about avocados and Kate again has been documenting quite well the story of avocados, as shown here and there.
It seems as if Kate and I share the same love for avocados 😉
My research led me to find more here.
And Elise from Simply Recipes also has great tips as to how to cut and peel avocados.
All you need to know is on the web, within the foodosphere. Isn't it fantastic? C'est formidable!
So without waiting, let's get to the core of the topic: the food.
On the picture, you will see red little bits in the background. What are these you wonder? Any idea?
I pickled beets, and the secret will be delivered in a following episode. (Wow, fun to feel I am writing a soap opera,…well, yes,…I can dream, can't I?)
Coronation Street part #1
Crab Avocado and Lime Sauce
(for 4 people)
You need:
4 avocados
250 g fresh crab
2 limes
4 tbsp avocado oil
Salt and pepper
1/4 tsp cayenne pepper
Fresh chive

Steps:

Start by grating the zest of one lime. Squeeze the juice of both limes.
Add 2 tbsp of oil to the fresh crab meat and add salt, pepper, and set on the side. Keep 2 tbsp of the crab for the decoration (bigger pieces).
Peel the avocados, remove the pits. Cut 7 halves of the 4 avocados in small cubes, reserve the last half.
Mix together the lime zest, the lime juice, the cayenne pepper, salt and pepper, and the last 2 tbsp of oil. Mix well with the avocados.
Take a ring mold and place it on a small serving plate. Start by placing one layer of avocado at the bottom of the mold, then one layer of crab and again, another layer of avocado.
Remove the mold and decorate with slices of avocado and the crab meat reserved on top. Finish with a slice of lime if you wish, and some chopped chives.
Serve immediately (or keep in the fridge until ready to serve, but not too long in advance as the dish gives out some juice while waiting to be eaten).
This was served as an appetizer for a dinner with friends.
Coronation Street part #2 to follow…..
See I really need a vacation! Elle perd vraiment la tête! (She is really losing her head!)