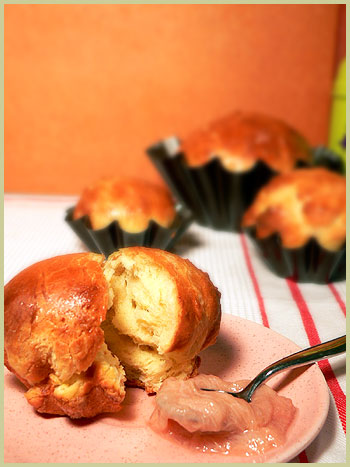 Brioche
Do you remember my challah from 2 weeks or so ago? When I had decided to make that particular challah, I truly was trying to get a shortcut for brioche. In fact, I was craving brioche but I thought "Phh, too long, cannot wait, never mind." That is, as much as I like challah, I was probably born with brioche you see, maybe born in a brioche (rather than in a chou, we do say that in French, I swear), and so, as with all things that one does not have often, one ends up craving for them. The key is this. Do it often enough but do not overdo it. It needs to remain a special treat. Well thinking about it, I don't recall when was the last time I made brioche, so I was surely not going to be blasé and say "De la brioche, encore!" (Brioche, again!).
La brioche is a delicate "bread" that is the king, queen, princess, what is the name, la crème de la crème of bread. I call it bread because it requires a similar preparation and baking process than bread, ie working the dough, letting the first rise happen, reworking the dough again before the second rise, in the end I acknowledge, a pretty long process, but let me tell you, it is really worth the wait! Whenever I bake brioche, I make a point of getting out of the house and come back. Why this ritual?
I need to smell it!
When you bake or cook, do you manage to smell anything anymore? I don't. So for those times, I designed a trick : best thing to do is get out of the house and return, open the door and feel and smell before uttering those words "Yum, what is this great smell?", Mmmm, ca sent bon!) (It smells good). Nothing beats that experience.
Recently, I purchased a brioche from Sel de la Terre in Boston, and I thought My God, this is GOOD! Why on earth am I not making this anymore? It is so rewarding. Sweet, moist, airy, everything that bread lovers like!
With no await, I tried to locate my brioche molds, looked briefly in the notes handed to me from my mum (the recipe which follows was written on a tiny little card that she passed to me before I moved here) and I started. Baking is a great thing to do. When I think that when I was in New Zealand, I was almost hired as an apprentie boulangère by a French baker. Not that I had any experience at all to tell you the truth (I have none, just my little practices here and there, and mainly the joy to bake and cook!), but I guess my enthusiasm was sufficient for the baker to be willing to hire me. What talking can do! However, when this lovely baker told me about the working hours, I thought twice, three times, no maybe 4 times and backed out….I had good reasons, non? Sleep, Zzzzzzzzzzzzzzzzzzzzzzz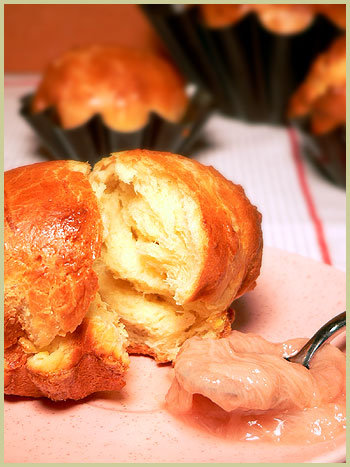 About the word and the origin
The word Brioche has been used since the 15th century. It comes from the French verb "broyer" which means " to break, to grind", and which refers to the kneading of the dough. The known belief is that brioche was first introduced in Normandy, because of the use of a fundamental ingredient, butter. Normandy is known for its production of butter and it is the quality of the butter that determines the quality of the brioche. No matter what the belief, one fact is that brioche made its way to Paris in the 17th century. In those days, a lot of butter was used in the recipe. Luckily for us today, the quantity of butter required has largely diminished.
There are different types of brioche:
the typical Parisian brioche, la brioche à tête (brioche with a head). Why? Because of the way it is made, by placing small pieces of dough on top of a larger one,
the brioche vendéenne (from the Vendée area in France, beautiful coast if you have never been).
But then, the forms vary from places to places. And even more than the forms, the flavours vary too since you can find brioches with raisins, chocolate, or even savoury.
I personally prefer my brioche plain. I always use butter to make it (you sometimes find places that make them with margarine, and the taste is totally different!)
Brioche requires time because for the best brioches, you would need 3 rising times for the dough (for this brioche, I only did 2). The steps are simple. Once the ingredients are all mixed together, you cover the dough and let it rise in a warm place, then work the dough a second time before the second rise and so on, until the final baking step.
I love to eat brioche for breakfast, with a soup, or at 4 pm. For that particular brioche as shown on the photo, I had bought rhubarb that I cooked on medium to low heat with sugar, simple but delicious. Sometimes I have a taste for cheese with it, it all depends on the mood I am in.
Oh and by the way, did I mention the French slang expression "avoir (un peu) de brioche", which literally is "to have brioche", which means "to be (a bit) fat/to have a belly". It all boils down to food.
Brioche
You need:
8.8 oz (250 g) all-purpose flour
2.8 oz (80 g) butter
2 eggs
13 g baker's yeast(levure de boulanger), 1 dose if using dry
2 Tsp sugar (I use light cane sugar)
1/3 cup warm milk
1 pinch salt
1 egg yolk for glaze
Steps
Start by mixing the yeast in a bowl with 1 tbsp of warm milk and let sit until it rises and bubbles (if using dry, skip this step and mix the yeast with the flour directly).
In a bowl, place most of the flour (reserve some to cover the yeast) and make a hole in the middle to add the risen yeast.
Sprinkle the rest of the flour on top of the yeast and cover. Let rest in a warm place, until you can see cracks at the surface of the flour.
Mix well together the sugar and salt, with the soft butter and the rest of the milk.
Then one by one, add the eggs.
Add the flour to the butter/sugar/eggs preparation and work the dough for a min. of 10 mns.
Cover and let rest in a warm place for a min. of an hour, until it doubles in size, away from drafts.
Rework the dough for 10 min. Shape it the way you prefer. Place it in a bread pan or the pan of your choice (greased) and cover again to let rise for one hour more, minimum.
Preheat the oven at 400 F.
Brush the brioche with the egg yolk mixed with a tiny dash of water (or use the whole egg).
Place in oven for 10 min first, then reduce the heat to 350 F and bake for about 20 to 30 mns (depending on size of your brioche, so check regularly).
I took the picture below the morning following the baking, under better light, and I was very proud since I had hardly touched the brioche until then. Well, almost, as witnessed by the pic. No one is perfect.
With those quantities, I made a medium round-sized brioche and 3 mini ones (cute with tea). And you can also decide to make the dough in a machine if you have one.