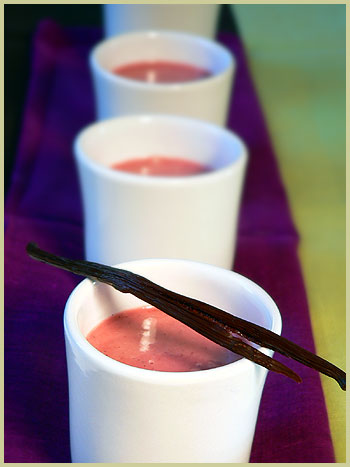 How the idea started:
I swear, the oddest happened. At the beginning of winter, I took one of my azaleas inside just because it was going to be unhappy alone in its pot outside. One day, I am sitting at the dinner table and look at it wondering, "Funny, it almost looks like there is a flower there!". You are not awake yet. A few days later, I saw this: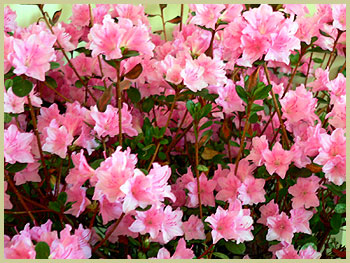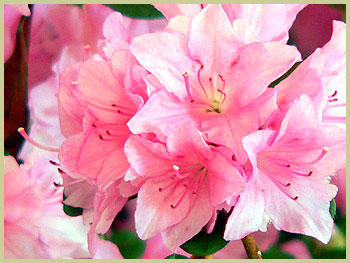 I cannot believe I had tricked my plant into thinking it was Summer! Maybe I can do this with you? 😉
Swim swim, swim. It could almost be Spring then. A real strawberry bath, soft, fragrant, delicate.
This dessert is simple (yes, très très simple!) and just delicate. With it comes the taste of wine (I should put a bit more next time), the velvety feel from the yogurts, and the fragrance of the vanilla. On top, if you like strawberries (I love them), this makes for a very nice dessert fix when you get bored of the simple traditional piece of fruit or yogurt. In fact, there is a reason why I made this treat. Back again to past loved times, it simply reminds me a lot of a typical dessert I had as a kid: I know many people would be horrified by the look of it but here it is: mash freshly picked strawberries with a fork, then add cream (liquid texture, type heavy cream) and sugar. Simple but I can only tell you how great that was. When I was only 12, I remember cycling for 10 kms to visit a friend's in the next door village. We would run to her mum's huge vegetable garden, pick baskets of fresh ripe strawberries and have them as described before, as a snack. After that, I would happily cycle back home. Le vrai bonheur d'une petite fille! (Pure happiness of a little girl). Even writing it makes me smile and happy. Those were the good times I think, the ones country children like me, ah, have!
And so, I have always felt deprived to not be able to have a vegetable garden. It would be hard considering that we only have about over 350 square feet behind the house, already cluttered with my little herb corner which takes a big chunk of space. Still, last year I planted a few strawberries plants in my tiny garden, and whenever I would see a strawberry turn red, it was utter joy! Rushing to the garden, picking it, looking at it and, yes yes, sharing it! Don't know how I managed to do this one, but I did! And every year, I want to plant more! May it rain a bigger garden! Merci!
I do not always feel that I have to spend 2 hours making desserts, so making this particular one was very rewarding. It is fresh (quand même!), sweet and, well, I like the colour, does it count?
Once at our favorite wine store (Marty's Fine Wines in Newton), I asked our friend Peter what wine to buy (He is just the best with recommendations). I needed a fruity red wine. He told me to go with a Beaujolais nouveau, which I did.
So here it is, to a very simple strawberry dessert! Tchin-tchin! Cheers!
Strawberry and Vanilla Velouté

You need:
500 g strawberries
3 plain yogurt (Velouté or Bulgare, best equivalent I have found in the States is from the brand Liberty, vive les canadiens! you can find it at Whole Foods), about 380 g
15 cl fruity red wine (I took Beaujolais nouveau)
15 cl water
35 g sugar (I used evaporated cane sugar)
1 whole vanilla bean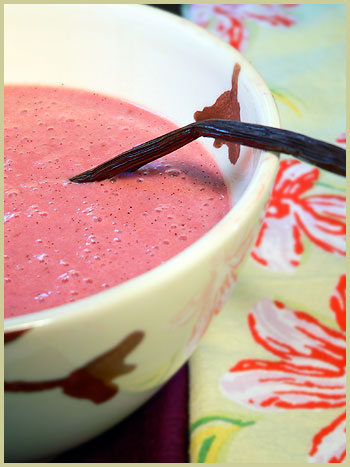 Steps:
Clean the strawberries under fresh water and remove the green parts.
In a pot, pour the wine with the water. Add the vanilla (open in 2 halves) and the sugar.
Bring to a boil and reduce to let infuse for about 10 mns.
Poach the strawberries in the syrup for 5 mns.
Remove the vanilla bean and mix the strawberries with the syrup.
Add the beaten yogurts.
Pour the velouté in individual bowls or a big one and place in the fridge.
Decorate with vanilla beans (just for the picture, ah!)
I made Matcha tea madeleines with it (recipe to follow). You can just now take a deep breath. C'est bon, non?
Adapted from Elle A Table.