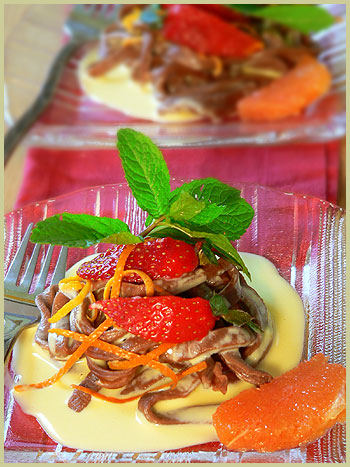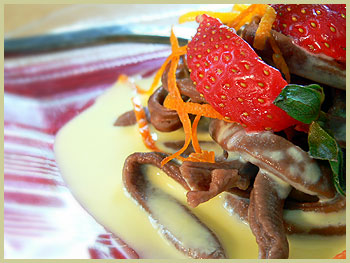 IMBB #22 – Cook with noodle
Pasta, noddle, originality? Hmmm, let's see, there are hundreds of years of noddle making, right? How many? And by the way what is a noddle?
See what Amy says:
In addition to being defined as "ribbon-like pasta", noodle also means brain and to improvise.
So let's improvise and use a bit of brain to make a noodle/pasta dish!
Dinner? Lunch? Savoury? Sweet? Dessert?
Hmmm…
Dessert! Sweet! Done!
So what would I like and need?
Pasta and noodles, yes, chocolate, that will work, custard, yes that will do too, what else? Cardamom (which I love), hmmm mais oui, good idea, and oranges, excellent! I have them all. [Brain processing] Click! Idea! Got it!

Tagliatelles au chocolat, crème anglaise à l'orange et cardamom- Chocolate Tagliatelles and its cardamom orange custard
I am delighted to participate in the event organized by Cooking with Amy, IMBB #22. My idea of the day is to make fresh chocolate tagliatelles and orange/cardamom custard. It sounds a bit surprising when you first think about it, but it is truly worth the work and the taste experience. And furthermore, it has all the regular ingredients that a nice dessert usually has, so just don't let the word pasta with chocolate put you away! The taste is subtle!
So with no await, I will let you discover my improvised recipe:
Chocolate Tagliatelles and its cardamom orange custard
You need:
For the dough :
3 tbsp cocoa powder
2 tsp vegetable oil
1 3/4 cup flour
1 pinch of salt
2 eggs
Water (1/3 cup) but adjust accordingly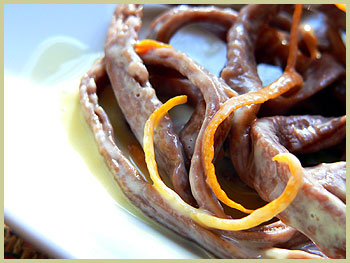 For the custard:
1 orange zest
1 1/4 cup milk
2 egg yolks
5 cardamom pods, for the seeds
2 tbsp evaporated cane sugar

Strawberries and mint
Orange slices, without white parts (I used a nice organic blood orange)
Steps:
To make the dough
Mix all ingredients in a food processor, or if working the dough by hand, start by placing the flour in a bowl.
Add the cocoa powder (sift it) and salt.
Make a hole in the middle of the cocoa/flour and one by one, add the eggs. Mix with the tips of your hands.
Add the oil and enough water until you get a very elastic dough.
Let rest covered for about 30 mns to 1 hour, then take a pasta tagliatelle machine (or your good old hands) and make the tagliatelles. Let them dry for 30 mns ( I placed them on a towel, on the back of a chair). Be careful that they do not dry out too quickly before using. If you do not use them right away, I suggest parchment paper to cover.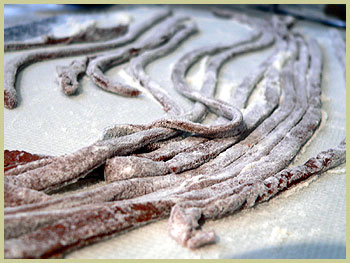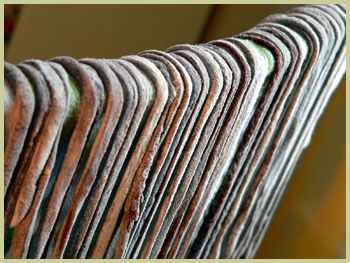 To make the custard
Mix the egg yolks with the sugar until very white.
Heat the milk with the cardamom seeds extracted from the pods and 3/4 of the orange thin peels (like small zest).
Remove the milk from the heat, strain (but keep the orange peels in it) and add carefully to the egg/sugar mixture, stirring with a wooden spoon. Mix well and place back on stove.
Heat on medium to low heat, without bringing to a boil. Stir constantly. Your custard is ready when it is thicker and coats your wooden spoon nicely.
Remove from heat and let cool down a bit.
Cook the tagliatelles Al dente in boiling water (2 to 3 mns are enough) and drain.
Take plates and place some tagliatelles in the middle, in the form of a small stack (so that they stay together, like a nest – I use a small mold).
Pour some custard over, mix slightly and add extra orange peels and a mint leave.
Add and decorate with fresh sliced strawberries and more orange slices.
You can decide to eat this lukewarm or cold, it depends on your preference. We had it both ways and for both, the texture and taste were really nice.
I have to say, it was a bit of work, especially to do the tagliatelles, but totally worth the time. I was very pleased with the result. You can feel the chocolate taste subtely. Those flavours being amongst my favorites, it was a true success (for me anyway). Besides, what was a real satisfaction was the play with colours. The dark chocolate of the pasta and the yellow cream of the custard, with bits of orange and the red of the strawberries. And since I am visual, I needed that as well!
Ouf! (Phew!) Did I pass?