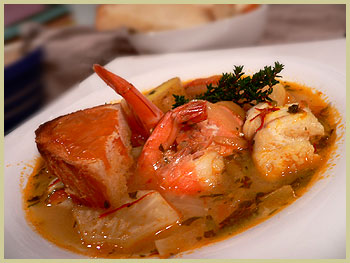 My Simplified Fish Bouillabaisse
It is my friend AG who would be the most pleased about this post. I am going to talk about Marseilles, and AG is from Marseilles. Marseilles as most of you know is in the South of France and I am from the East. Now this difference is as big as talking about the difference between the Brits and the Irish, the bretons and the normands, New Englanders and Californians, New Zealanders and Australians. In the end, we all believe that we are the coolest.
But back to my story about AG and Marseilles, when we both were in college in Metz (East of France), I cannot tell you how many times I heard "Ah mais à Marseilles, tu sais, c'est tellement plus beau, regarde le gris du ciel ici!" (You know, in Marseilles, everything is so much nicer ; look at this grey sky!) Marseilles here Marseilles there. So much for Marseilles AG, Marseilles was 800 kms away from us and we had to deal with the grey sky in Metz! Tough luck! However, that was not saying everything and AG was somewhat right. In Marseilles, the food is sunny. In Marseilles, when people speak it is like they are singing. In Marseilles, the fish is fresh and above all, it is in Marseilles that bouillabaisse was born. Probably the most known soup in France, non?
Have you heard about a dish that boasts more variations than this one? There are as many recipes for bouillabaisse in Marseilles as there are des chefs marseillais. And as good franchouillards (Franchouillards are this species of French people who believe that anything French is better :-)), they all think their recipe is the coolest. I probably do too, I mean I make the best bouillabaisse! Ah! Except that I took a short cut since the *real* (who owns it, I want to know!) recipe is not your average everyday quickly thrown dinner. It requires time and most importantly a various number of fish from Marseilles!
Origin of the word
" Quand ça bouille tu baisses " (when it boils, you reduce)… the heat that is. "Bouillir" means to boil, "Baisser" means to reduce, hence Bouillabaisse. This dish originates from fishermen in the Marseilles and Toulon area (and the beautiful Calanques area) with modest means. Every day after their day fishing, they were simply adding to a pot filled with boiling sea water all the fish pieces they were not going to be able to sell. They ate this fish broth with pieces of toasted bread, "croûtons" , with garlic and rouille or aïoli. This became quickly the fishermen's meal, la bouillabaisse des pêcheurs.
Plats complets (one dish as a main) to feed a bunch of people, these are amongst my favorite dishes to make and eat. Live a leisurely life in a big house in the country with a lap pool, my vegetable garden and orchard, feed all of my friends and family members, and hear the crickets at night in summer, play pétanque and eat clafoutis at 4pm for le goûter, what a perfect dream life!
Back to reality. It is winter and it is cold outside.
I had to try myself to the bouillabaisse and make my recipe with major shortcuts as, even if we get great fish here in Boston, there is no way I was going to be able to find the fish you find in the waters around Marseilles. Promise to myself though: I will make the long version one day, C 'est promis, juré! Si je ments je vais en enfer (I swear, I promise, If I lie I will go to hell). In the meantime, this one is just good enough. See AG, I am praising Marseilles and Pagnol, "just for you, and my stomach!"
My simplified Fish Bouillabaisse
You need:
8 large fresh scallops
8 large fresh shrimps
14 oz white fish (firm and softer such as monkfish and tilapia)
14 oz fresh salmon
Squids and fresh mussels (optional)
10 fingerling potatoes, (I particularly like those ones because they are very tasty and firm)
10 saffron threads
4 roma tomatoes
1 cup chunks of celery root
1 sweet yellow onion
3 garlic cloves
4 1/4 cups fish stock
2/3 cup dry white wine
Fresh coriander
Fresh flat parsley
Fresh tarragon
Fresh grated parmesan
For the rouille
1 garlic clove
Olive oil
1 egg yolk
1 tsp harissa
1 ts tomato paste
Salt and pepper
1 tbsp fresh lemon juice (optional)
Steps:
Preheat your oven at 400 F.
Slice the onion thinly.
Chop the garlic thinly.
Boil the tomatoes in order to peel them (1 mn). Once done, cut them in quarters and remove the seeds. Chop them thinly.
Peel the cerely root and cut in big chunks.
Wash the potatoes and cut them in big chunks.
Heat up the fish broth until boiling point and reduce.
In a separate bowl add warm water to the saffron and let it soak for about 30mns.
In your braise pot, heat 1 large tblsp of olive oil. When hot, add the onion and garlic, and cook on low to medium heat until softer (about 4 mns).
Add the tomatoes and cook for a few more mns before adding the celery and potato pieces. Cook for a few mns.
Add the white wine and fish broth with the chopped herbs, season with salt and pepper and cover before placing in the oven for about 15 mns.
After this time, start by adding the bigger pieces of the white and red fish. Cover again and place in the oven for about 15 mns.
Take out again and now add the shrimps, (squids, mussels if you have them) and scallops. Place again in the oven for 5 more mns.
In a food processor or by hand (which I prefer), place the chopped garlic, the egg yolk and mix well.
Add then the tomato paste and harissa. Mix well.
You will then progressively add the oil. Work quickly. When the rouille is thicker, it is ready (it can also keep a more liquidy appearance, depending on your liking)
Toast a few pieces of nice bread.
Grate the parmesan.
Take large soup bowls in which you pour 1 or 2 large ladlefuls in each bowl.
Spread rouille on the toasted bread and place in the soup (2 small pieces per person, or more if you need).
Sprinkle with the parmesan cheese, decorate with fresh flat parsley leaves and serve without waiting!