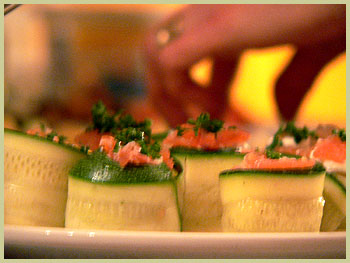 The beauty of Christmas is that it varies from countries to countries, with every country bringing its own set of traditions and coutumes as to what to do and eat.
A while ago, Sam was sharing a British Christmas experience which I loved. Our dear English Rosbeef friends have no reasons to feel jealous of our snails and frog legs. Luckily, times have changed Les temps ont changé, Thank God!
This year, we decided to spend Christmas in France, in the Alps to be more precise where all my family members- my brother, Geneviève, my parents, the 2 dogs and my uncle and aunt- met. There is no better way to finish the year and celebrate this holiday. We had skiing, walking, superb company, eating and drinking, all the goodies of life.
On Dec 22nd, we headed to la Chapelle d'Abondance, which lies 65 kms away from Geneva where we landed.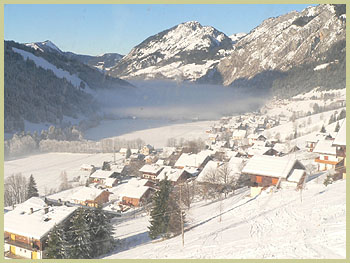 This ski resort-close to les Portes du Soleil– is just lovely for anyone who likes nature, and does not necessarily want to ski as there are many other things to do, with great long walks as an example. And what more, every morning, you can get up and walk to the bakery to get fresh bread for huge breakfasts that keep you energized for long hours skiing. Nothing makes me happier than this true simple treat, that can nowhere be found when I go skiing in Colorado or New England. I have to claim it, nothing beats skiing in the European Alps, and for me France. Not only do you have great skiing domains but you have real food and village life!
We were lucky as we found plenty of snow AND stayed in a large (for French standards, it really was!) apartment that slept 10 people. A real luxury. Especially with the 2 Briards, Ottawa and Kea.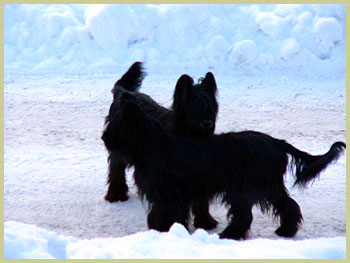 Between the skiing times, we kept the food topic very much alive as we had a goal: designing Christmas eve dinner avec les moyens du bord (with the means at hand!).
The kitchen and its challenges
As planned, Geneviève and I were in charge of cooking Christmas eve dinner. The challenge for us two who love to cook was to come up with a menu we could cook with the little equipment we had. So think think, talk talk, yes no maybe, we finally had a plan.
We decided to go with making a lot of finger food and so it all started like this: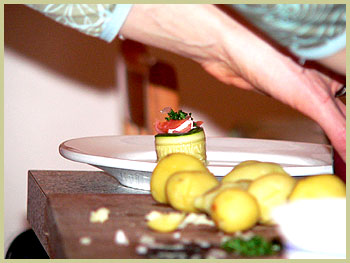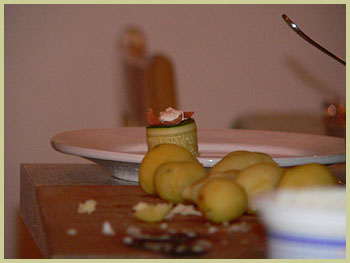 I came up with the idea of our first finger food. It consisted of potato wrap sushis: How to make it? Start by boiling fingerling potatoes, then peel them and wrap them in strips of cooked zucchinis brushed with olive oil, with smoked salmon added on top, crème fraîche and herbs like chives.
Another of our ideas was simple sheep cheese toasts. Every day, we would get fresh sheep cheese -eaten following an industrial pace- that we decided to use as a spread on small pieces of toasted bread, with tomatoes on top and pieces of avocado, or on pieces of cucumber and cooked zucchinis, with sprinkled fleur de sel.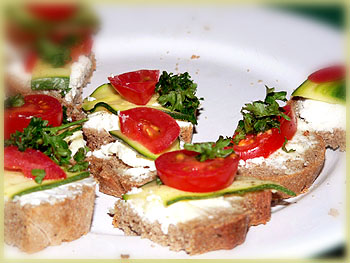 Then the traditional Oysters bien sûr, followed by a Foie gras with cooked apples dish, which we served on a bed of mâche-my favorite salad of all- and prune jam with ginger bread.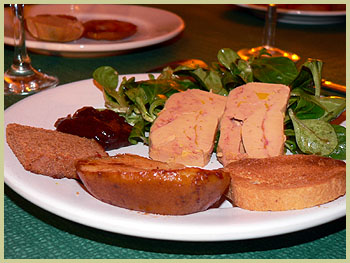 First break, we had too…..
…………………………………………..
After this first interruption, we resumed.
The meal continued with a leek velouté, with scallops and morrells dished that I cooked by sautéeing leeks and shallots in olive oil, with white wine and broth, which then simmered before I mixed them. Seared scallops and morrels were added, as well as a blend of egg yolk and cream, salt and pepper .
Another well deserved break followed before……le dessert!
We had so many ideas but so little material. One criteria had to be followed, against my brother's liking, of all requirements, our dessert had to use chocolate, dark of course. In view of this must-be-in-it criteria, we set our mind on a tiramisu we designed like this: a pear/chocolate tiramisu served in glasses, that is layers of cooked pears, crushed biscuits, a mascarpone mousse (egg yolks mixed with mascarpone cheese, and sugar, to which egg whites were added), and dark chocolate. We liked it although by that time, we had little room for a dessert like this. But eh, after all this work, we could not pass. So we continued on.

Where is the picture???
Well, by that time, we were not even thinking about pictures anymore and I wonder why…
Culprits:
No meal would be complete if we did not mention the drinks we had, which included champagne, a great Alsacian Tokay Pinot Gris Vendange tardive and a magnum of Château Neuf du Pape, all brought by my dad.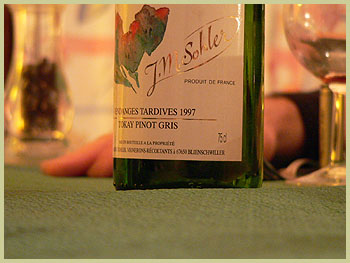 Good comforting food and wine = happy state of the mind.
As to the logistics, Geneviève and I were both kept busy in the kitchen while Philip, the happy lovely hubbie did the photo shooting: what a perfect team you would say. But it also means that if there was a picture shortage, there were more drinks on his end than on ours. C'est pas moi, c'est pas ma faute!

The Moral of the Story: our challenge was met: everyone was pleased and had sweet dreams (no no, it is not because of the wine!).
In any case, skiing and cooking in one day, nothing better to make me happier. Or at least one of the many combinations. I look forward to next year!