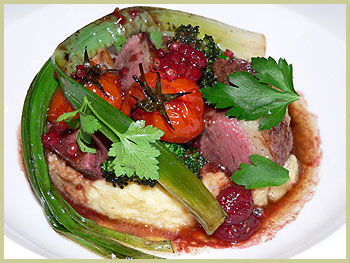 Paris was cold and windy, we even saw snow!-well, it quickly transformed in this undescriptive slush, so you have the picture of what it felt like walking in the Parisian streets. No need to say it was a big change from the beautiful sun we witnessed in the French Alps. I remembered being able to stroll very happily in the Parisian streets in October a few months before, taking time to take time, which was the perfect Parisian dream. This time around, we walked fast and did not find any good reason to spend an extra minute outside. Cold! Yet! As we approached rue Bonaparte, to our big surprise, I pointed to a line of people outside a tiny store window.
What on earth were people doing outside, waiting it seemed for who knows what, in such crappy weather? We walked closer and finally got to understand: Pierre Hermé. The pastry master of all (and for your info: Pierre Hermé is at 72, rue Bonaparte, in the 6th arrondissement). Why do I keep seeing his name everywhere these days?
There are very few things that can possibly keep the French outside on bad weather days: there is one for sure though, their stomach!
Have you ever been puzzled by the following: the French are the masters at the no-respect of making lines, yet, as you walk into a French bakery, you quickly notice the orderly manner by which people patiently wait for their turn, while you hear a determined voice uttering "C'est à qui le tour ? Et avec ceci ?"(whose turn is it? And what else?). In a bakery, the heart of pure food, the French know how to form beautiful lines (elsewhere they pretend they don't know!). No one questions it there, the only way to get your bread is to wait in line.
Although Philip and I both demonstrated as much admiration in front of the display of coloured pastries as all of those people patiently waiting outside under this cold rain/snow/ice, the cold got to us first and we moved on. Even Pierre Hermé did not manage to keep us outside waiting. True!
Instead, we thought about what to do for dinner. Our taste was definitely more savouring juicy sunny food, and so I came up with treating us to a New Zealand adventure. Summer, sun, no more winter, s'il vous plaît!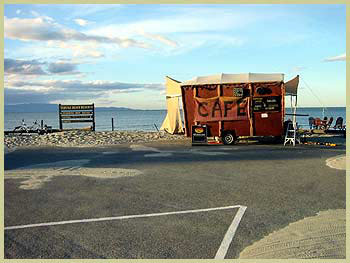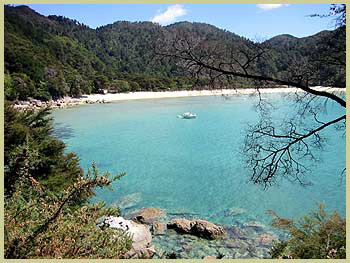 A lot of you know that I lived in New Zealand for a few years and made this country my second home. I love it and keep going back. I am also a believer of things that do not happen by accident.
A few years ago, as I travelled with a New Zealand friend to Paris, she and I both ended up in a restaurant rue de Seine owned and run by a New Zealander. Pure coincidence for sure, but I tend to like those funny life events. Since that time, every time I go to Paris, I try to go back to that same place. This place is called Fish la boissonnerie, of all names.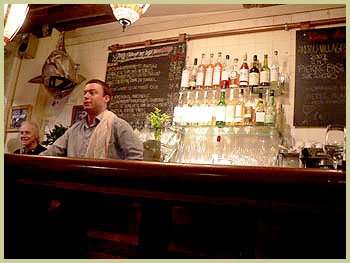 Going back there every time is similar to having a perfume experience and the memories attached to the smell: once there, I remember the times I had in New Zealand, the lively summers (and not the Wellington wind thank you very much!), the friendly pace of life with its people, the singing kiwi accent and of course, the new age of food that started in New Zealand about 10 years ago. There the cuisine is full of colours, taste, and the atmosphere is extremely friendly and relaxed. Just like a real kiwi experience. I always make sure I bring all my kiwi friends there.
So on Dec 30th, we decided to have dinner at Fish. We managed to get a table after a 30 mns wait (considered we did not have reservations, that was lucky) and once more, this soon became a food paradise for us. We ate magret de canard (duck), gambas sitting on a juicy tomato with beetroot sticks, fresh tuna with fried eggplant skins, fresh mixed salad in an orange sauce and shared (yes shared!) a lemon orange tart . The wine was good too-it is worth noticing that Fish is known as a bar à vins, and we had a nice chat with the kiwi waiting staff, including the owner himself, whom I have always seen every night I have had dinner at the place.
Our food looked like this: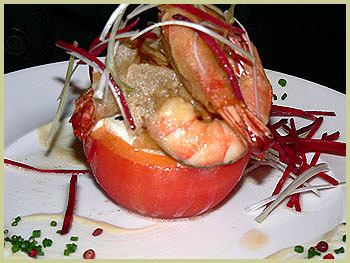 The evening was successful. As we finished our meal and headed out, we had fully forgotten the wind, the slush, the cold, winter: we were happy and content. We had had our taste of New Zealand, just in time before getting ready to visit the real country this time, soon in February 2006.
And since one coincidence does not go without another one I have to add this note.
For those of you living in Boston or familiar with the city, you must have gone to this nice sandwich bar called Cosi at 133 Federal street.
Link?
Across the road from Fish at 54 rue de Seine in Paris, the owner of Fish also manages Cosi "mother", the original Cosi sandwich shop that spawned the American chain. Funny, non?