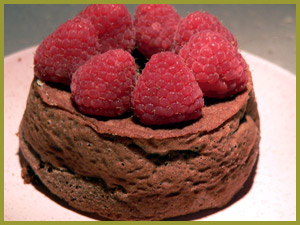 I always try to think about easy dessert that come handy when I have nothing at home, for those sudden dessert cravings that need to be quickly fulfilled! Now, those chocolate cakes might look very complex and long to make, but I promise, they require little time and are easy. A real piece of cake!
I have already made them on late evenings, after watching a movie, and they were just right.
So, if you like chocolate, you cannot be disappointed.
Chocolate Cakes
(For 8 individual cakes)
You need:
100 g butter, plus extra for moulds (I use mini charlotte molds)
250 g dark chocolate (min. 70% cocoa)
4 eggs
2 egg yolks
100 g sugar (fine); I use a light cane one
2 tbsp flour, plus extra for moulds
1 tsp vanilla extract
1 pinch of salt
Confectioners' sugar for decoration and fresh raspberries (that is, if you have them then) or other berries
Steps:
Start by preheating your oven at 400F.
Melt the chocolate and butter in a bowl, using the bain-marie technique.
Mix together the eggs, egg yolks, sugar, vanilla extract, and salt, until the preparation is very light and has almost tripled.
Mix together with the chocolate, making sure not to break the preparation flufiness (Just do circular wrapping movements). Then add on top the flour and use that same gentle movement. The result will depend on how you accomplish those movements, so be careful. There is little flour so the cakes will rise if you do not break the egg whites.
Pour an equal amount of the preparation in each mold (buttered and floured) and place in the oven for about 12 to 13 mns. Check frequently as they cook quickly.
Decorate with raspberries, confectioner's sugar and some vanilla crème anglaise if you want. I also made a blackcurrant coulis to serve with it.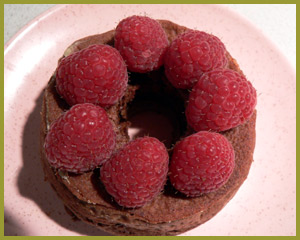 Bon appétit!