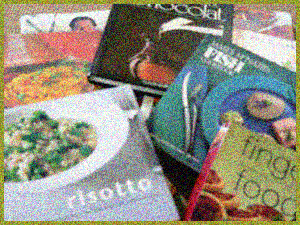 A few days ago, my husband and I went to the PRX Christmas party (Public Radio Exchange) held in Harvard Square, Cambridge. So much fun! Like a lot of those end-of-year social events, you end up meeting friendly people whom you realize you somehow know, but you were not aware of it. I happened to bump into Robin, a radio producer at Radio Open Source with whom I had been in touch with once, about a radio show on Europe. Chat chat chat, Nice to meet you! I can finally put a face on your email address, one thing leading to another, somehow, our conversation all of a sudden was about food (I tell you, it always happens, so Thank God for my blog! I can now spare at least a few people).
But that night was a good night, a night with good stars, because as our conversation unfolded, she happened to tell me Ah wait! We are having a show about cookbooks very soon, well, actually, next week! What? Really?.…It is called A Passion for Cookbooks. And I love cookbooks! Who does not? And why such fascination for cookbooks, or what makes a good cookbook?
So mark your calendars. The show is so far scheduled for next Tuesday, December 20th.
So back to the cookbooks, here is what my cookbook shelf more or less looks like: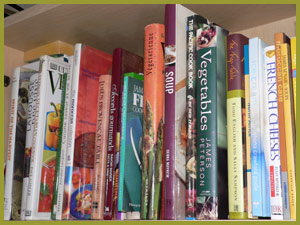 Plus all the other cookbooks (about at least 30 more) I do not yet know where to put, which are currently lying on the floor! Sacrilège! The point is that I have not yet won the battle with the Man of the House, and managed to convince him that I need a special cookbook bookcase. But it is just a question of time. He requires a little longer "cooking" time.
For me, a good cookbook needs to be telling me a story–from where are the ingredients, the recipe, how, why– and, because I am such a visual person, I also need to see all of the beautiful food pieces it is referring to. Hence I love cookbooks with great photography and history. I have experienced great cookbooks and really bad ones, like everyone I am sure. In short, I believe that for certain recipes, there has been little testing in terms of the preparation and the ingredients. Sometimes, you follow a recipe, word for word, and it does not work!
Luckily, you get caught, once, twice, but the third time, you are on your guards! No more!
And so, some people collect stamps, others, boxes, (recently, I even heard about people starting empty frame collections!) I like to collect cookbooks (and shoes, and bags and…). Which makes me realize, I have an idea. Afternoon plan: I am going to go and sit to read one of my cookbooks. This afternoon's read is called Zest.