Vive les tartes!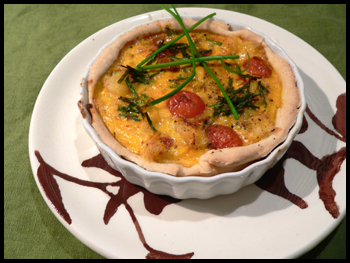 For many many years now, I have always had on my mind that one day, I would have my small quaint place where I can leisurely bake tarts, savoury or sweet, that people coming for lunch can taste with a simple soup and salad. The idea of a perfect lunch! Simple but filling and tasty.
Tarts are a real passion for me, if I am honest with myself. Maybe the reason is that I come from Lorraine in France where la quiche lorraine is one of the dish typical of the region! It had to be this way, I had to bake tarts!
In any case, one of the component, key to the success of a tart is the dough, "la pâte" in French. And here the list of various types of dough can grow quickly, with each being unique and well matched to specific dishes. For instance, there is a sweet crust for sweet tarts, but also a crust, pâte levée, which consists of flour, fresh yeast, milk, sugar, butter and eggs (with a pinch of salt), perfect for a plum tart. The one I use more frequently to go with all my savoury tarts is the basic pâte brisée, (shortcrust).
Here is what you need to make the dough, for a tart for 6 people.
200g flour
100 g butter
Water
A pinch of salt
There are two ways to make the dough, the manual method ( I love this one since I love to work the dough with my hands), or the quick one using a food processor.
With both methods, the time spent is worth the effort and time spent (and they are minimal). I cannot even imagine or bear the thought of buying the dough in a store when it is so easy to make. What you think you save in time, you really lose in taste (and money too). I once tried the shortcut that we all try once (we all do, don't we?): buying puff pastry (pâte feuilletée) in a store. It all happened on a day when I thought I was smarter. The story: Once upon a time, determined and happy as I thought I was going to be, I made my way to Whole Foods. I got there safely and directly went to the frozen section where I knew, eheh I could get a pack of puff pastry. On it, I noticed the word Awards written. "I cannot go wrong", did I internally think. Easy! I went to the cashier and paid the $15 asked (phh, expensive, I thought) and drove home. My plan that night was to make a nice tomato tart. All went well until we started eating the tart. It turned out to be a true disaster: a greasy, tasteless dough that ruined dinner! For sure, after that night, my lesson had been learned. Never again was I going to try to be smarter, and take a shortcut of that sort.
Coming back to our reality, here is the method to follow for a successful easy shortcrust.
Steps:
Start by placing the flour on a work area (or in the food processor bowl).
Make a hole in the middle and add the butter cut in small pieces in the middle (have the butter at room temperature to use more easily).
Work slowly until the flour/butter form crumbles.
Add the salt and water. You will know how much water you need by testing the consistency of the dough. If working with your hands, it should detach easily from your hands (in food processor, it detaches from the bowl).
Make a nice round shape and place in the fridge, covered with plastic wrap for a minimum of one hour before using.
This recipe is very basic but delicious for any savory tarts such as my carrot and zucchini tart, inspired from Morocco because of the cumin, or my crab saffron tart.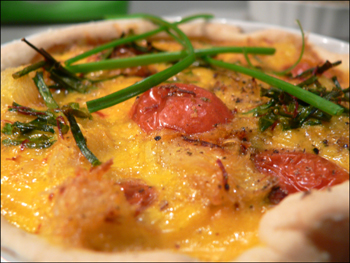 Some variations exist however, in which you simply need to add an egg yolk, as in this tomato tatin tart. It gives a little twist.
Keeping this in mind, and with a little bit of practice, making dough will become like riding a bike, meaning, once you know, you do not forget.
So enjoy the dance of the tarts! They are amazing to make us happy!