Celebration! celebration! It starts with this….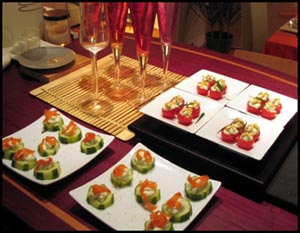 The story is very simple. If there is a time of year when I wish I were in my home country France, this would be one, not for the celebration of Beaujolais nouveau, la fête de la musique or smell lavender in Provence (although those things sound pretty good to me), but to be able to admire the patisserie windows, where beautiful bûches de Noël are going to rival against each other. I have the best memories of waiting for Christmas day to come, when finally la bûche was going to have its place on the table.
Let's have a bit of history here.
Typically, the tradition across Europe was to have people burn a log (bûche) in the fireplace on Christmas Eve. In France, the tradition had this addition: you had to burn as many logs as there were people in the household. This was producing heat and light, very important elements in this festive time, and both were a way to celebrate the sun. In Provence, some wine would be poured over la Cossa de Nadau (la bûche de Noël in occitan). With it, there were a lot of beliefs; amongst those, one believed that if shadows were projected on the wall because of its light, some family members would die that year. Let's stop the list here.
The log was supposed to burn and last for the duration of the evening, a minimum of 12 hours. Unfortunately that was not always possible, hence a way to prolong this time was to create this delicious cake.
There are hundreds of recipes for this cake, which base is a simple sponge cake that is rolled, just so that it looks like a log. As much as the sponge cake quality is important, the fun resides not in the cake, but in the fillings! As long as I remember, I was aways hoping, dreaming, that the flavour of the year would be chocolate (yes, I am a real chocoholic!). Nowadays, you can find as many possibilities as there are patissiers across the French country! Almost! And I have come to realize that chocolate is not the only thing!
Last year, I wanted to experiment with a different flavour and made the following one with kumquats.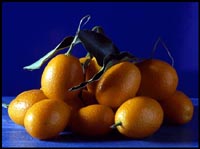 Beautiful unusual fruit that is perfect at this time of year. Delicacy of the fruit. This dessert is very light and ceremonial.