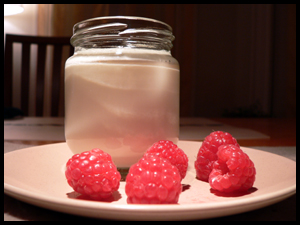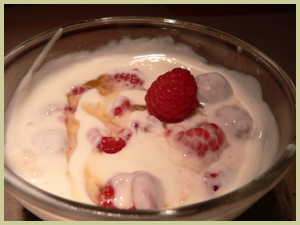 The following topic, yogurt making, has always been very central to animated conversations in which, I do not know why, I would throw myself deeply into, and find myself talking passionately about how important a good yogurt is, and how difficult it is to find one generally speaking in regular supermarkets here. Now no offense here–I think I am starting one of those animated conversations here, so stop me before it is too late–, but when I first arrived in the US about, yes, already 7 years ago, I was amazed to find the cold food sections where yogurts are displayed, looking as barren as an apple tree after harvest is over. "Nothing to buy!" did I think. Where are the Bio Bifidus, the Gervais, or the BA or the Mamie Nova? Terrible! Compared to the walls of cereals. I mean, yes of course, you find brands like Dannon or Yoplait (which equivalents in France are totally different, although they bear the same brand name), but what terrible taste. Most likely, there is no fat, and a lot of sugar, that is a taste I cannot even describe if I try to.
I kept repeating the same old song and story to my friends "you know, our yogurts are so different, they taste like…", and they would look at me with this smile most likely thinking, "yeah, we believe you!", that was enough to tell me they did not buy a word of my bragging about our savoir-faire in yogurt making.
Until one day!
One of my very good friends went to France for the first time, and of course, after hearing so much about yogurts in our endless yogurt debates, she made a point to see for herself about the whole deal about French yogurts. To my joy and excitement, at her return, she came back with the best news. Not only did she believe me at last, but she made a point to tell all of our friends, the ones in those same yogurts discussions, soon to become seminars, which was the easiest way to validate, that yes, I was right!
Let's summarize here: you can actually find good yogurts (I am looking at plain yogurts here), and amongst those, I would put a few brands like Liberty (from Canada), Fage for its nice greek yogurts and Erivan, with a few others, but they are scarce. For sure, I was on a mission and was determined to find a good old remedy to always make sure my craving for yogurts would be fulfilled, that same one which could bring back the memories of my mum making yogurts at home with her Tupperware kit.
The key was : buy a yogurt maker!
It all started there. On my way to the mall, one day, I ended up at Sur La Table– not sure how that happened,– and discovered (I must have looked like a girl seeing the beach for the first time) a yogurt maker.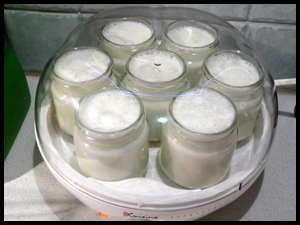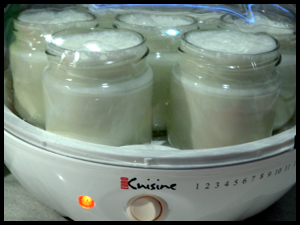 I rushed home and was all decided to test it right away. Great news, it worked perfectly. The ritual was started: about 2 times a week, it would deliver 7 little individual yogurts after a wait time of 8 hours (+3 to refrigerate before eating). This might seem long, but it is nothing really since while the yogurts are slowly "becoming" yogurts, you do not have to do a thing. Mainly, you simply have to not forget to place them in the fridge after 8 hours. This is key.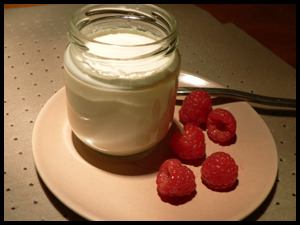 I tried a few combinations to make the yogurts. You can use a starter, which can also be purchased at Sur La Table, but I prefer to use the following combination:
1 plain Greek yogurt (full fat, that is 20g)
4 cups of Organic 2% milk
And that is it! To do it, simply boil the milk and then let rest until it reaches room temperature. Remove the skin formed on top and mix with the yogurt. Pour into the individual glass jars and start the yogurt maker. Set a timer for 8 hours and then, go and do your errands!
Eating plain yogurts with maple syrup and fresh berries is a very simple dessert, but so elegant and fulfilling! As my friend who had gone on her yogurt search in France pointed out at me, she understood why we did not need the very sweet complex desserts on a regular basis. A dessert like the one described above fulfills pleasure of taste. Le paradis, quoi!