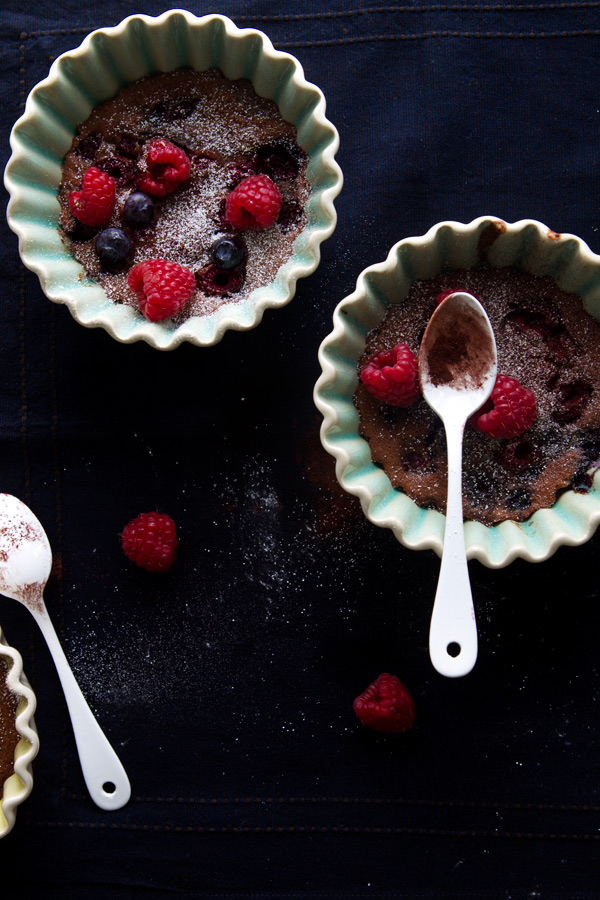 Chocolate, Berry, and Almond Gratins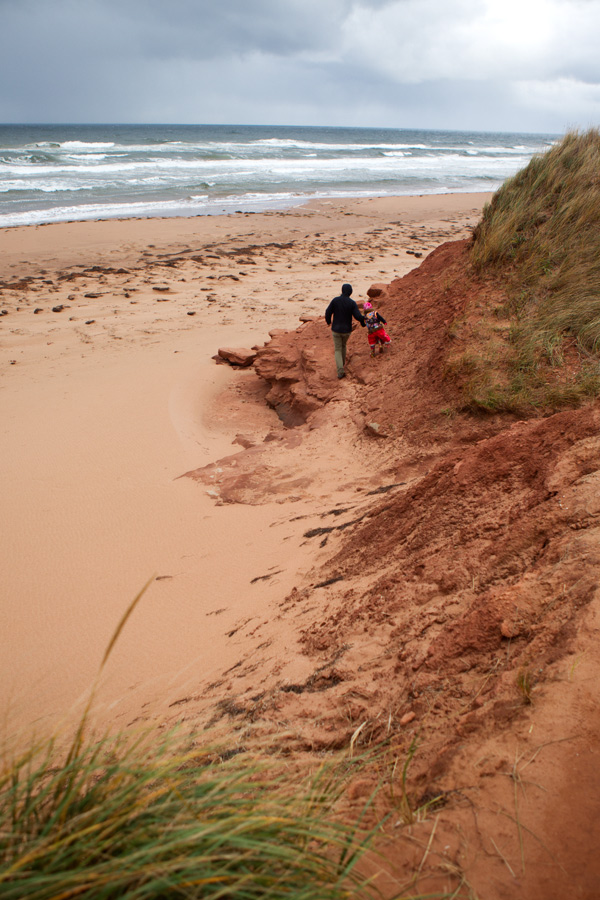 Lulu was excited when I told her we were going to Canada. She remembered our recent trips to Montreal and the little friends she had made when we visited our friends S. and G. earlier this year.
This time, though, we were thinking about Prince Edward Island north of Nova Scotia. P. and I had traveled there before, and had loved it.
"We could drive, you know," P. said casually one night as we sat down for dinner. I looked at him and paused, thinking for a second that the idea of driving for so long with Lulu was mad. But then I thought about it again. He was right, we could do this if we split the trip in two.
In fact, that plan sounded brilliant.
Because that meant we wouldn't have to wait in line at the airport security; and we'd deal with customs easily, the way, I remember, my family and I did when we drove throughout Europe with the trunk of the car packed to the roof.
That part, especially, was appealing. Amongst other goodies, I imagined the fruit juicer I'd pack–I had done it on other road trips before! It was something that, I knew well, would invariably prompt P. to look at me with this "You are not bringing that!" kind of look on his face.
But I always win on that one.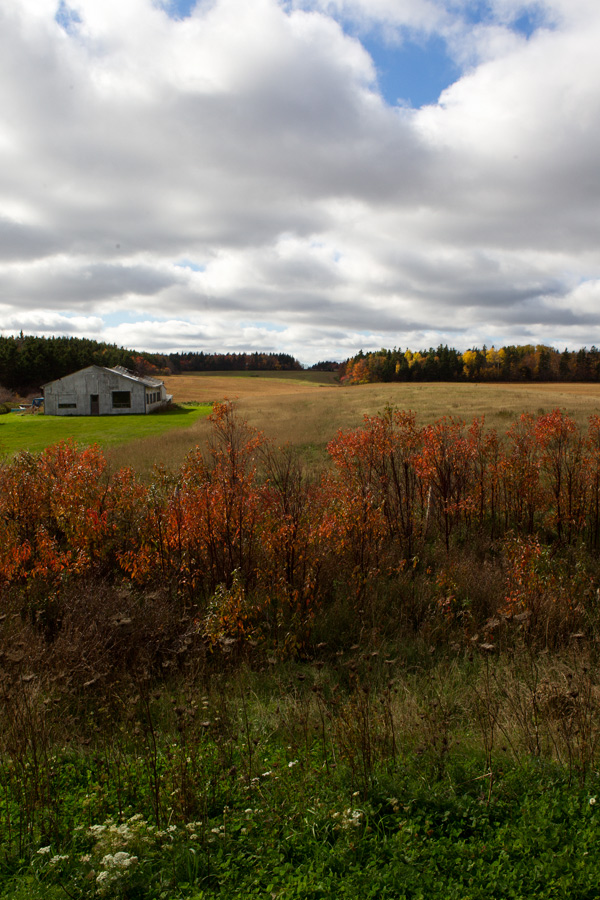 I knew exactly what I wanted us to look for in Prince Edward Island.
I was imagining stunning beaches with sand tinted in deep hues of orange and red; quaint fishing villages with brightly painted houses; white and red lighthouses bringing a sense of mystery to the place; encounters with friendly faces that would leave us with the memory of unexpected conversations; short hikes followed by homemade picnics; and apples, potatoes, oysters and mussels.
We found it all.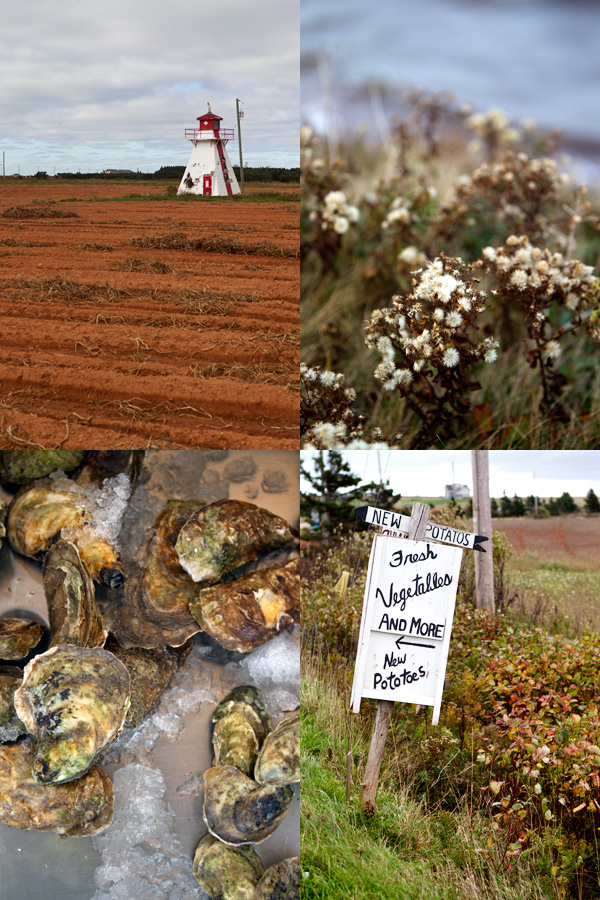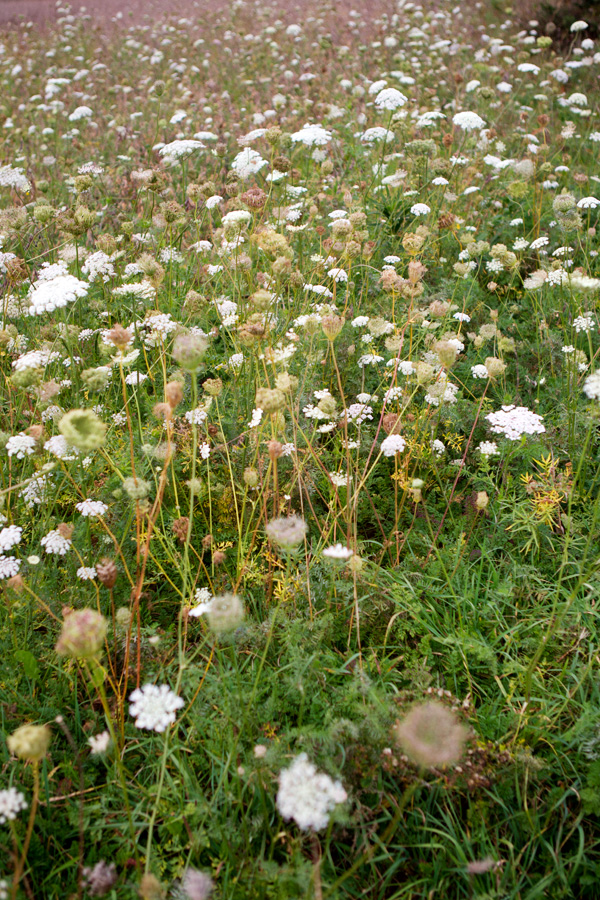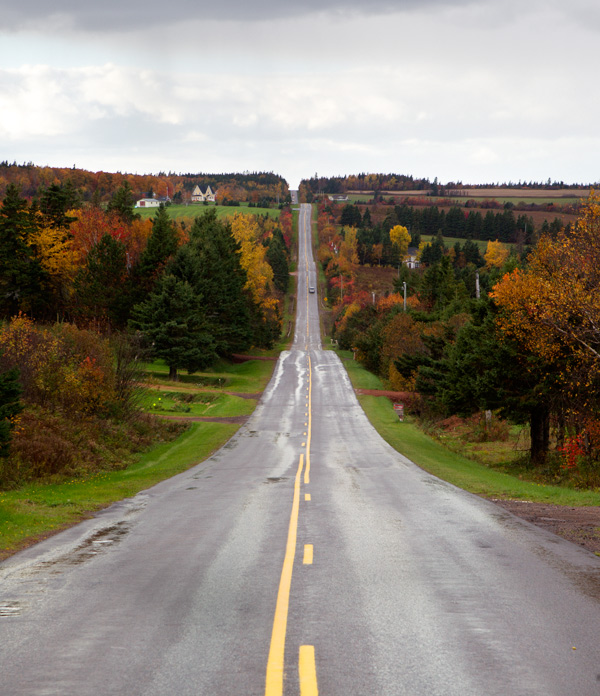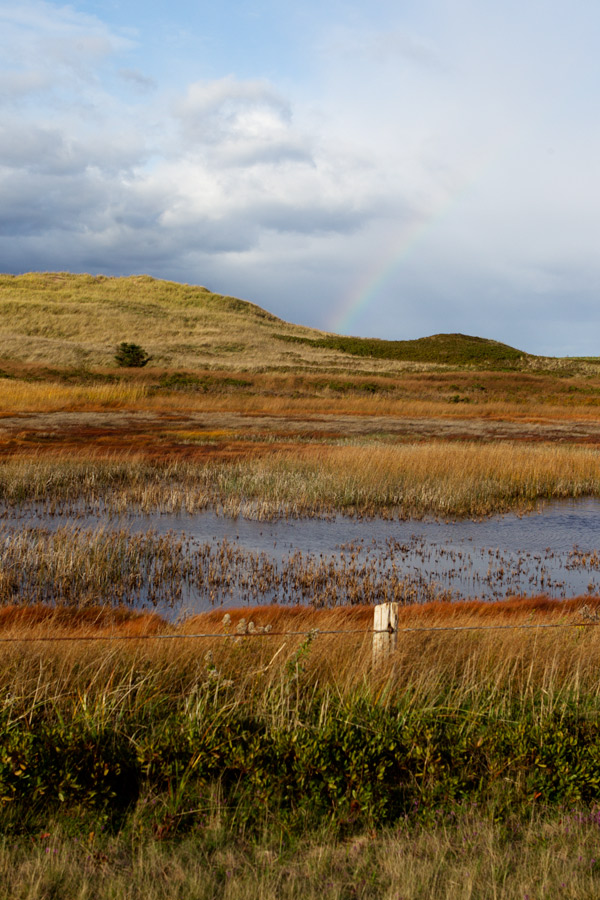 We came in October, knowing well that most people don't travel to Prince Edward Island, PEI as it is referred to, in the fall. As a matter of fact, after October 15th, many places are closed for the season.
We didn't mind it. Quite on the contrary.
Because of it, we drove on nearly empty roads and had beaches to ourselves.
We had come to find peacefulness.
Stare at dramatic skies set against gorgeous autumn landscapes.
And spend a large dose of our time outdoors.
Feeling the invigorating sea air.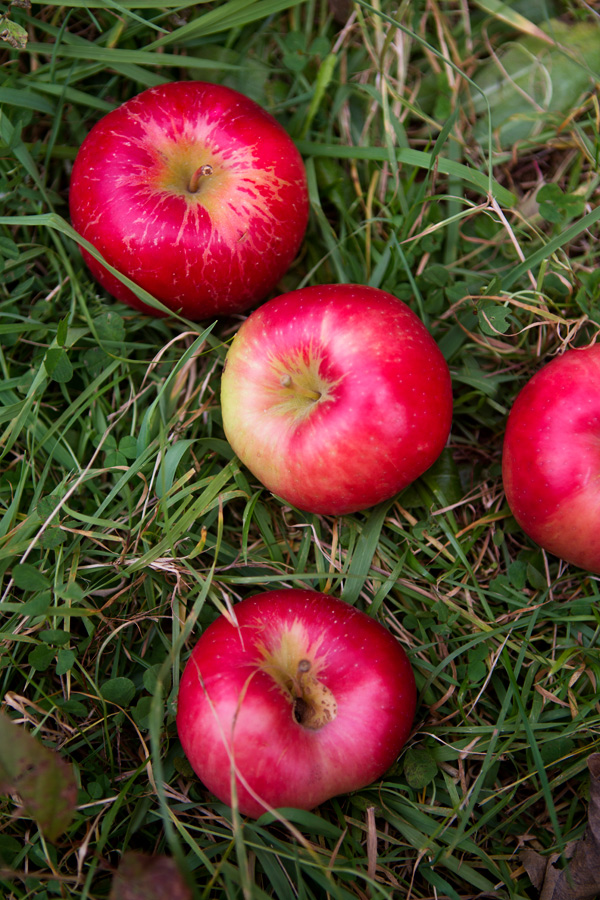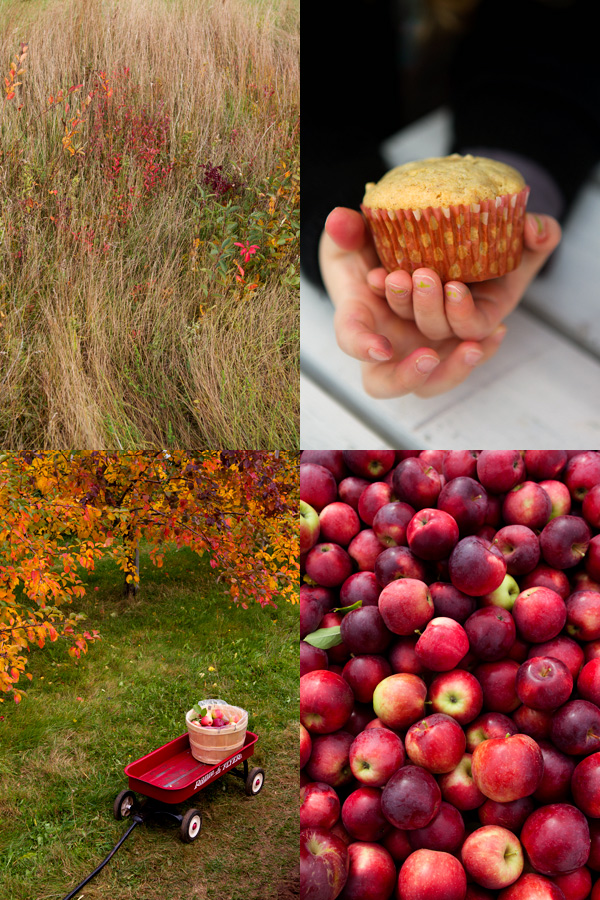 Most days, and despite the wind sweeping over the island at this time of year, we took walks to the beach. There was always a picnic involved, with Lulu clapping in her hands at the thought of us three eating on a blanket outside, running on the beach, and writing our names in the sand.
And I cooked homey meals.
One evening, Lulu asked for hachis parmentier, so that's what I cooked. And another day, spaghetti with vegetables, a dish we always seem to enjoy while we are traveling, was what made us happy around the dining table.
There were always large pots of vegetable soups to keep us warm. And desserts to please our taste for something sweet to finish our meal.
The day we decided to go apple picking, we picked so many that we indulged in freshly pressed apple juice each morning, and apple muffins for our snacks–that's when P. thanked me for the juicer stuffed in the trunk of the car.

Hachis Parmentier — Country Road in PEI
Our Rental House — A sheep grazing in a paddock along the road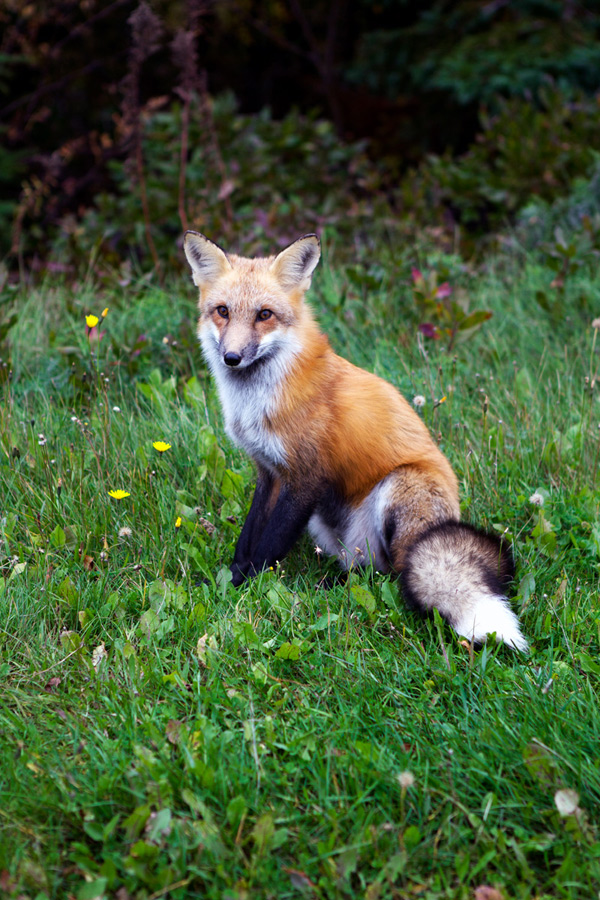 Foxes easily seen around the island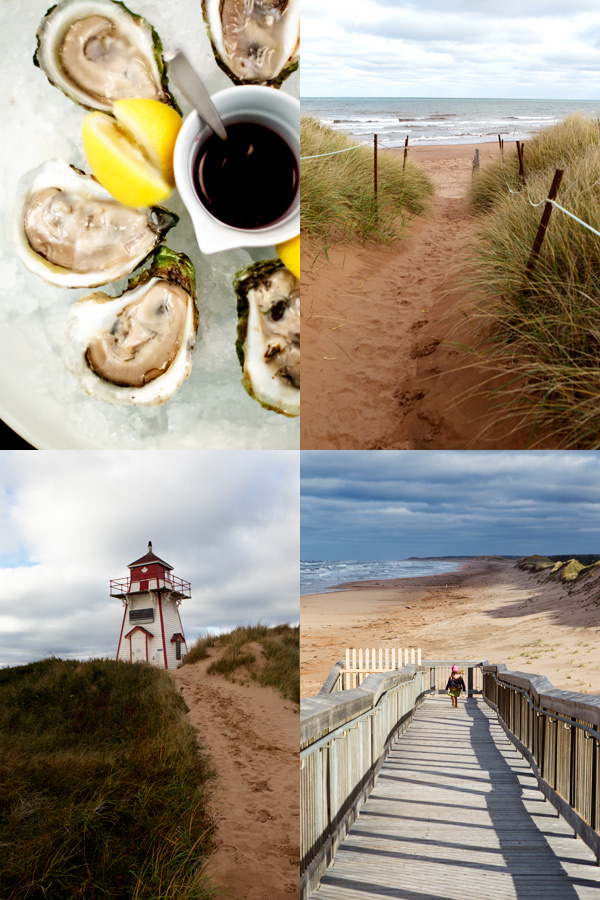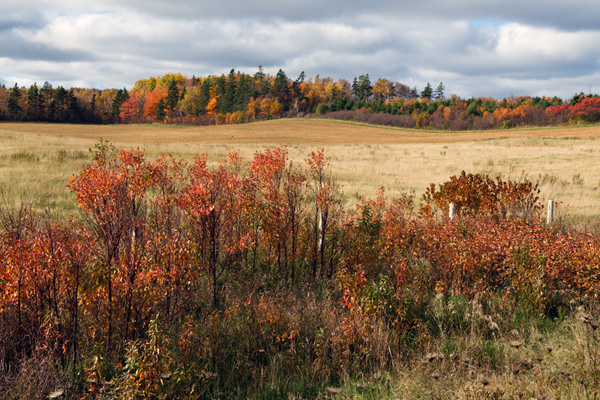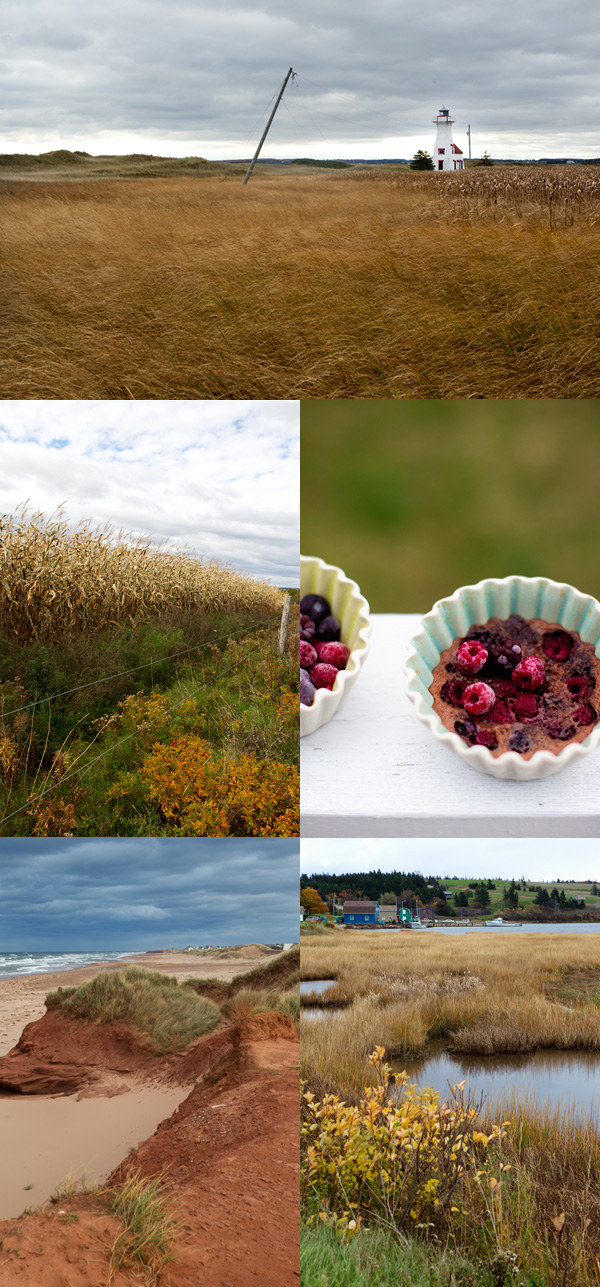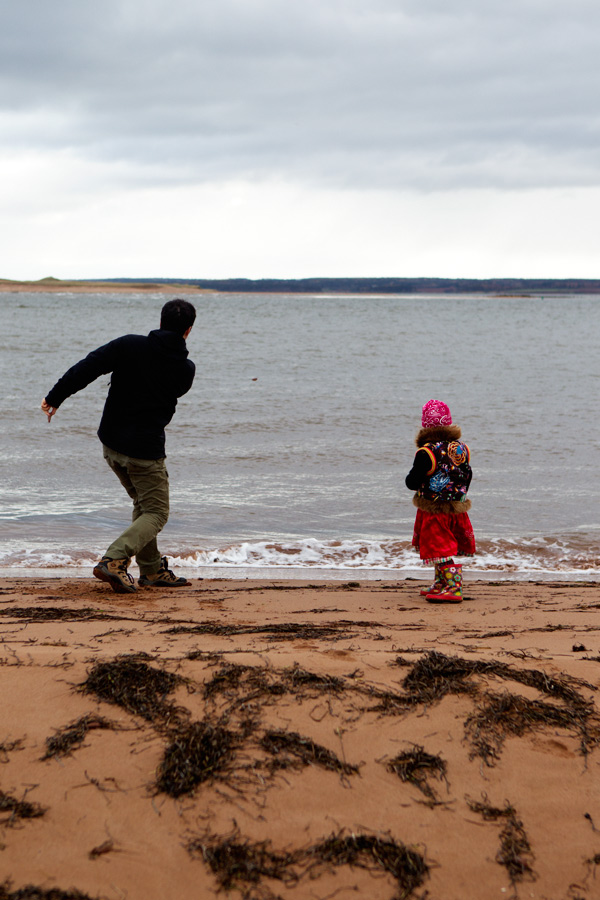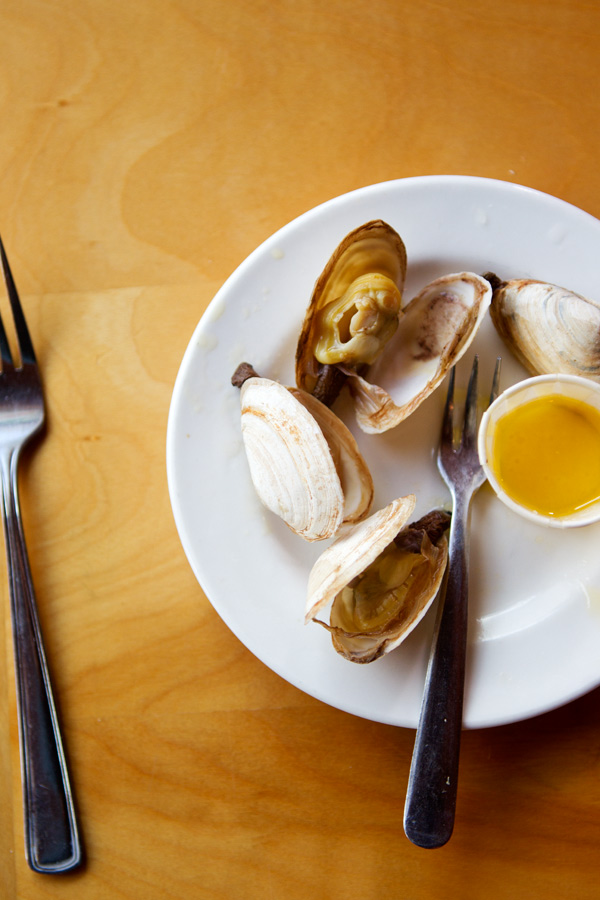 We visited oyster and mussel farms.
Potato fields as well.
"C'est l'ile de la pomme de terre" (It's the island of potatoes) my friend S. said when I told him we were traveling to PEI.
I was excited at the thought of finding potato fields. And watch farmers at work in the fields.
Farm stands with the sign New Potatoes were a usual sight on the country roads we covered.
I could not help but stock up on them. Cooking my way through bags filled with these yellow jewels covered in dirt.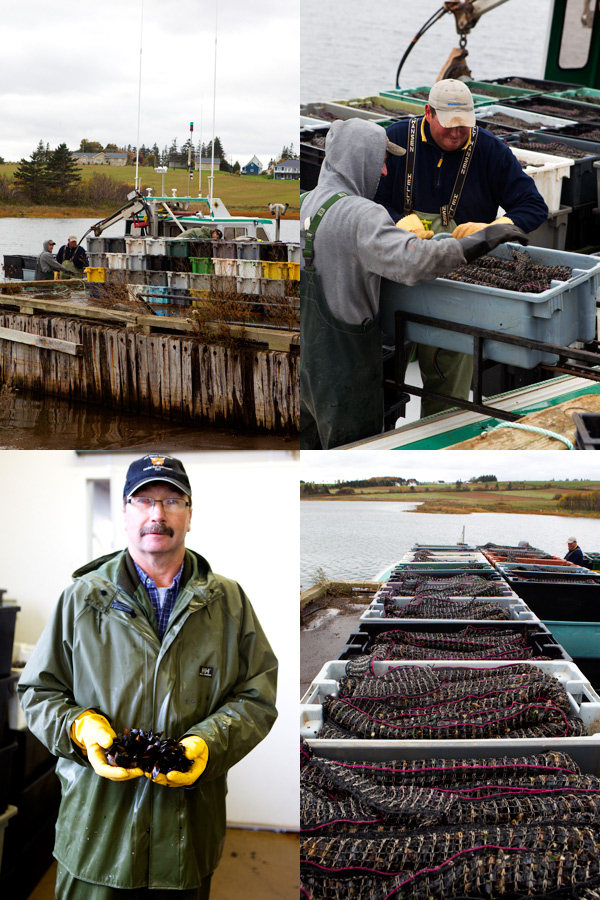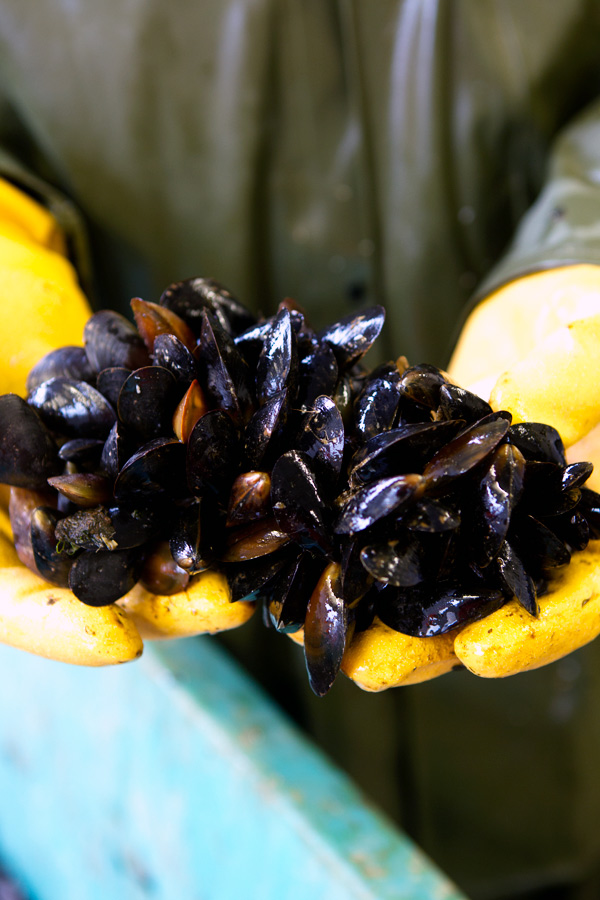 Baby Mussels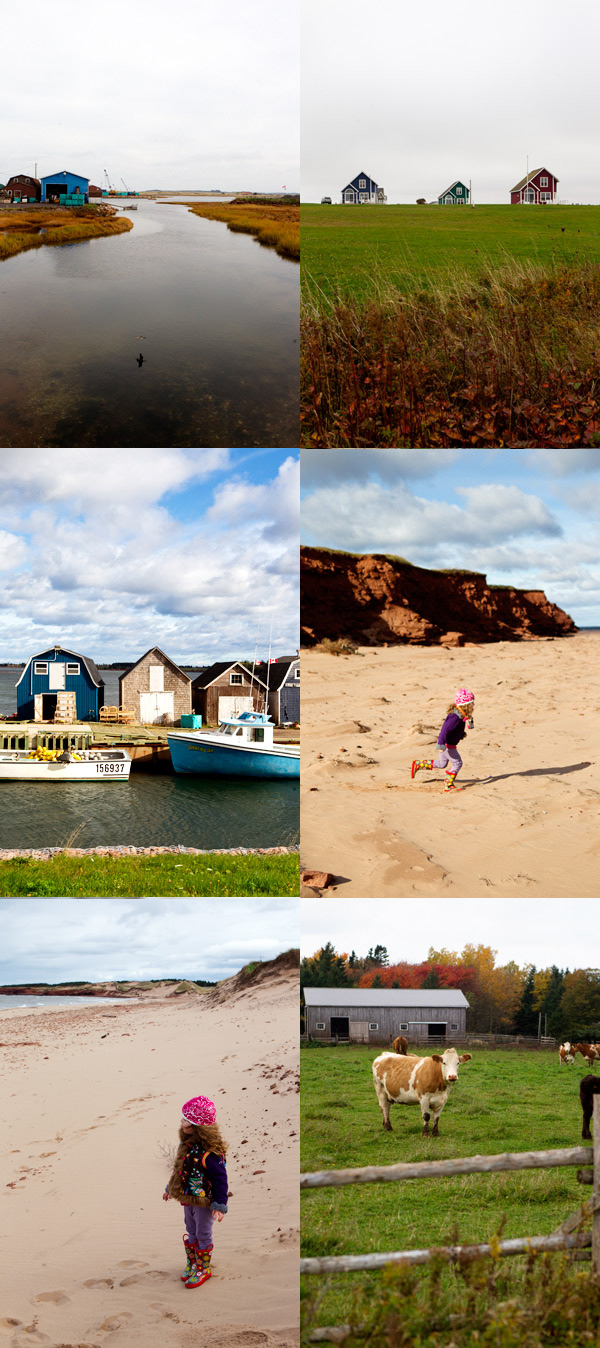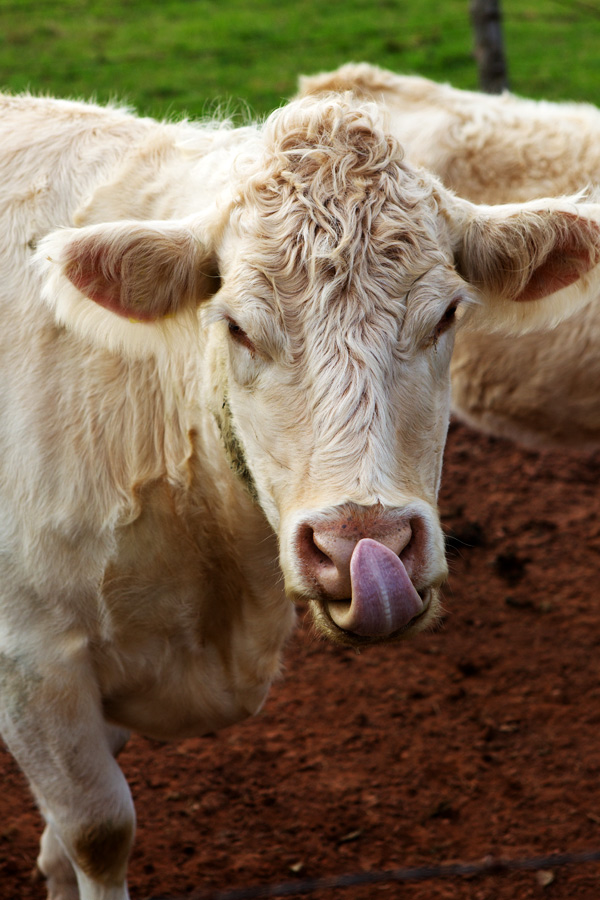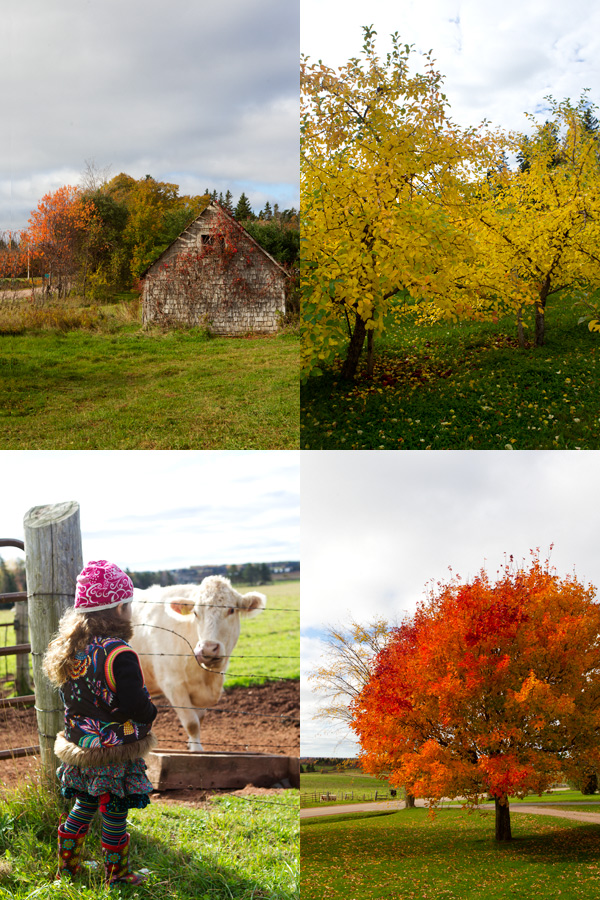 I cooked potato gratins.
And prepared pots of potato soup. You can never go wrong with soup.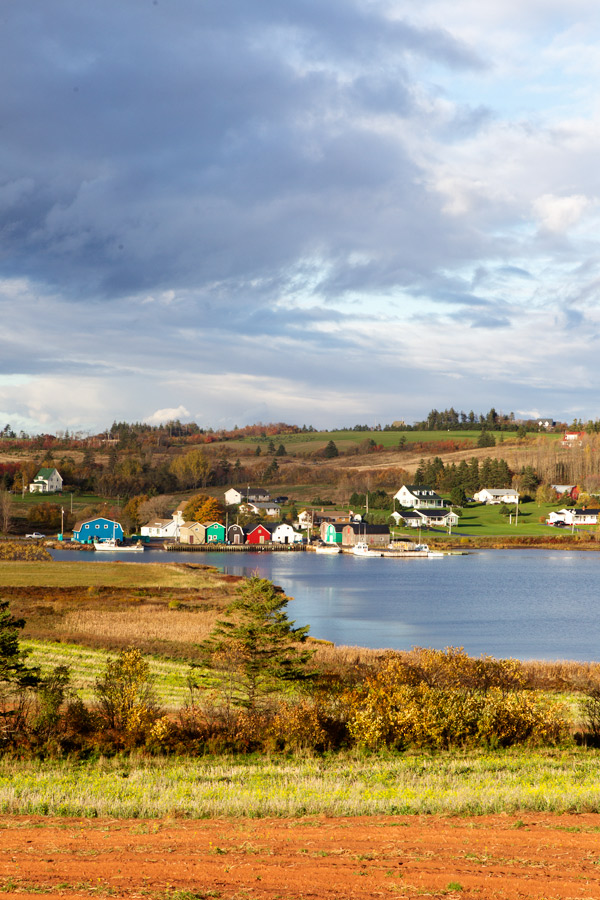 French River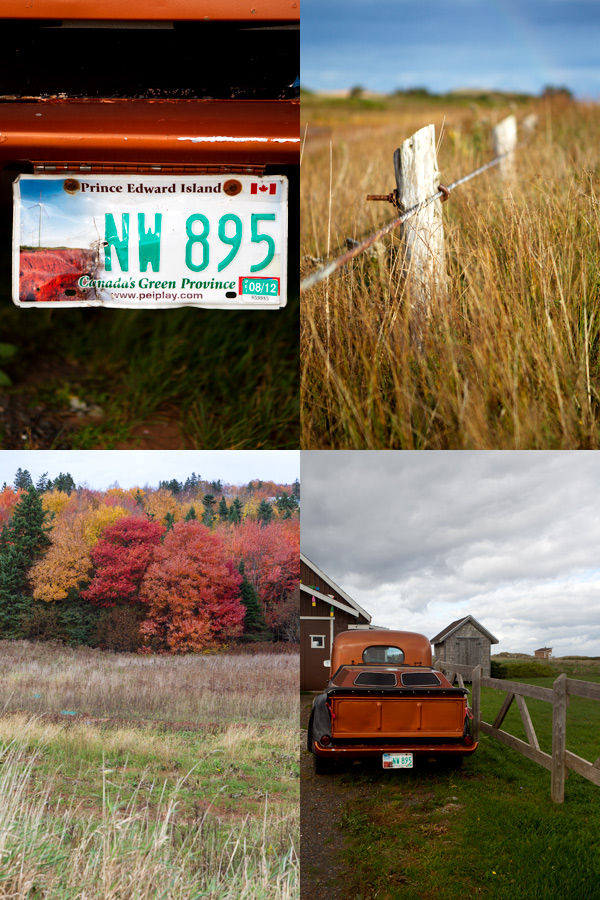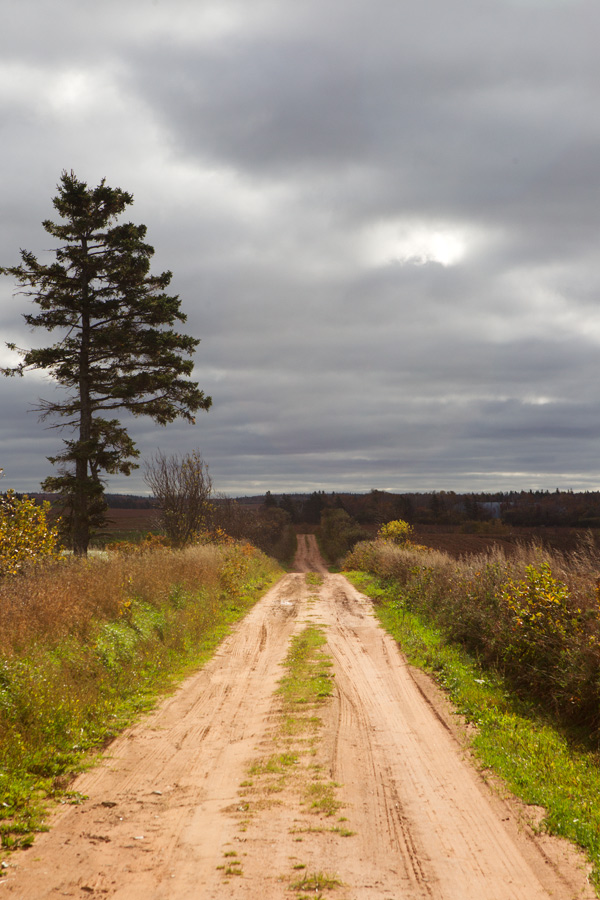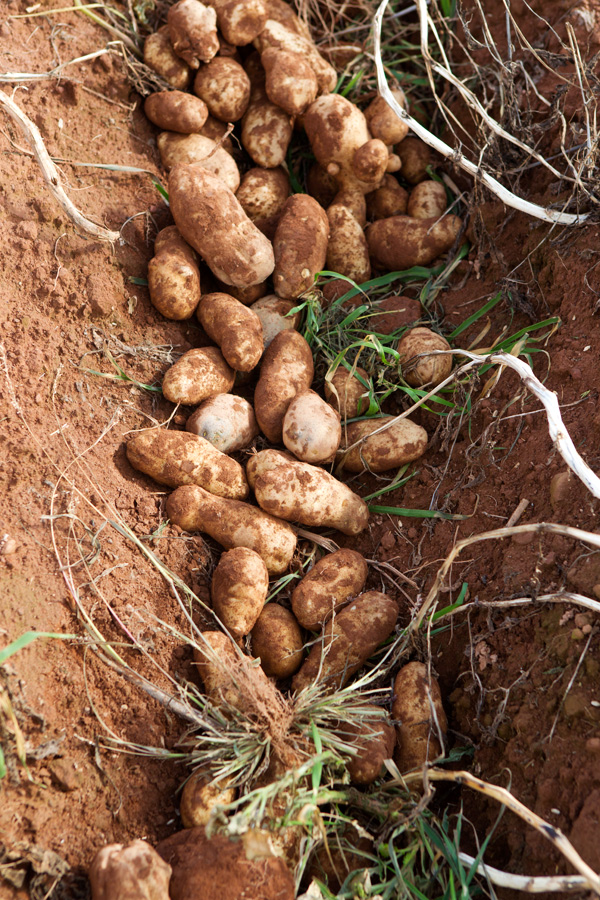 Potatoes in PEI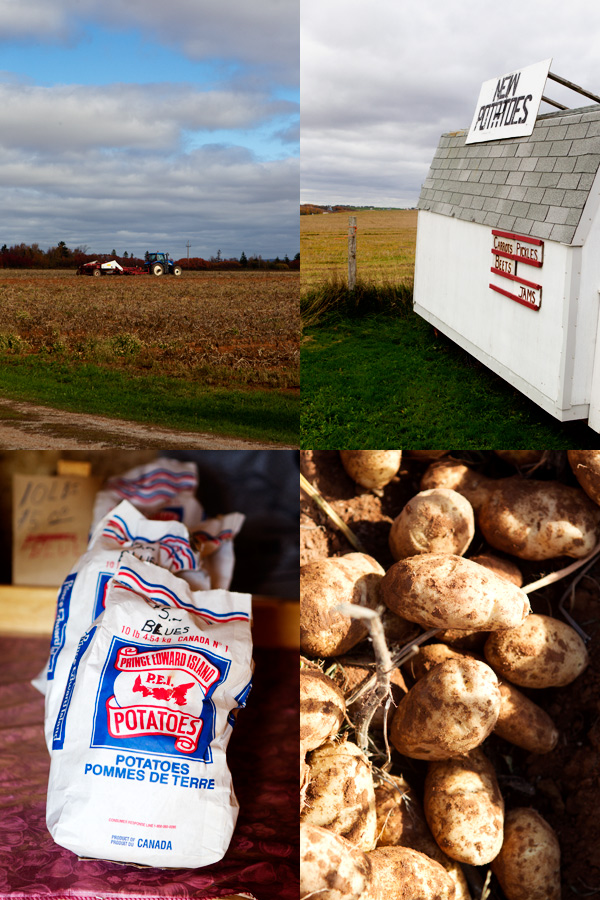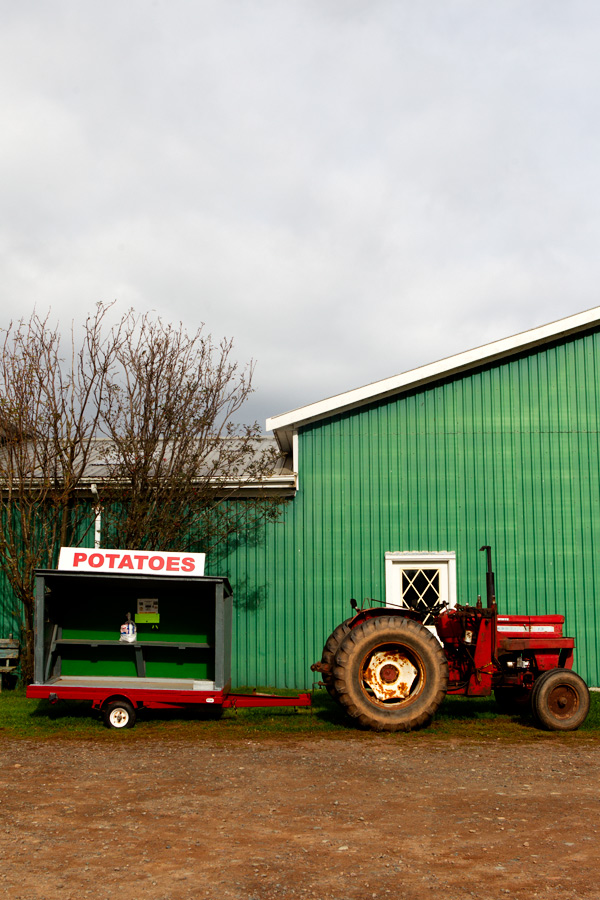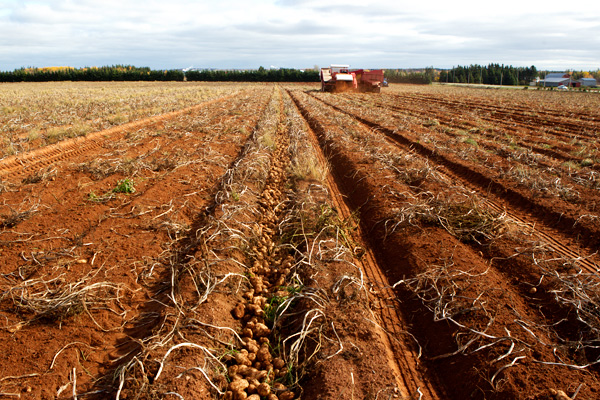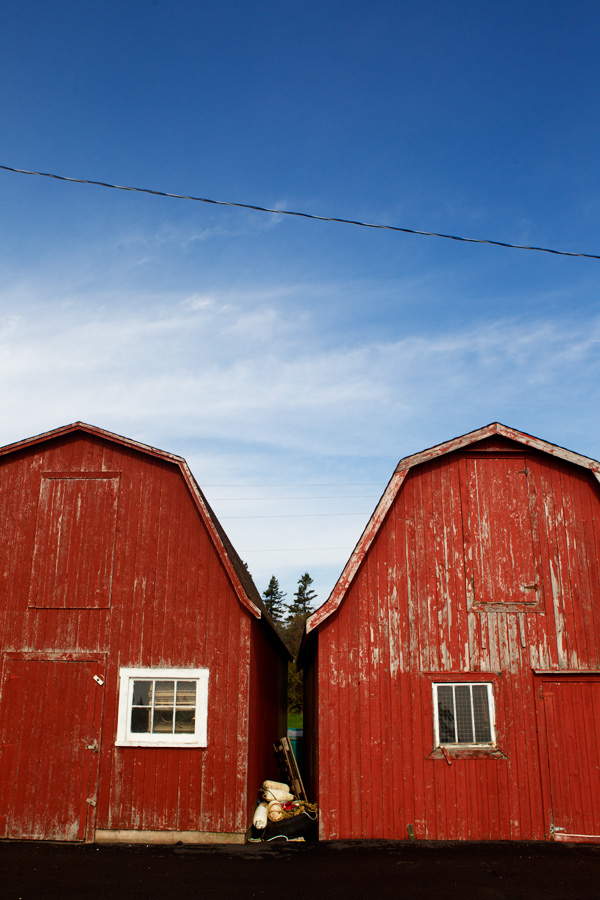 "On pourra revenir maman ?" (Can we come back mummy?) Lulu asked one day as we were driving along gentle rolling hills while singing Raffi's Canada song in the car.
I turned to look at her.
"Où cela ?" (Where?) I said.
"Au Canada." (To Canada)
I smiled.
Of course we would.
"Tu aimes bien le Canada, n'est-ce pas?" (You like Canada, don't you?) I said.
She didn't seem to hear me. She was too engrossed in singing "C A N A D A" with Raffi as loudly as she could.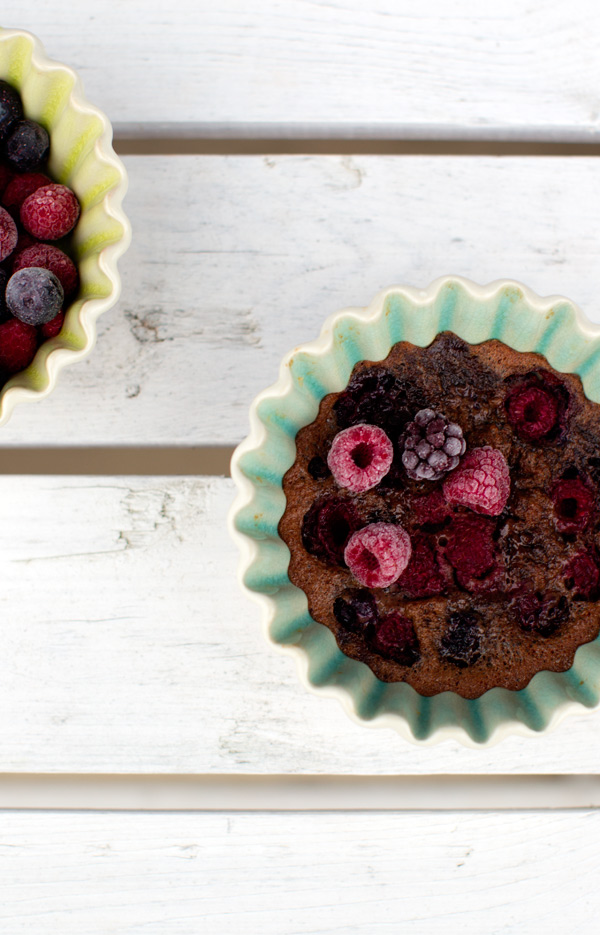 Chocolate, Berry, and Almond Gratins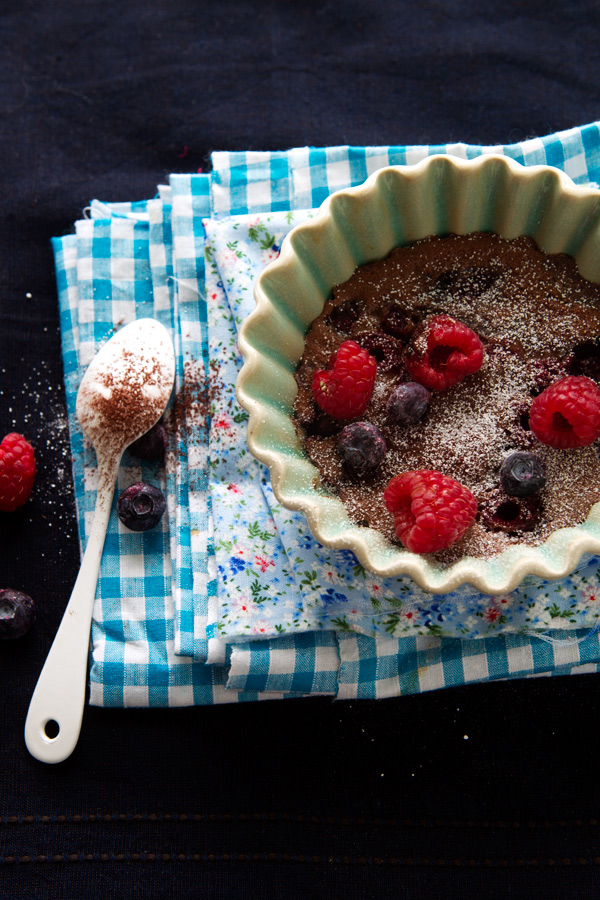 These chocolate berry desserts are the kind of dessert you can prepare spontaneously, with off the shelf ingredients. Keep frozen berries handy, and use staples like eggs, cream, almond meal, cocoa, and sugar–I love to sneak flax meal in it.
The dessert is prepared in less than 15 minutes and is cooked in 25. The result is a scrumptious dessert that you can serve to finish a casual meal with your family, or to please a crowd of guests when they are over for dinner.
It's invariably a winner.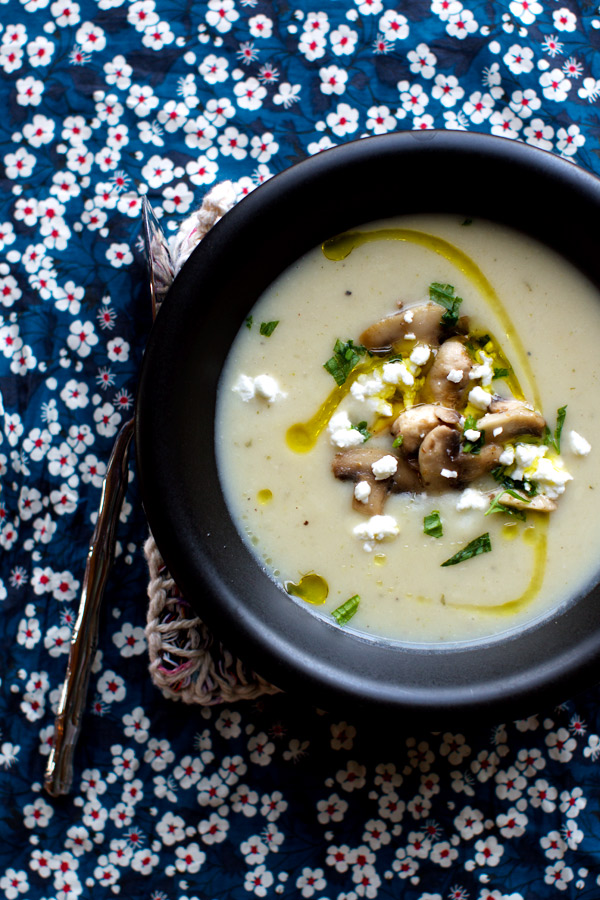 Tarragon-flavored Potato and Parsnip Soup with Mushrooms and Goat Cheese
Chocolate, Almond, and Berry Gratins
For 4 people

You need:
Butter for mold
2 egg yolks
1 large egg
1/4 cup (50 g) blond cane sugar
1/3 cup almond meal
2 tablespoons unsweetened cocoa powder, sifted
1 teaspoon pure vanilla extract
1/2 cup heavy cream
1 tablespoon blond flax meal (optional)
6 ounces (170 g) mixed berries (raspberries, blueberries, blackberries, red currant), fresh or frozen
Confectioner's sugar, to dust (optional)
Steps:
Butter 4 ramekins; set aside. Preheat the oven to 350 F (180 C).
In a bowl, beat the egg yolks with the egg and sugar.
Beat in the almond meal, cocoa powder, and flax meal. Stir in the cream and vanilla.
Divide the batter between the ramekins.
Top with the fruit.
Bake the gratins for 20 to 25 minutes, or until the flan is set.
Remove from the oven. I think these are best eaten lukewarm.
Dust with confectioner's sugar, if you want, when you are ready to serve.
Tarragon-flavored Potato and Parsnip Soup with Mushrooms and Goat Cheese
You need:
For the soup:
2 tablespoons butter
1/2 yellow onion, peeled and diced
3 garlic cloves, finely minced
1 pound 10 1/2 ounces (750 g) potatoes, peeled and diced
9 ounces (250 g) parsnips, peeled and diced
3 twigs of tarragon
5 cups chicken or vegetable stock
Sea salt and pepper
1/2 cup heavy cream or coconut milk
For the garnish:
1 tablespoon safflower oil
8 ounces (225 g) crimini mushrooms, peeled and finely sliced
Sea salt and pepper
1 tablespoon chopped parsley
Crumbled fresh soft goat cheese, to serve
Roasted pine nuts, to serve
Olive oil to drizzle
Steps:
In a large pot, heat the butter over medium heat.
Add the onion and cook for 2 minutes, without browning, stirring occasionally, until soft.
Add the garlic and continue to cook for one minute.
Add the potatoes and parsnips. Cook for 3 to 4 minutes.
Add the chicken or vegetable stock and tarragon. Season with salt and pepper and bring to a simmer. Cover and cook for about 20 to 25 minutes, until the vegetables are soft.
Purée the soup finely and add the cream or coconut milk; keep warm on the aside.
In the meantime, heat the oil in a pan, add the mushrooms. Season with salt and pepper and cook until the water of the mushrooms is completely evaporated.
Mix with fresh parsley.
Serve the soup in bowls and top each with mushrooms, crumbled goat cheese and pine nuts.