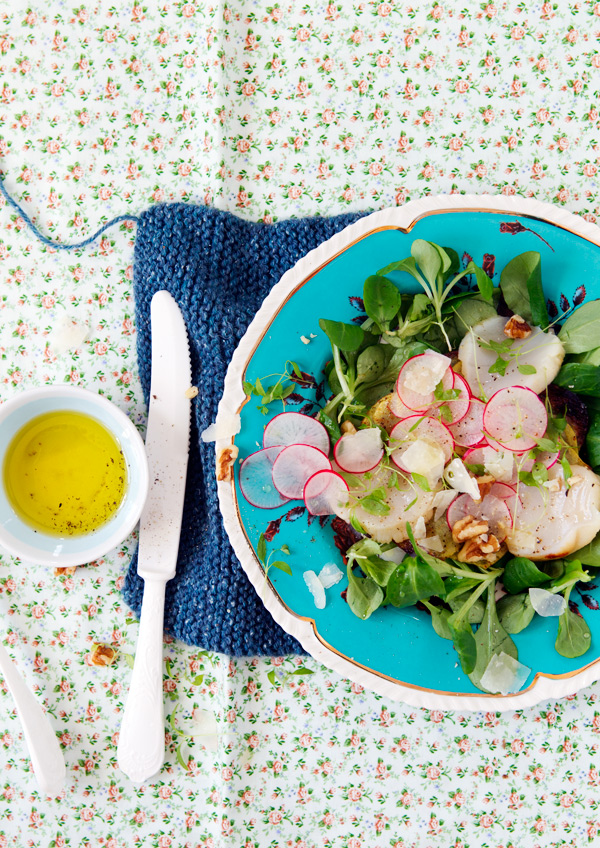 Mâche Salad with Potato Galettes and Scallops
When I was growing up, my mother always kept mâche (lamb's lettuce) in her garden. We loved that it was the only salad we could grow year round, especially during the wintry months no matter the weather, even disregarding snow.
Because of that, P. and I eat a lot of mâche. Here, it's the base for one of my favorite wintry salads.
Camille from the lovely site Camille Styles asked that I shared the recipe for the holidays with her readers. So I did. And I thought you'd like to know because I sense you'd enjoy it too.
I love this salad for its festive appearance. I also love that it's really easy to make. Because it combines cooked–nobody in my family resists the taste of fine galettes of potatoes–and raw ingredients that balance taste and texture, this is an appetizer that is both refreshing and comfy, elegant and accessible.
I think my mother was the first one to tell me about the dish, which started me to try my own. The salad was such a hit on last year's Christmas table when my parents came to visit that I feel that it will make an appearance again this year when P.'s parents come!
They need to know about it too.
Mâche salad with potato galettes and scallops
Mâche is delicate and has a slightly nutty, tangy flavor. The salad grows in small rosettes of dark green leaves attached together. Make sure to clean it well as residues of sand (coming from how it's cultivated) main remain between the leaves.
For 6 appetizers
You need:
For the vinaigrette:
Sea salt and pepper
1 small shallot, finely chopped
2 tablespoons white balsamic vinegar or red wine vinegar
2 tablespoons pistachio or hazelnut oil
4 tablespoons olive oil
1 teaspoon finely chopped tarragon
1 teaspoon finely chopped parsley
For the salad:
2 yellow potatoes, peeled and sliced finely with a mandoline
Olive oil, to brush
Sea salt and pepper
Ground nutmeg
2 1/2 cups mâche salad
12 scallops
12 pink radishes, finely sliced with a mandoline
Shaved Parmesan, to taste
3 tablespoons coarsely chopped hazelnuts, dry roasted in a pan
Steps:
In a small bowl, add sea salt and pepper and the shallot. Add the vinegar and oils. Whisk to emulsify. Stir the herbs in and set aside.
Preheat the oven to 350 F and prepare a baking sheet covered with parchment paper; set aside.
Place the potato slices on a working surface in front of you. Brush them with olive oil. Flip them onto the other side and brush with oil again. Season with salt and pepper.
On the baking sheet, arrange the potato slices into concentric circles (they will overlap on top of each other) to form a galette. Make 6 galettes like this and season with a dash of nutmeg.
Bake the potato galettes for 20 minutes, or until they are golden in color.
In the meantime, take 6 appetizer plates and make a bed of mâche on each.
Heat 1 tablespoon olive oil in a non-stick frying pan. When warm, cook the scallops for a few minutes on each side (I like to keep them on the rare side). Season with salt and pepper.
Remove from the heat and slice them into circles.
Arrange the galettes on top of the mâche and add the scallops on top.
Add slices of radishes.
Add the Parmesan cheese and hazelnuts.
Drizzle with the vinaigrette and serve.