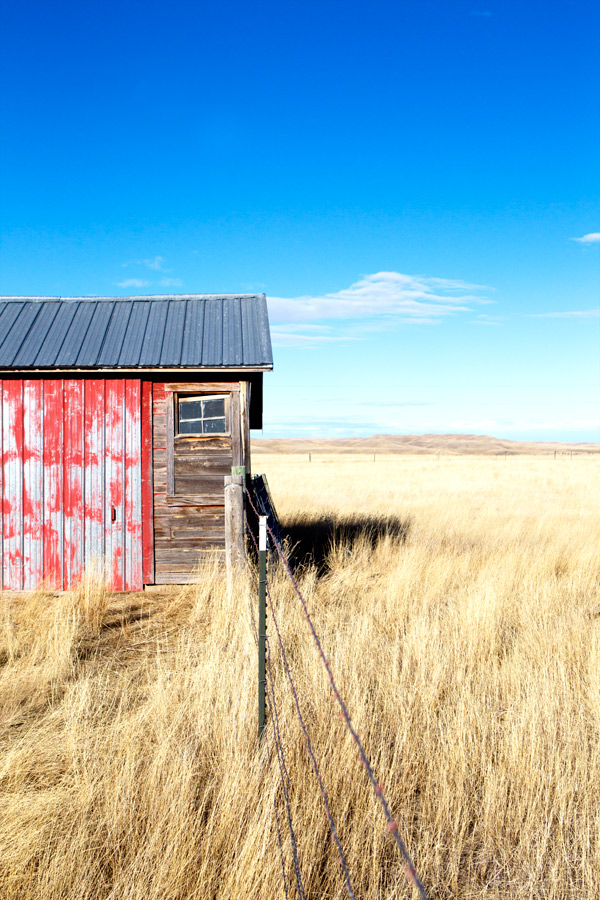 The chicken barn
"I am completely mesmerized by the color of the grass," I tell Dan who is sitting next to me in his red Chevrolet pickup. The road is fairly bumpy and dusty but I don't pay any attention to it. My eyes are glued to the scenery that slowly unveils as we approach the ranch where he and his wife Jill live.
The closest connection to any country store is an hour away. "And this is the last place to get gas," Dan adds while pointing at a small shabby-looking gas station along the endless interstate highway that connects us to Rapid City. I cannot help but smile. Even if I still have no idea of what is waiting for me ahead, I already know I am going to really like it.
"It's my first time in South Dakota."
"Good," he says with a friendly smile.
I like the way he speaks. The pace of his words sounds peaceful and quiet. They mimic the appeasing feeling that runs through my body when my eyes catch sight of the yellow rolling hills which surround us as we drive along.
"I cannot believe the weather here either,"I add. "Everyone had told me it was going to be so cold!"
All of a sudden, the long gray winter jacket, the woolen hat and gloves I am wearing feel inappropriate and uncomfortable. I am dying to change into lighter mid-season clothes.
"It can change quickly though, so you never know. It's good to be prepared."
I realize that Dan is right when, a few days later, we wake up to 20 F, wind and a light veil of snow covering the plain.
But the light. Oh the light! that colors the Great Plains.
Every day.
Over and over again.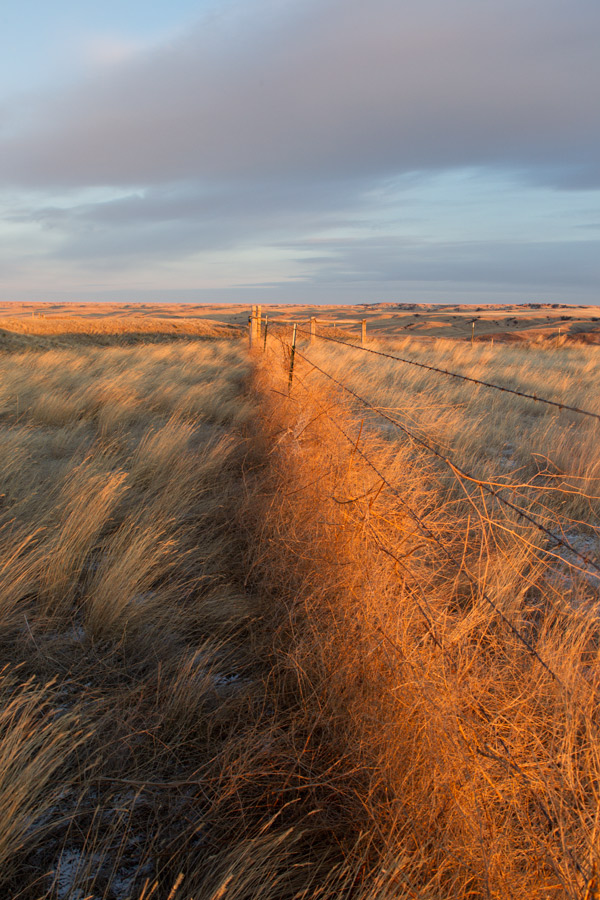 I've never stayed on a ranch before. I've never seen buffalo before either. But deep inside, I know one thing: the week I am going to spend in South Dakota to work with Dan and Jill O' Brien will be amazing.
Jill and Dan O' Brien are the force and talent behind Wild Idea Buffalo. I am only arrived on their ranch, getting to know them more, that I quickly understand that their vision is not just about selling buffalo meat. Their goal is about making sure that their animals are kept happy in the Great Plains, that they receive the best foods, and that the environment is preserved.
They believe in a sustainable eco-system.
They believe in a better place.
And it shows.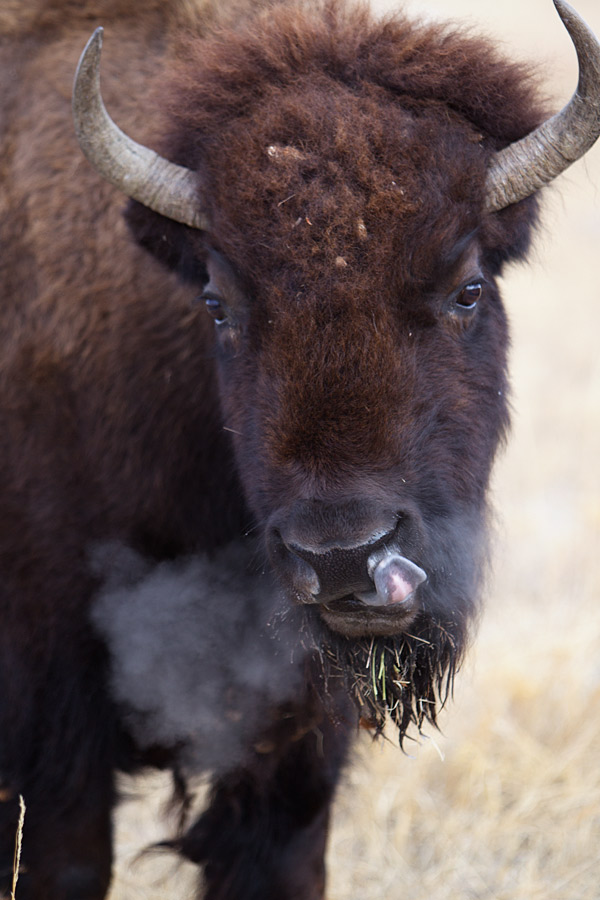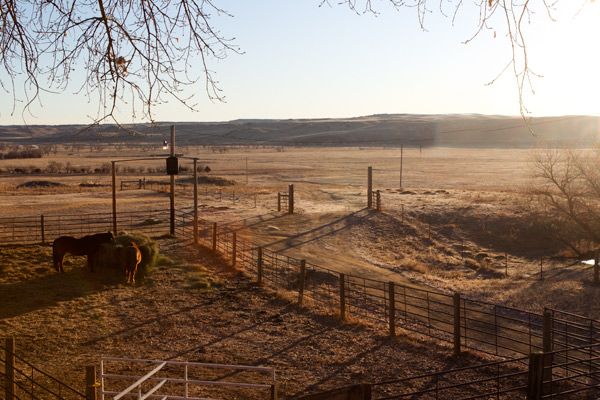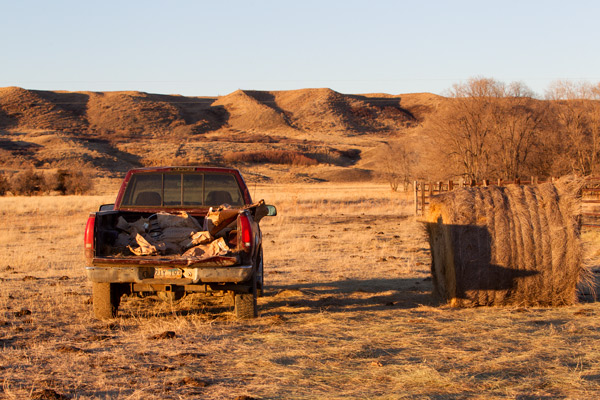 I've come to teach Jill food styling and photography. And so during the entire week, she and I cook, style, and photograph food.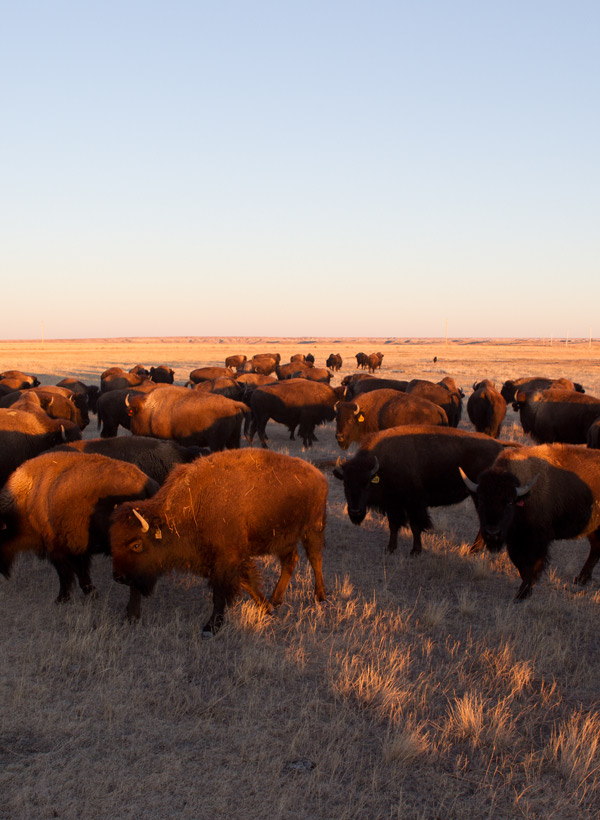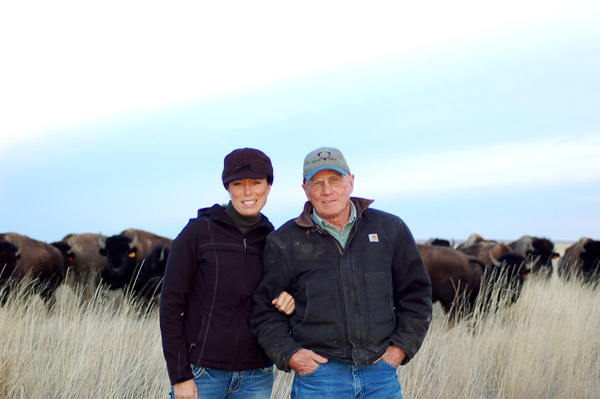 Jill has a beautiful smile and a generous laughter.
I love working with her in the kitchen. I love hearing her story.
When she tells me that she grew up on a South Dakota dairy farm, and that she learned to cook because this was what you did when you came from a large family, I cannot help but think about my father, his upbringing on the farm, and the long communal table in my grand-mother's kitchen where family and workers would always sit to refill on hearty dishes my grand-mother had prepared.
As I feel curious to know more about her family, I keep on asking: "Did your mother and grand-mother like to cook?"
By looking at her energy and strength in the kitchen, I can guess the answer.
"Oh yes!"
"No wonder you are such a generous cook!" I tell her as I watch her serving us bowls of steaming buffalo stew that reminds me of my mother's boeuf bourguignon. The food is so delicious that I close my eyes with the attempt to slow the moment down. I want to keep the taste of it in my mouth longer.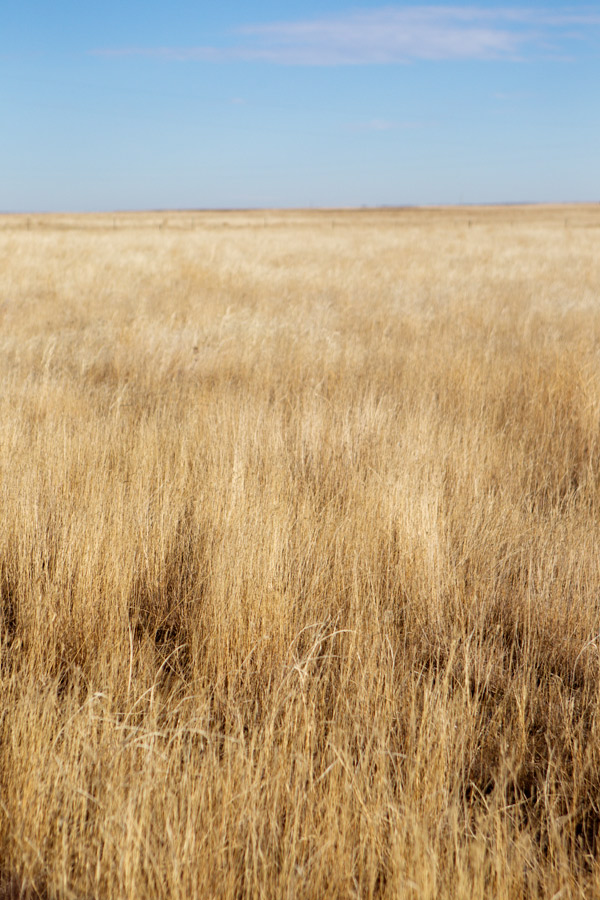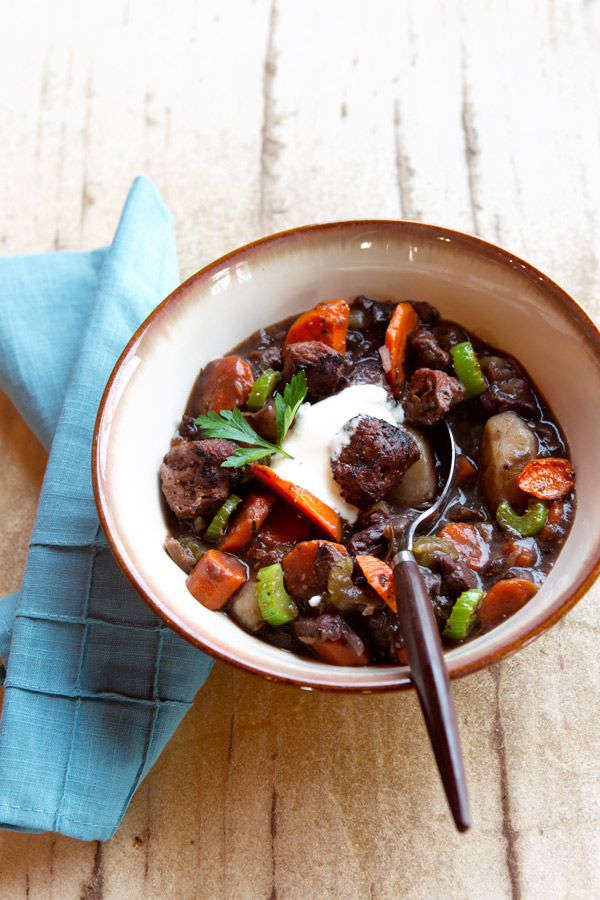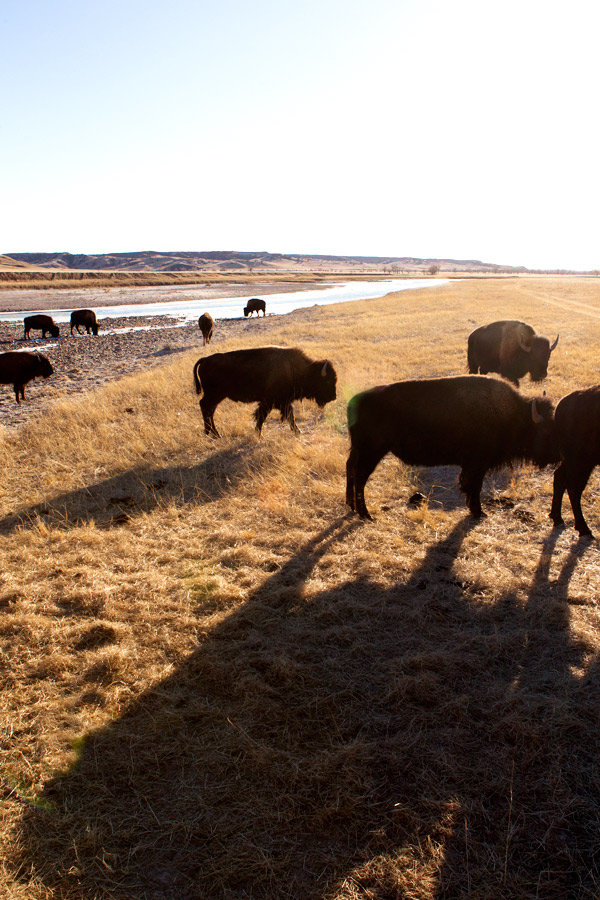 Jill educates me to buffalo meat. And to my surprise, I even don't mind eating more meat than I am accustomed to.
"The flavor is really delicate. The meat has great character," I tell her when, one night to celebrate Jilian's birthday, she prepares a cut of buffalo tenderloin for dinner. The words "délicat et léger float in my head.
Each buffalo dish I eat leaves me feeling light.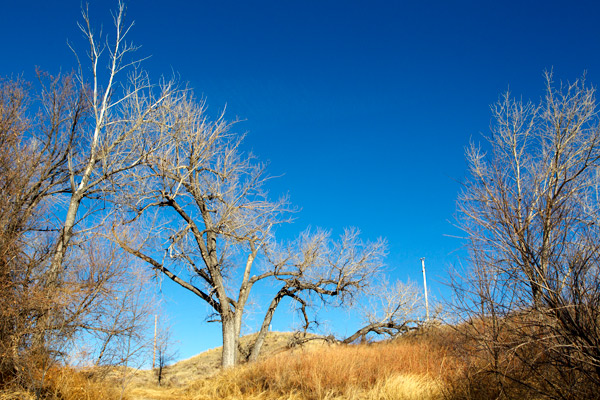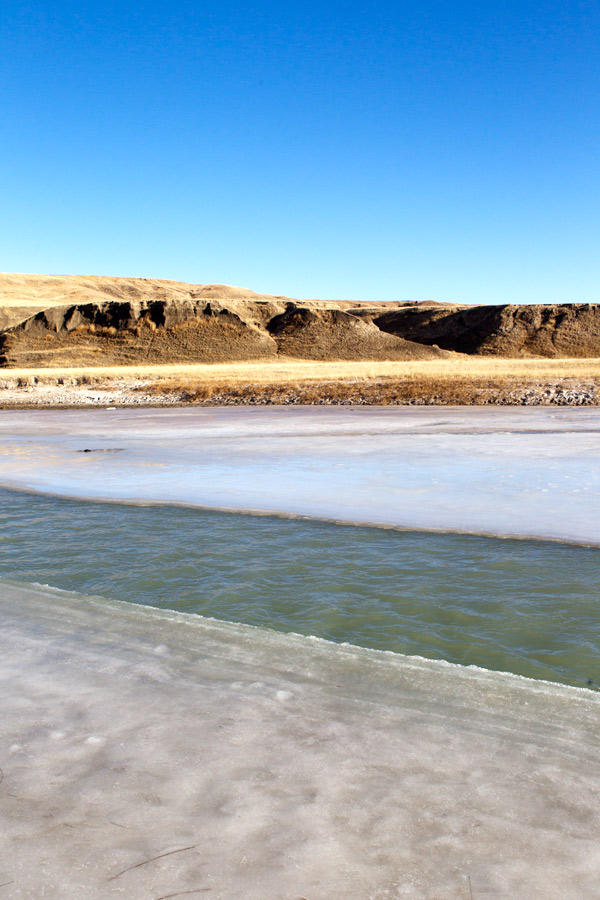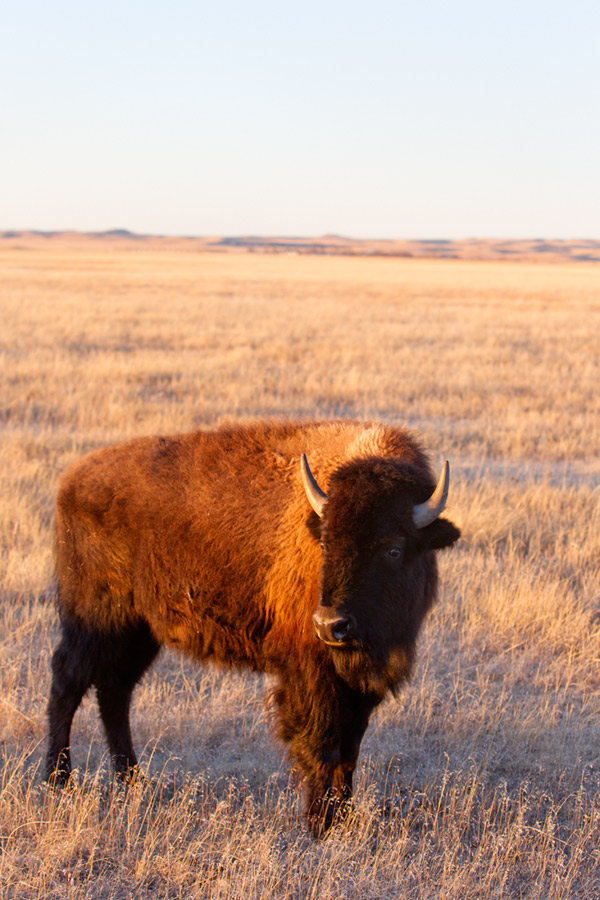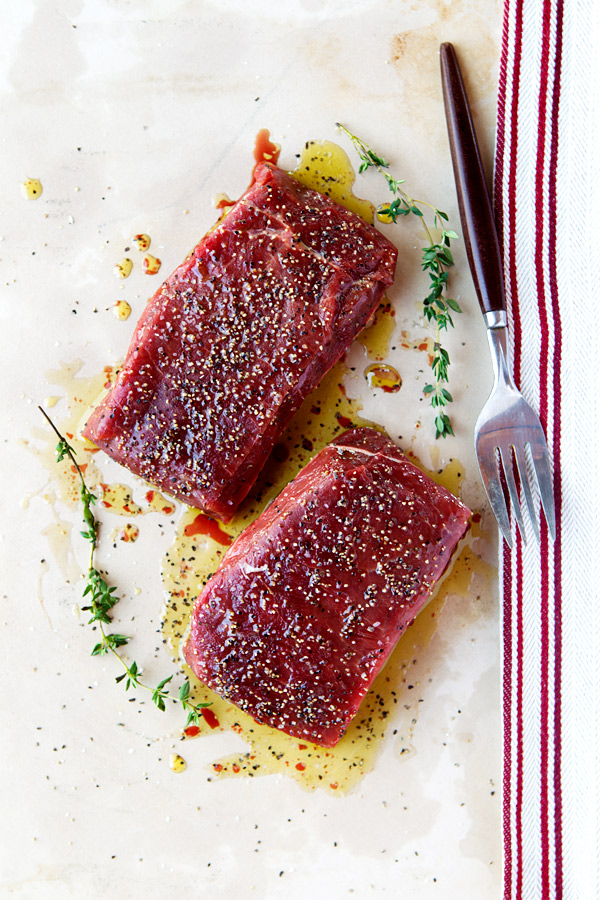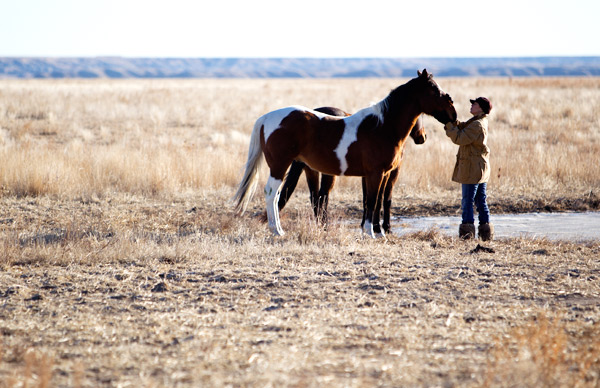 To refill our energy and creative spirit, between photo shoots, Jill takes me to see the horses and chicken.
"I want to raise Araucana chicken!" I tell her, laughing, as she hands me a couple of warm blue and white eggs we've just fetched from the henhouse.
We take walks with the dogs. I particularly enjoy watching Henry-our French hunting dog as Jill enjoys reminding me–run freely through the fields and between the hills.
We observe antelopes and coyotes in the distance. We watch sun sets and moon rises.
Every day, I marvel at the sight of the blond grass. And of cotton trees set against bright blue skies.
"I really want to swim in it," I tell Dan and Jill each time we walk or drive by a field–to which they laugh.
I cannot get enough of the oranges and yellows of the light that embraces the Great Plains every day at the same time, comes four O' Clock. It has an intensity I've not seen before.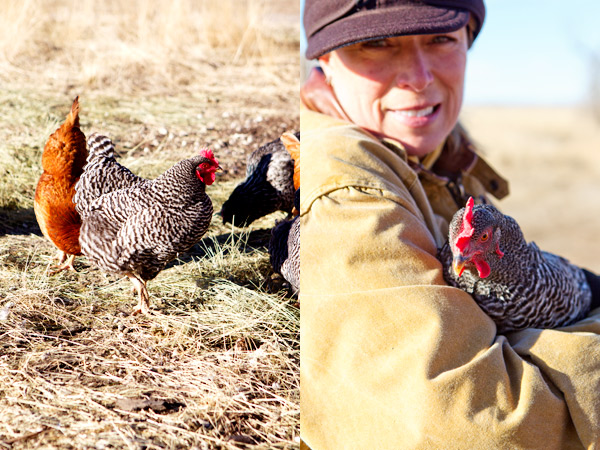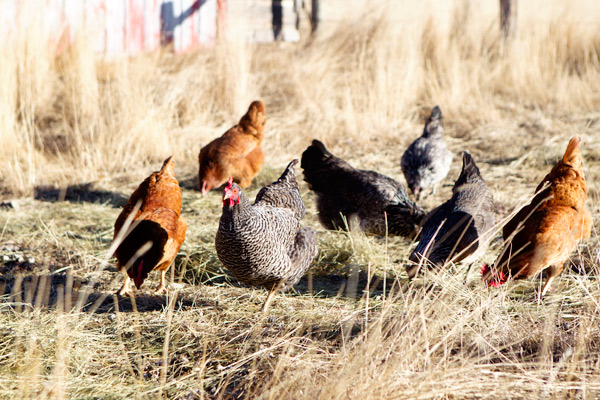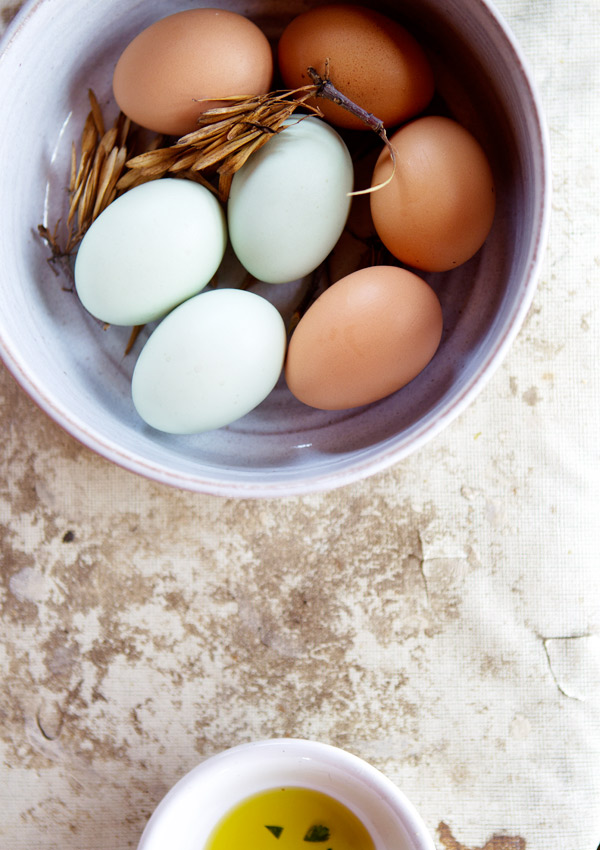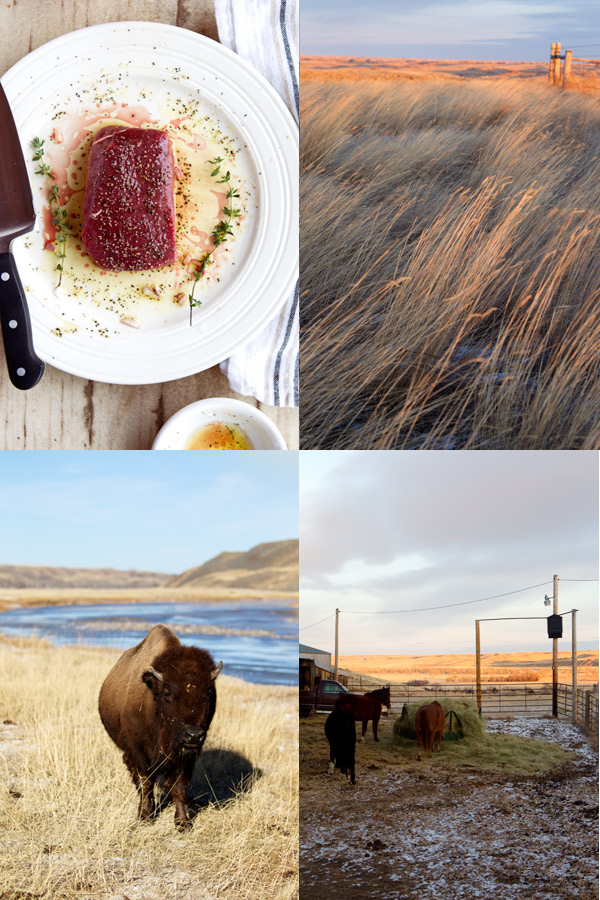 Dan takes me to see the buffalo herds by the majestic Cheyenne river near their ranch. I help him to feed the baby buffalos that he and Jill have rescued.
"These are only three months old," he tells me as he points at small buffalo that are more red than the others. "You can tell by the color of their hair."
"They are still frail but we are planning to let them join the older ones in a week."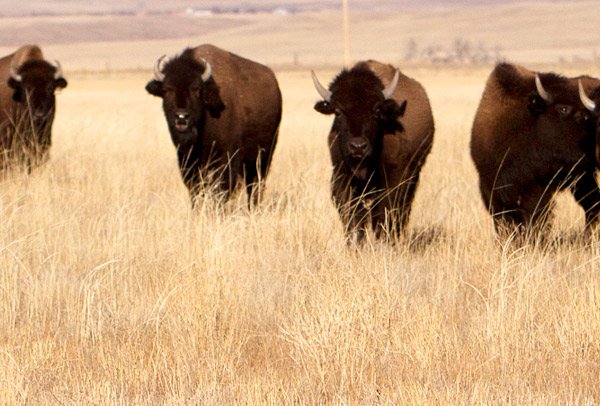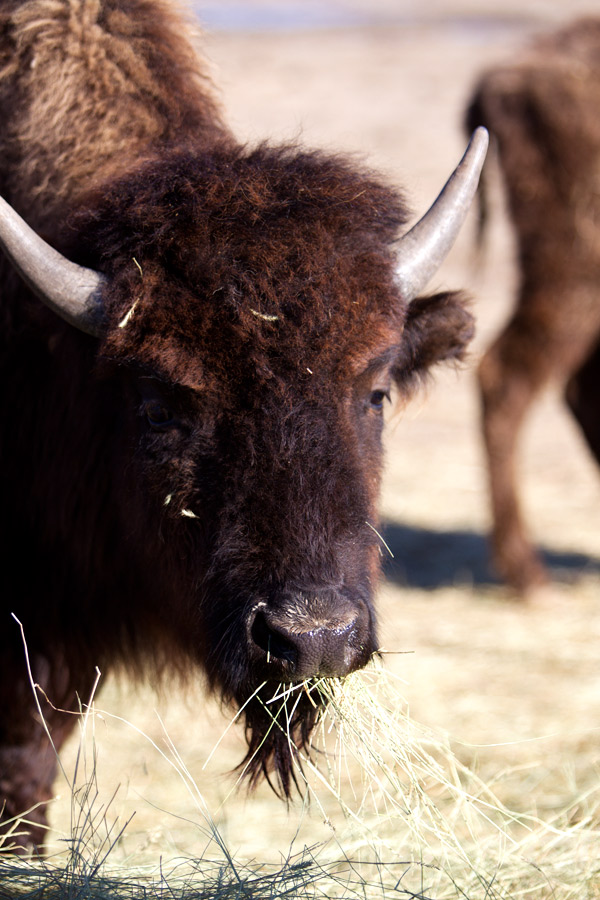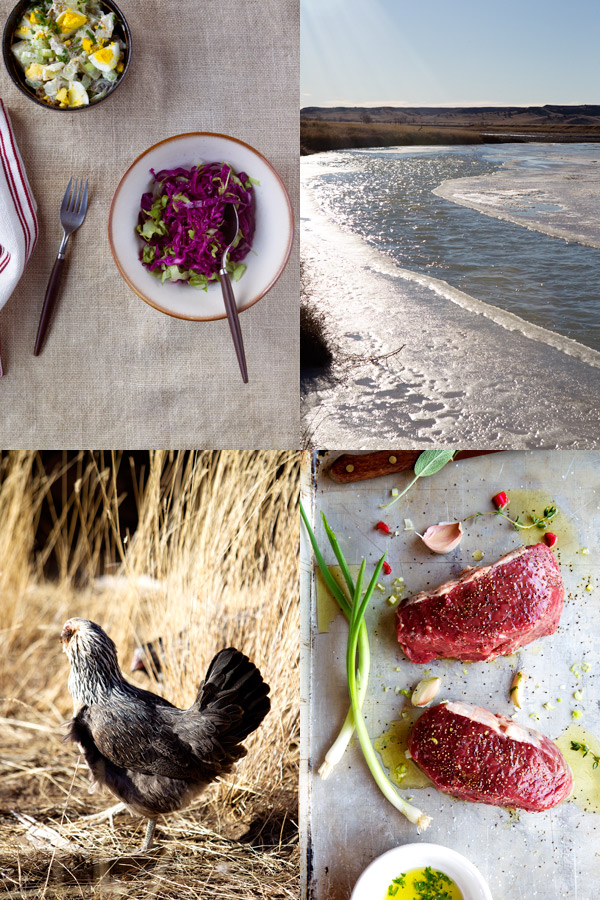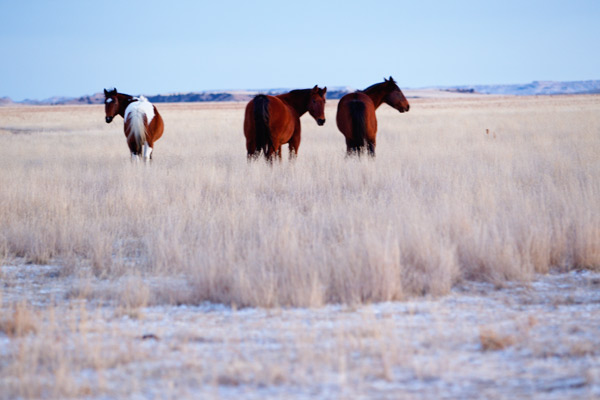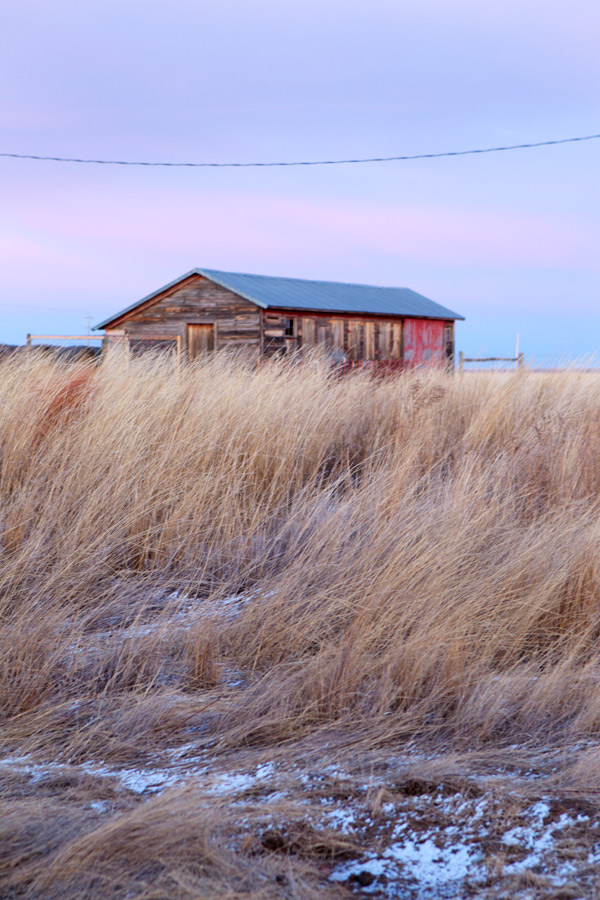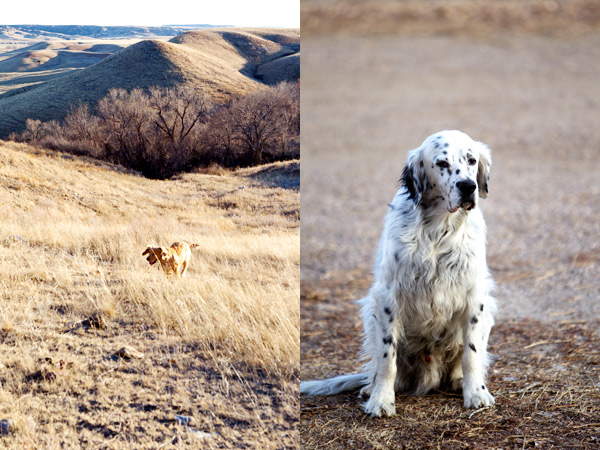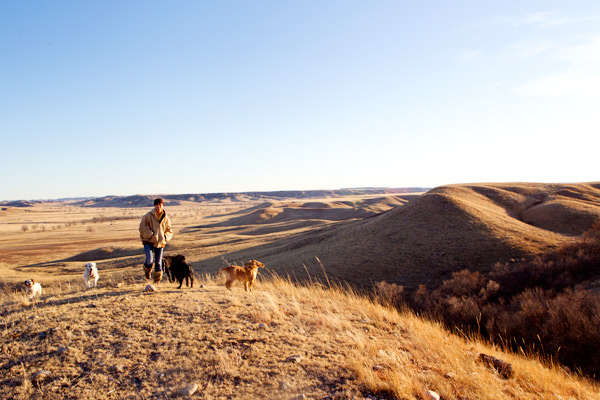 With Dan, I enjoy talking about writing too.
"I didn't know that you were such an accomplished writer!" I tell him with admiration when he humbly acknowledges the numerous novels he's written over the years.
As we chit-chat more, I soon find out that not only Dan is a talented writer, but that the French have also befriended him warmly. His ranch and admirable work with the wild buffalo have been featured in many French magazines, including Géo, my utter favorite when I was growing up!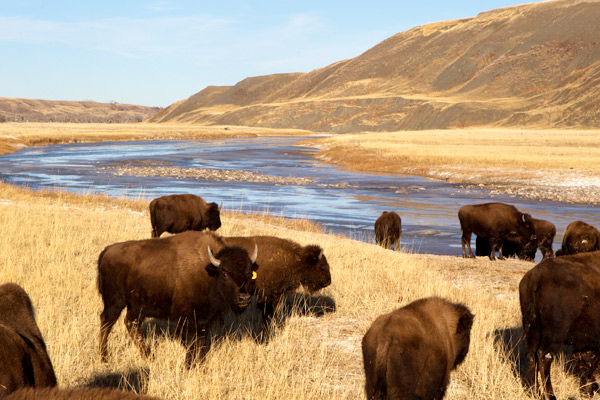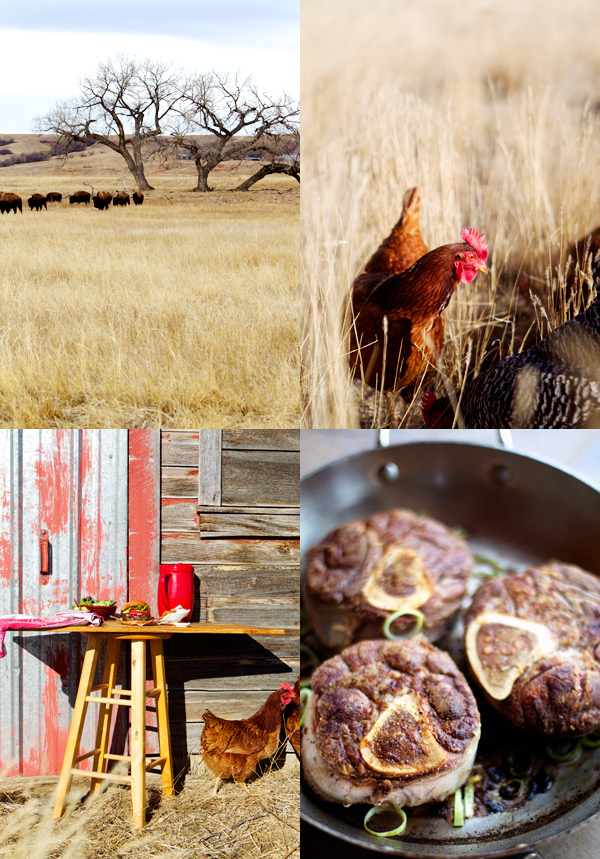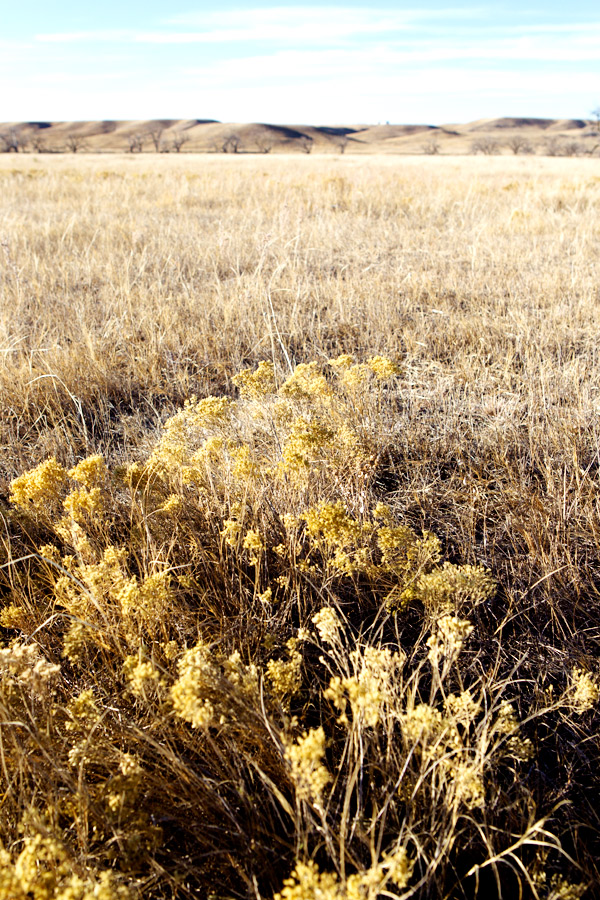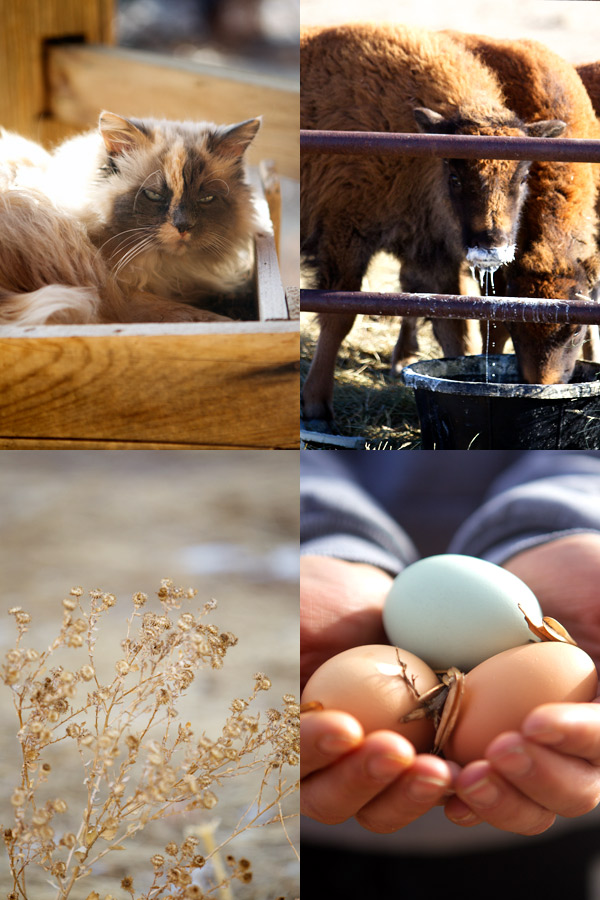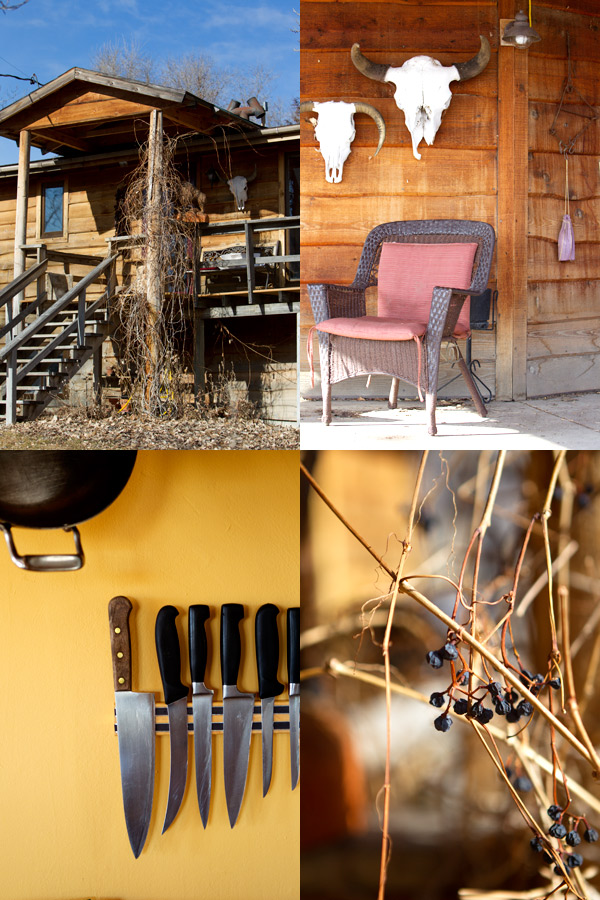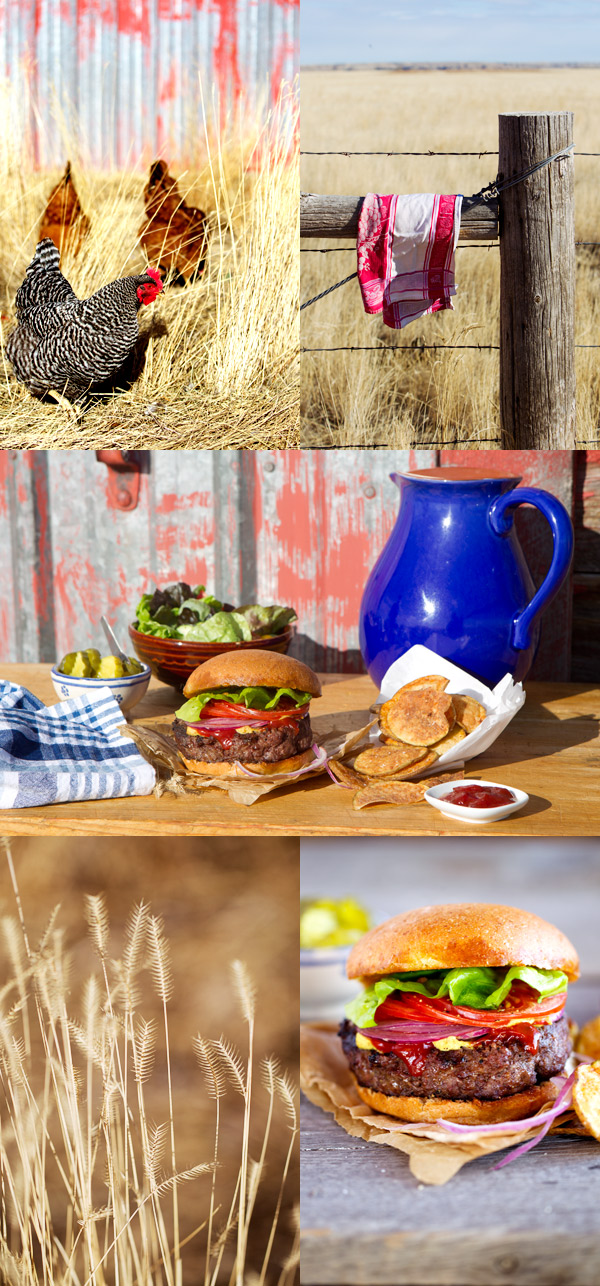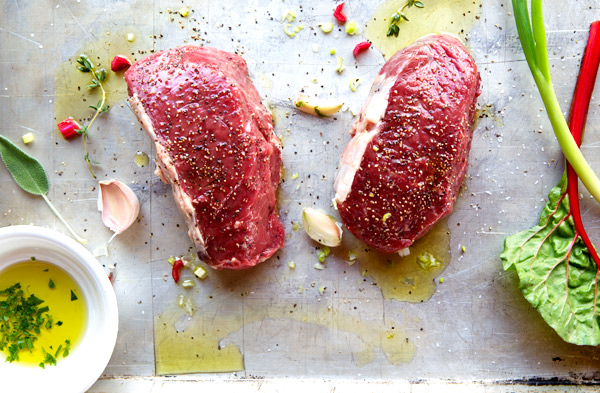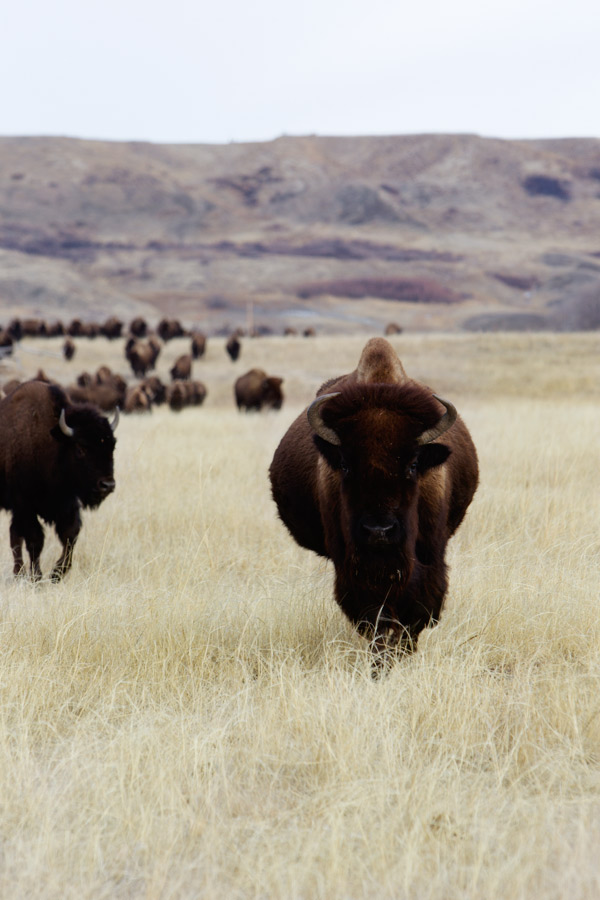 I learn a ton over the course of my week.
I discover an American state with delightful landscapes that transport me to old cowboys movies once watched when I was young. Papa, tu adorerais !
I learn that life can be much simpler. Quieter. I learnt that when need be, you can always make do with what you have at hand.
I fall asleep while hearing the howling of coyotes.
I watch the moon rise. And the sun set.
I eat scrumptious country foods. I eat the best buffalo burger with homemade red potato chips. I dine from elegant dishes.
I make new friends.
And I return home with the recipe of a delicious Vietnamese Bison Salad.

Photo credit: Jill O'Brien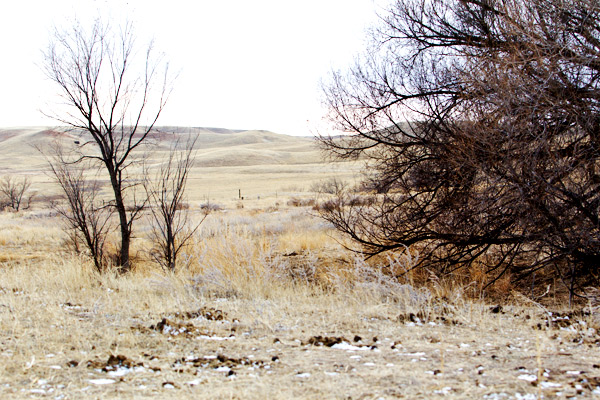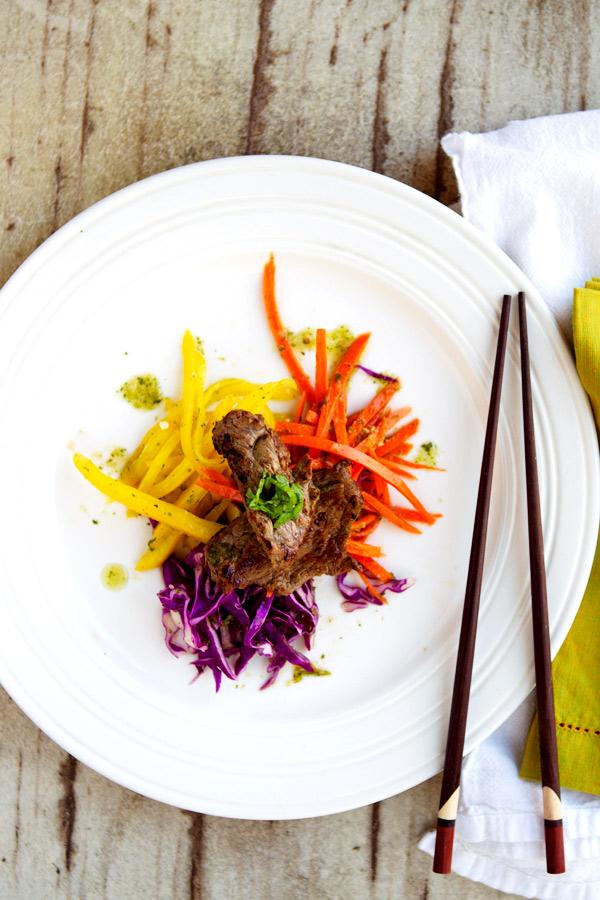 Vietnamese Bison Salad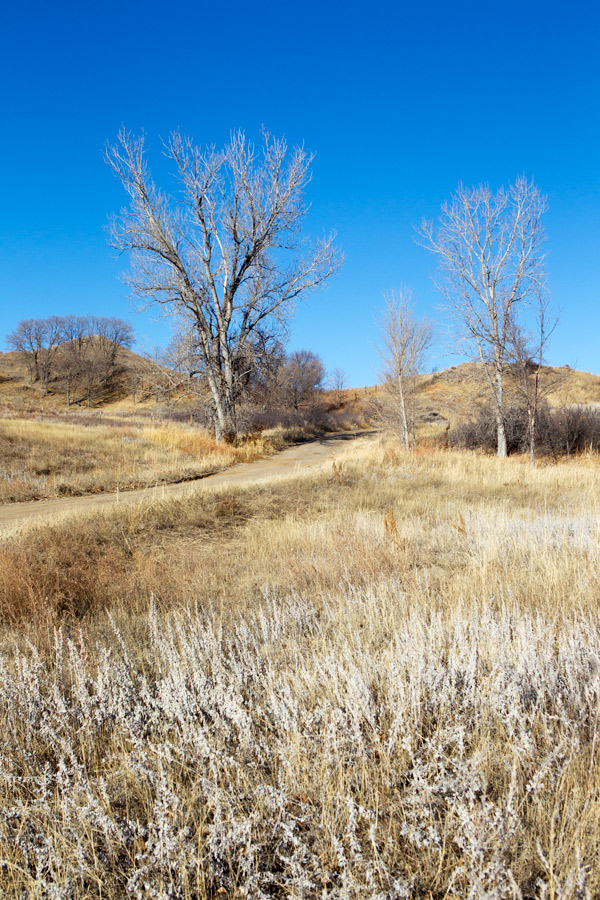 Thank you Jill and Dan for welcoming me into your home. I cannot wait to come back to see the grass turn green. And to show P. and Lulu the buffalo, the Great plains, and have them watch a moon rise and fetch fresh eggs.
Lulu will love to meet you and pet the cats.
She will love to run freely on top of the hills.
I am convinced that she will really enjoy the taste of buffalo meat too.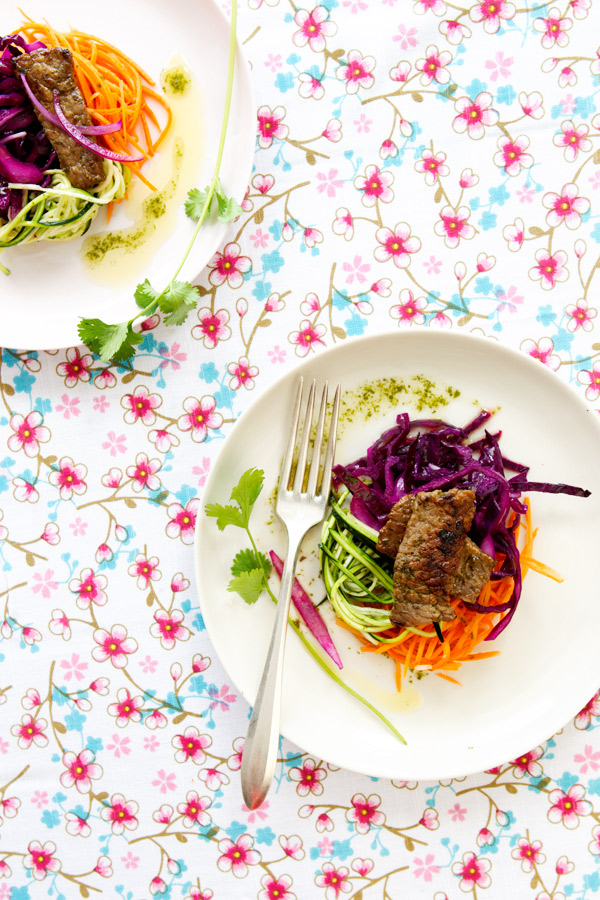 My own variant of Jill's Vietnamese Bison Salad
Of course, when I returned, I could not help but recreate my own variant of Jill's salad in my kitchen. Mine had zucchini and carrots, and I used veal instead of bison. It didn't take long to become a real favorite.
They were P.'s words. I could not agree more.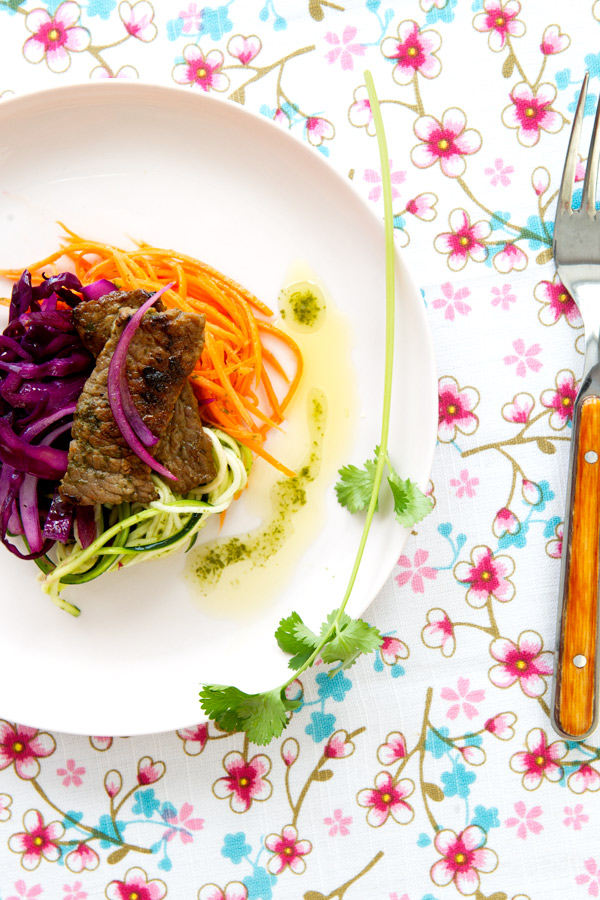 Serves 4
Dressing Ingredients:
1 cup fresh cilantro, lightly packed
2 cloves of garlic, about 1 tablespoon
1 jalapeno pepper, chopped
¼ cup pure cane sugar
¾ cup fresh lemon juice
½ cup Asian fish sauce
½ cup hot water
In a blender, purée the cilantro, garlic, sugar and lemon juice.
While the motor is still running, add the remaining ingredients. Refrigerate the dressing until needed.
Salad Ingredients:
1 8 oz. package tri-tip buffalo (bison) minute steaks
1 tablespoon olive oil
½ small red cabbage, finely julienned
1 red onion, finely julienned
1 yellow bell pepper, finely julienned
1 cucumber, diced
½ cup fresh mint, julienned
½ cup fresh basil, julienned
Steps:
Rinse the bison medallions and pat them dry. Place them in a glass dish and drizzle with
¼ cup of the dressing. Place in the refrigerator for 4 hours or overnight.
Heat ½ tablespoon of olive oil over medium to hight heat, and quickly sauté the red cabbage for about two minutes. Remove from the pan and toss with the red onion.
Mix cucumber, mint, and basil together.
Drizzle dressing over vegetables and toss. Arrange julienned vegetables on 4 plates.
Remove the bison steaks from the marinade, shacking off the excess.
Over high heat, heat the remaining ½ tablespoon olive oil and sear the bison steaks for 30 seconds on each side.
Place the seared steaks on top of the julienned vegetables, and sprinkle the cucumber and herb mixture over the salad.

*Optional: Rice Noodles may also be added to this salad. Prepare as directed and place the noodles in the center of the plate.