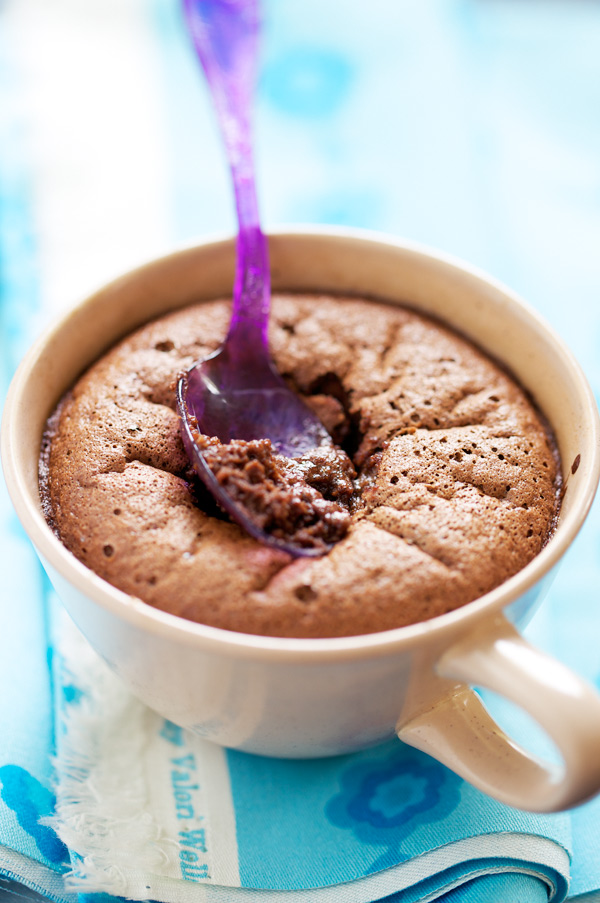 You know how much I like chocolate, n'est-ce pas? Luckily, both P. and I do, so I am never alone to eat it–not that it would stop me at all, by the way. And now it turns out that we are even three to eat it at home, as Lulu has happily joined the family. Our chocolate group. I don't think I've seen her practice sign language with more enthusiasm than when she asks for more chocolate.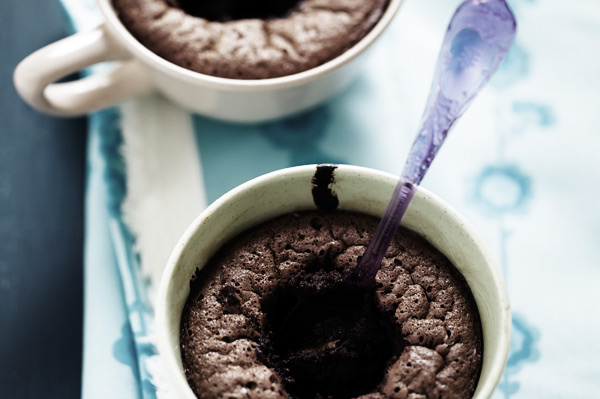 So there you are. I made these cakes before we left on our recent vacation, to celebrate Easter early. In our family, Easter rhymes with chocolate, and molten chocolate cakes, more particularly, are a weakness of mine. The truth is that I've stopped counting the number of recipes I've baked. I never tire of the dessert. It's gooey. Lukewarm. Rich and creamy.
Quick.
Easy.
Tempting.
Delicious.
Making Lulu ready to go…. see?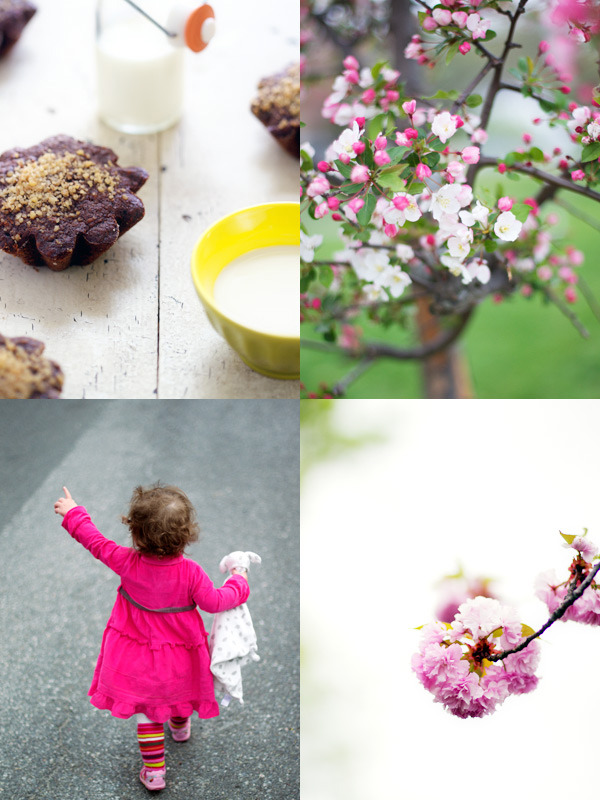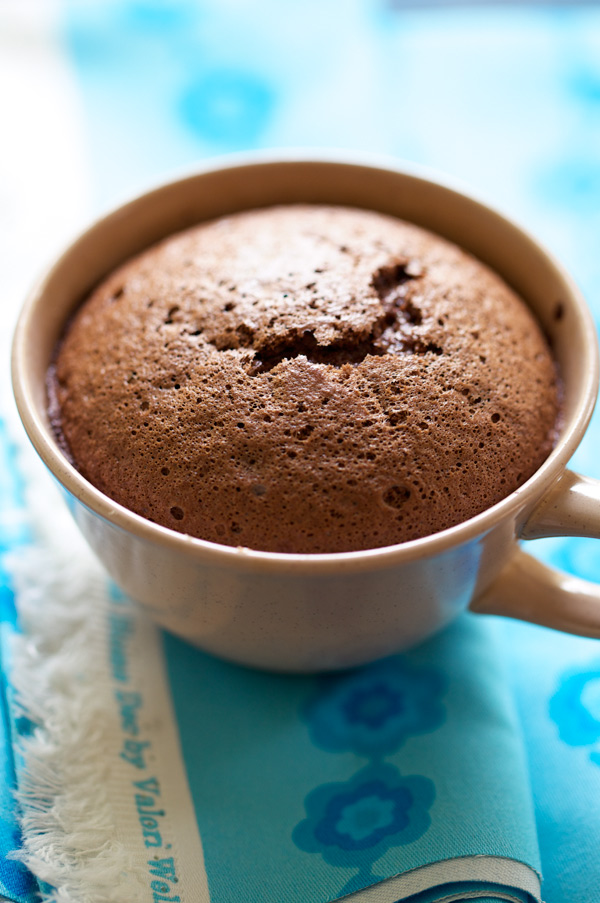 Molten chocolate cake with tahini and millet
(Makes three cakes baked in tea cups)

You need:
2 extra large eggs
75 g dark chocolate (70 % cocoa contents)
2 heaped tablespoons tahini nut butter (40 g)
1/4 cup light Muscovado sugar (30 g)
1 tablespoon millet flour
3 small pieces of milk chocolate
Pinch of sea salt
Steps:
Preheat the oven to 450F and butter 3 tea cups (of course, you can use other ramekins and dishes you prefer); set aside.
Place the chocolate and nut butter in a bowl and place it over a pot of simmering water. Cook until melted.
In the bowl of a stand mixer, combine the eggs with the sugar and a pinch of salt. Beat until pale and light in color, and the volume of the batter has doubled.
Fold in gently the millet flour and then chocolate. Divide the batter between the cups (keep 1/3 of the batter). Add pieces of dark, milk or white chocolate and cover with the rest of the batter. Bake for 10 to 12 minutes. The less time you bake the cakes the more gooey the center will be.
Le coin français
Gâteau au chocolat coulant avec tahini et millet
(Pour trois gâteaux cuits dans des tasses à thé)

Ingrédients :
2 très gros oeufs
75 g de chocolat noir à 70 % de cacao
2 càs bombées de beurre de sésame (tahini) (40 g)
30 g de sucre roux léger
1 càs de farine de millet
3 carreaux de chocolat au lait
Pincée de sel de mer
Etapes :
Préchauffez le four à 230 C et beurrez 3 tasses à thé (ou utilisez des ramequins si vous préférez); mettez de côté.
Faites fondre le chocolat et le beurre de sésame au bain-marie.
Dans le bol d'un mixeur à pied, battez les oeufs avec le sucre et une pincée de sel jusqu'à blanchiment et jusqu'à ce que l'ensemble ait doublé de volume.
Ajoutez délicatement la farine et le chocolat. Divisez cette pâte entre les tasses (en gardant 1/3 de côté). Ajoutez les carreaux de chocolat au lait et couvrez du reste de pâte au chocolat. Faites cuire les gâteaux pendant environ 10 à 12 minutes. Moins vous cuisez les gâteaux et plus le centre est coulant.