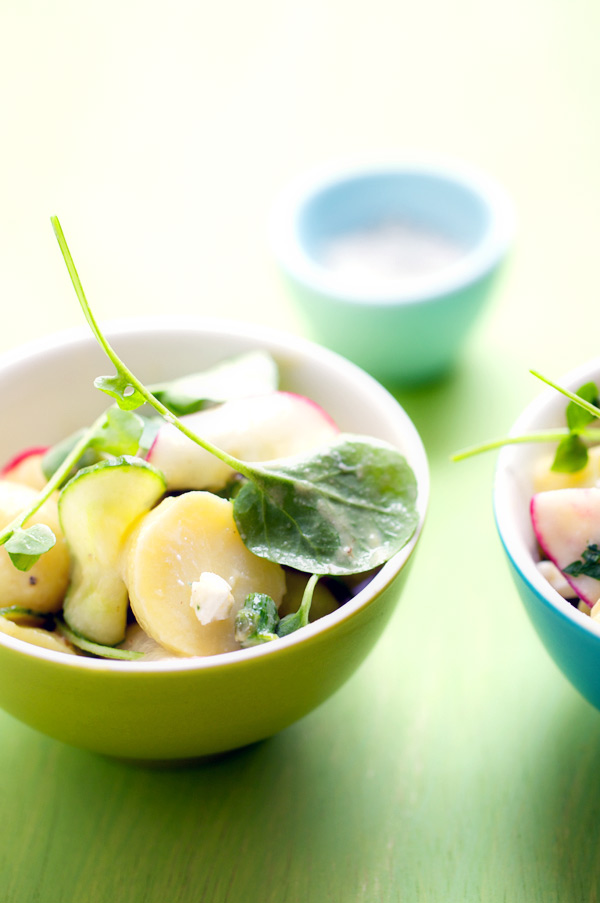 Some dishes inspire me simply by their name. Potato salad. Salade de pommes de terre. I've always had a strong relationship with potato salads. Particularly my mother's. She prepared hers at least once a week when I was growing up, using potatoes from her garden or my grandmother's, which turned the salad into a dish that, my brother and I believed, couldn't be equalled by any other. To this date, I still think that her salade de pommes de terre is the best I've ever eaten.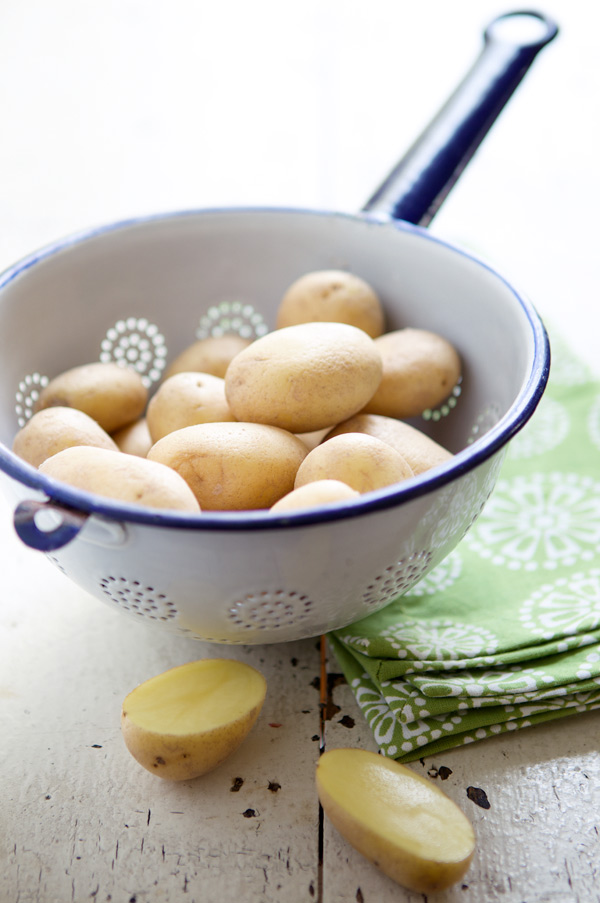 Perhaps then being married to an Irish man is no accident, after all. Potato salad is a dish, amongst many, that brings P. and I together. When that's what we eat, nothing is ever left in our plates.
This scene, as a matter of fact, happened a few Mondays ago. Spontaneously. I had a bag of organic fingerling potatoes, des rattes, and a bunch of fresh watercress. I was craving food that would speak like spring. So I thought of making a potato salad with the first potatoes of the season, les pommes de terre nouvelles.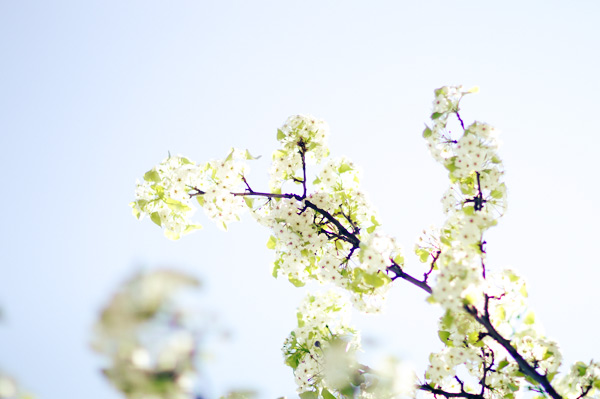 In this recipe, I added radish and cucumber that I decided to marinate beforehand, filling the vegetables with juice but leaving them with crunch. I then added tasty goat cheese and lightly sauteed asparagus to make a more complete meal. Simple but always inspiring and nourishing.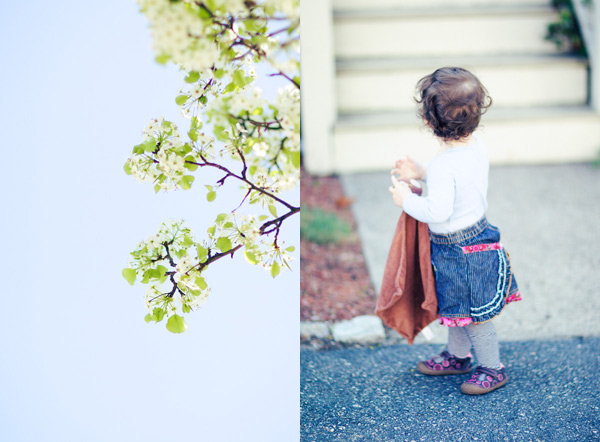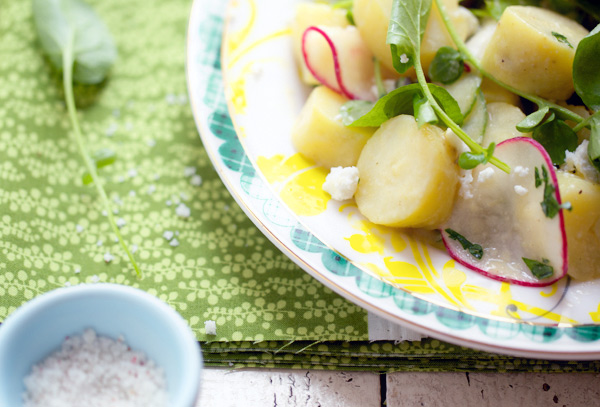 Lulu looked at the food but didn't venture to try. That didn't matter, though. One day, we told ourselves, we are convinced that she will understand her papa and maman's strong attachment to potatoes. And she'll surely join in. It must be in our genes.
Both sides.
Right now, she is simply more interested in exploring other parts of the world than potatoes.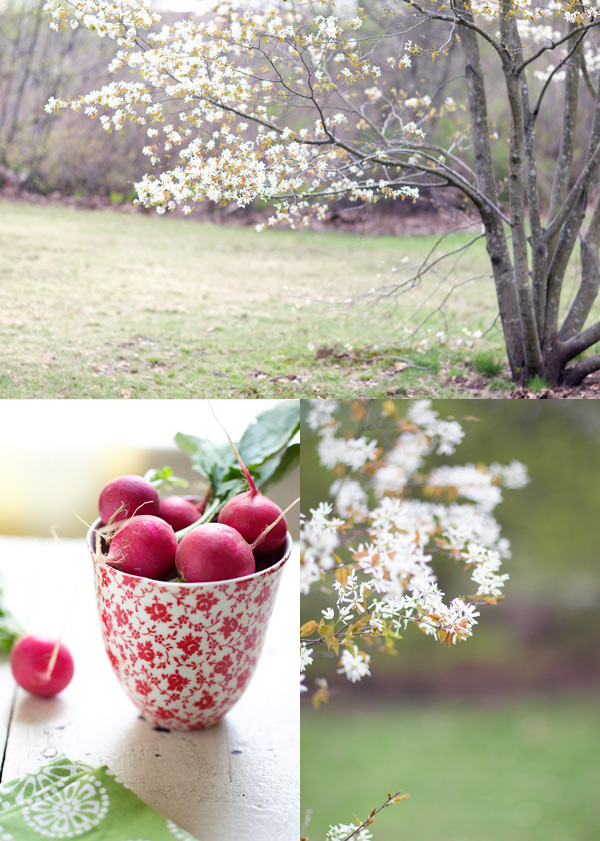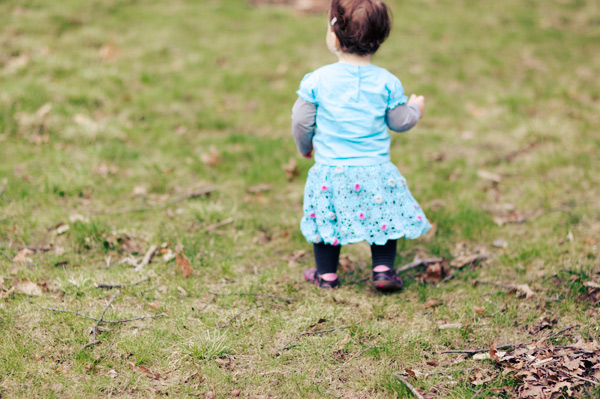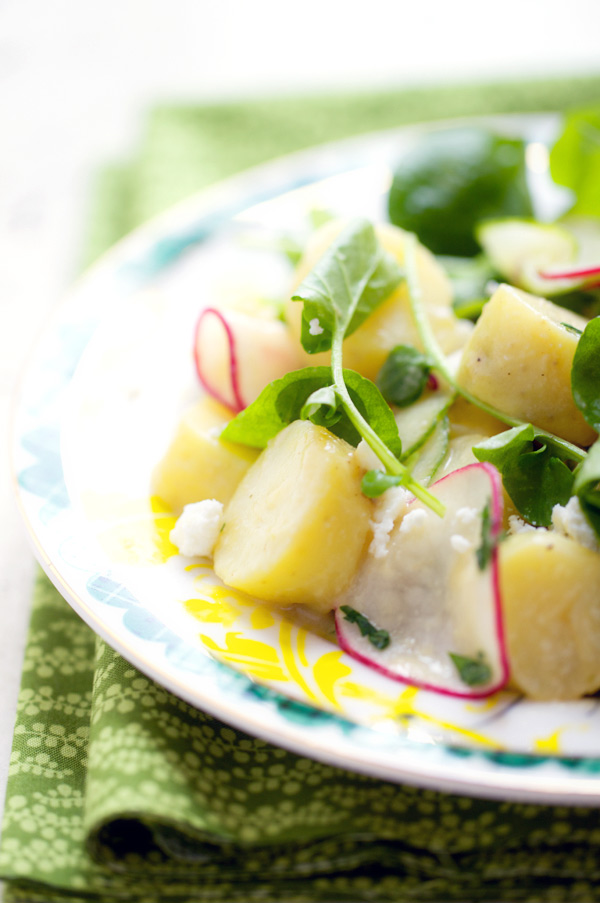 Potato salad with watercress, cucumber and radish
(For 4 people)
You need:
For the salad:
Sea salt and pepper
1 lb fingerling potatoes
3 pink radishes, finely sliced (use a mandolin)
1 cup finely sliced English cucumber (use a mandolin)
1/2 tablespoon blond cane sugar
1 tablespoon rice vinegar
6 green or purple asparagus tips, sliced finely
Dash of ground coriander
Handful of watercress leaves, thoroughly cleaned
Crumbled semi-hard goat cheese, to taste
For the dressing:
Sea salt and pepper
1/2 teaspoon Dijon mustard
1 Meyer lemon
1 tablespoon tahini nut butter
3 tablespoons olive oil
Chopped coriander or parsley
Steps:
Steam the potatoes for 15 to 20 minutes, or until easily pierced with a fork. Let them cool. When they are cooled enough to be handled, peel and sliced them; set aside.
In a colander, add the cucumber and sprinkle with salt. Let sit for 30 minutes so that the cucumber release water. Drain and transfer to a bowl with the radish.
In a small bowl, combine the sugar and rice vinegar and stir well. Add to the cucumber and radish and toss well; set aside.
In a frying pan, heat 1 tablespoon olive oil over medium heat. When warm, add the asparagus and a dash of coriander. Season with salt and pepper and cook, stirring, for 2 minutes; set aside.
In a small bowl, add a pinch of salt and pepper, and add the mustard and lemon juice. Stir and add the tahini and olive oil; whisk to emulsify.
In a large bowl, toss the potatoes, cucumber and radish, asparagus, goat cheese. Add the dressing and coat the salad with it.
Add the watercress leaves and toss gently. Serve.
Le coin français
Salade de pommes de terre au cresson, cocombre et radis
(Pour 4 personnes)
Ingrédients :
Pour la salade :
Sel de mer et poivre du moulin
450 g de petites rattes
3 radis, coupées en tranches très fines (utilisez une mandoline)
1 petit concombre tranché finement (utilisez une mandoline)
1/2 càs de sucre de canne blond
1 càs de vinaigre de riz
6 pointes d'asperge verte ou violette, coupées en petits bouts
Pointe de coriandre en poudre
Une poignée de cresson bien nettoyé
Fromage de chèvre mi-sec, en miettes (au goût)
Pour la vinaigrette :
Sel de mer et poivre du moulin
1/2 càc de moutarde forte de Dijon
1 citron
1 càs de tahini (pâte de sésame)
3 càs d'huile d'olive
Coriandre ou persil frais, haché
Etapes :
Faites cuire les pommes de terre dans de l'eau bouillante pendant 15 à 20 minutes, ou jusqu'à ce qu'elles soient tendres. Laissez-les refroidir, puis pelez et coupez-les en tranches; mettez-les de côté.
Dans une passoire, faites dégorger le concombre avec du sel (pendant 30 minutes). Mettez-le dans un bol avec les tranches de radis.
Dans un petit bol, mélangez le sucre avec le vinaigre et ajoutez cette sauce aux tranches de concombre et de radis. Mélangez bien et mettez de côté.
Dans une poêle, faites chauffer 1 càs d'huile d'olive sur feu moyen. Une fois l'huile chaude, ajoutez les dés d'asperges avec un peu de coriandre moulue. Assaisonnez de sel et de poivre et faites revenir pendant 2 minutes; mettez de côté.
Dans un petit bol, mettez une pincée de sel et de poivre. Ajoutez la moutarde et le jus de citron, puis le beurre de sésame et l'huile d'olive. Faites émulsionner la vinaigrette.
Dans un saladier, mélangez les pommes de terre, le concombre et radis, les asperges et le fromage de chèvre. Assaisonnez avec la vinaigrette.
Ajoutez le cresson et mélangez délicatement. Servez sans attendre.