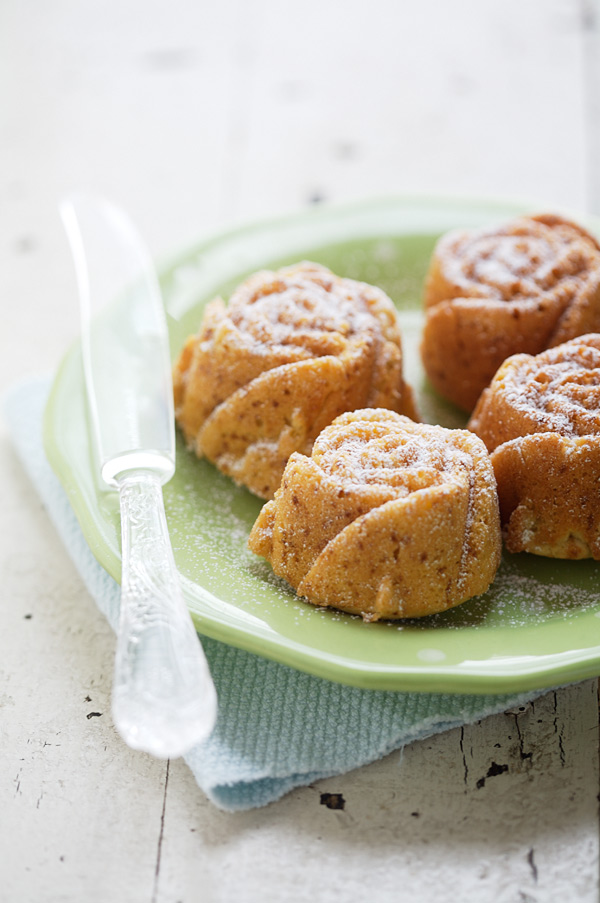 Vanilla-flavored almond and quinoa rose teacakes
The day started in the kitchen with aromas of finely sliced apples sautéed in butter and brown sugar; warm oatmeal and toasted almonds; and quinoa waffles dusted with a cloud of confectioner's sugar. There were pots of green and Roibos teas on the table, and Taken by Trees was playing on our stereo. Lulu was sitting in her high chair at the head of the table with one of us on either side, looking happy–who wouldn't, really, after sleeping for a solid twelve hours? Breakfast to start the new year.
It looked promising.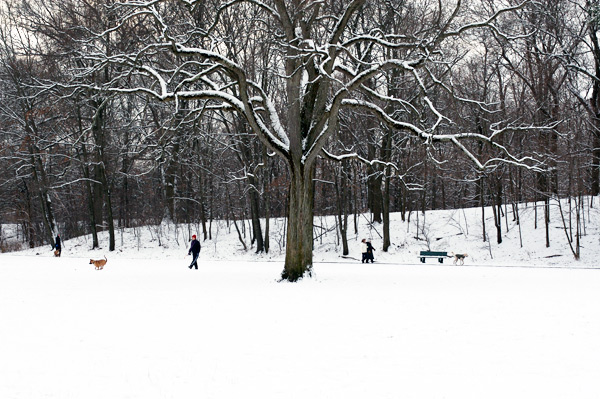 I am not sure whether I've yet realized the good things that 2009 gave us. The most overwhelming one being a healthy happy daughter that is bringing an incomparable joy, allowing us to look at details of life that we wouldn't see otherwise, were she not here. Of course, it's been crazy and messy and challenging at times; in the early months of 2009, we missed sleep. Some days, I even cried when I felt too exhausted–especially missing to have our families living nearby. There were moments when we felt excited and slap happy. One friend once said when he spoke about this early time when a baby enters a couple's life that "it's as if you are divorced from reality."
Oh yes!
I know we are extremely lucky, though. We've come out of the first year of Lulu's life feeling stronger and happier.
Closer.
In 2009, one of my biggest challenges, too, was to balance raising our baby and writing my cookbook. Despite days that always seemed too short, naps that were too scarce, I don't know how I managed but I've never lost my appetite to cook. I've never stopped to want to cook. I don't think there was a single day passing without something being made in the kitchen. Without my hands touching and preparing food. Whether it being a hard boiled egg, a grilled sandwich — P. who is mastering the art beautifully taught me how — or a more time-involved meal with Osso Buco and Milanese risotto. Always baking a cake. Or having friends coming over for dinner. Despite the house looking untidy. And baskets of laundry waiting in the corner of the bedroom.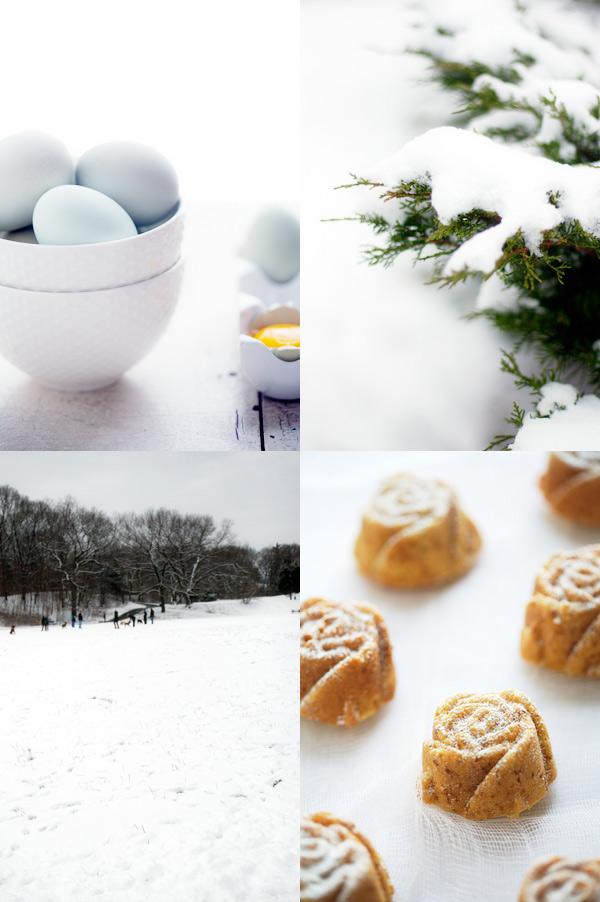 Life's been full. Rewarding. Without any doubt, 2009 has been the most intense and fulfilling year of my life. Turning forty has felt enriching. I feel blessed to be able to continue to feed my passion to create foods that I believe in–that we love.
Like these rose-shaped teacakes.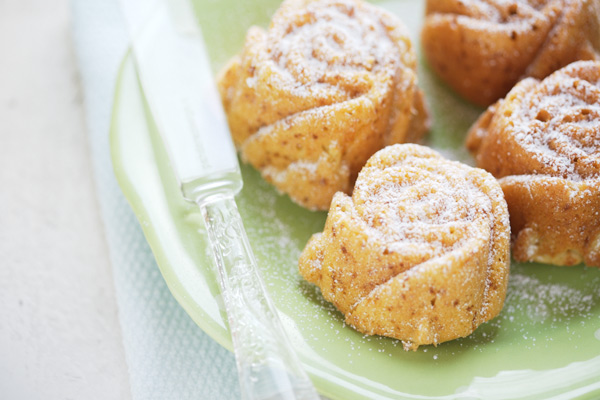 I made them yesterday after we returned from an early walk to the park, to enjoy the freshly fallen snow. They made the house smell delicious and sweet. Homey. They were moist with a subtle taste of almond, quinoa and vanilla combined, enhanced with delicate Fleur de sel. We ate them while sitting on the wooden floor to build tall Lego towers with Lulu–who joyfully and swiftly knocked them down as soon as they were up–, hoping to continue the journey we've now started.
Better and fuller.
Healthy and happy.
A toast to all of you for a wonderful New Year ahead, with delicious foods!
I never want to forget that life is beautiful.
Bonne année!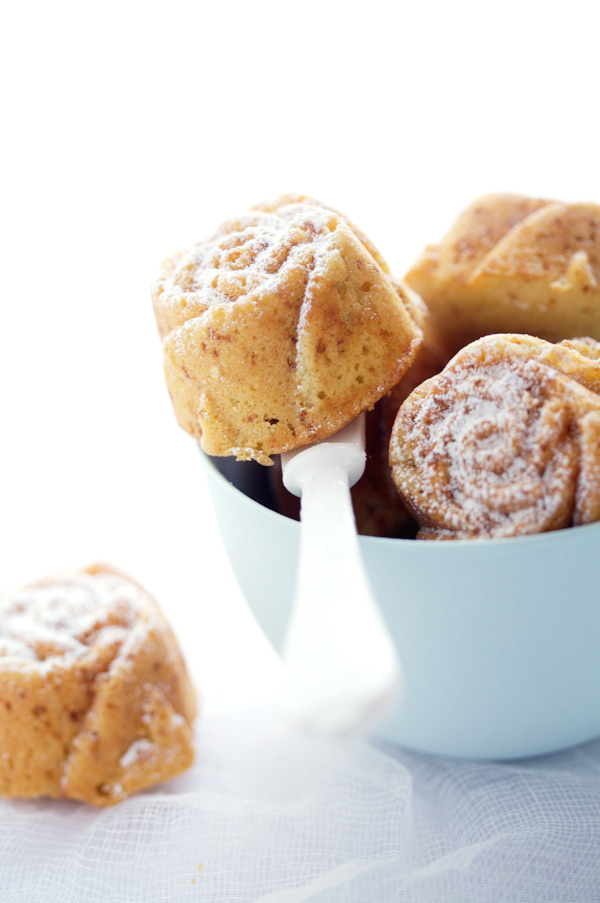 Vanilla flavored-almond and quinoa rose teacakes
(For 7 to 8 cakes (The rose-shaped muffin mold can be found here)
You need:
6 tablespoons soft unsalted butter + more for molds
2 eggs
1/3 cup almond meal
1/3 cup quinoa flour
1/3 cup white rice flour
1/2 cup blond cane sugar
1/3 cup plain yogurt
1 teaspoon baking powder
1/4 teaspoon Fleur de sel
1 teaspoon pure vanilla extract
Confectioner's sugar, to serve
Steps:
Preheat your oven at 350 F.
Butter your molds generously.
In a bowl, mix the flours, baking powder and Fleur de sel; set aside.
In the bowl of a stand mixer fitted with the paddle, cream the butter with the sugar. Add the eggs, one after the other, waiting until the first one is well incorporated before adding the second.
Stir in the yogurt and vanilla.
Add the dry ingredients and mix until homogeneous.
Fill the molds 3/4 full and bake the teacakes for about 20 to 25 minutes, or until the blade of a sharp knife inserted in the middle of the cakes comes out dry. Let cool for 10 minutes before unmolding, leaving them to completely cool on a rack.
To serve, dust with confectioner's sugar.
Le coin français
Petits gâteaux aux amandes et quinoa, parfumés à la vanille
(Pour 7 à 8 gâteaux (Le moule à muffins en forme de roses peut être acheté ici)
Ingrédients :
80 g de beurre mou non salé + pour les moules
2 oeufs
40 g de poudre d'amandes
40 g de farine quinoa
60 g de farine de riz blanche
100 g de sucre de cane blond.
90 g de yaourt velouté nature
1 càc de poudre à lever
1/4 càc de Fleur de sel
1 càc d'extrait de vanille pur
Sucre glace, pour servir
Etapes :
Préchauffez le four à 180 C.
Beurrez généreusement vos moules en forme de rose.
Dans une jatte, mélangez les farines, la poudre à lever et la Fleur de sel; mettez de côté.
Dans le bol de votre mixeur à pied, travaillez le beuure en pommade avec le sucre. Ajoutez les oeufs, un après l'autre, en attendant que le premier soit bien incorporé avant d'ajouter le second.
Ajoutez le yaourt et la vanille.
Incorporez les ingrédients secs et mélangez jusqu'à ce que la pâte soit homogène.
Remplissez les moules au 3/4 et cuisez les gâteaux pendant 20 à 25 minutes, ou jusqu'à ce que la pointe d'un couteau inséré au milieu en ressorte sèche. Laissez reposer hors du four pendant 10 minutes avant de démouler. Laissez complètement refroidir sur grille.
Au moment de servir, saupoudrez de sucre glace.