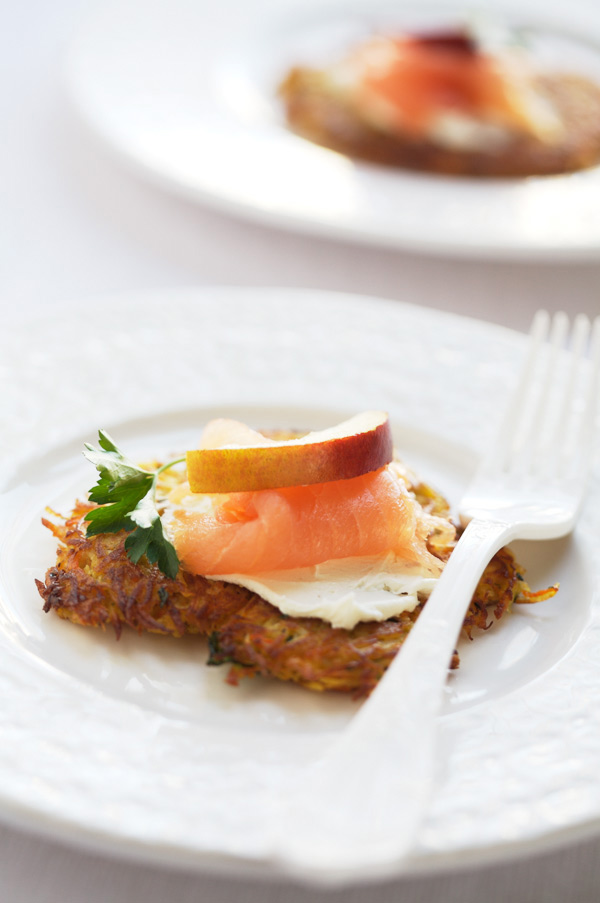 I've been meaning to tell you about my weakness for anything involving potatoes.
Growing up, my mother prepared râpés de pommes de terre (grated potatoes cooked like small galettes, close to latkes) perhaps once a week, which invariably made my brother and me extremely happy. Because it was food that involved potatoes, and because hers were deliciously crispy, always cooked to perfection. She liked to serve them with a dollop of silky fromage blanc, a sprinkle of sea salt and freshly chopped chives, and a side lettuce tossed in a vinaigrette with piquant. That was dinner during a wintry week day: simple and gorgeous in every way.
I've been a lover of that type of comforting food since then. During the winter, that's what we have for dinner at least once a week.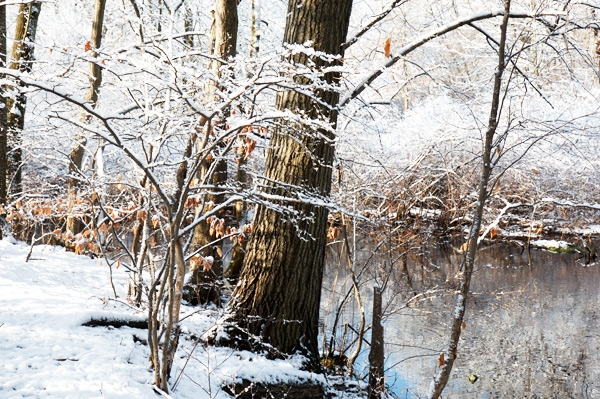 Sometimes my râpés will make a casual meal, just as we used to eat them at home, and at other times, they'll dress up our meal, as I prefer to serve them as an appetizer, topped with crème fraiche or mascarpone, a slice of tasty smoked salmon and pear.
While my mother never uses eggs to prepare hers, I use a few — like in this recipe. I also find root vegetables delicious in this dish, and often make new variants following the produce seasonality and my fancy. Here, you'll see that I used white sweet potato, parsnip and carrot. You'll thank me for it! It's a real boost of flavors and vitamins in your plate.
When I prepared these a few days ago, I remember looking at Lulu when she and I sat at the table for lunch. "Je suis sûre qu'elle va aimer," (I'm sure she'll love that) I couldn't help but think.
That didn't fail.
She took a small piece in one hand and looked at it cautiously at first, as she always does. Then she grabbed another piece delicately with the other hand, before bringing the food to her mouth and looking at me with a smile in her eyes.
It's a funny thing to admit but the fact that she ate the râpé enthusiastically really made me happy. Enjoying these just like her papa and her maman.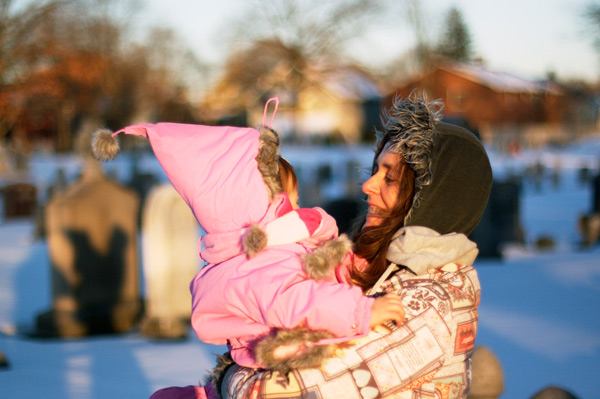 Tomorrow is Christmas. It's the day when many of you, and us too, will celebrate with family and friends. For us, it's also the day when last year, our little Lulu was born. The meaning of Christmas has completely changed since then; life has never tasted as sweet since our daughter has been with us.
She is truly the best Christmas gift that we will ever have. What an amazingly rich journey this year will have been! I wonder what 2010 will keep ahead…
Have a wonderful celebration! My best wishes for this end of year and for the next.
And many thanks for being such a fantastic crowd on the other side of the screen! Between the writing of my book and taking care of Lulu, I might not have been as present, but know that every email and comment you wrote was special and meant a lot. Merci !
Joyeux Noël et bonne année à tous !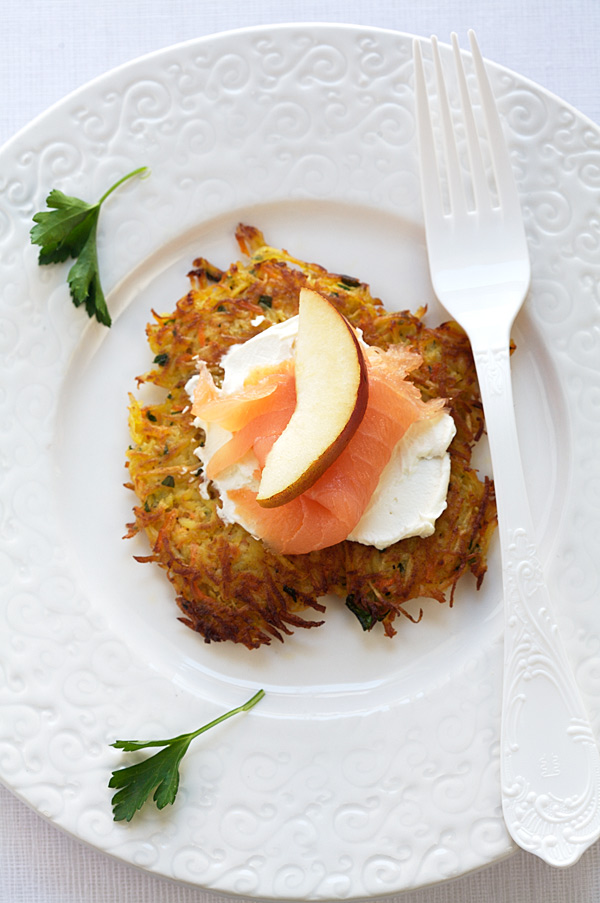 Root vegetable râpés

(Makes 10 râpés)
You need:
1 carrot, peeled and finely grated
1 parsnip, peeled and finely grated
1 white sweet potato, peeled and finely grated*
2 small eggs, lightly beaten with a fork
1 teaspoon freshly ground nutmeg
1 tablespoon chopped parsley
Sea salt and pepper, to taste
Safflower oil, to fry
Smoked salmon, to serve
Crème fraiche or mascarpone, to serve
Slices of pear, to serve

*the grated vegetables combined make 1 lb + 4 oz (600 g)

Steps:
In a bowl, combine the vegetables with the eggs, parsley, nutmeg and season with salt and pepper.
Heat a few tablespoons of oil on medium to high heat and when warm, add a heaped tablespoon of vegetables. Use the back of a flat spatula to flatten the râpé.
Cook for 3 to 4 minutes and then flip on the other side. Cook for 3 more minutes, or until golden brown and crispy. Keep them in the oven preheated at 250 F while you keep working.
Serve topped with crème fraiche spread on top, a slice of smoked salmon and one of pear. Add salmon roe too, if you like. And enjoy!