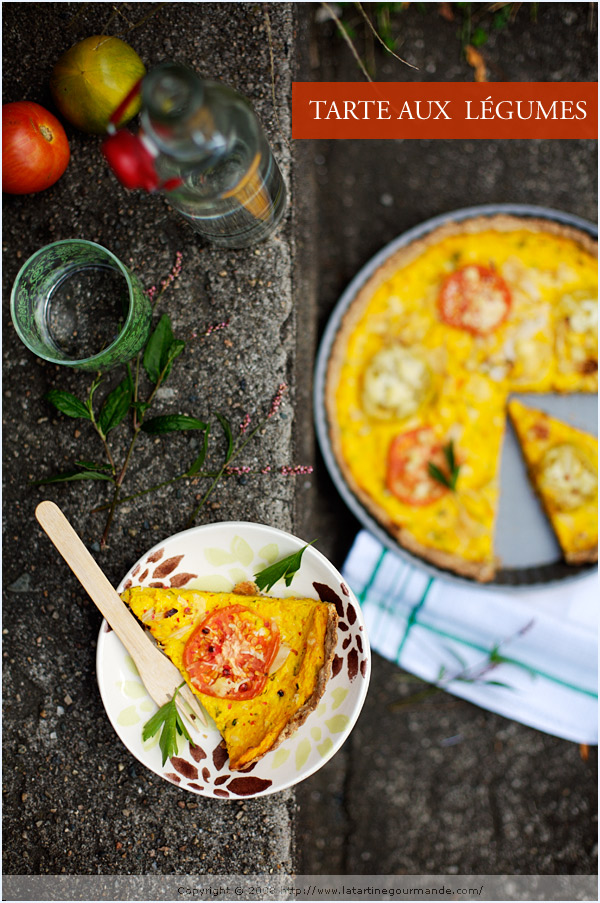 Hokkaido Squash and Celeriac Tart, with Tomatoes
"You're like a squirrel," P. told me when he saw that I was putting a plump orange winter squash into the large vegetable basket I keep in the kitchen, which already contained at least three or four nice looking ones.
"I know!" I replied, feeling a bit silly to have bought yet another red kuri squash. "I am just too scared that I won't be able to find any like this one again."
Especially as I always make sure to buy organic ones, so that I can leave the skin on while cooking, if I decide to.
On Saturday, I made a soufflé au potimarron (Hokkaido squash soufflé). It was beautifully puffed and golden, and we almost ate the whole dish between the two of us, although my recipe actually accommodates four people. "It feels like we are eating flavored snow," I said, laughing and helping me to some more. "I cannot believe that we managed to finish the whole dish up."
"It's bébé who took his or her share!" P. said in a joking tone.
I know already that I have to make another one again soon, and take pictures this time, if I am quick, to show you.
"Perhaps I could make one for your parents, when they come for Thanksgiving, non?"I asked P. "Do you think that they would like a soufflé?"
"Who doesn't like soufflé?"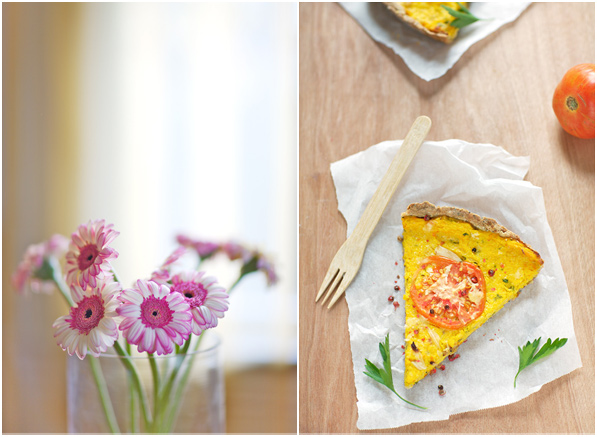 Then there was this Hokkaido Squash tart that I baked one evening last week when I knew that P. and I would not be back home until late in the evening.
"It will reheat quite well," I said in the car as we we were driving to our birth class. Preparing for the arrival of bébé is of course conducive to making sure that we are all well fed — not that we actually need an excuse, really.
And the season for winter squashes is far from being over, Thank God. Especially with the holiday season approaching à grands pas. Are you already preparing foods? I have a dish of red kuri lasagna to make for dinner tomorrow, a cake and an appetizer to prepare for our festive dinner on Thursday. Frankly, I cannot wait to get started. In the meantime, though, we still need to feed us on nourishing foods, to keep us going. N'est-ce pas ?
This vegetable tart is a good example of how to enjoy comfortable, light autumnal meals. Easy to prepare; bursting with flavor. Quite ideal before the numerous foods awaiting us in a few days, for those of us who live on this side of the Atlantic, and celebrate Thanksgiving.
My family in France always wonders what this holiday is like. "Vous mangerez quoi ?" (What will you eat?) I can hear my mum and sister-in-law ask with evident curiosity. Our phone conversations are always filled with food matters. It runs in the family.
"A lot of winter squash, for sure."
I am not complaining. I love it, in fact!
Next time, I really have to bake a pumpkin pie for them. They *must* try it!
Happy Thanksgiving to everyone, if we do not speak before then!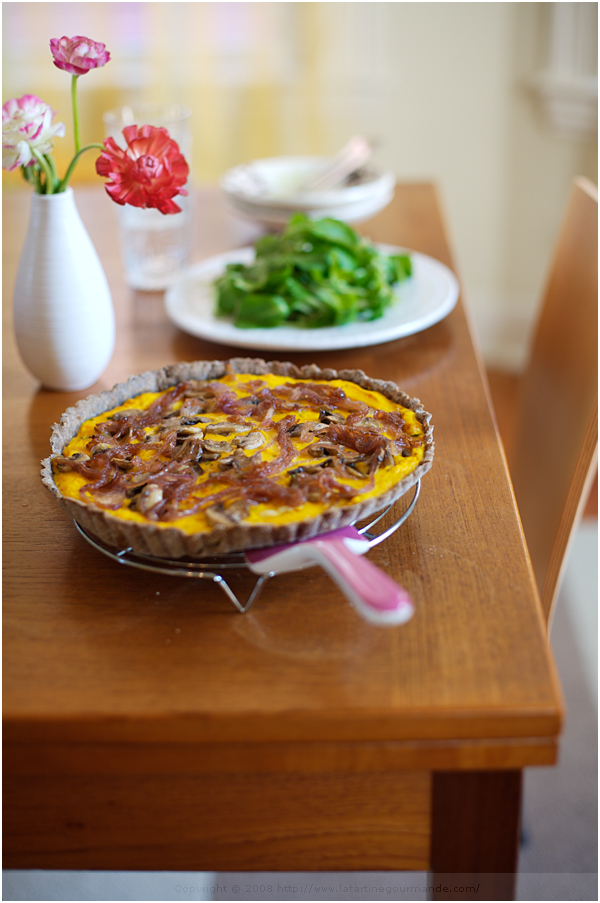 Hokkaido Squash Tart with Mushrooms and Caramelized Onions
Hokkaido Squash and Celeriac Tart

(For a 9″ tart)
You need:
Pastry with or without gluten (without gluten: 1/2 cup sweet rice flour; 1/3 cup quinoa flour; 1/3 cup quinoa flakes; 1/4 cup amaranth flour; 7 Tbsp butter; 1/2 tsp salt; 1 Tbsp poppyseeds; 5 to 6 Tbsp cold water)
14 oz cleaned Hokkaido or Acorn squash (seeded but skin on), diced
3.5 oz cleaned celeriac, diced
1 onion, sliced thinly
1/2 cup whole milk ricotta cheese
2 tomatoes, sliced
1/2 cup grated hard cheese, type cheddar
2 eggs, beaten
Salt and pepper
Chopped parsley
Steps:
Preheat your oven at 400 F. Butter a tart mold.
Roll your dough and put it in a round mold; place in the fridge for 30 minutes.
In the meantime, steam the celeriac and Hokkaido squash (about 20 minutes) until fork tender.
Using a food mill, purée the vegetables.
In a bowl, beat together the eggs and ricotta cheese. Add 1 Tbsp chopped parsley and 1/2 of the grated cheese.
Add to the squash/celeriac purée, and mix until smooth.
Pour this filling over the dough, and top with onions, and slices of tomatoes.
Season with salt and pepper, and add the rest of the grated cheese.
Cook for about 30 to 35 minutes, or until golden in color. With a mixed green salad, it's a delicious meal.
Le coin français
Tarte au potimarron et au céleri rave
(Pour une tarte de 24 cm)
Ingrédients :
Pâte brisée avec ou sans gluten (sans gluten: 80 g de farine de riz gluant; 60 g de farine de quinoa flour; 30 g de flocons de quinoa; 25 g de farine d'amaranth; 100 g de beurre; 1/2 càc de sel de mer; 1 càs de graines de pavot; 5 à 6 càs d'eau froide)
400 g de potimarron lavé, et coupé en gros dés (laissez la peau et enlevez les graines de courge à l'intérieur)
100 g de céleri rave pelé, coupé en gros dés
1 oignon jaune ou rouge, émincé
125 g de ricotta au lait entier
2 tomates, coupées en tranches fines
50 g de fromage râpé, type Comté ou cheddar
2 oeufs, légèrement battus
Sel et poivre
Persil frais, haché
Etapes :
Préchauffez votre four à 200 C.
Etalez la pâte et foncez-en un moule. Piquez le fond et mettez au frais pendant 30 minutes.
Pendant ce temps, faites cuire le potimarron et le céleri à la vapeur (environ 20 minutes), jusqu'à ce que les légumes soient tendres.
Passez-les au presse-purée.
Dans un bol, battez les oeufs avec la ricotta. Ajoutez 1 càs de persil haché et la moitié du fromage râpé.
Ajoutez la purée de potimarron/céleri et mélangez bien.
Versez cette préparation sur la pâte et garnissez de tranches d'oignon et de tomates.
Assaisonnez de sel et de poivre et finissez par le reste de fromage râpé.
Cuisez environ pendant 30 à 35 minutes, ou jusqu'à ce que le dessus soit bien doré. Avec une salade de jeunes pousses, c'est délicieux.