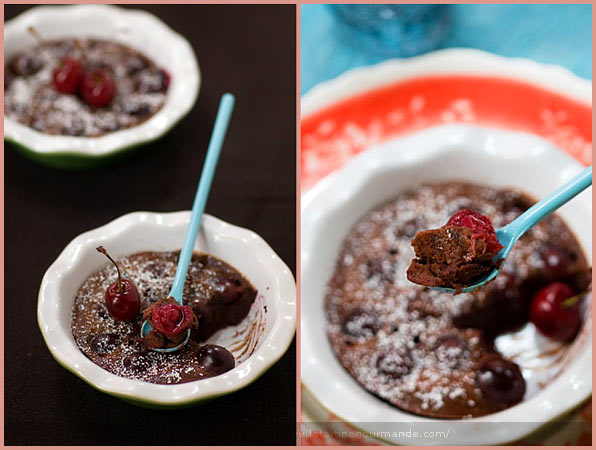 Chocolate Cherry Clafoutis
The news came and caught me by surprise. I had thought about many possibilities but not the one I perhaps unconsciously wanted to avoid.
Always avoid the obvious, of course.
Because my stomach had gone somewhat bananas over the last few months, sans dessus-dessous, not in a continuous way that would make you believe that you are actually malade (sick), but on and off, without any warnings of the times when it would suddenly occur, I knew well that I would have to change something in my daily routine to feel a hundred percent healthy. Just enough time to let my immune system — the engine, you know — rest and refill. The enemy, I found out, is called "Temporary Food Allergies". But I am lucky. Even if I have a strong metabolism and could have continued on without the slightest change in my life, my constant curiosity and eagerness to understand the intricate of my body convinced me to investigate more about this bad friend that had decided to visit me, uninvited. So when I left the office of S., the nutritionist I had gone to see, I had a plan in my hands. I would need to follow a special diet for a few weeks.
Régime spécial ???
Yes.
Voilà ! Boum ! Comme cela ! Imagine my feeling then! Not the happiest moment of my life.
"You are doing most of it already anyway," S. added as I was about to walk out of her sunny office. Well, it surely helps to know quite a fair amount about food and understand how it can affect one's body. So yes, I realized that I would have a few challenges to live with — ah, how would I go without using lemons or limes during summer, or just the thought of my poor friends trying to accommodate me — but I also left relieved when she eventually added: "Chocolate? Oh yes, you can continue to eat some."
My worried face lit up with a large smile.
"Cherries and fruit in general are not a problem either."
Thank God! It is summer, after all!
And so, why not chocolate and cherries together!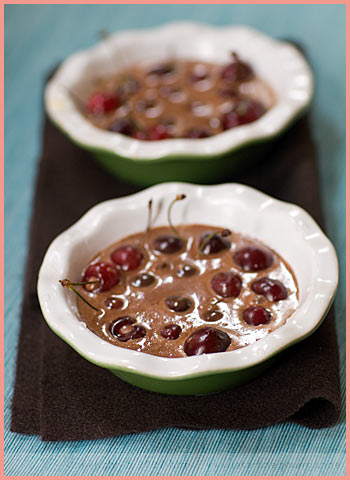 Prepping the Clafoutis
There is nothing wrong in combining two sins (weaknesses ) good habits into a bigger one. First, take an unconditional love for clafoutis — and good news, it is peak season at the moment with abundant cherries — and then take a particular fascination for chocolate — because whether it is below zero Celsius or thirty Celsius above, at the Jacob/Peltre household, we eat chocolate all year round.
Although I found inspiration for this dessert in John Campbell's magnificent Formulas for Flavor cookbook, I largely modified the ingredient quantities and ingredient list for the realization of my dessert. But I loved his idea to combine chocolate and cherries together — although his original recipe actually calls for griottes. My recipe is no rocket science either. It requires preparing two batters, one made of eggs, milk, sugar and a dash of flour, the other one made of dark chocolate, butter, egg and flour. The two preparations are then blended together before being baked in the oven with the cherries for a short time. Within thirty minutes, start to finish, you can have your dessert ready. It was just the kind of fix that a girl like me needed to feel good before preparing to set off on a new unknown journey.
C'm on, wish me luck, I will need it!

Oh, one needs to note also the following: I will not bother you with more details either, but after some debate I had, deciding whether I should let you know or not, I simply felt that I owed you a short explanation.
In case you wondered.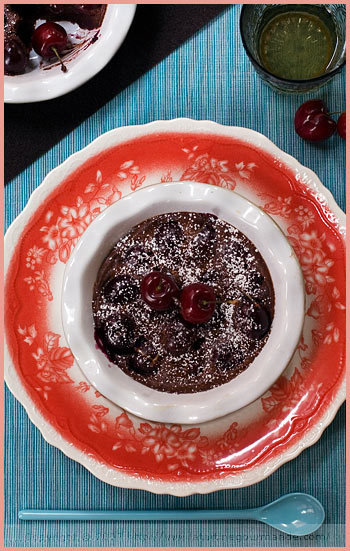 Chocolate Cherry Clafoutis
Chocolate and Cherry Clafoutis
(For 4 individual clafoutis)
You need:
14 oz cherries
2 large eggs
3/8 cup whole milk
1.5 Tbsp cornstarch
2 Tbsp all-purpose flour
2 oz dark chocolate at 65 or 70 % cocoa, as you prefer
4 Tbsp butter
2.5 Tbsp cane sugar
Confectioner's sugar, to sprinkle
Steps:
In a bowl, mix 1 egg with 1 Tbsp sugar and add the milk. Add 1 Tbsp sifted flour and keep on the side.
Melt the butter and chocolate in a double-boiler.
Beat 1 egg with the rest of the sugar until pale in color.
Add the rest of flour and cornstarch. Mix well.
Add the butter/chocolate and mix well. At this point, you will mix the two preparations together.
Preheat your oven at 350 F.
Take 4 individual baking molds and grease them.
Wash the cherries and remove the stalks (or not) and arrange them at the bottom of the molds.
Divide the cream between them and place in the oven for 20 min remove and let cool slightly.
When ready to serve, sprinkle with confectioner's sugar.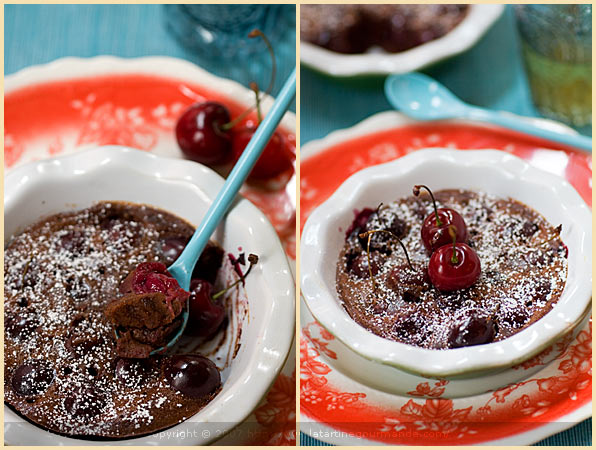 Le coin français
Clafoutis chocolat et cerise
(Pour 4 petits clafoutis)
Ingrédients :
400 g de cerises
2 gros oeufs
90 ml de lait entier
1,5 càc de maïzena
2 càs de farine
60 g de chocolat noir à 65 ou 70 %, selon préférence
50 g de beurre
2,5 càs de sucre de canne
Sucre glace, pour saupoudrer
Étapes :
Dans un saladier, mélangez 1 oeuf avec 1 càs de sucre, puis ajoutez le lait. Ajoutez 1 càs de farine tamisée et mélangez bien. Mettez de côté.
Faites fondre le beurre et le chocolat au bain-marie.
Battez 1 oeuf avec le reste de sucre jusqu'à blanchiment.
Ajoutez le reste de farine et la maïzena, et mélangez-bien.
Ajoutez le beurre/chocolat fondu et mélangez. A ce stade, vous allez incorporer les deux préparations en une.
Préchauffez votre four à 180 C.
Prenez des petits ramequins et beurrez-les.
Lavez les cerises, équeutez-les et mettez-les au fond des ramequins.
Recouvrez de crème au chocolat et placez au four pendant 20 min environ. Retirez et laissez refroidir.
Au moment de la dégustation, saupoudrez de sucre glace.
Technorati Tags: Food Styling, La Tartine Gourmande, Food Photography, Chocolate Clafoutis, clafoutis, cherry, Cherry Clafoutis, French Dessert