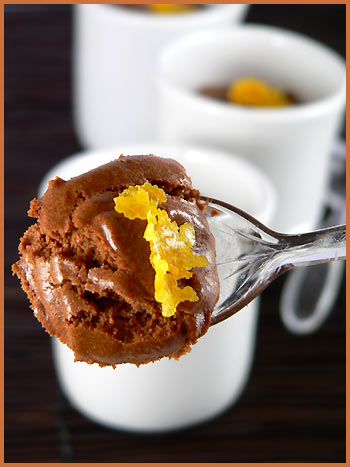 Chocolate Mousse
Le chocolat, mon péché mignon
I have always tried to find the exact English translation for this French expression, yet I never came close to what it really means in French. Péché is a sin, and mignon means cute. Yes yes, that exact same word you use if you said of a girl, a baby, a cat, your hubbie she is cute! (elle est mignonne!) So you could simply say cute sin. How would you like to be the victim of a cute sin? Do we think that such things exist? Mais que oui, when it comes to food, tout est possible! (everything is possible!) Eating too much of one thing is a sin? No no, it is a cute sin, un péché mignon! In other words, when you have a péché mignon, this means that you cannot resist that particular devilish food and just indulge in it. I would say, because I love chocolate and cannot resist it, it is my péché mignon, my weakness so to speak. And I know we all have a péché mignon! If you told me you don't, well, I don't think I would believe it. We are not angels, and a sin like this is fully forgiven!
Mon chocolat à moi !
If I tell you that I do not go anywhere without a piece of dark chocolate in my bag, do you believe me? Yes, it is as sinful as I am. Back when I lived in New Zealand, my friend Tina accused me of having turned her into a chocolate addict because I always had dark chocolate with me. Some people drink coffee, and I eat chocolate! C'est mon plaisir à moi! (It is my pleasure!)
Mousse au chocolat is such a classic dessert that I just do not think there is any need for me to introduce this dish to you. Every country, every chef, every family probably has a favorite recipe and memories attached to it. Can you live without mousse au chocolat? Of course you can if you just do not like chocolate, but if you do, just like I do, mousse au chocolat is just like bringing sunshine in your body! It feels so good! Every mouthful is slowly appreciated. I actually love to eat it very very slowly!
The word
Mousse, in French, means "foam", hence the idea that the preparation is light. The use of white eggs is definitely helping to create this texture.
How easy is it to make mousse au chocolat?
Pretty easy as a matter of fact. It all depends on what you like. I have tried many many recipes, from Pierre Hermé's Mousse au chocolat au lait citron/gingembre (milk chocolate with ginger and lemon) (from Plaisirs sucrés) to my mum's until I settled for those two I am going to suggest here, one with egg yolks, one without. You choose! There are hybrids of many that exist. No matter what your choice settles on, it is essential that you pay close attention to the choice of chocolate. When a chocolate does not melt easily, it is frustrating and gives very poor results. In French, the chocolate we use is called chocolat de couverture. I am a fan of Valrhona's dark chocolate for my cooked desserts, and for these recipes, I used Manjari 64% cocoa.
Chocolate Mousse #1
You need:
150 g dark chocolate
1/2 cup (100 ml) cold heavy cream
10 g sugar
5 egg whites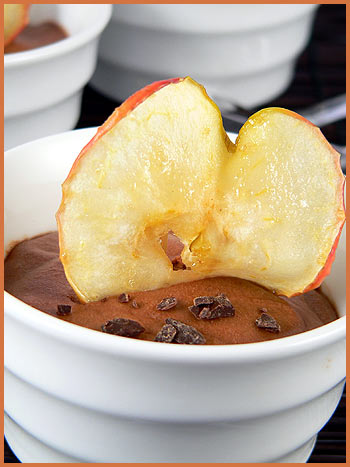 Steps:
Melt your chocolate using the bain-marie technique.
Heat the cream until boiling.
Add the cream to the melted chocolate and mix well together. It should thicken.
Beat your egg whites firm.
Before they are fully firm, gradually add the sugar and continue to mix.
Then very carefully, add the egg whites to the preparation, making sure you do not "break" the eggs. Use a wooden spoon to describe those large circular movements.
Place in individual cups or a large bowl.
Chill for at least 1 hour before serving.
Serve with slices of apples broiled, on which you sprinkle brown sugar.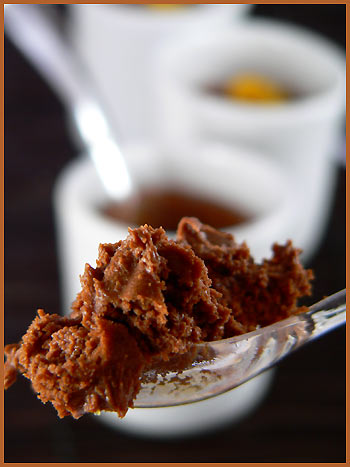 Chocolate Mousse #2
You need:
200 g dark chocolate
60 g butter
2 egg yolks
6 egg whites
50 g sugar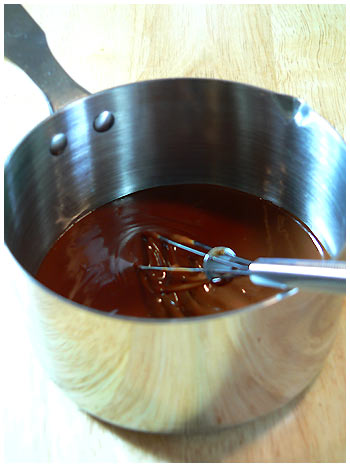 Steps:
Melt the chocolate and butter using the bain-marie technique (see above).
When the preparation is not as warm, add the egg yolks, one by one and mix well.
Beat your egg whites and gradually add the sugar.
Add the egg whites to the preparation (see above).
Place in individual cups or a big bowl and chill for at least 2 to 3 hours.
There are good excuses to be sinful! And I personally preferred the one without the egg yolks, but I often change my mind, it all depends on my food mood!