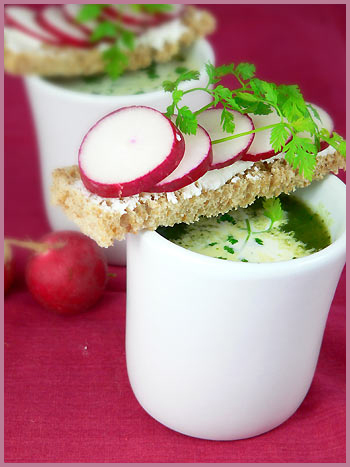 Vive les radis!
Recipe selection, you, not you!
I came to question what makes me choose to make certain dishes over others. What is it exactly that makes me go mad and drive across town, call around every possible local market, in order to get a special ingredient to make a dish. Yes I do those kinds of things. I am hearing that people call it obsessive behavior but whatever it is, I just think that when comes the time by which the dish is served on the table, nobody calls it any names anymore. P. just smiles and looks happy. Easy to make a man happy, no?
The recipe case
We all love our cookbooks, and many of us do not seem to ever have enough of them. I am one of those. In the end, I think that this is a good business sign, should the case arise that any of us ever considers writing one. We can all dream. In the baking profession, there will always be the need for bread. Life with no bread is cruel. No cookbooks, ah mais non alors (No!), we need them. So while P. reads his techie books , I read cookbooks, food magazines and recipes like I read novels or short stories. I take my cooking reading material with me every night when I go to bed, as if it were a precious friend who will accompany me in my sleep. While some people dream of a newer car or who knows what, I dream of the rabbit I need to order, the Thai aubergines I saw at the local market or the new egg topper I want to try. My cookbooks and my food magazines create this kind of chemistry into the French girl that I am. And so my memory is full of recipes I promise I will try.
But of course I am sure we all agree that there are cookbooks and cookbooks. Even in cookbooks I love, there are always recipes that just do not catch my eye, those forgotten ones that I will end up never making. There are different reasons that can explain this choice but only one that takes precedence on all : the picture. Does the recipe have a good picture if there is any? Yes? No? Is it nice? Boring? Dark? Colourful? Springy? Summery? Does it touch my palate?
Pictures are a trigger point. If I like the picture, then I want to make the dish. It is as simple as this. Even before I know what ingredients are required in the dish. Then I read the required steps, and it is worth noticing that I *always* read the entire recipe in one go, since I believe that it is a *big* mistake not to. Then I answer the question: "follow, or not follow the steps", and decide whether I need or not to adjust the ingredient list and adapt the recipe. There are those times when I stick to the recipe, word for word, but most of the time, I create my own.

The picture and a key ingredient triggered my cooking fancy
In my family, traditions are important, especially when it comes to food. We can very easily remember a meal we had 10 years ago in detail. I did not choose to be this way, I am just like the apple falling not far from the tree, that's all. The smell and the colour of certain foods create this world and Radish belongs to it. A tiny little thing but with such a strong flavor. It can get so strong that it goes all the way up your nostrils (I hope you have had this experience to know what I am talking about)! Spring is the prime time for radishes and I remember very vividly when my mum would walk in the kitchen with a basket full of the first Spring radish. "Voilà les premiers radis de la saison", she would proudly say (Here are the first radishes of the season). That made us so happy. I was always entitled to have the first one and I felt happy to beat my brother in getting that prize. Tiny, small radishes sticking out of the basket, boasting a nice light pinkish red colour, against which we would stick our nose to inhale the smell: we were smelling spring. We had a very simple way to eat them, which I think is still the best way to appreciate their fragrance: a nice piece of buttered baguette and a dash of salt. The combination of those ingredients is still very clear in my memory, and just writing about it makes me salivate.
This year, spring has only started, very shyly to say the least. But I just could not resist the first radish I recently saw at my local market. As soon as I saw them, I right away remembered a recipe picture seen a few weeks ago that I promised to try. You will probably guess what happened next. With the prime ingredient and the beautiful recipe memorized, I simply had to adjust it and use my imagination to make what follows:
Red Radish and Arugula Soup
You need:
A bunch of fresh red radish
200 g fresh arugula
3 celery branches
1 large potato
1 shallot
1 tbsp butter
Chervil
Salt and pepper
Celery salt
Goat cheese
A dash of heavy cream or crème fraîche
Whole wheat bread
Fleur de sel
Steps:
Wash the arugula and peel the potato.
Chop the shallot and celery branches thinly.
Heat the butter in a large pot and when hot, add the shallot.
Cook for 1 mn without browning and add the celery.
Cook for 2 to 3 mns, then add the arugula and let reduce, until it gives water.
Then add the potato cut in big pieces.
Add 500 ml water, salt and pepper.
Cook for about 15 to 20 mns, until all vegetables are soft.
Mix the vegetables with a hand processor.
Add chopped fresh chervil.
Pour in individual cups, add celery salt and a dash of cream.
Toast slices of brown bread (or baguette) and cut long rectangulars.
Spread goat cheese on top and add slices of radish.
Sprinkle with fleur de sel.
Adapted from a recipe from Elle a table magazine.