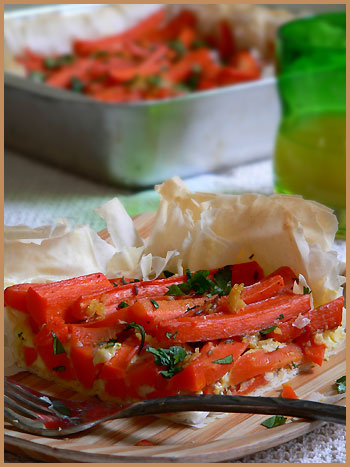 When I used to work in an office – and I don't anymore (imagine a smile here) – I was known for my tupperware lunches. Did I eat plastic? Of course not, que vous êtes bêtesje suis bête! (silly me!) But every day, I would bring in the office my lunch! And what happened if I forgot the bag prepared on the countertop before leaving?? I would drive back home (well in a sphere of 4 miles) to get it. Lunch was a real highlight in the day, you see. Not that I was bored the rest of the time (coughing), but what can I say, having being brought up in a family where food is so central, you do not change that part easily when you become an adult.
In my tupperware collection, there was the following : the first one contained the main course, the second the salad, a third one would have dessert, and of course, I had snacks too. My ex-collegues would report often that they knew my habits. How come? did I ask. Ce n'est pas possible! (Not possible!) At specific times known by them it seems, some noise could be heard from above my cubicle . How could I just be so transparent?
The tease did not last for too long though as I was "nice" enough to share some of my tupperware treasures.
When asked how I did come up with all of this food every day, I simply responded: "Facile, je suis organisée!" (Easy, I am organized)
Yes, that simple. Whether this is a skill or slavery, I will it for you to decide but all I know is that it allowed me (and P. btw) to have homemade lunches. It was that or cafeteria food, and in my eyes, that was an easy choice to make.
So while I was cooking dinner every night, I would always make sure I made enough for the following day.
The dish that follows is typical of what one of my tupperwares would contain. Everyone should have tupperware stories. I remember my mum's tupperware meetings. MY! And maybe I just should forget about them!
Filo Carrot Tart
You need:
500 g carrots
1 tsp cumin seeds
Olive oil
Fresh coriander
Fresh ginger root, thinly chopped (2 tbsp)
1 egg
5 cl milk
1 tbsp cream
Filo pastry (4 sheets)
1 tbsp brown sugar
Water (5 cl)
Salt and pepper
Steps:
Preheat your oven at 350 f (180 C).
Peel your carrots and cut them in sticks.
Heat 1 tbsp olive oil in a pan and when hot, add your carrots.
Cook for 1 or 2 mns and then add the cumin seeds.
Continue to cook for 1 mn, then add the sugar, ginger and 5 cl water. Season with salt and pepper to taste.
Cover and cook on low heat until the carrots are soft (depending on how you like them, I personally like when they are still a little firm).
Take a square oven dish and brush with olive oil.
Brush each filo pastry with oil and place in the dish on top of each other.
Cut the parts too long on the side. Place in the oven for 5 mns.
Take out and place the carrots (without juice).
Beat together the egg, milk and cream and pour the preparation on the carrots. Place in the oven for about 15 mns. Take out and serve.
Add chopped coriander on top.
This is a very light vegetable tart, taking us away from the more traditional doughs, and almost bringing a taste of Morroco to our house!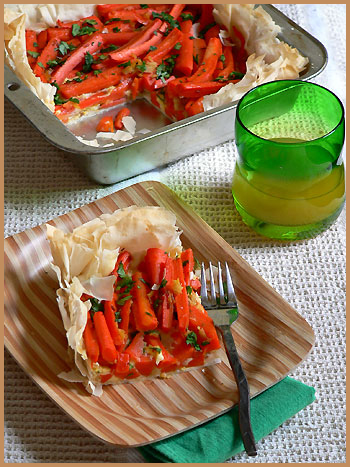 Recipe from Elle à table