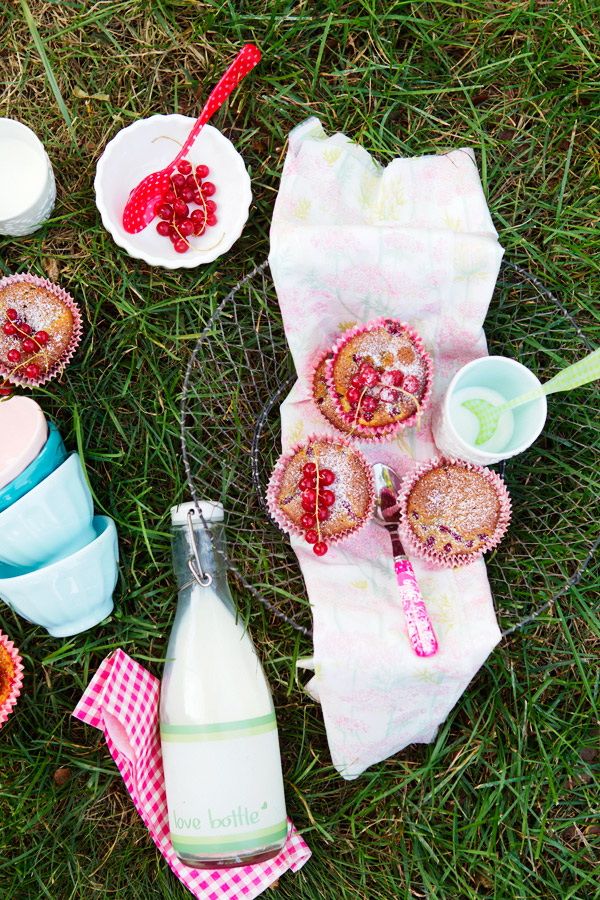 Brown Butter Pistachio Berry Cakes
"Tu verras, quand ma soeur arrivera, il fera beau", (You'll see when my sister comes, it will be sunny again) my brother B. tells his wife G.
My mother also tells me it's raining a lot. And it's not warm for July either. Every time we talk over the phone, I can hear frustration in her voice because I know that this means her daily walk to the next village becomes challenging.
I don't know how it happens but my brother is right. As soon as P., Lulu, and I arrive–and for the entire month of August we spend in my home village–we are blessed with blue skies and sunny days.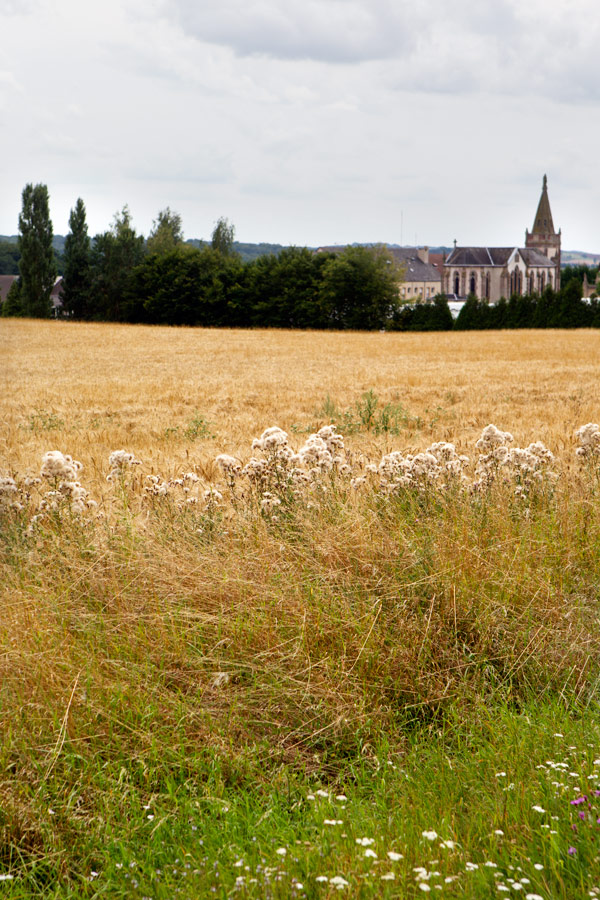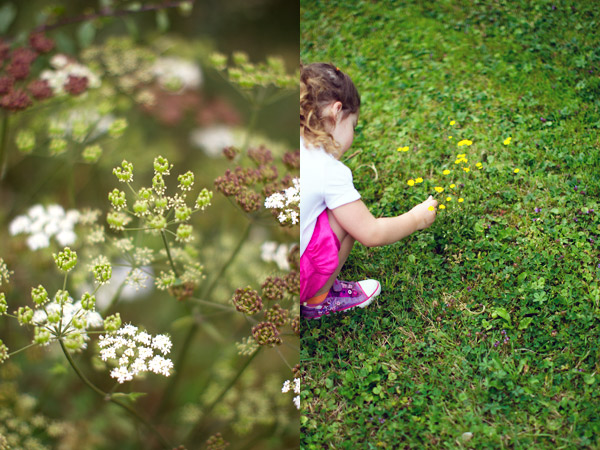 It' summer in full force with fields filled with wildflowers; farmers harvesting; zucchini and Heirloom tomatoes of all shapes and colors to stuff and make tarts with; plums and mirabelles to bake with, and make jams.
And groseilles and mûres to pick in my mother's garden each day.
Lulu does take notice and is the first to help every morning.
Taking photos all along.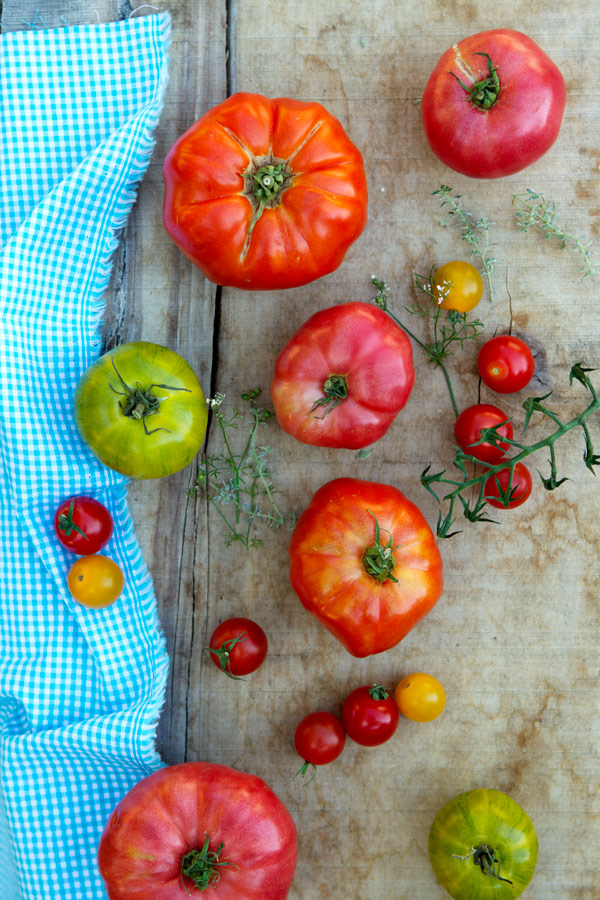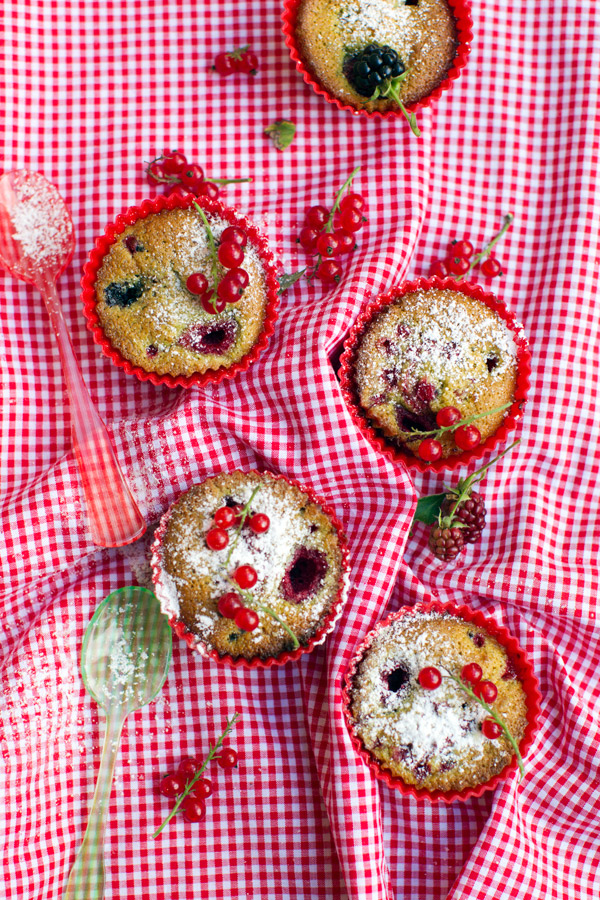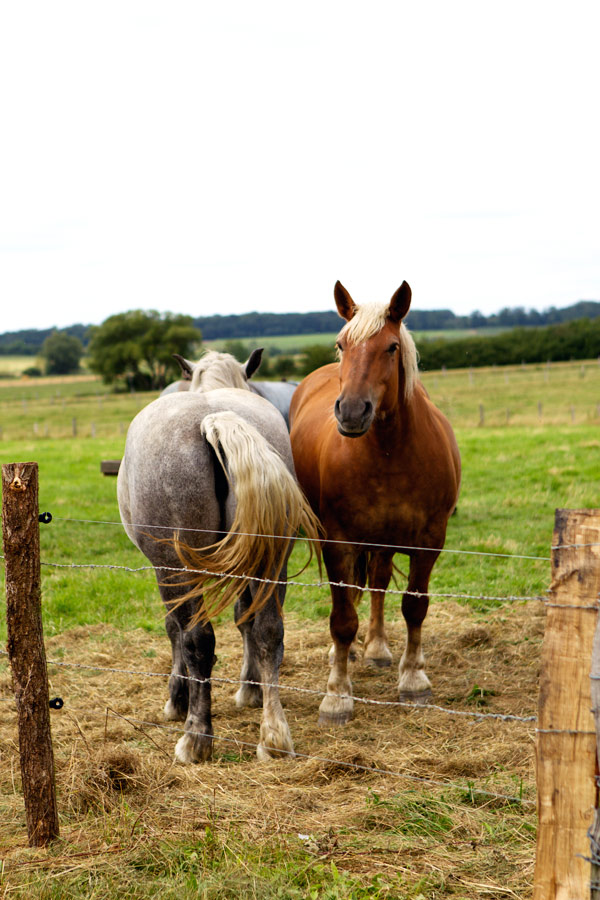 These images are about this summer. The kind of summers I want to keep with me. Those that I now want Lulu to experience in France the way I did.
Right away, I tell her about it all.
She seems to understand.
For her, it means hours spent outside to play in the little wooden house my father has built for her in the garden.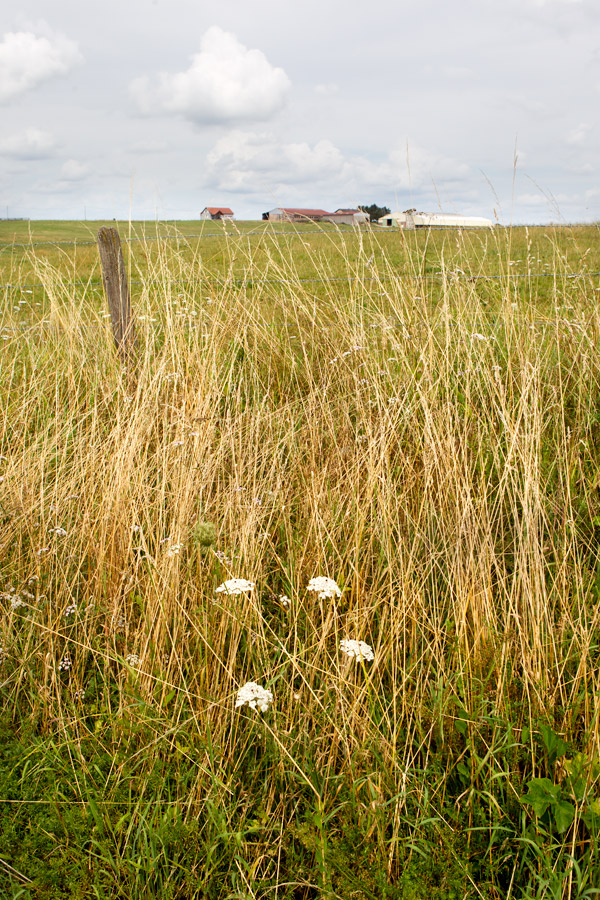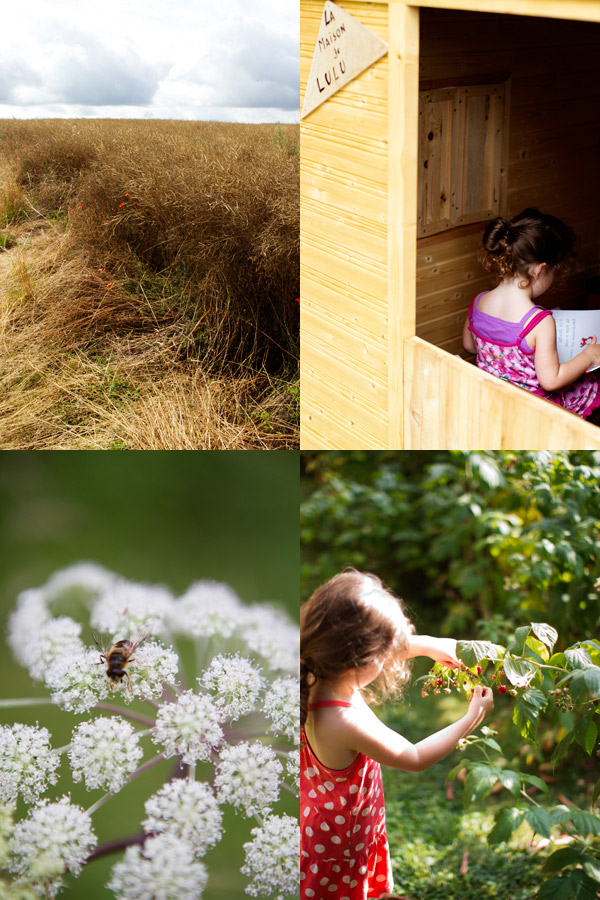 For me, it translates in having her taste the produce we grow.
And cook together.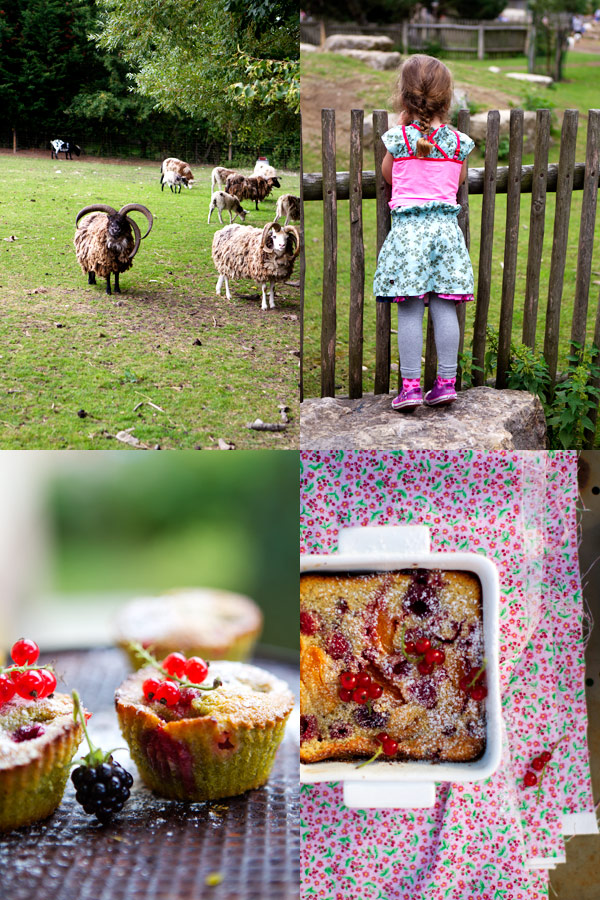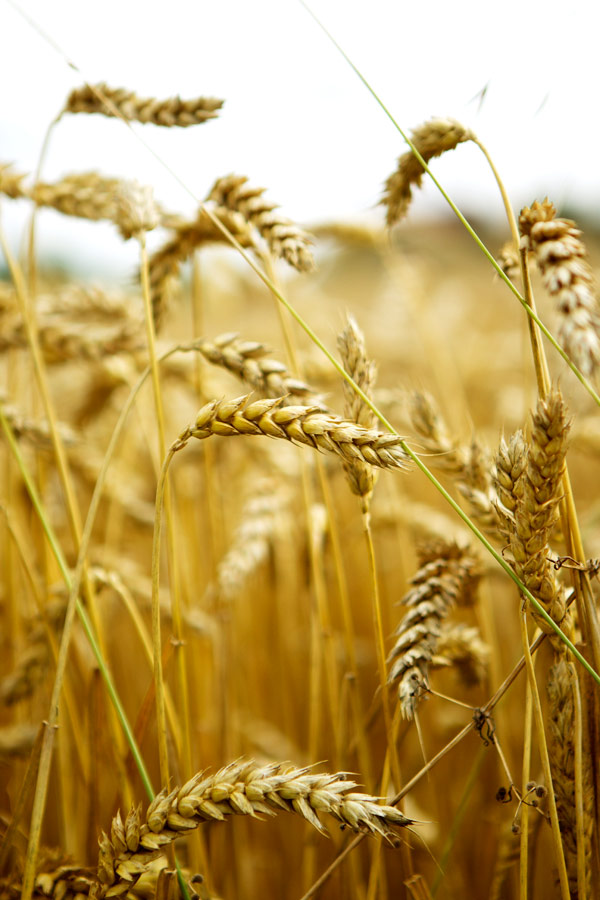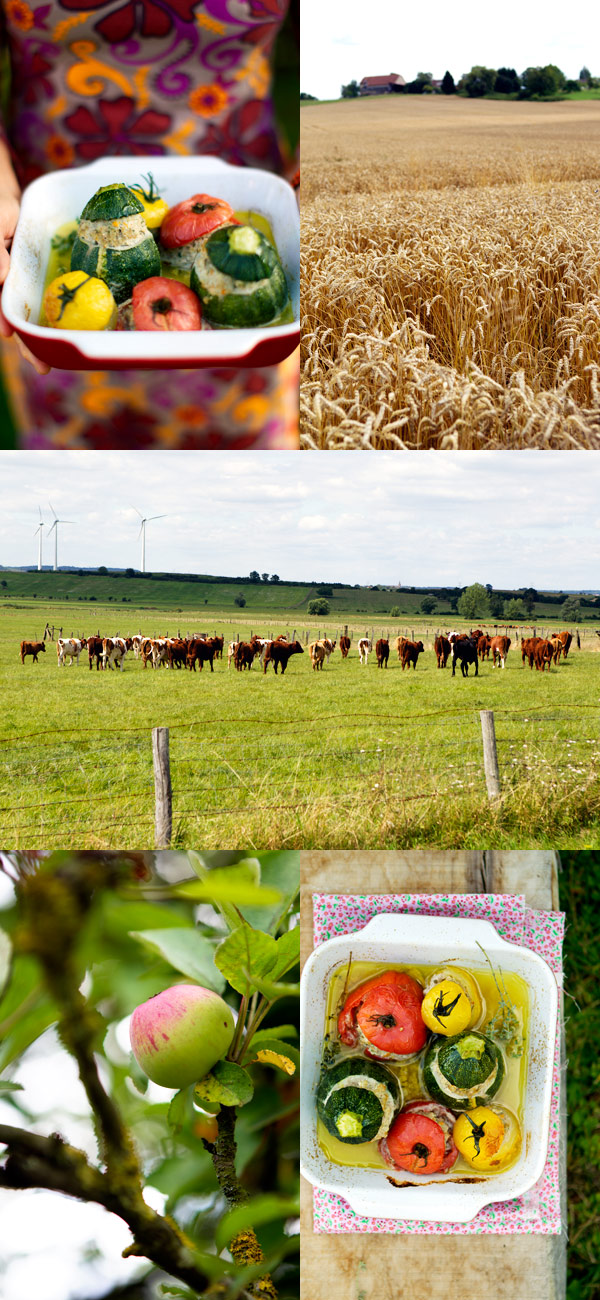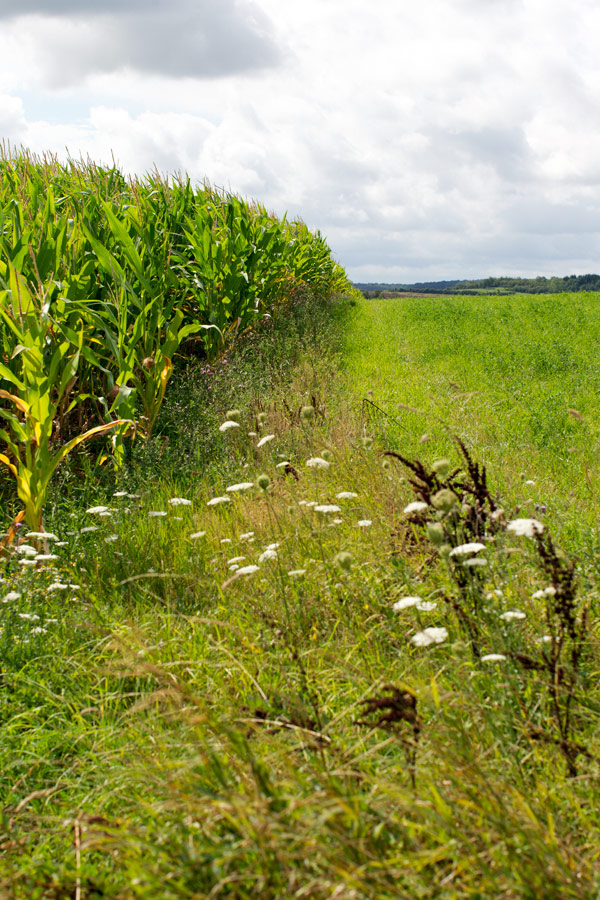 One day, she asks that we bake chocolate tarts. Another time, we make crêpes and a tomato, zucchini tart–even if it means that she exclusively focuses on eating the crust. There's also a delicious dark chocolate cake we end up having for le goûter one day. We decide to name the cake "le gâteau au chocolat de Lulu" (Lulu's chocolate cake).
She loves that.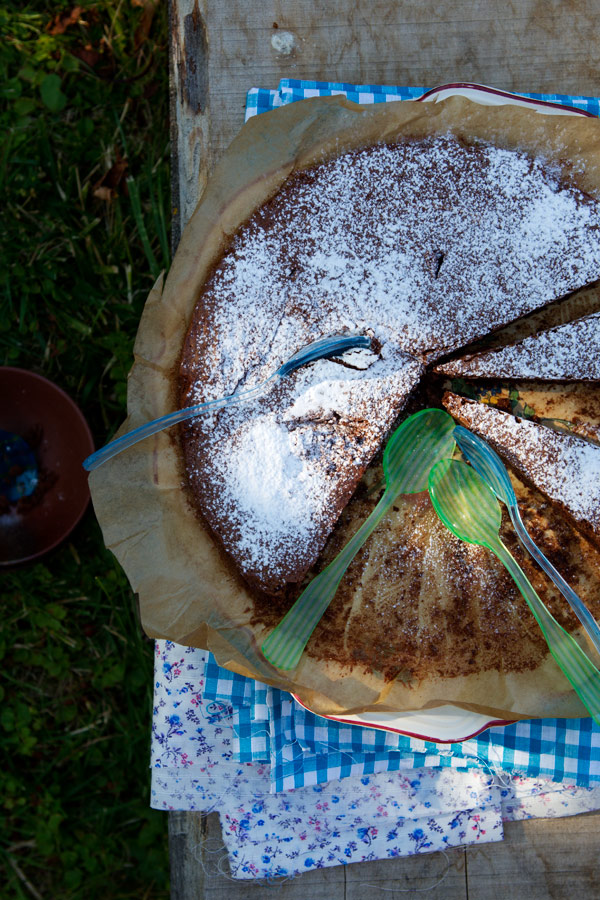 Lulu's Dark Chocolate Cake
We thought we'd tell you about the chocolate cake later.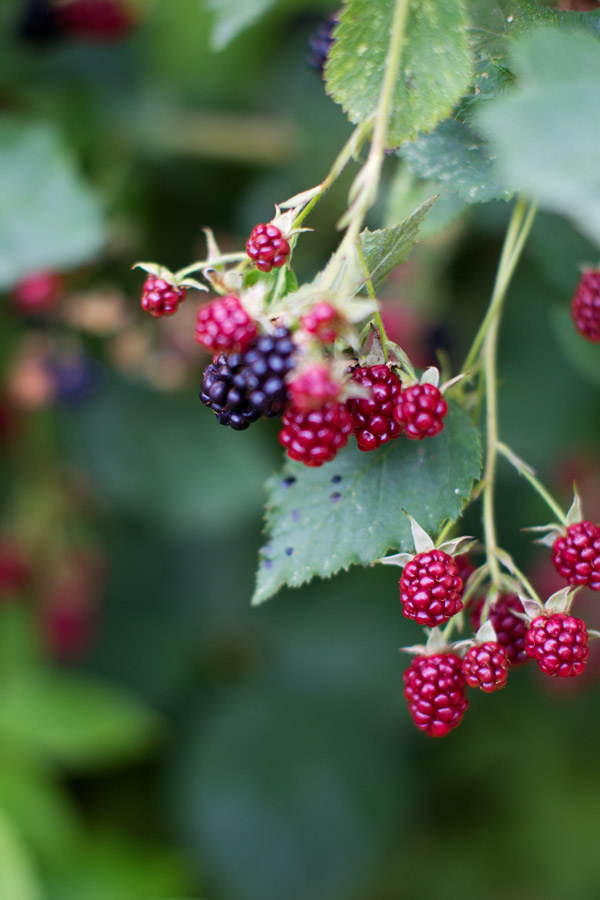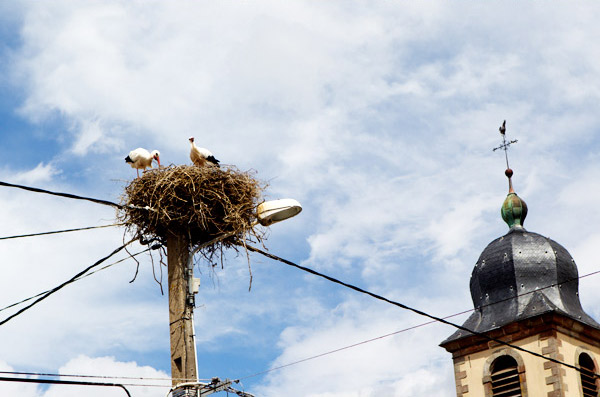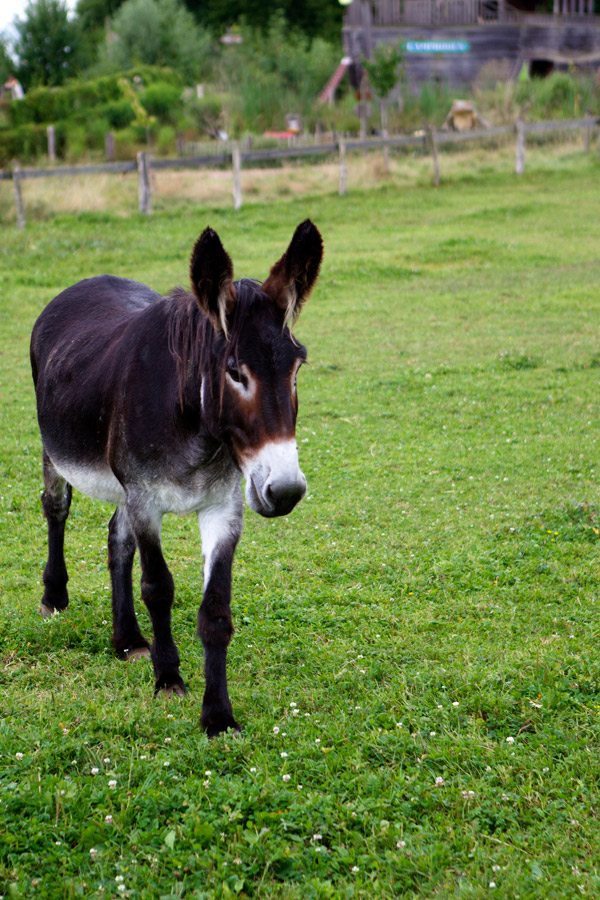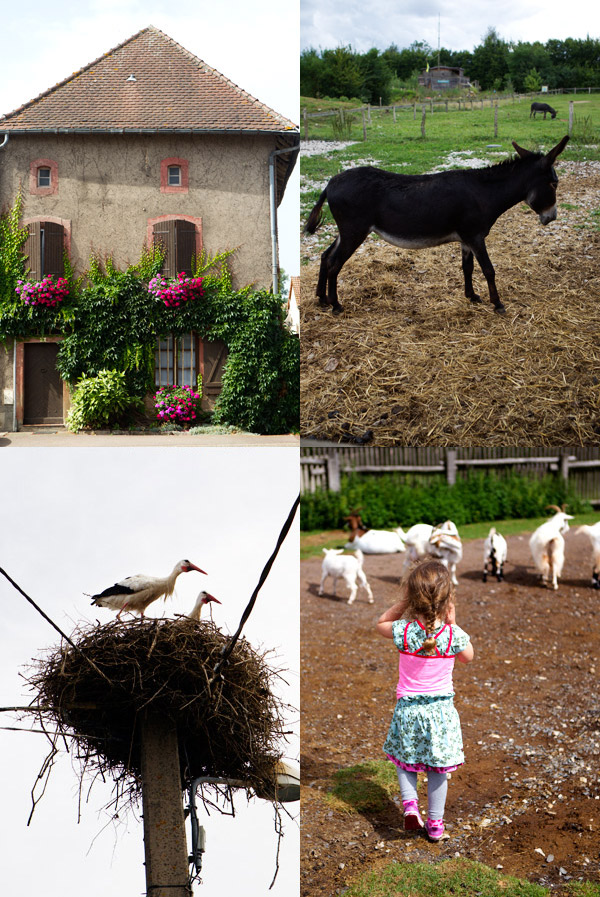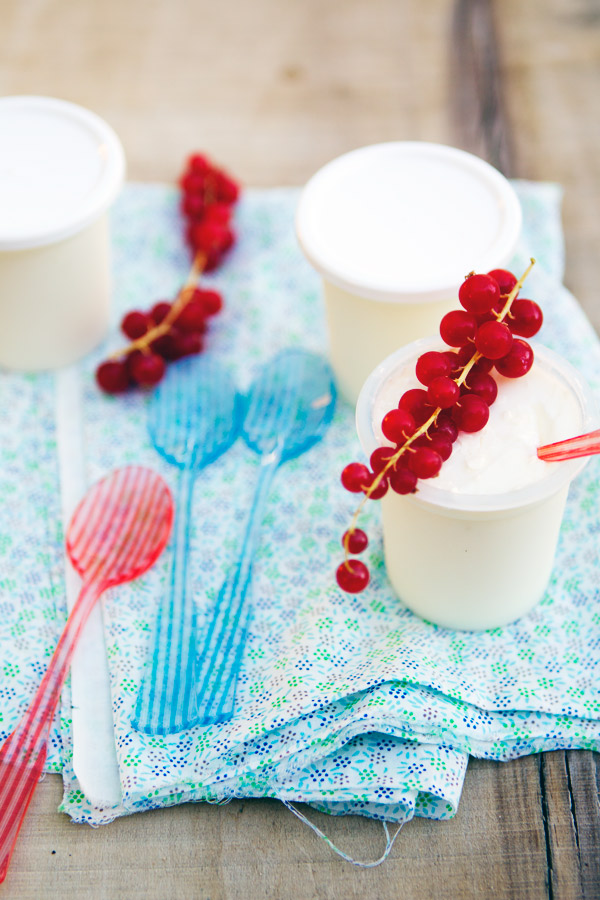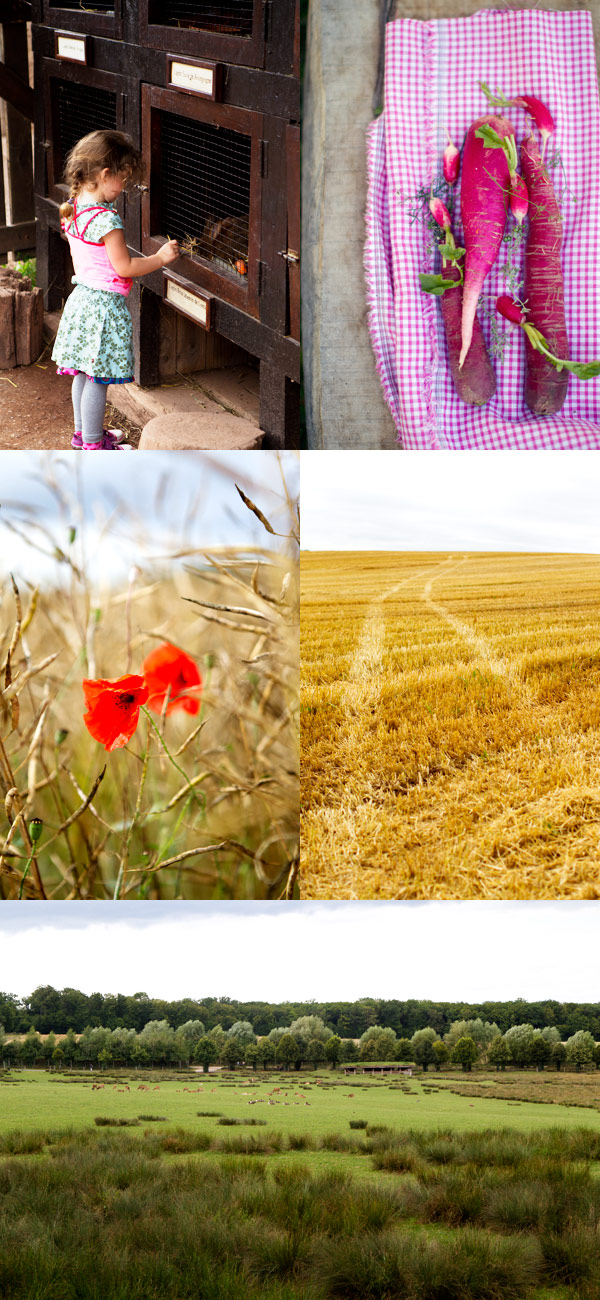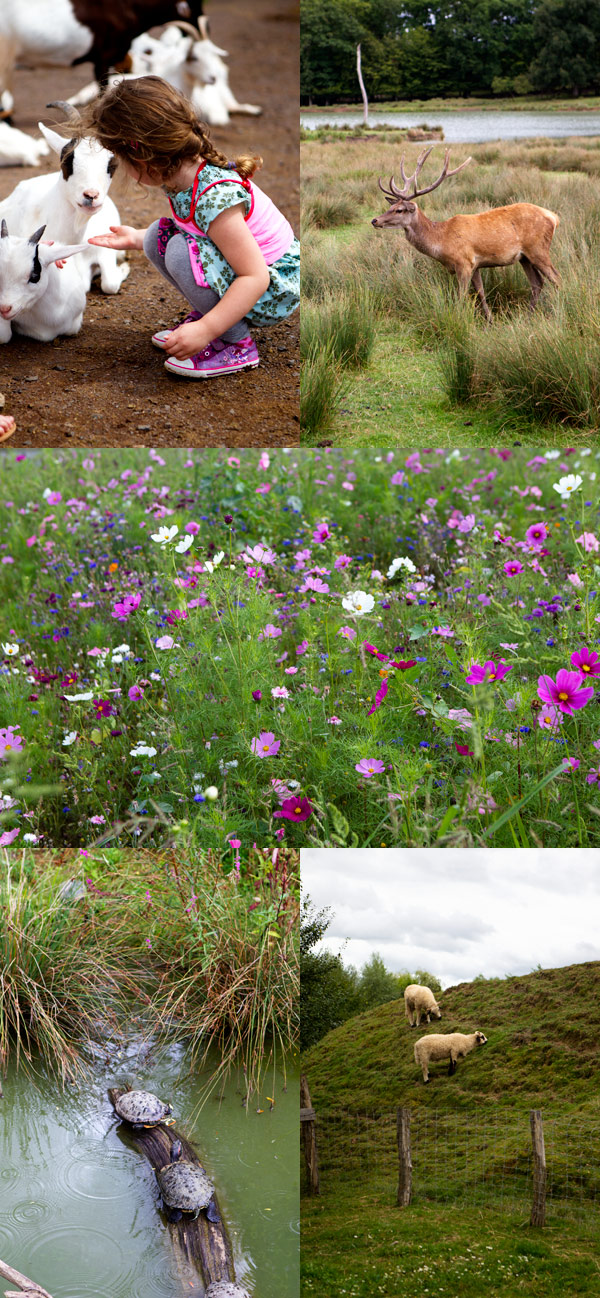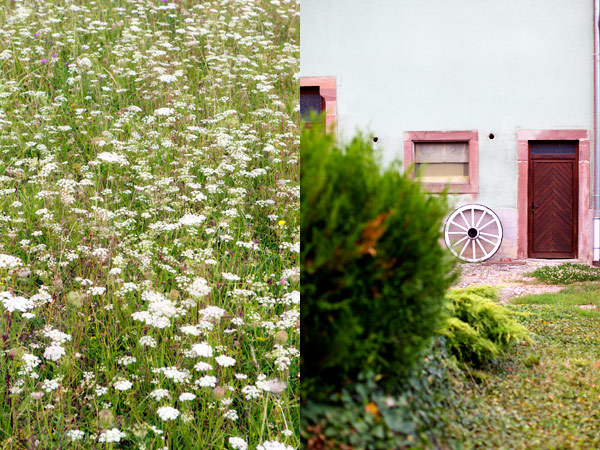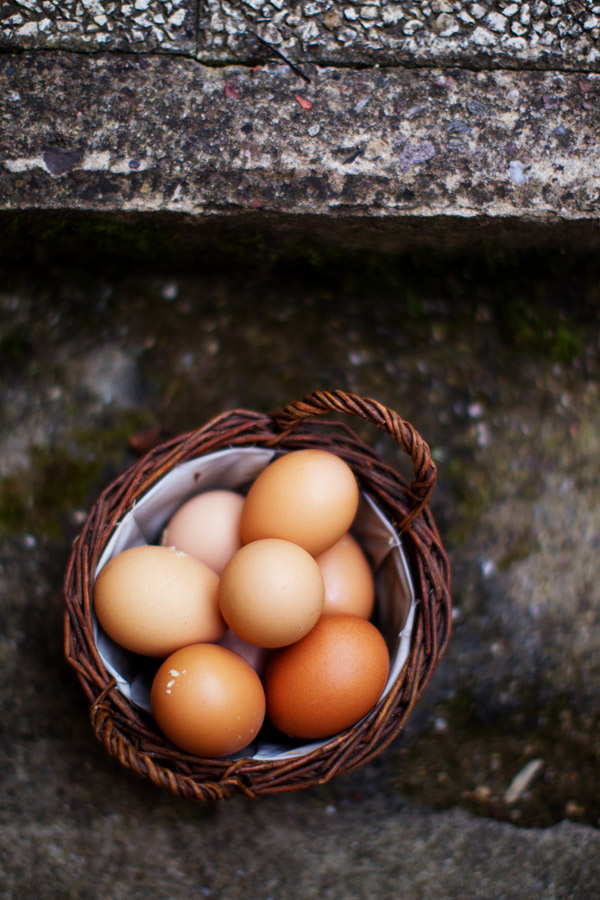 And then there are these small cakes. Made with pistachios and berries (red currants, raspberries, and black currants) picked in the garden.
With the fruit we find.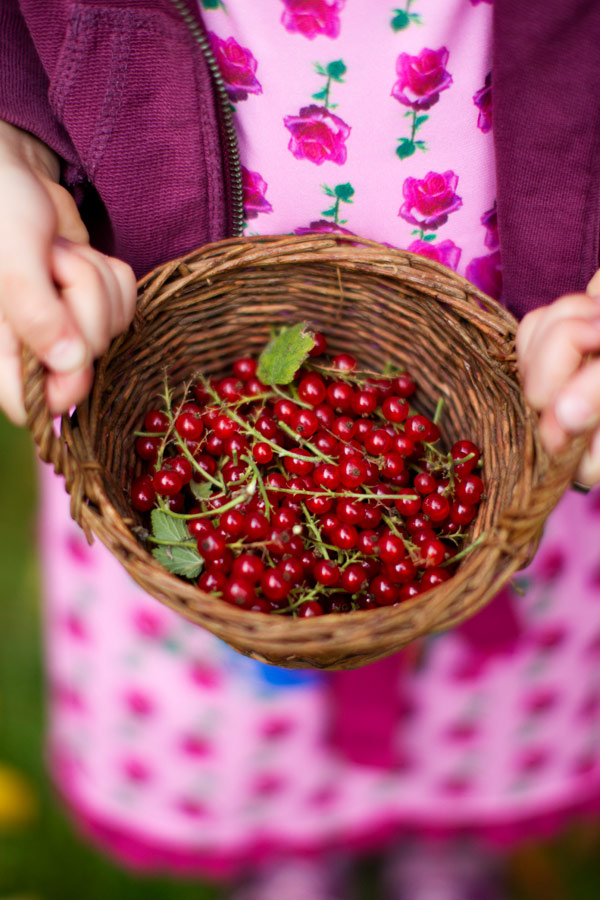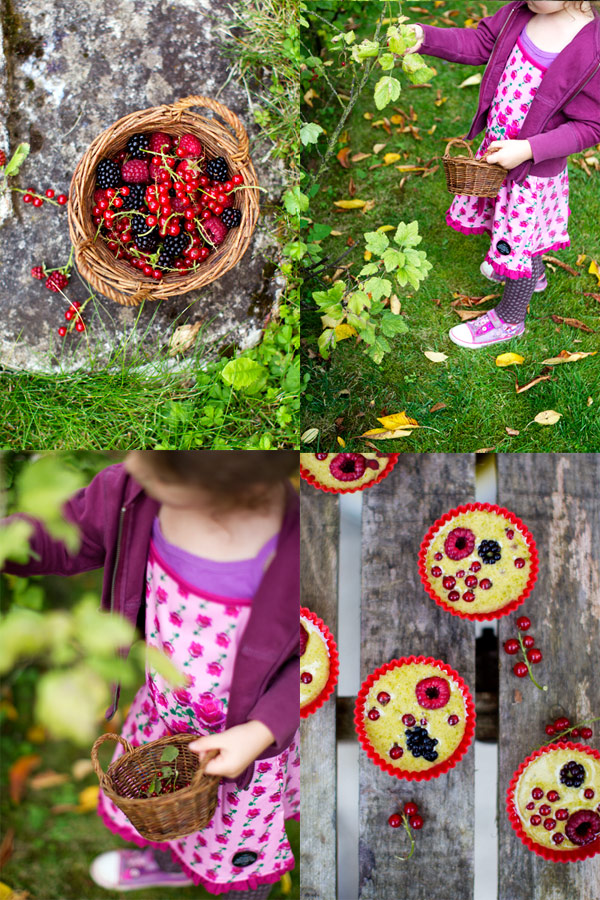 I show Lulu how to make brown butter. And why we have to leave the vanilla in the butter to infuse. She uses her hands to feel the pistachio meal and millet flour. And after she beats the egg with the sugar and adds the rest of the ingredients, she runs her fingers by the side of the bowl, licking them clean, before starting all over again.
"Ils sont beaux maman!" (they are pretty!) she exclaims when we take them out of the oven.
The timid shy at the corner of her lips tells me she feels proud.
Later that afternoon, she tells me that she loves to cook with me.
She does not yet know how much her words mean to me.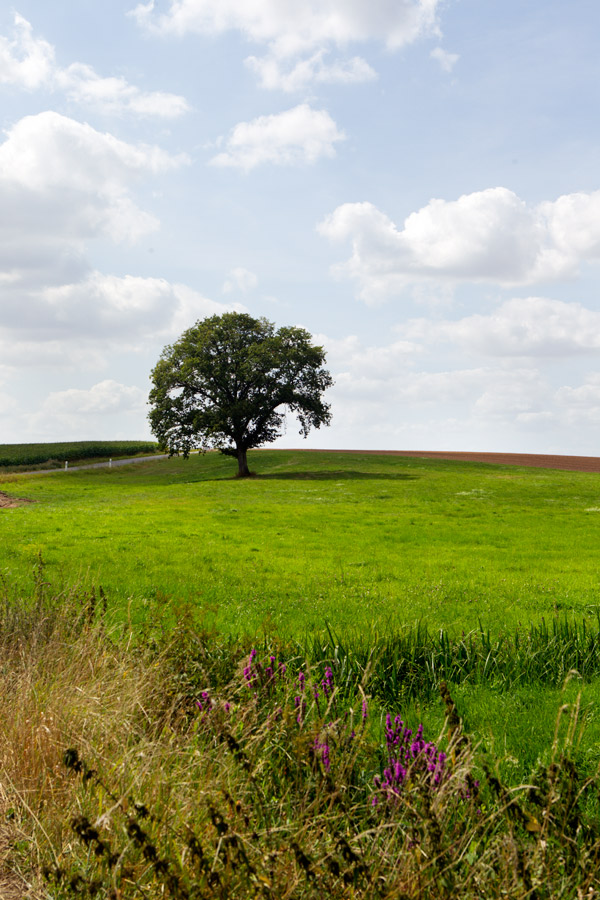 So yes….
This summer in France is just about her. Connecting her to a French summer in the countryside.
With time spent time with family. Discovering new books. Visiting farms and pet goats. Picking fruit. Running in open fields and playing with hay. Pretend playing in her kitchen. Picking wildflowers.
And cooking.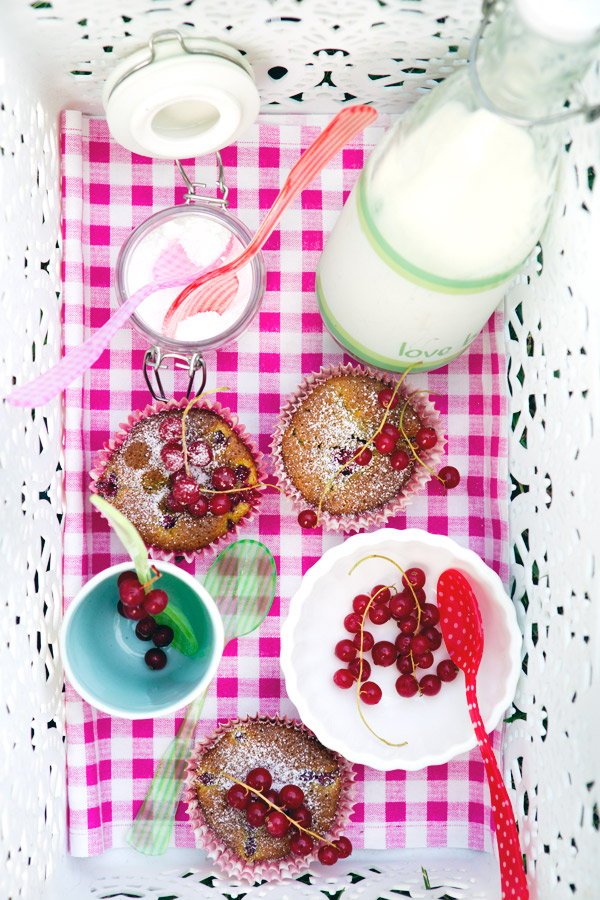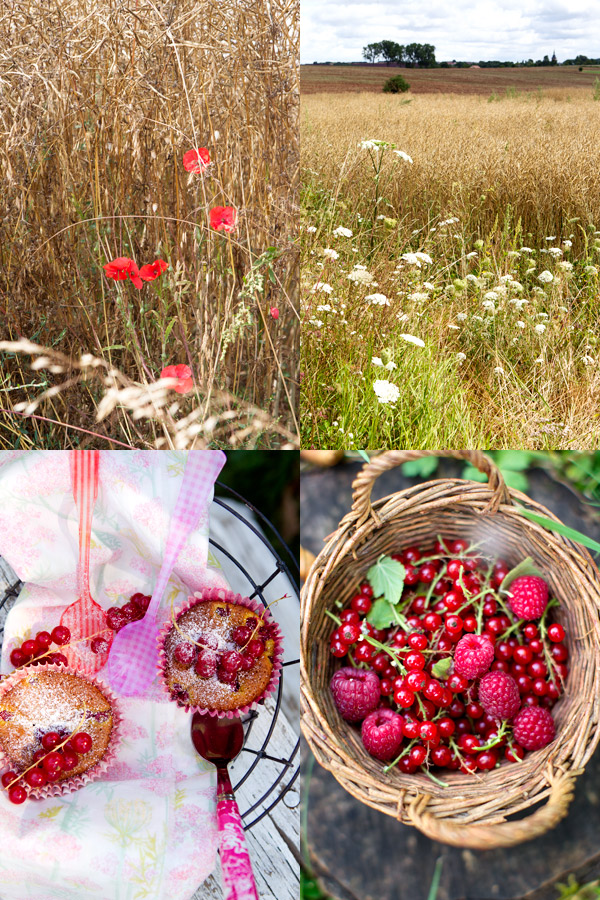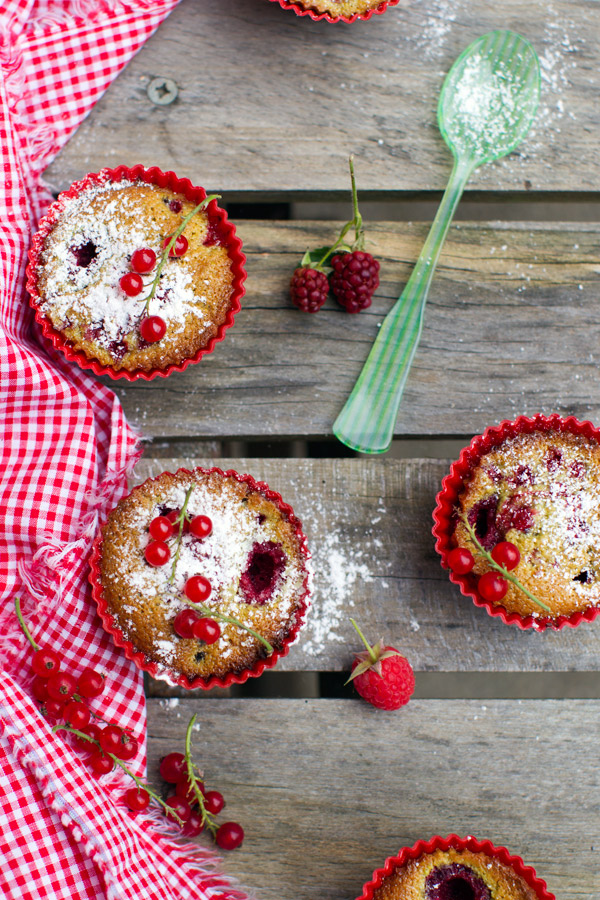 Lulu and I made this recipe using delicious pistachios with a really deep green color. The recipe can also work with almonds–gridn whole almonds or use store-bought almond meal. And then, instead of red currants, use other seasonal berries. Right now, we have delicious late in the season raspberries.
Les framboises tardives.
It's a very versatile kind of cake.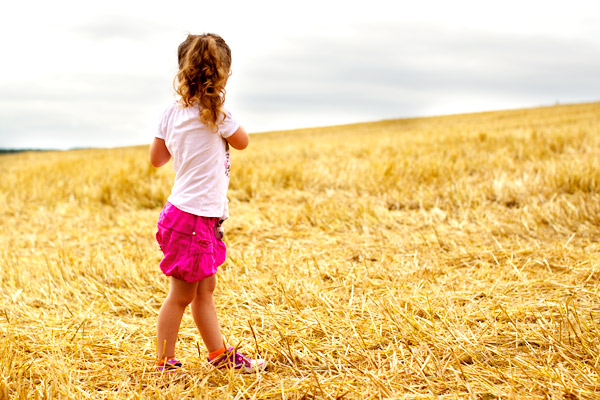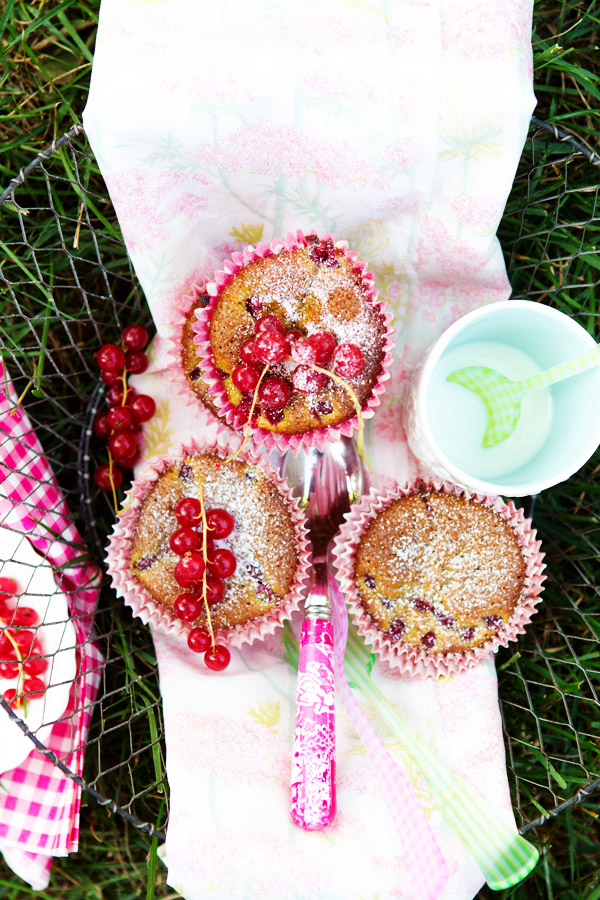 Red Currant Pistachio and Brown Butter Cake Recipe
(for 6 muffin-like cakes)
You need:
5 1/2 tablespoons (80 g) unsalted butter
1 vanilla bean, split open and seeds scraped out
2/3 cup (70 g) pistachio meal (use shelled unsalted pistachios that you grind in a food processor)

2 tablespoons (20 g) millet flour

1/2 teaspoon baking powder
1 large egg
1/4 cup (50 g) blond cane sugar
1/4 cup buttermilk
2 ounces (60 g) red currants*
6 raspberries*
6 black currants*
*Combine any kind of seasonal berries
Steps:
Preheat the oven at 400 F and grease 6 muffin molds (or line a muffin mold with paper cases); set aside.
Place the butter in a pot and bring to a simmer. Cook on low to medium heat until the butter turns and tastes like hazelnut. Stop the heat and add the vanilla bean and seeds; leave to infuse for 15 to 20 minutes. Strain and discard the vanilla pods.
In the meantime, in a bowl, combine the pistachio meal, baking powder and millet flour.
In another bowl, beat the egg with the sugar.
Add the dry ingredients to this wet batter, and beat until well combined.
Add the melted butter and then buttermilk.
Divide the batter between the muffin molds and stud with the fruit.
Bake the small cakes for 20 to 25 minutes, or until golden.
(Optional) When cooled, dust with confectioner's sugar.