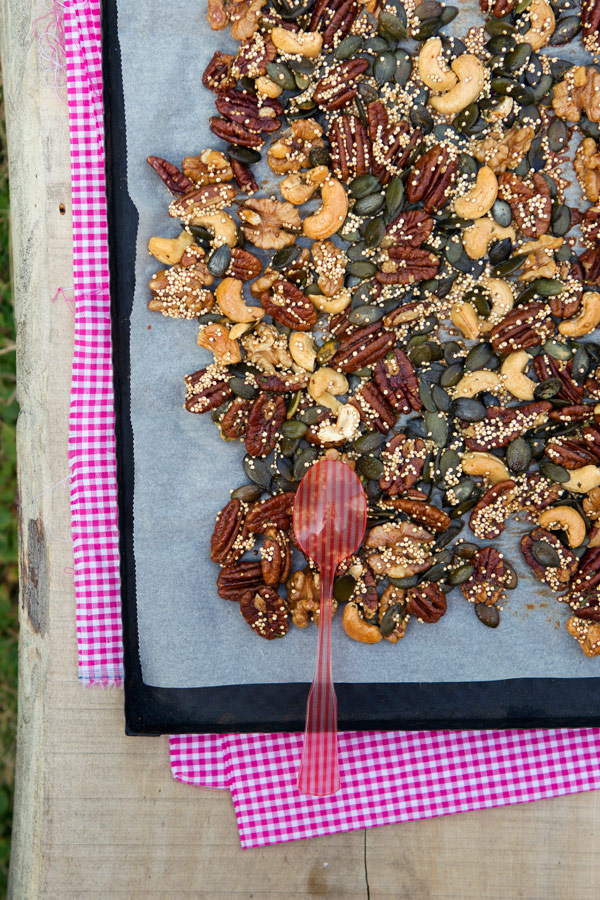 Toasty Nuts Recipe from the Sprouted Kitchen Cookbook
I love when a cookbook leaves me inspired. The soon-to-be released The Sprouted Kitchen Cookbook is one of these brilliant books. Filled with delicious and healthy recipes with beautiful photographs. The best combination in my eyes.
I am sure you know Sara and Hugh Forte. The duo talent behind the Sprouted Kitchen food blog. Sara cooks healthy recipes filled with character while her husband Hugh photographs them artfully.
What a pair those two make!
I was one of the lucky ones to receive a preview of their scrumptious cookbook, and I loved it right away. I knew it was going to draw me to the stove to cook.
Since this past week was our last one to spend in France with my family, I really wanted to cook a recipe from their book while I was still there. I wanted to share it with my brother and his wife, more particularly, because they, and me and Sara, share the same love for whole foods and dishes that make someone feel good.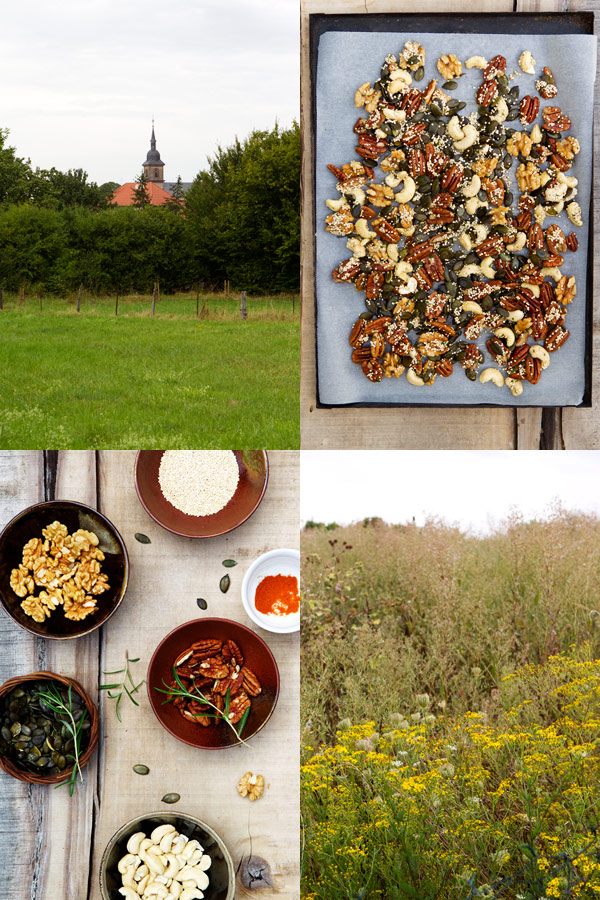 And that's when my eyes landed on this Toasty Nuts recipe. I knew it was going to be what I'd make first for everyone because we all love roasted nuts.
The recipe is a winner.
It is extracted from the Snack section (other sections inside the book share recipes from breakfast, to salads and main courses, and treats).
We enjoyed it one night with a drink before we started dinner.
And then it was exactly what we loved during our travel back to the States from France yesterday.
"Encore des noix maman!" (more nuts, mum) Lulu exclaimed with her hand stretched towards me while we sat on the TGV train to Paris.
She kept asking for more.
I know you will too. They are the perfect snack to sneak inside a bag to enjoy throughout the day.
Lulu understood that very quickly.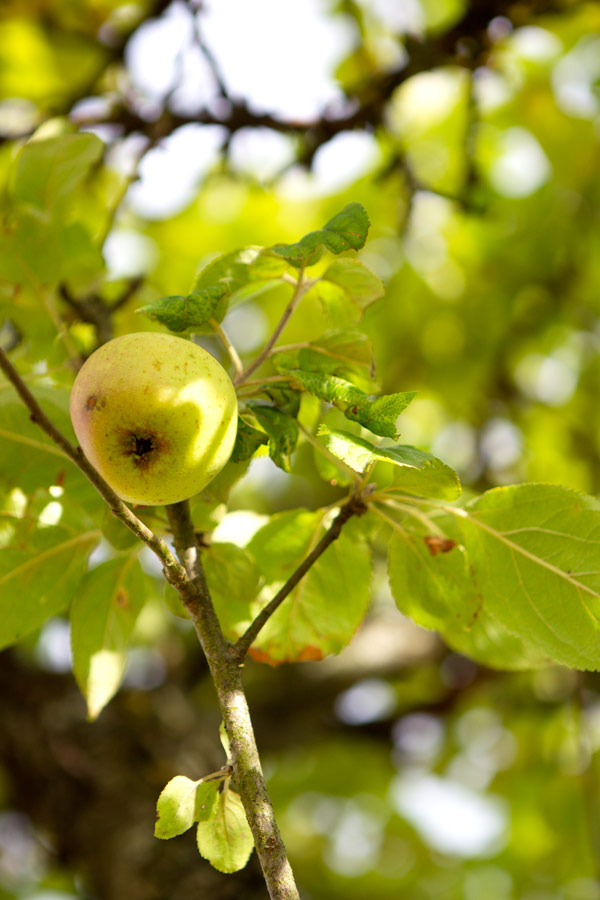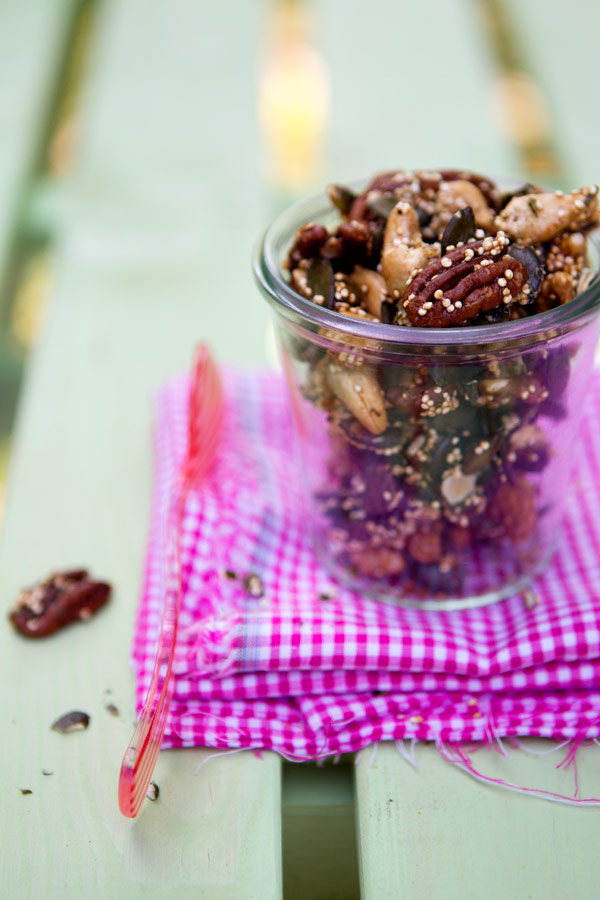 And now that I am back in my kitchen, I know that next, I will be making Roasted Plum Tartines, Grilled Zucchini Roll-Ups, and Toasted Millet Salad with Arugula, Quick Pickled Onions, and Goat Cheese.
Congratulations Sara and Hugh, your book is just oh so lovely!
Toasty Nuts
Recipe from The Sprouted Kitchen Cookbook by Sara and Hugh Forte (Ten Speed, August 2012)
You need:
1 egg white
2 1/2 tablespoons Grade 8 maple syrup
1/4 to 1/2 teaspoon cayenne pepper (I used barely 1/4 teaspoon to be light on the spiciness since I knew Lulu would eat them)
1/2 teaspoon freshly ground black pepper
1 teaspoon sea salt
2 1/2 cups unsalted nuts mix (I used cashews, walnuts, pumpkin seeds, and pecans)
2 tablespoons flaxseeds
3 tablespoons millet or quinoa (I used white quinoa)
1 1/2 tablespoons finely chopped fresh rosemary
Steps:
Preheat the oven to 300 F and line a rimmed baking sheet with parchment paper.
In a large mixing bowl, whisk the egg white until frothy. Whisk in the maple syrup, cayenne, black pepper, and salt. Stir in the nuts, flaxseeds, quinoa, and rosemary, making sure everything is coated completely.
Spread the nuts on the prepared baking sheet in an even layer and bake until the nuts are browned and fragrant, 25 to 30 minutes.
Remove from the oven and let cool before serving.